IT Service Management (ITSM) software isn't limited to big international companies anymore. As more and more business operations shift to digital interfaces and the cloud, it's becoming essential for smaller organizations to adopt ITSM solutions. However, successful ITSM implementation isn't as simple as picking a tool and incorporating it into your workflow.
Most modern ITSM solutions provide you with features your business needs to respond to employee requests of various kinds. By understanding what your employees need, you'll be able to take just about any ITSM tool and implement it properly. In other words, you'll make work easier for everyone in your organization.
In this article, we'll discuss why it's important to get ITSM implementation right from the get-go. Then we'll provide you with three tips to help your business excel.
Understanding What Constitutes a Successful ITSM Implementation
It's all too normal for businesses to shift from one software solution to another. This applies to help desk tools, service desk solutions, Customer Relationship Management Software (CRM), and ITSMs. Although these changes often bring benefits in the shape of new features and access to more user-friendly tools, they can also cause widespread disruption in your organization.
A successful ITSM implementation means you chose the right software for your needs and customized it to meet your employees' exact requirements. Succeeding in both of those regards can bring advantages to your business, including:
Not needing to cycle ITSM solutions
Technicians and employees are becoming experts in dealing with the ITSM system
Faster onboarding for new users to the system
Improving coordination between teams
Putting together a more comprehensive internal knowledge base
Ultimately, being forced to switch ITSM solutions due to a lack of features or because they don't provide your team with the necessary tools will cost your business dearly. Not only will you have to spend time researching other software and preparing budgets, but you'll need to migrate your existing IT service processes to a new platform or re-develop them from scratch.
3 Tips for a Successful ITSM Implementation
If you want to avoid a costly transition to a new ITSM solution or needing to rework your entire approach to IT service, it pays to get the implementation right the first time around.
1. Start Working on a Knowledge Base Early and Promote the Self-Service Portal
An internal knowledge base is your most powerful tool when it comes to tackling employee requests. If your staff can find solutions for their problems without needing to submit service requests, your agents will be able to focus their efforts on more complex tickets. Ultimately, this can lead to faster response and resolution times.
Modern ITSM solutions should provide you with the ability to create an internal knowledge base and add new entries to it based on employee requests and the solutions you provide. If you're just getting started using a new ITSM solution, your knowledge base will be empty.
However, you don't have to wait for service requests to start coming in before you get to work on adding your first items.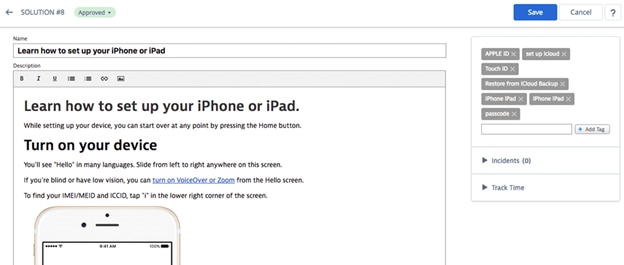 The earlier you begin working on your knowledge base, the fewer service requests you'll need to deal with. Ultimately, this should make ITSM implementation go much more smoothly.
Here are three tricks to implement on day one of building your knowledge repository:
Assign subject matter experts for each section or department
Use tagging to help the system pick up on related articles and search relevancy
Connect your Service Desk repository to other online repositories your employees and technicians use to create a seamless self-serve experience.
2. Implement Incident and Service Request Priority Levels and Automatic Assignment Rules
Not all incidents and service requests are equally urgent. You might have employees dealing with technical errors that prevent them from working altogether, whereas others may be facing minor bugs.
When implementing a new ITSM solution, you're likely to be inundated with service requests and incidents as employees finally have the proper channels to request help. You need to develop a ticket prioritization system to help agents determine which requests to tackle first.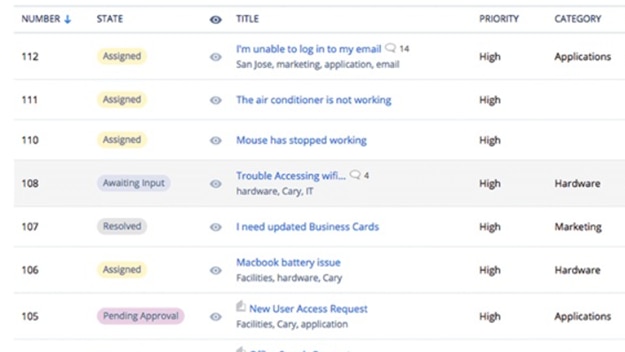 Solving complex incidents or service requests first will free up agents to tackle low-priority issues with less pressure. Moreover, this approach can help prevent bottlenecks during the ITSM implementation process.
3. Automate Repetitive and Manual Workflows
Whenever you adopt a new IT tool, employees will likely be at a loss for how to use it effectively. You can minimize this problem with proper training. However, successful ITSM implementation involves an adjustment period.
The best way to start streamlining this process is to have agents document their workflow, so you can figure out which aspects can be automated. For example, if agents spend too much time figuring out who should deal with each support request, the task could probably benefit from automation.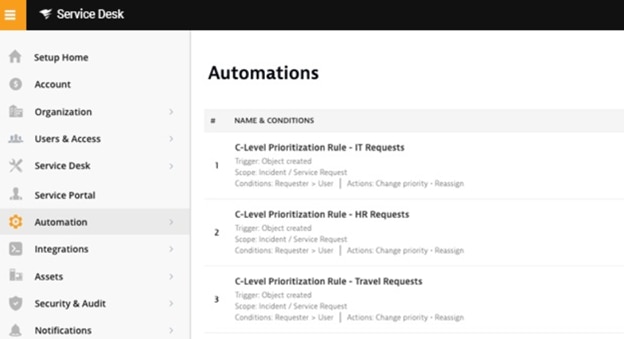 Generally, you want to automate any operations within your ITSM workflow that don't require high-level decisions. Some examples of such processes include ticket routing and sending reports—both of which you should be able to automate using your ITSM solution.
Conclusion
A successful ITSM implementation can help you deal with internal service requests much more efficiently. However, the most important benefit is that you might not need to switch to a different ITSM solution down the line, which can be costly and time-consuming for any business.
If you're about to implement a new ITSM solution, there are three tasks we recommend you handle to ensure it goes smoothly:
Start working on a knowledge base early.
Implement service request priority levels.
Document your workflows to automate processes as soon as possible.