Incident management can be a complex process. Between investigating root causes, understanding how configuration items relate to each other, determining which OS the user is currently on, resolving minor issues, and troubleshooting complex problems, you can end up investing a lot of time and resources to resolve issues your teams has solved before. As such, you may be looking for a way to increase your IT team's efficiency.
By using a service desk that leverages sophisticated automatic processes, you can find ways to mitigate the delays and mistakes rooted in slow and manual process and boost your team's overall productivity while enhancing the customer experience.
In this article, we'll introduce you to the concept of incident management automation. Then we'll cover three important reasons to consider applying this strategy to your workflow.
An Introduction to Incident Management Automation
One the ITIL guiding principles talks about "Optimize and Automate." The idea behind it is repetitive and manual tasks or processes that have already been assessed, evaluated, and approved can and should be automated. This way, your most precious resource—human labor—is free to address matters that require human attention and discretion.
Incident management software can provide you with different levels of automation. For example, you might use ticketing automation to prioritize tickets of a certain category or group them automatically. You can also automate service and change request workflows that include several different stakeholders' involvement, approval, or visibility.
3 Key Reasons to Automate Your Incident Management
1. Save Time and Improve Technician Productivity
If you've ever had to assign pending incidents manually, you probably understand what a pain problem management can be. By eliminating tedious tasks, automation doesn't only save your technicians a lot of time, but also lets them focus on more complicated matters.
Consider the following scenario as an example: what happens when a ticket comes in outside of business hours? Should it wait there until it can be manually assigned to the relevant technician or group as the team comes back from the weekend and processes the backlog of tickets? By setting time-based automation rules, you can ensure each ticket is properly assigned as soon as it's created, then properly prioritized and categorized according to your team's needs—and ready to be taken care of.
From routing automation rules to alerting a superior when a critical error is detected by an integrated monitoring solution, you can leverage your software to cover every area of your incident management.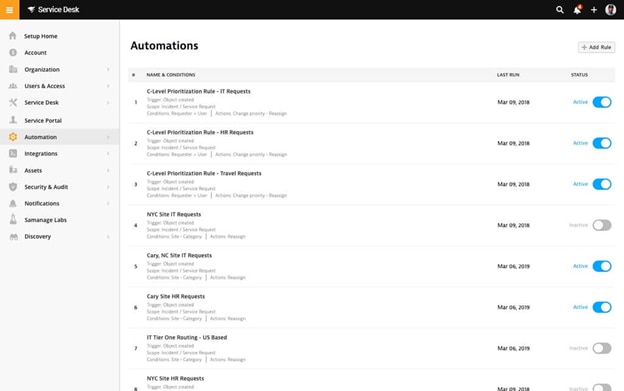 2. Promote Visibility and Real-Time Collaboration in Distributed Work Environments
Given the recent work shifts due to COVID-19, the ability to collaborate online is arguably more important than ever. Incident management automation can help with this too.
Real-time dashboards that can be shared with different teams and stakeholders and ensure everyone is looking at one source of truth go a long way when you team is distributed among different states, countries, and time zones.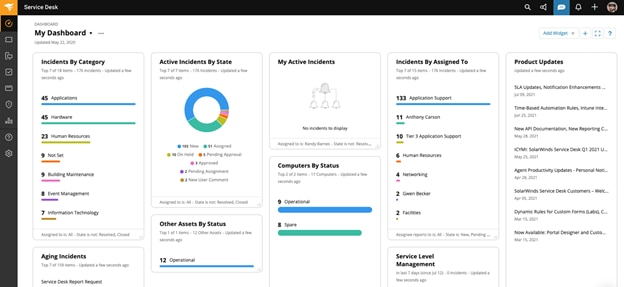 Incorporating the daily use of real-time dashboards into your team's incident management practices capitalizes on your service desk's ability to automatically update widgets and show you where your current bottlenecks are or if there's an unexpected or abnormal surge in incidents or problems in certain location of a certain type—and communicate it to all team members at once, in real time.
3. Improve Technician and Customer Experience
You're probably asking yourself, "Why are they talking about improving IT technician's experience? I get customer, but technician?" Modern service desk solutions offer automation capabilities to enhance your technician's capabilities and help them focus more on solving complex issues and providing service, rather than copy-pasting content manually, clicking drop-down menus, and searching different data points all over the place.
An effective implementation of incident management automation includes automatic machine-learning suggestions of related incidents, problems, assets, or existing solutions for the technician to attach to the current incident they're processing with a single click. It not only provides them with more visibility into the gravity of the situation they're handling, but can inform the employee or other technician of an existing solution or related matters.
Another example of incident management automation beneficial to the technician is having an automatic display of the incident's lifecycle record available while processing a ticket. Effective service desk solutions monitor the ticket's lifecycle—date and time of creation, original assignee, incident age—and empowers the technician to make better decision regarding urgency and escalation.
When you make your technician's life easier in searching for information, or communicating and documenting solutions—you invest in their personal and professional development by allowing them to use their time to learn a new technology, invent a new workaround, or improve and scale existing processes. Investing in your technicians ultimately helps preserve your personnel, and you enjoy a team of highly experienced, trained, and loyal technicians.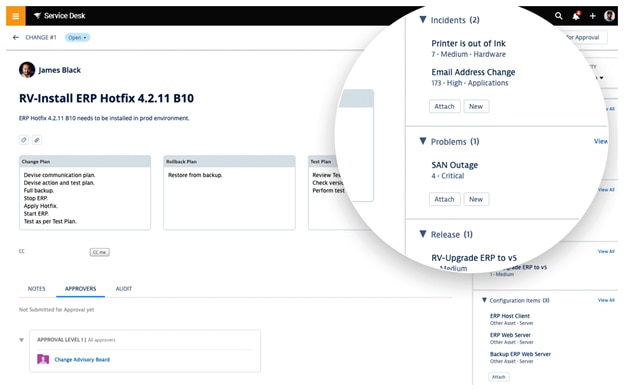 When the service desk shows interrelated problems automatically, you can notice connections quicker and cut down on troubleshooting for simple causes.

All of these automation capabilities can help you reduce your minimum time to resolution (MTTR) metric, accelerate your service, and ultimately improve your customer satisfaction score.
Conclusion
If you work in ticket resolution, you likely spend most of your day fixing problems and resolving issues. Manual tasks can slow down your process and impact your customer satisfaction. Fortunately, you can use incident automation management to minimize complications and take your service desk to the next level.
In this article, we covered three key reasons to consider automating your incident management:
It can save time and improve technician productivity.
It promotes visibility and real-time collaboration in distributed work environments
It can improve both the technician and customer experience