Keeping track of your network's components is imperative for understanding and maintaining your IT infrastructure, which helps the overall business thrive. But choosing the right way to create a network map can be daunting—there are so many ways to draw a network diagram and so many choices of software.
I've created this guide to help you better grasp the concept of a network diagram and why it's so important and inform you of the best network diagram creators available on the market today. If you're looking for a quick answer, my recommendation is SolarWinds® Network Topology Mapper (NTM). This diagram creator is at the top of my list due to its balance of an easy-to-use interface with advanced capabilities, including built-in scanning systems. NTM is highly recommended throughout the industry, and you can see why for yourself using their 14-day free trial.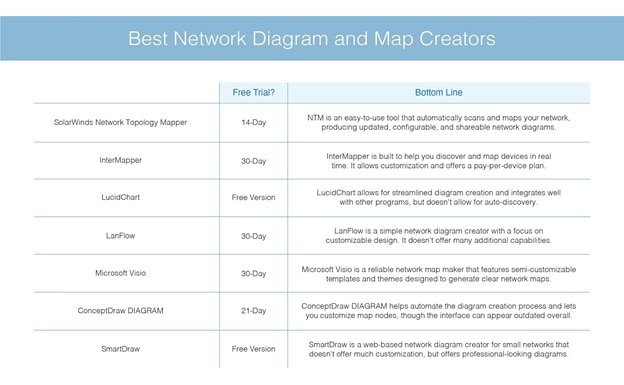 What Are Network Diagrams and Network Maps?
A network diagram and a network map are two names for the same tool. A network diagram or map visually displays how components within a network—devices such as routers, hubs, and firewalls, which are called nodes—connect to one another.
Network mapping can help you discern what devices are present in your network, how data behaves across those devices, and when to introduce system updates. Network diagrams can also be used to catch, determine, and report performance issues.
Network maps can represent two core aspects of your network. Physical networks focus on the concrete underpinnings of your network, such as cables and terminations, while logical networks focus on how data flows across your network, which means they may include elements like subnets and firewalls.
Some kinds of network diagrams highlight both the physical and logical elements of your network. Other types of network diagrams also include switch diagrams, computer network diagrams, and network security diagrams—these different kinds of network diagrams emphasize the single feature of your network they describe.
Do I Really Need a Network Diagram?
Yes, you need to create a network map! Creating, updating, and utilizing a network diagram is crucial for gaining insight into how your network components interact and how healthy your network is at a given moment.
The best way to create a network diagram is to use a network diagram creator. You can use a network diagram builder to accomplish more than just visualizing your network and keeping track of its maintenance, such as:
Plan the structure of a new network
Update coordinates to an existing network
Propose infrastructure changes
Identify and troubleshoot network problems
Ensure your business's network complies with current requirements
Keep track of old and new network components
Understand, review, and share information about your network
Based on which network diagram generator you choose to invest in, network maps can provide a simple network overview of your network or a more detailed network drawing. In this article, I've listed network map creators with different levels of network creation, customization, and troubleshooting ability depending on your needs. And, as I said at the beginning, SolarWinds NTM comes out as the top network mapper because of its widespread capabilities and clean, clear interface.
How to Create Network Diagrams
Although it's possible to create network drawings manually, the best way to proceed is to use a network diagram and map creator. This is software designed to assemble a network map for you automatically by scanning your network, which can save you precious energy and resources. To draw a network diagram on your own can be extremely confusing and time-consuming, not to mention riddled with human error and inaccuracies—even the most experienced member of your team could make a small mistake while creating your network map, resulting in complications down the line. Investing in a network map creator helps ensure your network diagram is clear, accurate, and easily shareable.
The best network diagram generators combine automatic action with customization; these kinds of network map creators allow you to choose your node icons and move them freely within the map, while simultaneously helping your network drawing remain up-to-date and even provide insight into current node uptime status.
My Top Network Diagram Creators
SolarWinds Network Topology Mapper (NTM) is optimal for network diagram building, as it's designed to cohesively map your network from various perspectives and automatically generate multiple drawings from a single scan. NTM makes it simple to share network diagrams to other common formats, such as Microsoft Visio, PDF, and PNG.
It's also easy to change around the existing devices on your network diagram, and NTM is designed to do this automatically or let you edit your nodes manually. NTM also can enable you to schedule periodic network re-scans and automatically update your network maps with new information. A 14-day free trial for SolarWinds Network Topology Mapper is available for download.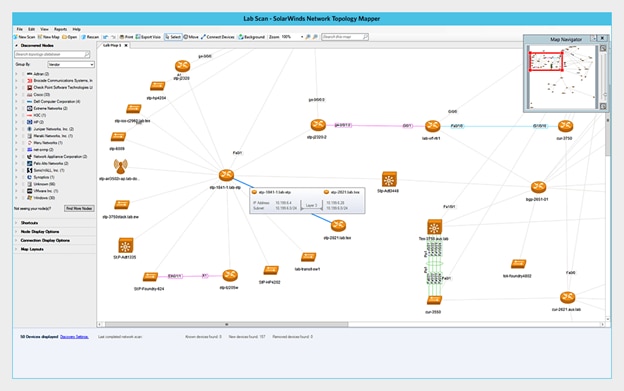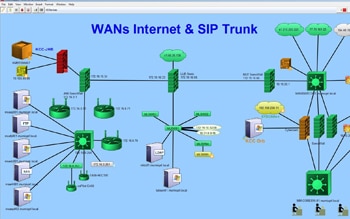 Much like NTM, InterMapper is a great all-in-one network map generator—it can help you discover and map devices, in real time, on both physical and logical networks. You can customize your maps, topologies, and colors, and animate your node icons. The price you pay is based on the number of devices you want to include in your network visualization, increasing as you add devices. You can try it free for 30 days.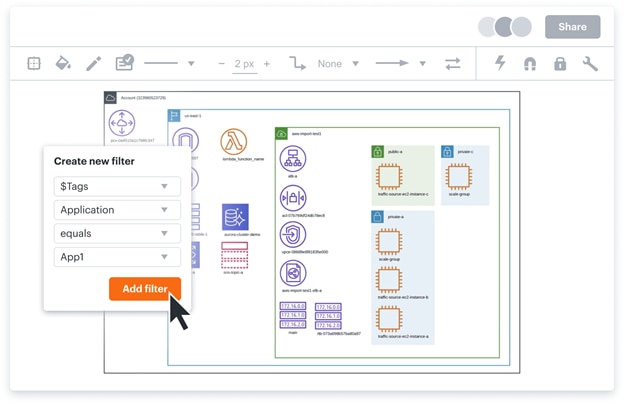 LucidChart is a great program for creating different kinds of diagrams such as flowcharts, process maps, and Unified Modeling Language (UML). Like SolarWinds NTM, LucidChart integrates well with other programs and automatically backs up data. However, LucidChart has no auto-discovery features, so it doesn't supply the same network protection and maintenance offered by other programs. A free single-user version is available for download, as are three levels of professional versions.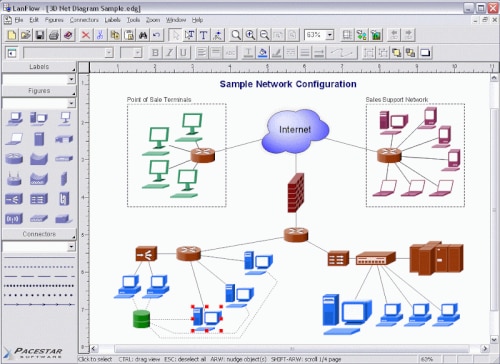 LanFlow is an excellent network diagram builder if you're looking for a simple network map maker with design capabilities. There are lots of helpful tools—you can use pre-defined templates or create custom diagrams, employ an optional snap grid, add figure and flow labels that adjust automatically to movement, add hyperlinks and websites, and deploy full zoom capability. You can try LanFlow for 30 days free before purchasing.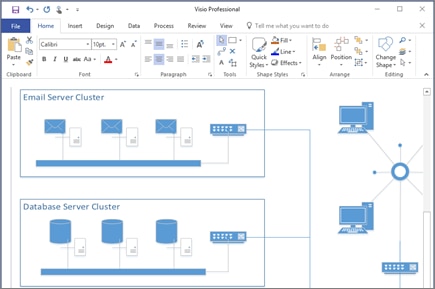 An industry standard, Microsoft Visio is a reliable network diagram builder that can easily communicate with other Microsoft software. Its features are semi-customizable, offering preloaded templates and themes you can use to visualize your network. Microsoft Visio can protect your data with loss protection and Information Rights Management (IRM), but a downfall to this program is its inability to automatically create a network diagram from a network scan. A Standard version is available, as well as a more expansive and expensive Pro version. Try it free for 30 days.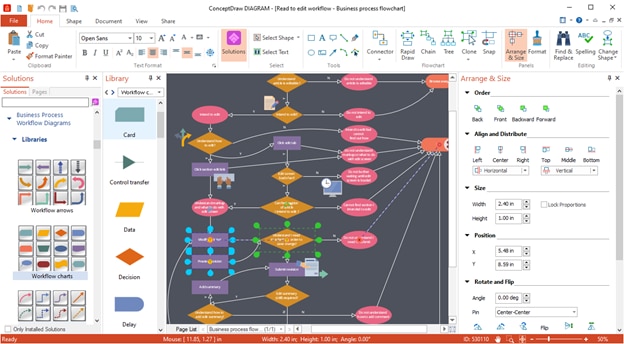 Used primarily to draw network diagrams, ConceptDraw DIAGRAM (previously known as ConceptDraw PRO) comes with features like the Smart Connector and Building Plan Designer to help automate the process of creating a network visualization. ConceptPro Draw also gives you the opportunity to create custom node icons, but I think its interface is somewhat outdated, although simple to use and easy to learn. They offer a 21-day free trial.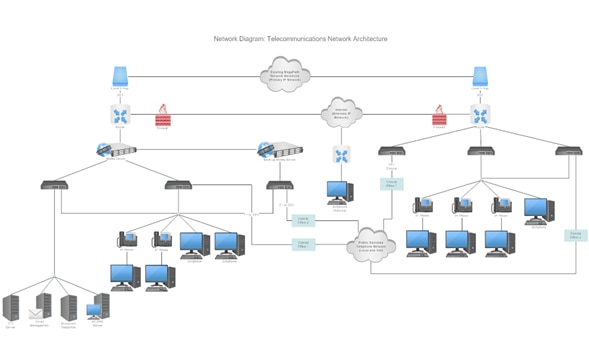 SmartDraw is a web-based network diagram maker, so it can run anywhere with a stable internet connection. It's not very customizable, but this makes it easy to add data to SmartDraw and achieve a professional-looking diagram. If you're a small business this is a great option, but for larger businesses SmartDraw can be a hassle—especially because you pay by user. You can sign up for a free online version here.
A Recap on Creating Network Diagrams
A network diagram creator is a fun and necessary tool designed to help you clearly visualize your network's devices, flows, and other connections. The best network diagram makers, like SolarWinds Network Topology Monitor, incorporate beautiful design opportunities with powerful tools for network management and monitoring, providing the full IT administration package. You can download a free 14-day trial of SolarWinds NTM and reap the benefits of network visualization today.