In a time when the world seems to revolve around data, it's no surprise organizations, no matter their size, need some support managing all of their stored information. With new data constantly being created and added to your databases, trying to navigate data storage, applications, and more without a tool is, at best, overwhelming and, at worst, impossible. That's where data storage tools come in.
In this piece, I take a closer look at some of the top data storage tools on the market to help you find the best solution for your organization. My top pick is SolarWinds® Storage Resource Monitor (take a moment to look at the details at the end of the comparison) for its ease of use and customizable features. Before I get into the ranking, though, I think it's best to address the actual purpose of data storage software.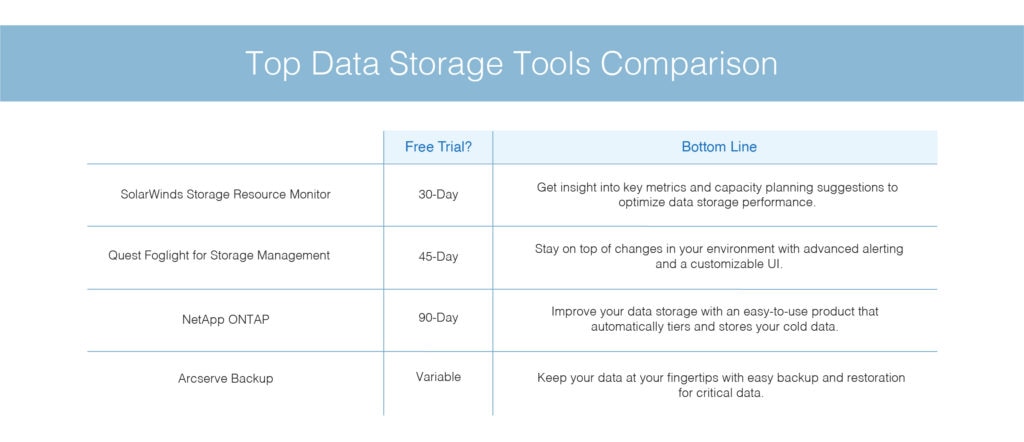 What Are the Key Functions of Data Storage Tools?
Data storage tools help organizations navigate how their data is accessed, stored, and managed. Because there's more to data storage than finding a place to keep data in the long term, these tools usually take the form of data storage management software designed to help with everything from resource monitoring and basic organization to capacity planning. No matter the size of your company, data storage software is essential if data makes up a significant part of your business.
One of the main reasons it's essential is data storage software helps ensure you don't run out of storage capacity. After all, data storage can use up a large amount of resources and if you're unprepared for the future, you may find yourself wasting money on extra storage space simply because you haven't used your existing resources effectively. The best data storage tools help prevent that from happening by forecasting your future storage capacity needs based on resource monitoring and analysis. By monitoring key metrics and resources, data storage management solutions can also help ensure end users, whether they're employees or customers, don't encounter costly delays when trying to access data.
Another important element of any data storage tool is managing the many different types of data members of an organization may need to access at a given time without wasting storage space. That means storing hot, regularly-accessed data in a highly accessible way, and keeping cold, less-frequently-needed data in a way that doesn't waste critical resources, but is still accessible whenever teams need it.
Choosing Your Data Storage Tools
When it comes to choosing the best data storage management software for your organization, you need to consider what kind of data storage you're looking for. Do you want on-premises data storage, or are you more interested in a remote data storage solution, such as a cloud computing option? Or are you more interested in a hybrid solution combining the two? More importantly, you need to ask, "Will this solution help me manage my data storage resources, so I can plan for future capacity needs, and avoid losing data or needing to buy more storage space?"
The list below includes solutions that fall into all of the above categories, so you can find recommendations no matter your needs. I personally find an effective on-premises solution focusing on resource monitoring, like SolarWinds Storage Resource Monitor (SRM), is the best fit for many organizations due to its excellent features and usability.
Top Data Storage Tools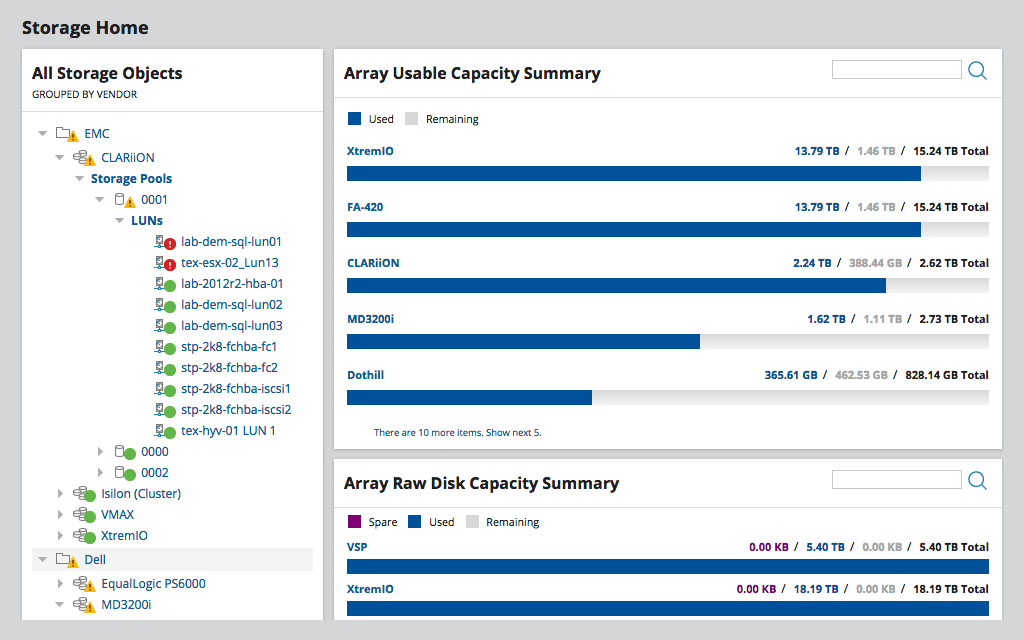 SolarWinds Storage Resource Monitor (SRM) is an excellent choice for a data storage tool, designed to help you visualize and resolve your storage performance issues both easily and quickly across a wide range of storage arrays from leading vendors. SRM's ability to monitor storage devices from vendors including Dell EMC, NetApp, HP Storage , Hitachi, Pure, and more makes it a great solution for any organization receiving data from various sources.
By consolidating its data storage management capabilities into a single, intuitive dashboard, SRM also makes it easy to control where your data goes, how it gets stored, and how it'll be accessed whenever teams need it. The centralized dashboard also brings administrators the information they need to act on multiple levels, letting them take deeper dives into data by clicking on intuitive modules, windows, and other tools.
While all of these features are important and valuable in a data storage tool, the area where Storage Resource Monitor sets itself apart from the other solutions on the market is through the deep level of insight the tool provides into your system resources and the health of your data storage environment. The tool helps you effectively allocate your storage resources, so you don't waste money buying storage space you don't need. It gives you insight into key metrics like storage pool utilization, Top 10 LUNs by latency, enterprise capacity summaries, and more by generating out-of-the-box reports. Admins can then use those features—as well as SRM's automated storage capacity forecasting and intelligent reporting tool—to make fact-based decisions to improve their data storage performance and strategies, including navigating effective resource allocation.
You can try Storage Resource Monitor before you subscribe with a free, fully-functional 30-day free trial.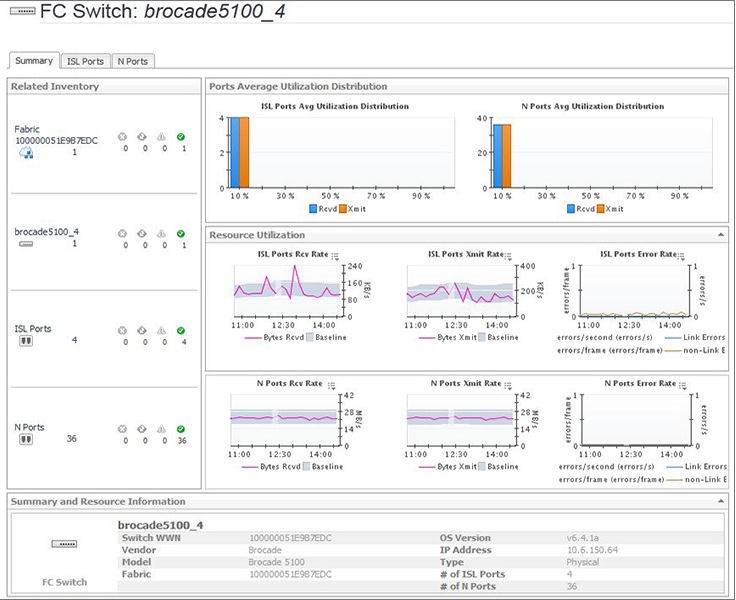 Quest Foglight for Storage Management is a great data storage management suite for anyone looking to simplify, and gain greater visibility into, both planning and analyzing their storage infrastructure. Like other tools on this list, Foglight is designed to help you maximize your existing storage capacity to avoid needless capital expenditures. The suite of tools is focused on maximizing storage during consolidation, virtualization, and cloud projects in particular. It offers various modules that can help with monitoring network performance and can help you scale to a broader, more virtualized infrastructure monitoring solution.
Foglight is light on resources given the amount of monitoring connectivity options it offers, including SNMP v3. While the UI can take a little getting used to, it has the added benefit of being customizable to your specific use cases. Foglight also gives you control over your alerts, so you can stay in the know about the metrics that matter most to your data storage. The tool lets you set custom thresholds for alerts and even add a backup mail server in case the primary server goes down.
You can try Foglight free for 45 days with the Quest free trial.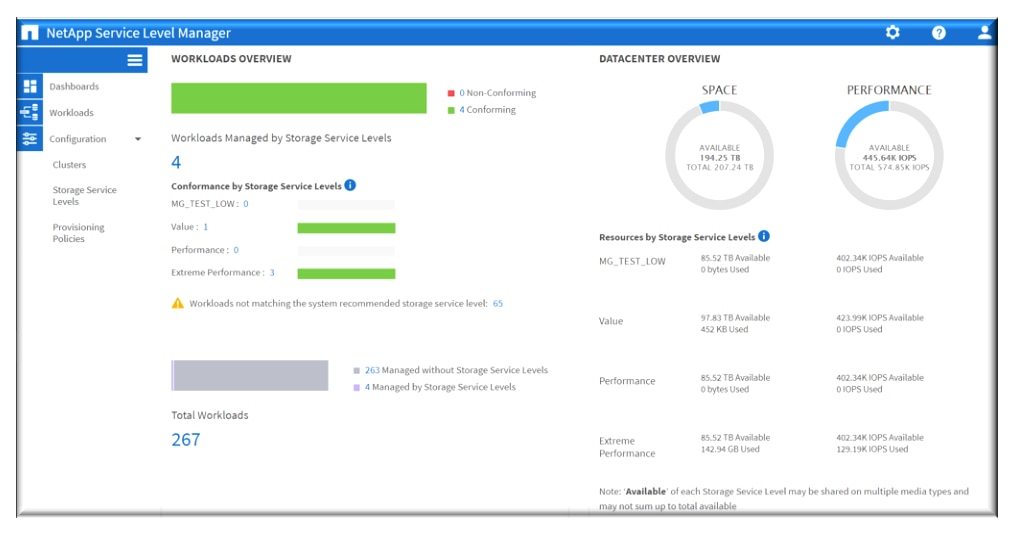 NetApp ONTAP System Manager is another data storage management solution built to unify your data management across disk, flash, and cloud to help simplify your storage environment. It makes it easy to move your data wherever you need it by bridging your current enterprise workloads with your new emerging applications to build the foundation for your data as a whole. That way you can always access whatever new hot data you're working with without losing sight of the cold data you may need again later on.
System Manager is easy to use. Its features are designed to simplify your day-to-day data management, including automatically tiering data to ensure your cold data goes right to the cloud, helping to reduce your TCO.
Test our NetApp ONTAP with a 90-day free trial.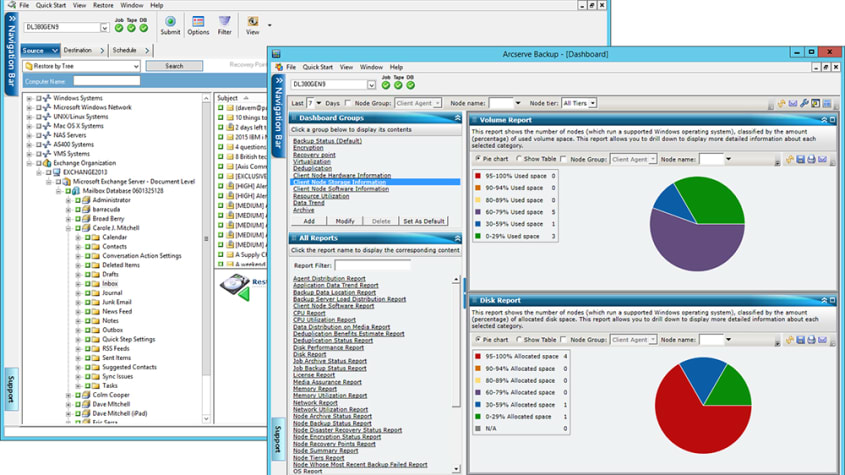 Arcserve Backup is a powerful data storage management solution designed specifically for multi-platform and distributed environments, but with solutions that can fit practically any need. Its main focus is to help ensure your data is always available through backups and easy restoration whenever an issue arises. Arcserve uses magnetic storage tape backup to back up and restore data on the various machines on your network including those running Linux, Windows, and UNIX. Following the initial backup, the tool performs regular follow-up backups, each of which is faster than the first and deduped to reduce the space occupied by the backup.
Arcserve lets you manage your entire environment from a single management console. The tool also makes it easy to run various jobs either right on the primary server, or remotely on any other server. These job operations include restore, backup, merge, migrate, scan, copy, compare, and more.
While Arcserve is a powerful solution, it's important to mention it has a steeper learning curve than some other data storage tools, so if you don't have experience with similar tools, you should definitely try some of the featured free trials before investing in the full Arcserve solution.
Choosing the Right Top Data Storage Tools for Your Organization
Personally, I like a tool that will help me make informed decisions related to my data storage. That means picking a tool designed to monitor key metrics, generate reports, and offer me data-based capacity planning. That's why my choice for the top data storage tool is SolarWinds Storage Resource Monitor. Not only does SRM give me the information I need to make confident decisions about my data storage, it also integrates with the SolarWinds Orion® Platform, meaning I can use the tool alongside my existing network, system, database, and virtualization monitoring products with the added benefit of a single-pane-of-glass experience. That means better data storage, and lower TCO, for my organization.