Data center infrastructure management (DCIM) encompasses the management of an enterprise's physical assets—servers, data storage, networking devices, etc. In the past, admins managed DCIM using spreadsheets and physical data center checks. But because it included manually handling huge amounts of data, this wasn't practical.
The next generation of DCIM involved using a combination of software and hardware to manage data center infrastructure. But with the advent of DCIM software and other data center management tools, these practices are no longer necessary.
In this how-to guide, I'll outline the basics of data center infrastructure management and provide my picks for the best data center management software, starting with the SolarWinds® Orion® Platform. The interconnected and integrated nature of the Orion Platform makes it especially versatile, as you can add or remove components to create a tailored solution.
What Is Data Center Infrastructure Management?
Components of DCIM
The Importance of DCIM Software
Best Data Center Infrastructure Management Software—List
Implementing a DCIM Solution
What Is Data Center Infrastructure Management?
Data center infrastructure management provides enterprise IT teams and administrators with insight into data center performance to ensure everything is healthy and functioning as expected. It includes the monitoring and management of network performance, storage and server performance, and the physical health of all related devices. Additionally, it extends to asset management, managing and monitoring virtual machines within the infrastructure.
DCIM systems can also monitor the power, cooling, and energy systems feeding into the data center. This is another backstop designed to ensure your service delivery remains optimal.

Components of DCIM
When undertaking DCIM, you must first separate your tasks into key fields, so you have a clear inventory and understanding of what you need to manage. The primary components of DCIM are as follows:
Managing data distribution and storage
Backing up data
Monitoring device health
Upgrading hardware and software
Emergency planning
Data center inventory management and asset management
Optimization
Network performance monitoring and management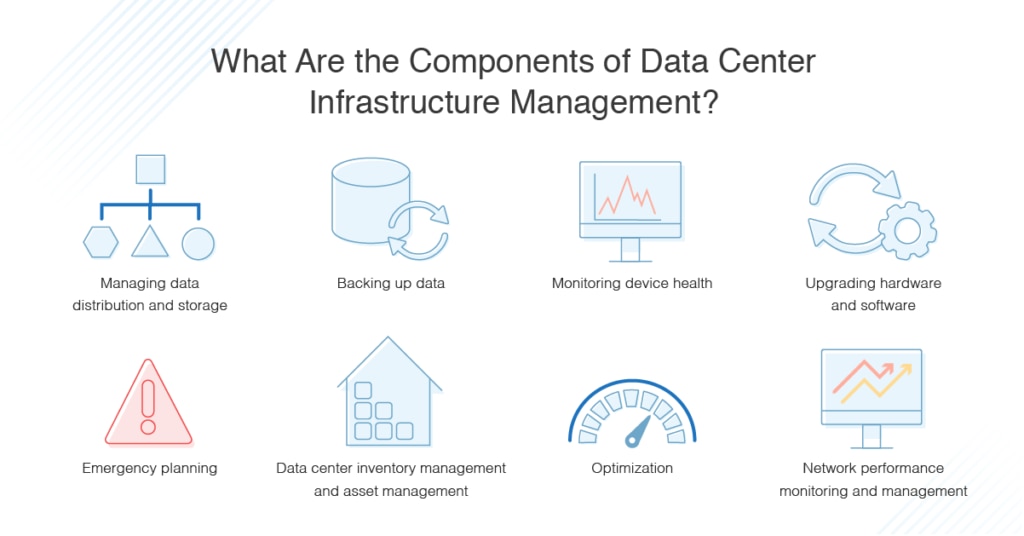 The right software or collection of tools for DCIM should integrate the various components of a data center and provide links between them. DCIM software has several benefits: it can help you discover opportunities to save on energy and costs, reduce risk, increase the availability of your services, facilitate quick fault resolution, and enable you to engage in capacity planning and asset management.
Before you deploy your DCIM software, test it on small sections of your business to ensure all configurations are set up quickly and the software is compatible with your applications, services, and hardware.
This software should be designed for continuous use and should provide reporting information to check functionality and identify errors. All DCIM software should include alerting tools designed to let you know when a fault or error occurs.
Once your software is in place, regularly review and audit your processes and solutions to ensure everything is operating as expected.
Why Should and Why Shouldn't You Use a DCIM Solution?
You've read about why DCIM solutions are important. But before using them, you should know what the benefits and drawbacks of using DCIM solutions are.
Benefits of DCIM Solutions
Help you better understand the performance of your database
Ease resource management by distinguishing the parts of the product you need to focus on and those performing well
Allow you to address problems and bottlenecks earlier, improving the quality of business
Streamline the upgrade and optimization process
Drawbacks of DCIM Solutions
Not suitable for small-scale organizations
Implementing and managing a DCIM solution is expensive
You need specialized personnel to integrate and manage a DCIM solution
Functionalities of DCIM
Understanding what DCIM is and why it's important is the first step. The next step is knowing which functionalities you should expect from a good DCIM solution. In this section, I'll address a few good functionalities your DCIM solution should have.
Real-Time Monitoring

It's important for your DCIM solution to give you access to real-time monitoring so you always know what's happening. This helps you address issues quickly and minimize their impact.
Analytics
Analyzing data in logs is tedious, and there's a good chance you'll miss something important. Your DCIM solution should have good analytics features to display data in an easy-to-understand form.
User Interface
DCIM is complex by nature, but you want your DCIM solution to be simple to use and handle. A good DCIM solution provides an easy-to-use interface and navigation between its tools and the framework's features.
Integration
Migrating from an existing DCIM solution to a new DCIM solution is difficult. The DCIM solution should easily integrate with different databases and database management tools.

Best Data Center Infrastructure Management Software
There are many available data center infrastructure management tools; some are more niche solutions focusing on particular elements of DCIM, and others are broad and far-reaching. Niche solutions may be suitable for smaller businesses, but large enterprises will require extensive coverage for all aspects of DCIM. Below are my top choices for the best DCIM software.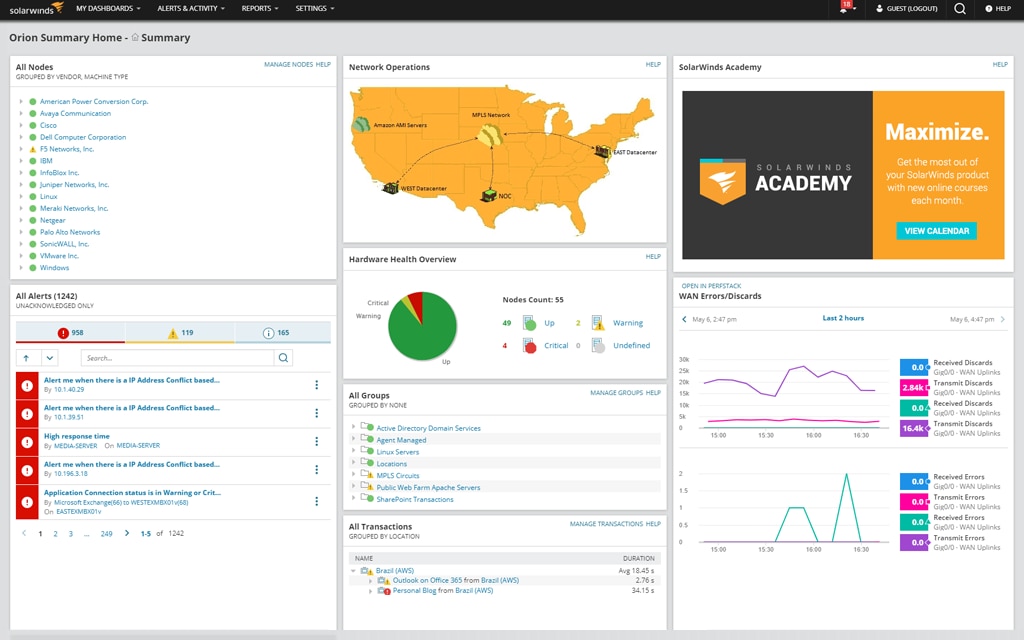 My number one pick is the SolarWinds Orion Platform because it enables businesses to seamlessly integrate many powerful tools to create a tailored DCIM solution. These tools, outlined below, can be used alone or in combination.
SolarWinds Server & Application Monitor (SAM)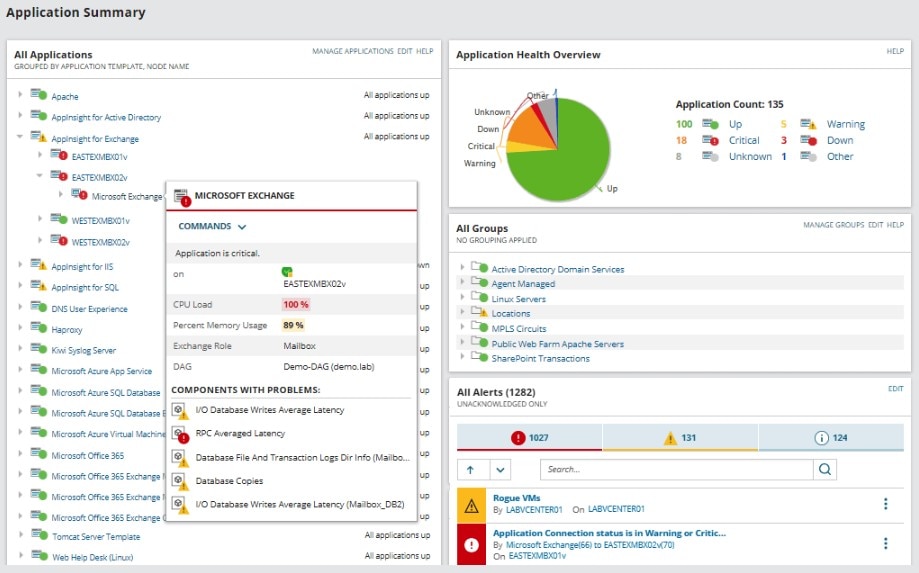 SAM provides server capacity planning tools and monitors servers in an on-premises, cloud, or hybrid environment. It includes features allowing you to monitor all your applications (including those from third parties) and map their dependencies. This can help you pinpoint server, network, or storage issues possibly affecting application performance.
SolarWinds Database Performance Analyzer (DPA)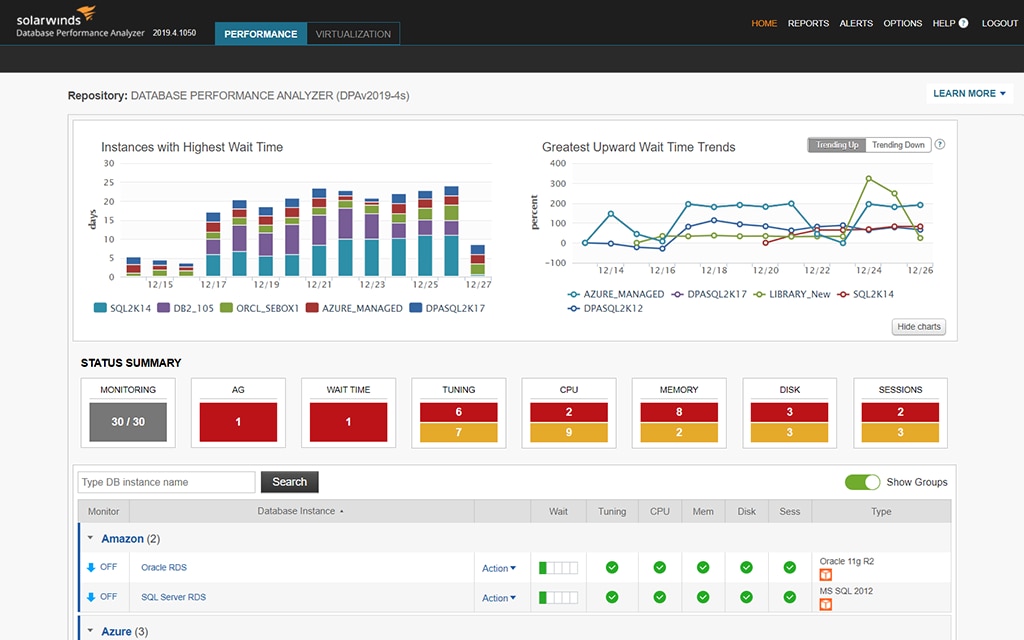 DPA tracks database performance, using machine learning tools to determine typical performance and highlight issues potentially requiring troubleshooting. It can analyze numerous metrics, such as SQLs, applications, waits, users, and client machines. With 24/7 monitoring, it can also provide historical monitoring data and compare it to current performance. DPA integrates smoothly with other SolarWinds products to provide information about overall application, server, storage, and infrastructure health as well as operational status data.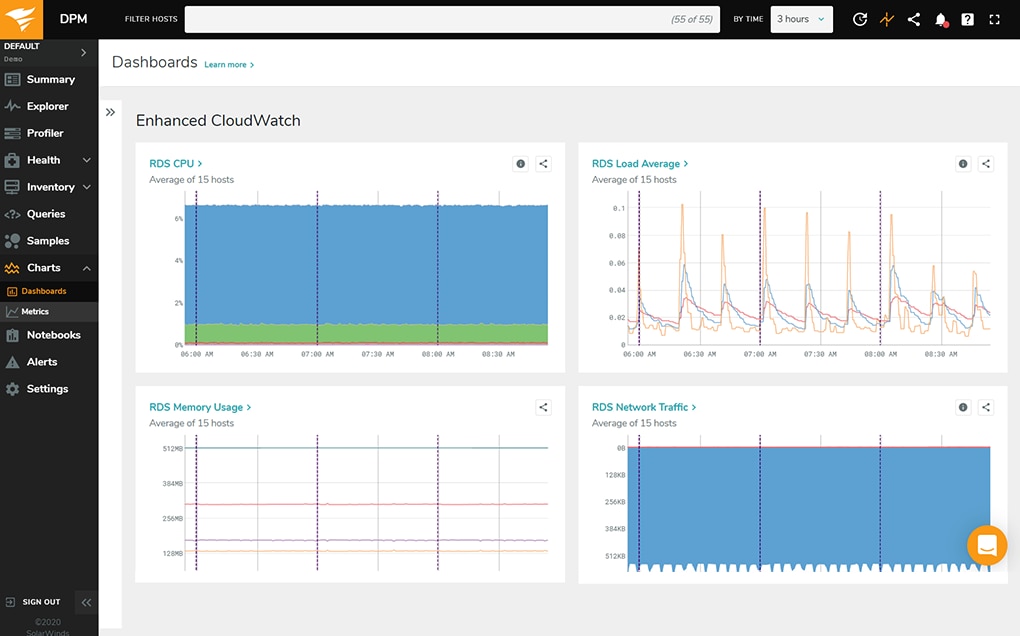 DPM helps you monitor and optimize your database. It can monitor various performance metrics, such as throughput, error rate, and CPU utilization. Understanding how your database behaves when you make changes or with varying loads helps you identify the parts of the system you need to work on to make the overall application better.
Networking Tools
There are also two networking tools available on the Orion Platform: SolarWinds Network Performance Monitor (NPM) and SolarWinds Network Configuration Manager (NCM).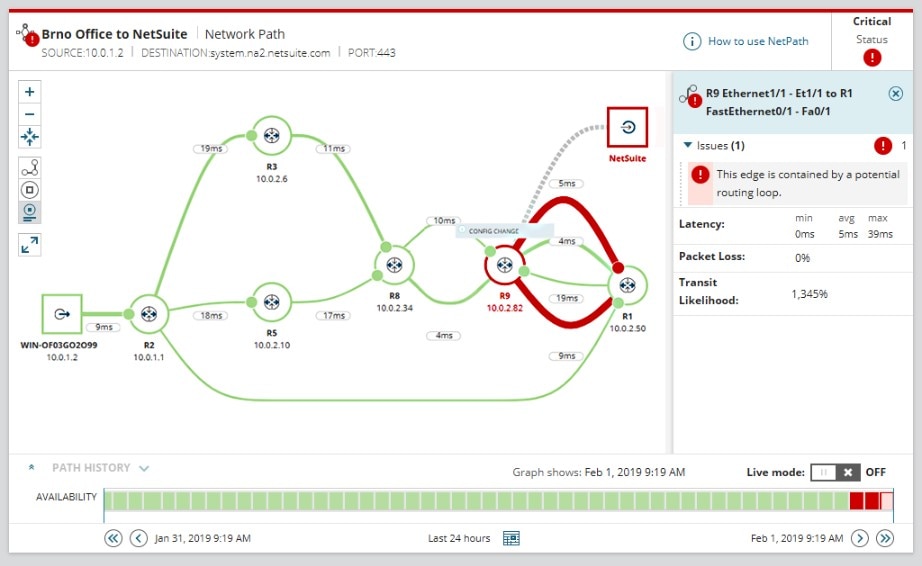 NPM provides network availability monitoring and helps check for faults. Additionally, it can display historical and current performance metrics and alert you if there are any issues outside of the normal network performance baselines. NPM uses packet analysis to determine whether the network or application is at the root of your issues.
NCM complements NPM by optimizing network configuration through a combination of automation, backup management, vulnerability management, and life cycle management. It can help you rapidly roll out new configurations and tackle changes to your infrastructure, and it can help you correct violations or configurations.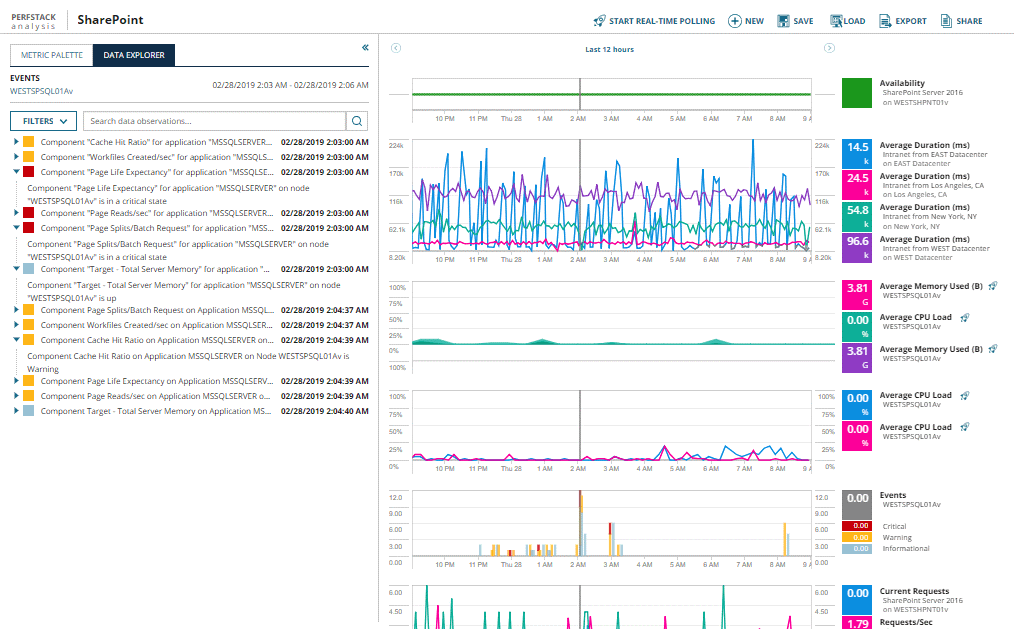 VMAN keeps track of virtual machines, including their optimization, performance management, and capacity planning. It manages your entire virtual infrastructure, encompassing hosts, virtual machines, clusters, containers, VMware vSANs, and other data stores. For vSAN storage virtualization software, VMAN can check for free space or overallocated ratios to ensure the necessary capacity. It also allows you to view deduplication, compression, and before and after statistics. VMAN provides complete visibility into the virtualization stack, whether it's monitoring servers, storage, or virtual infrastructure.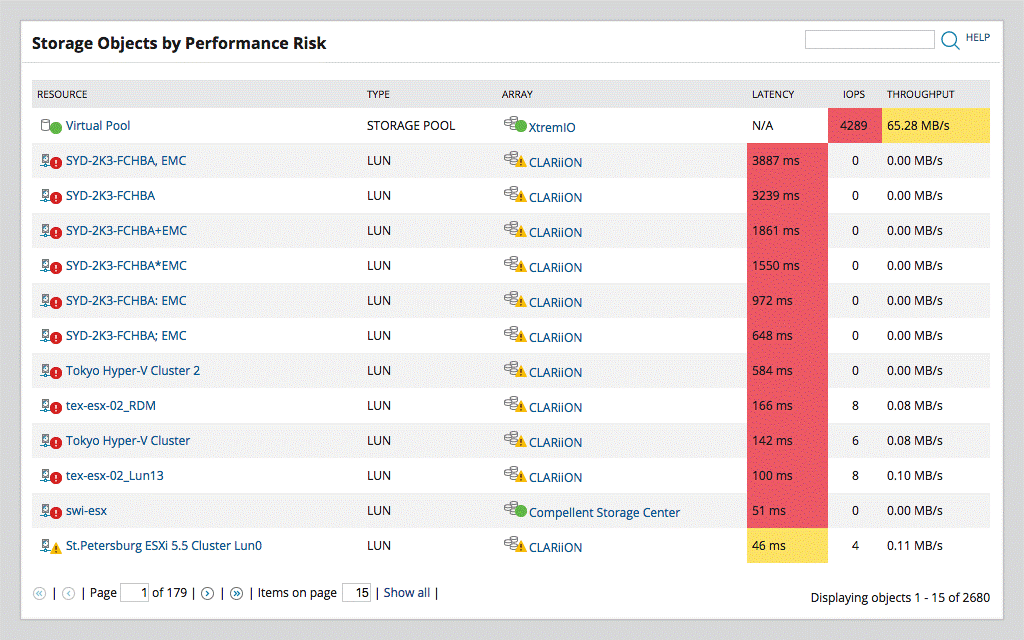 SRM can be used to monitor storage devices from multiple vendors, such as Dell EMC, NetApp, Nimble, Infinidat, and Pure Storage. It gives you visibility into all your storage arrays, RAID groups, and LUNs, and it includes automatic capacity forecasting, so you can easily manage your storage resources as part of your data center infrastructure.
The interconnected nature of the tools within the Orion Platform means you can gain comprehensive and sought-after visibility into data center infrastructure performance. You can mix and match tools to focus your DCIM solution on the most important monitoring and management features. Additionally, all products on the Orion Platform are available as fully functional free trials.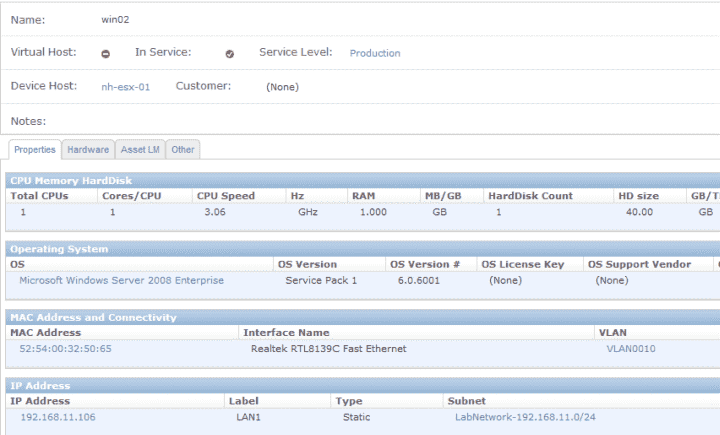 Alongside features like application mapping and password management, Device42 includes DCIM. This tool approaches DCIM from a different perspective, allowing you to create and model data center layouts. You can automatically generate rack diagrams to help manage the organization of your servers, and you can and drag and drop servers within the diagram when you move them physically.
Device42 also includes functionality for device information monitoring and health checks. You can see the complete device details for all servers, storage devices, network components, and virtual machines, including details such as CPU, memory, IP address, MAC address, and other hardware components. Device42 has tools for managing assets such as spare parts for hardware, and it can track power and thermal data.
Finally, Device42 includes automatic discovery for network, physical, and virtual infrastructures, making it easy to map and manage your entire infrastructure without issue. Device42 offers a free trial, available as either self-hosted software or a cloud version.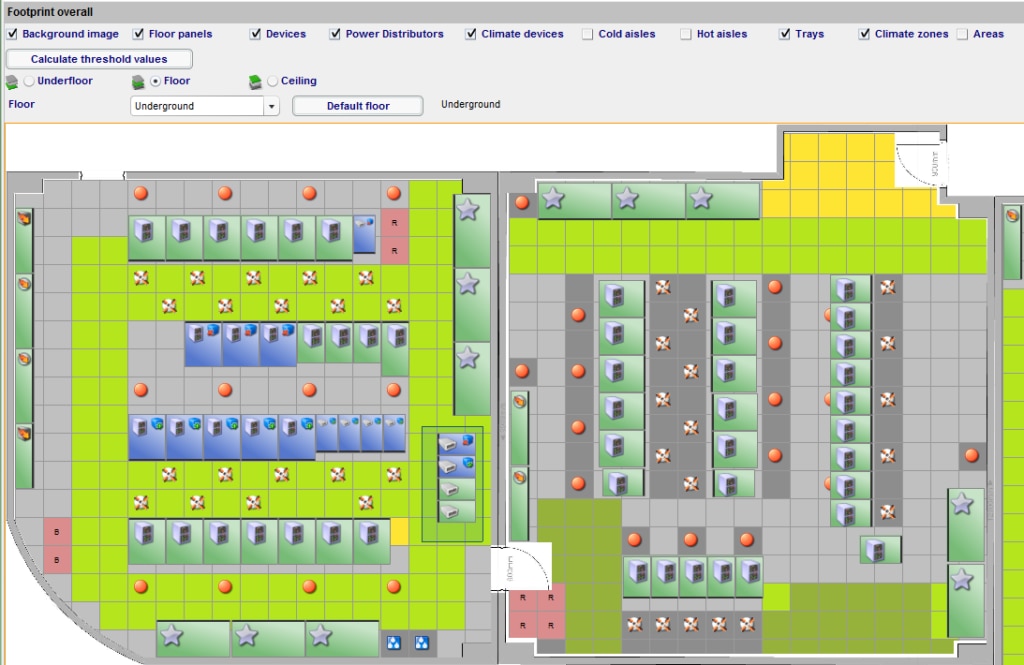 FNT Software also offers a DCIM tool. This solution provides DCIM management through several different routes, such as collecting power consumption data, recording temperature, and undertaking data center planning and performance efficiency analysis. It also includes tools for capacity planning and managing new or changing data centers, with features covering situation analysis, cooling and power management, and floor space planning.
FNT DCIM also helps manage IT infrastructure, including networks, servers, and storage. It integrates with features keeping track of software, application, and service performance. You can request a live demo of this DCIM solution on FNT Software's website.
Implementing a DCIM Solution
DCIM solutions are frameworks with various tools. Each of these tools focuses on different functionalities. The first step of implementing a DCIM solution is understanding what your business needs; you might need all the tools or only a few. Understanding what you need will help you decide which tools to choose.
Next, you need to install these tools in your system. Many tools also provide integrations you can use to collaborate with your existing systems. There are no fixed steps to follow when implementing DCIM in your business. It varies from one organization to another.
Benefits of Using a DCIM Solution
Data center infrastructure management is a vital part of business operations, and the use of proven data center management tools is key to ensuring everything functions smoothly. A good DCIM solution will help you through transitions, service delivery planning, and optimizations to set your business apart. For any enterprise, I recommend the SolarWinds Orion Platform, as its wide variety of interconnecting tools and broad features allows you to build your own DCIM solution.
Understanding the components of DCIM and using high-quality data center infrastructure management tools should help you improve your overall service delivery, and it may even save you money.