Password management solutions help organizations better adhere to best practices by allowing employees to generate strong passwords automatically and administrators to set password policies, like requiring password resets during a specific timeframe. Organizations generally use an enterprise password manager (EPM) to make it easy to create and enforce password policies.
Poor password hygiene can lead to data breaches. According to Verizon's 2020 Data Breach Investigations Report, credential stuffing, which uses stolen credentials from other data breaches or obtained through spear-phishing campaigns, is a significant problem.
As organizations manage a wide range of credentials across their team, a password manager can help enforce good password practices, such as cloud platforms, on-premises infrastructure, and SaaS applications. And they give greater control over credentials and user access to minimize password-related risks.
EPMs generally provide a centralized dashboard to manage and onboard users, review activity, and enforce password policies. On the employee end, each individual user creates a complex password. The employee can then access their accounts in one click using a strong, hashed, or encrypted password. As long as the user creates a strong master password to log into the solution and keeps it confidential, they can greatly reduce their risk of account compromise.
Many EPMs implement zero-knowledge encryption, which means the password management vendor isn't even capable of viewing your stored passwords in text. Accordingly, synchronization happens across devices only using encrypted password data.
Good enterprise password managers offer clients cross-platform support across Windows, Mac, iOS, and Android platforms. Some EPMs provide features for privileged access management and allow password sharing among employees or groups for shared accounts in a secured manner. 
While EPMs fundamentally help manage passwords more efficiently and securely, they differ in features and degree of effectiveness for managed services providers (MSPs).
This article discusses some of the best EPMs organizations can deploy to strengthen their password security and enforce best practices in password management.
☑ N-able Passportal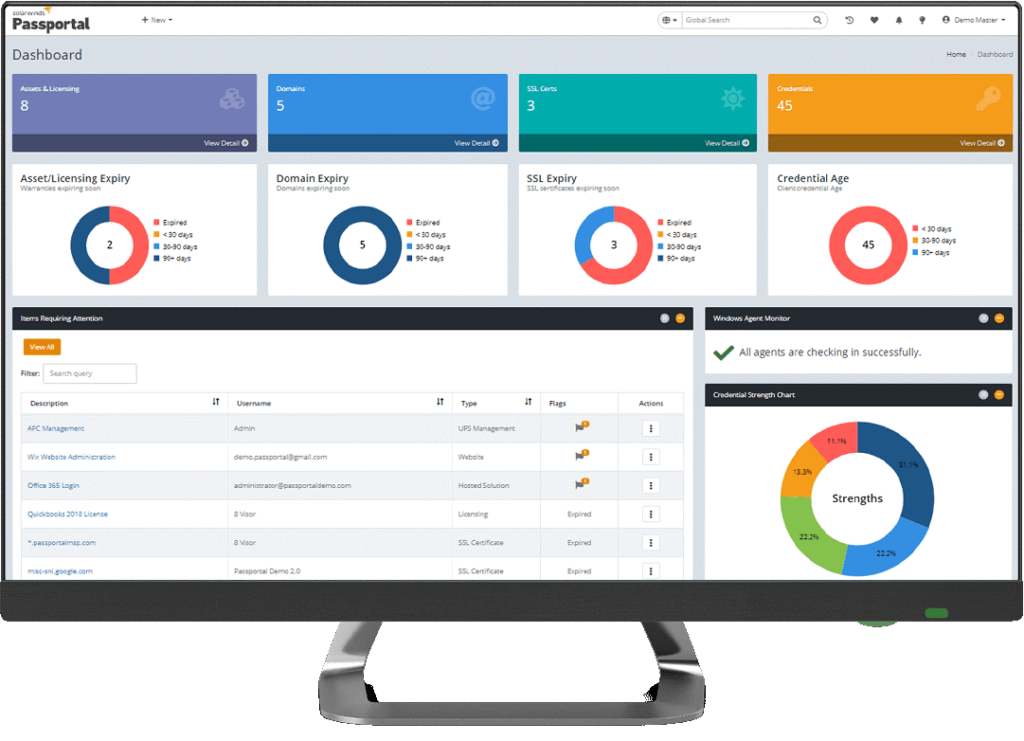 N-able® Passportal™ is a feature-rich password management solution that can also help you manage documentation for your customers. It offers comprehensive features for managed services providers, such as:
Enables easy access to client information and IT documentation for IT technicians
Allows reselling rebranded password-management-as-a-service solutions
N-able Passportal facilitates best practices in password management by allowing users to set strong passwords, enabling teams to automate password changes, and even allowing you to grant or revoke access with role-based access management. It can further help reduce security risk with multifactor authentication. Other notable features of N-able Passportal are:
The ability to give users their own personal password vaults for personal accounts if needed
Insights into password management through password data analytics
Two-way synchronization with Active Directory
☑ LastPass Enterprise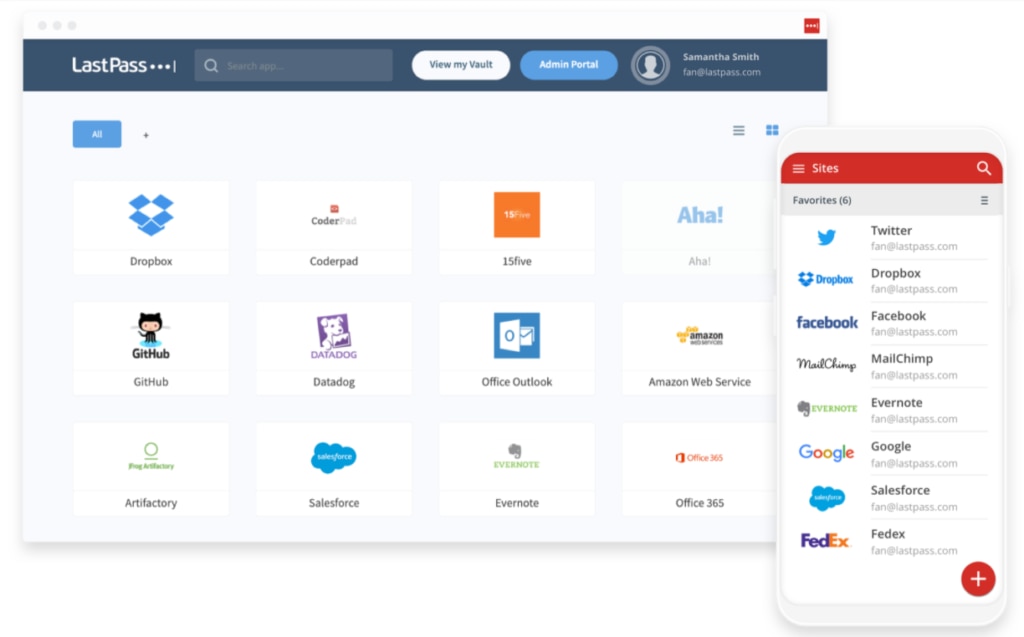 LastPass Enterprise is a password manager built for companies, and it includes easy integration with a wide range of applications, including AWS, Confluence, Dropbox, G Suite, and GitHub Enterprise. It also integrates with identity providers, like Active Directory and Microsoft Azure.
Furthermore, it provides a centralized admin dashboard for managing integrations, user credentials, password policies, and compliance reports. It also allows employees to share passwords securely and revoke access to passwords whenever necessary.
☑ Dashlane Business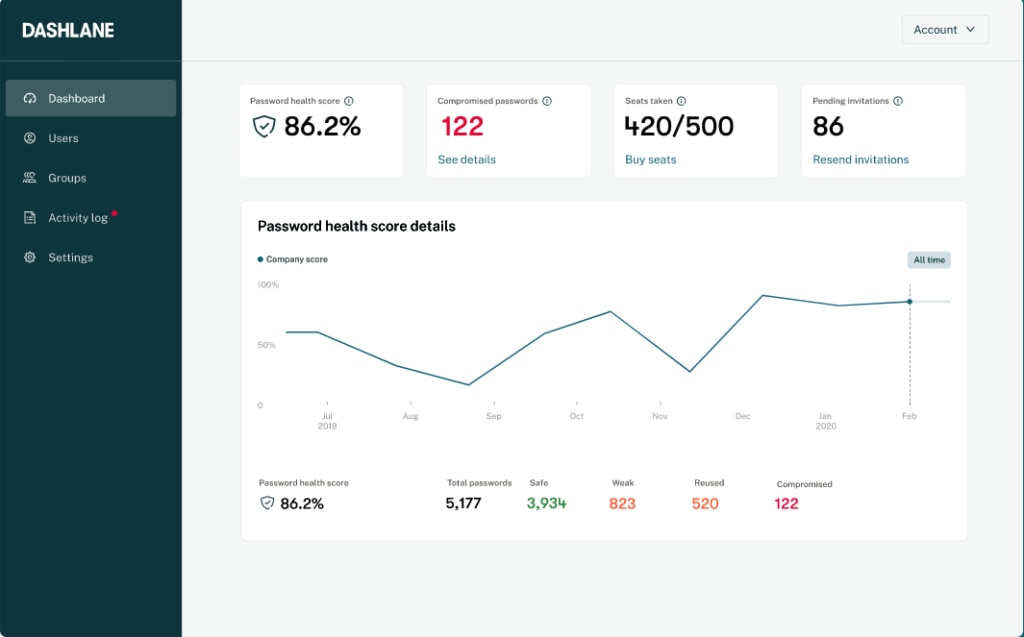 Dashlane Business offers password management with Active Directory integration and supports SAML 2.0. Besides, organizations can deploy Dashlane to multiple users' machines in Windows environments using Dashlane's MSI packages.
It also includes a built-in VPN to improve security when using unsecured networks, like public Wi-Fi networks. It also actively monitors the dark web to find and report any leaked information. Additionally, it offers the Secure Notes feature and allows for managing sensitive information other than usernames and passwords.
☑ 1Password Business
1Password Business provides two notable features in addition to password management: domain breach reports and advanced protection.
Domain breach reports identify any expose information in a known data breach that's connected to an organization's email addresses, so you can change any passwords that may be re-used.
Advanced Protection helps set password policies for master passwords, such as blocking or allowing sign-in attempts from specific locations, IP addresses or from outdated 1Password apps. It also allows enforcing multifactor authentication for using 1Password on new devices.   
☑ IT Glue
IT Glue offers an IT documentation platform with a password manager feature. This helps link passwords with relevant documentation. It is SOC 2-compliant, allows control of user access at a granular level, and reports passwords that are at risk. Organizations can also create individual user vaults to maintain separate master passwords.
☑ MYKI for Teams
MYKI for Teams takes a different approach to password management. It doesn't store or manage encrypted passwords and vaults in the cloud; instead, it uses a peer-to-peer protocol with end-to-end encryption. This means all the passwords are stored in local devices of an organization and synchronized within these devices. It also supports two-factor authentication natively and allows password and account sharing.
☑ RoboForm for Business
RoboForm for Business offers SaaS-based password management that provides a centralized dashboard for admins to manage passwords, enforce policies, and generate reports on user activity. It supports multiple admin accounts, allows the creation and management of various groups, and makes it easy to share encrypted passwords with specific groups within an organization. Organizations can manage privileged access using role-based access management and permission delegation.
Conclusion
According to research, the average person deals with 70 to 80 passwords, making it challenging to create unique, strong passwords and remember them. This leads to using similar passwords for multiple accounts and creating passwords that are easy for attackers to guess or crack. On the other hand, tracking and sharing passwords on spreadsheets and filing them in notepads or sticky notes is inefficient and prone to insider attacks. Therefore, it's helpful to use an EPM that strengthens password security and to gain more in-depth control over password management.