Managing a complex IT system can be a challenge, especially when issues arise. But a strong Configuration Management Database (CMDB) can make the process more manageable. In this article, we'll explore how CMDB tools can help you organize your IT infrastructure and highlight 3 best products for problem-solving.
---
Why IT Teams Need Configuration Management Database Software?
An IT system is a complex network of assets that connect to each other in multiple ways. When there's a technological hiccup, figuring out where the problem began and how widespread it is can be a challenge.
The good news is that with a strong Configuration Management Database (CMDB), you can navigate this process with a holistic approach. There are several tools that offer this functionality, each with its own unique features to best suit different purposes.
In this article, we'll talk about how CMDB tools work and how they can help you effectively organize your IT infrastructure. I'll also cover three products that can help you solve problems quicker.
The Importance of CMDB Tools
In a nutshell, a Configuration Management Database (CMDB) is a tool used to store information about a company's configuration items (Cis), including hardware and software. This lets users view individual assets, as well as their relationships to each other, within the context of the larger IT network. In this context, a CMDB is a crucial resource in impact analysis for IT change management, problem management, and even day-to-day incident management.
Some examples of situations where it can be helpful include:
Confirming that an IT change will be compatible with your current technology
Troubleshooting a problem, like the reason that a printer will not connect to some computers
Avoiding costly technological redundancies before a big purchase.
CMDB tools are helpful in these situations because they can provide relevant data on an organization-wide level. This can result in practical benefits for your organization. For example, 85% of performance interruptions in IT occur as a result of unforeseen changes. This means that the source of the problem is not always clear.
You can use a CMDB to track down where these inconsistencies have taken place and address the problem directly. By sidestepping the process of differentiating the symptoms from the cause, you save time and get straight to the solution.
There are also benefits on the front end. For example, workers lose an estimated 46 minutes per day dealing with IT issues. The quicker your teams can diagnose the problem, the sooner they can start working on solutions. Access to a CMDB can expedite this by streamlining the process.
The impact that a CMDB can have on facilitating the efficient use of centralized data has been recognized as a vital part of IT management. If you're interested in these benefits, you can use CMDB to better understand how your technology communicates.
3 of the Best CMDB Tools to Try Today
Below, we've rounded up three of the top CMDB options on the market today. If you want to get a more hands-on experience with any of the products listed below, each of them offers a free trial that you can use to test their features out for your organization.
SolarWinds® Service Desk is a full IT Service Management (ITSM) program that can provide straightforward solutions for your technological problems. CMDB is an integrated element of its approach.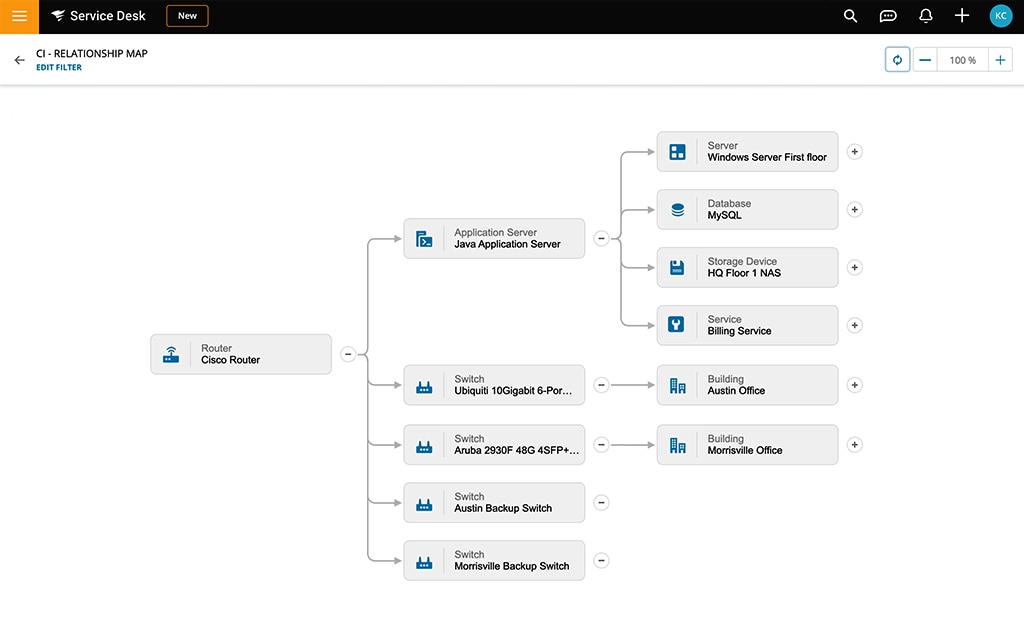 I believe Service Desk offers a particularly user-friendly interface that prioritizes simplicity. Technological interdependencies are clearly represented via clean relationship maps that are easy to understand. Pulling from multiple sources of asset data, Service Desk tracks hardware, software, and IT infrastructure assets, creating a clear picture of downstream impact.
Because the CMDB is integrated with the rest of the ITSM features, these visualizations are automatically populated with information collected from the whole system. I think the practical user interface and centralization of data are further supported by the program's ability to associate problems alongside impacted assets and can further accelerate troubleshooting.
With these features in mind, SolarWinds Service Desk might be the right choice for you if you're looking for an accessible way to simplify the process of managing a complex IT system.
Pricing plans range from $19-$89 per user on a monthly basis, letting you choose a plan that will fit your organization's size and needs. You can also try Service Desk for free with their 30-day fully functional trial.
ServiceDesk Plus by ManageEngine is a full ITSM solution with a CMDB option available for some of its plans.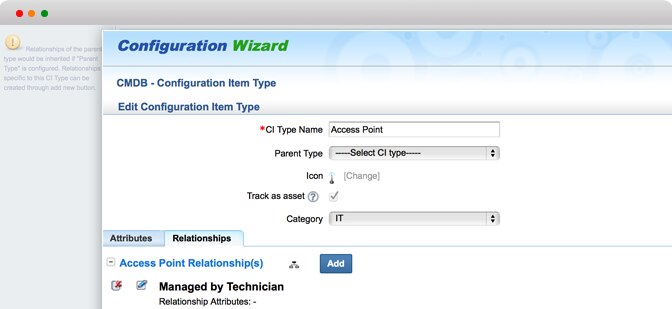 I feel this system offers plenty of control over CMDB functionality. For example, you can manually create your own relationship maps to organize your assets as you see fit. Custom options mean you can also directly define your configuration items for full command of your CMDB.
To take full advantage of this flexibility, you may want to be familiar with your IT infrastructure. For this reason, I think this system might be right for you if you already have a good understanding of your network and want to have a more active role in its management.
While ServiceDesk Plus is available on both standard and professional levels, CMDB functionality is only offered out of the box with an enterprise plan that starts at $50 per user on a monthly basis. If you prefer to use the more affordable professional level plans starting at $21 per user on a monthly basis, you can opt to include CMDB functionality as an add-on for $105 per month. There is no way to include this feature in a standard plan.
Deepser Service Desk is a product that uses a highly interactive CMDB to help users focus on the role that individual assets play in their IT network.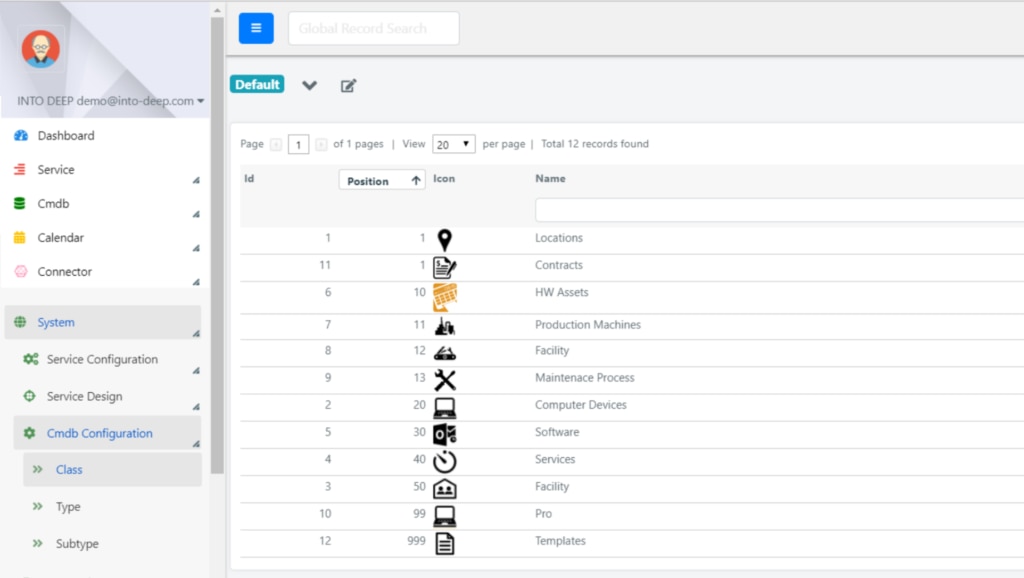 © 2021 Deepser Srl. All rights reserved.
One way that Deepser does this is with self-defined availability timers, a feature that will automatically let you determine when outages occur and how long they last. It also offers individual asset impact reports to show how a piece of technology is affecting the rest of the network. Furthermore, it lets you track custom objects classes, so you can specifically monitor the items that matter the most to you.
I believe this product might be right for you if you're looking to better understand how discrete assets can affect your overarching IT infrastructure. While Deepser does not advertise any prices on their site, you can request a quote or take advantage of their seven-day free trial for further information.
Conclusion
—

Top Configuration Management Database Software

When you're maintaining an interconnected web of IT assets, CMDB tools can be critical to keeping their relationships clear and organized. Choosing a product that offers this functionality with features that suit your needs can help save your organization time and money.

In this article, we recommended three products that offer strong CMDB performance:

For each, check out the free trials to help decide which one would suit you better in a real-world setting.

Note: Pricing is in USD and updated as of January 28, 2021.