Finding the best VoIP monitoring software can be tricky. We live in a digital age saturated with rapidly evolving software. There are free, open-source, closed-source, and enterprise-grade solutions to choose from, each claiming to be the best. Some will be suited to you and your business needs, and others won't be. This guide will help you choose between the available VoIP monitoring tools, considering the best paid and the best free software.
---
What is VoIP?
6 Best VoIP Monitoring Software
1. SolarWinds VoIP & Network Quality Manager (Free Trial)
2. Paessler PRTG Network Monitor
3. Extrahop
4. ThousandEyes
5. VoIP Spear
6. VoIPMonitor
How to Choose VoIP Monitoring Software
For those of you who don't have time to read the whole guide, my top pick is SolarWinds® VoIP & Network Quality Manager (VNQM). It's much more than a VoIP traffic analyzer; this tool serves as an all-in-one VoIP traffic monitoring and VoIP troubleshooting solution.
It offers versatility through an impressive range of functionalities, all of which are useful and provide enterprise-grade sophistication without sacrificing user-friendliness. It's easy to navigate, requires zero experience or training, and comes with an ample support network in the form of a loyal community of users and technicians who are always on hand.
SolarWinds is a highly dependable and reputable company primarily known for its Network Performance Monitor. You're likely to see SolarWinds products at the top of most "best of" software lists because the SolarWinds range is consistently popular and evergreen. With SolarWinds, you can bank on the latest features and software developments, constant support availability, and a stress-free experience. SolarWinds VNQM is no exception.
What Is VoIP?
VoIP—sometimes referred to as IP telephony, internet telephony, broadband phone service, or broadband telephony—is simply phone service delivered over the internet. It allows you to conduct calls directly from your VoIP phone, computer, tablet, or other data-driven hardware by converting the voices of participants into digital signals. Popular VoIP applications include Google Voice, Google Group Chat, WhatsApp, Facebook, and Skype. These are all examples of a hosted VoIP service, which means the software is installed and the client is responsible for providing the infrastructure.
VoIP technology uses packet-switched protocols to allow traditional telephony services to operate across computer networks. A packet-switched VoIP converts voice signals into individual packets, which are then transmitted across a VoIP-compatible network, like a LAN. Because it uses packets, a much larger amount of information can be transferred across the network, thereby enhancing your communication capabilities. A VoIP business solution can help make your communications more productive and agile, and many businesses use VoIP to facilitate a unified solution incorporating phone calls, faxes, email, web conferencing, voicemail, and more. All these units can be delivered in any way to any handset.
VoIP is also highly cost-effective. Unlike standard long-distance and international calls, using VoIP costs no more than the price of your internet connection.
As I've already touched on, the main issue with VoIP is it's prone to poor call quality. This is because VoIP is dependent on internet connection, which is susceptible to hiccups. Due to latency, packet loss, and jitter, phone calls can become garbled, distorted, or even lost.
Moreover, lags are difficult to rectify in voice communication. Delivering packets late can cause the conversation to become confusing, and lost packets can result in parts of the conversation being missed, sometimes without the participants being fully aware.
This is why VoIP monitoring tools are essential. When it comes to business communications, every word is important, and poor call quality can result in frustration and lost customers.
6 Best VoIP Monitoring Software
Here is my list of the best VoIP monitoring software. In ranking these products, I've considered user-friendliness, range of functionality, sophistication of the utilities, and suitability for business use.
SolarWinds VoIP & Network Quality Manager (Free Trial)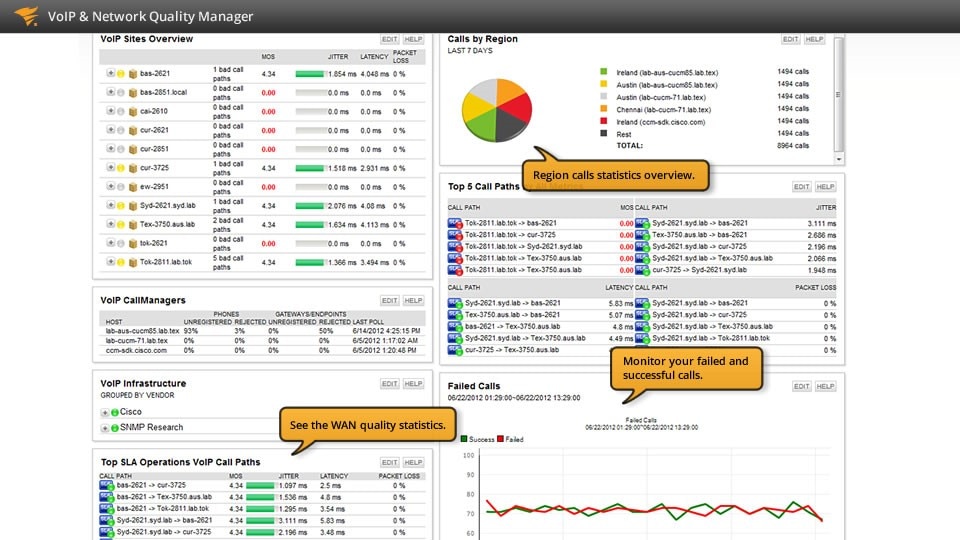 © 2023 SolarWinds Worldwide, LLC. All rights reserved.
SolarWinds VNQM is a VoIP monitoring solution designed to deliver detailed QoS metrics for critical calls and insights into WAN performance. Major benefits of this software are:
optimized layout of its dashboard – dashboard and user interface are components SolarWinds has perfected across its product range, establishing a dynamic aesthetic with interactive charts and graphs as well as sections for each key metric. In the top navigation bar, there are four main tabs, each associated with a drop-down menu. The various sections give you an overview of your VoIP sites, a map of the sites, failed call metrics, calls by region, top SLA operations, VoIP call paths, VoIP gateways, and top five call paths by all metrics as well as the ability to search for VoIP calls. You can also drill into various aspects of VoIP performance for more detailed insights, like specific VoIP gateway views. This keeps the main dashboard from becoming cluttered and facilitates smooth navigation.
WAN monitoring in real time – instant alerts on site-to-site WAN performance. You can ensure WAN circuits are performing at the expected service levels by employing Cisco IP SLA metrics. The program also includes synthetic traffic testing. The alert system is intelligently designed, allowing you to implement custom thresholds and alerts. When a threshold is breached, you're notified immediately.
insight into call quality metrics – latency, packet loss, jitter, and mean opinion score (MOS). It does this by actively examining Avaya and Cisco call records.
simple searching of VoIP calls – you can search for calls matching specific criteria (any or all), including call origin, call manager, call destination, call time, call status, and call quality. You can then group the results, which will appear in a table, and select the ones you want to analyze.
visually trace VoIP call paths – gain an overview of VoIP call details, path details, and call signaling. This incorporates jitter, packet loss, latency, and MOS metrics for the call origin and destination. With this feature, you can visualize and pinpoint call issues across the call path from start to finish, including all the network hops in between.
monitor Cisco VoIP gateway and PRI trunk – with utilization and performance metrics for your PRI trunk, WAN circuits, and VoIP gateway, you can facilitate effective capacity planning and measure voice quality prior to new VoIP deployments. You
insight into your Cisco SIP and CUBE trunk – with SIP trunk audio call activity displayed as a line graph showing active, attempted, completed, and in-progress calls. SIP and CUBE trunk call availability and activity are shown in the PerfStack™ dashboard, which helps you rapidly identify the root of Cisco SIP call failures by correlating availability, call performance insights, and network performance metrics like CPU.
Overall, VNQM is a feature-heavy program. It incorporates all the utilities you could possibly find yourself wishing for, yet it remains refreshingly user-friendly. You can access a fully functional 30-day free trial here. Just enter your details and a download link will be sent to you.
2. Paessler PRTG Network Monitor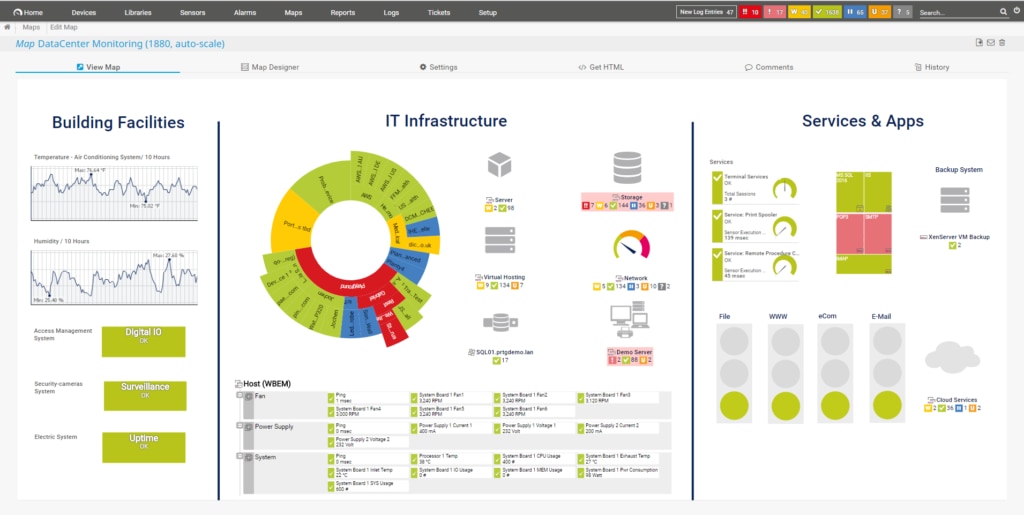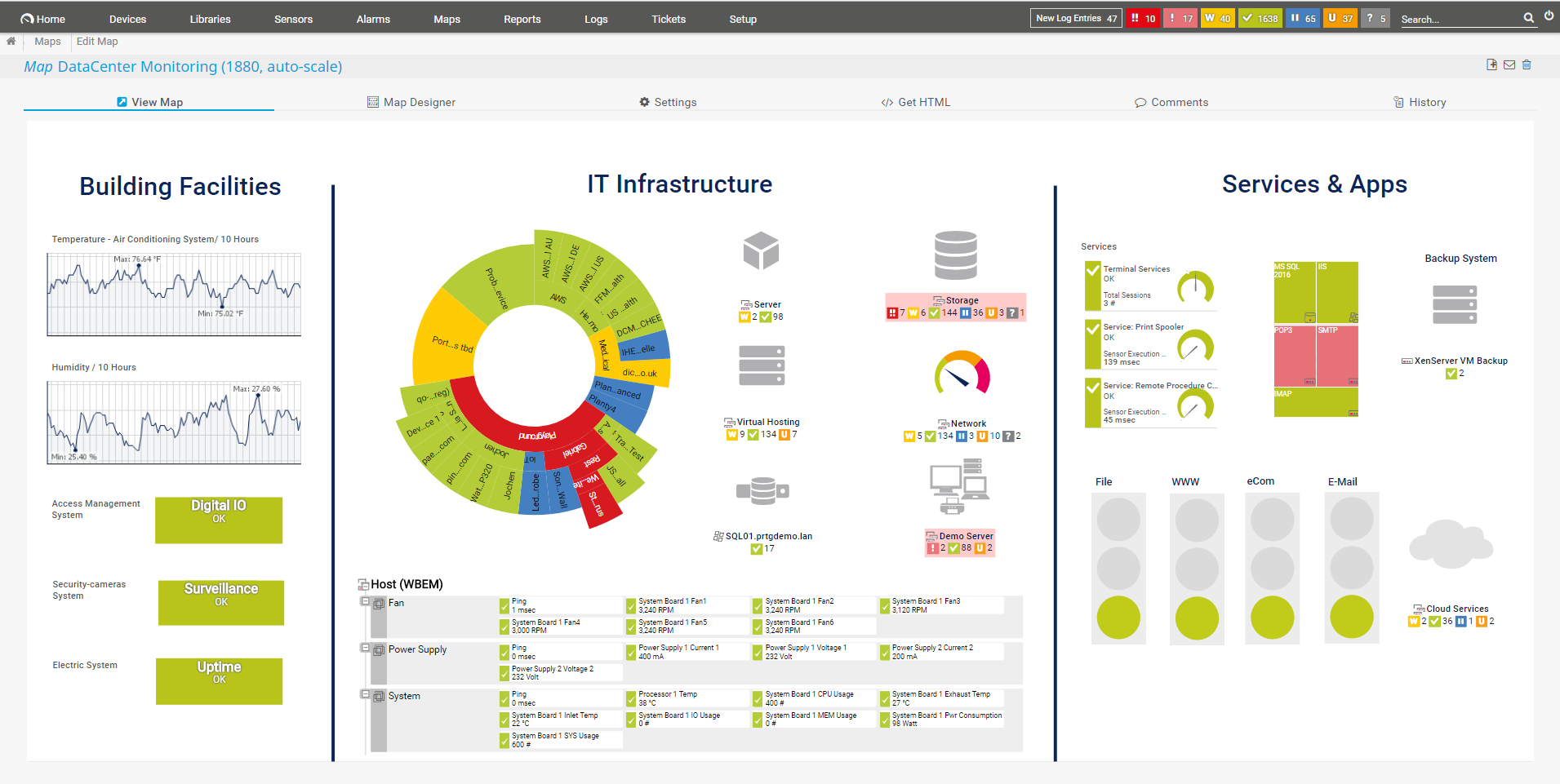 ©2023 Paessler AG
Paessler PRTG Network Monitor is sensor-based, and the first 100 sensors are free. This means you can potentially create a solution suited to your needs without spending a single dollar. A sensor is a basic monitoring element, and one sensor typically monitors one value measured on your network—for example, the CPU load of a server or disk drive space.
There are two VoIP monitoring sensors worth mentioning here:
Cisco IP SLA sensor, a preconfigured sensor allowing you to monitor your Cisco device data. The sensor comes with a dynamic dashboard, and it has dials representing key metrics in a visual, easy-to-read way. It provides an overview of data, including average jitter, average latency source, late packets, and much more. You can also choose to view the data over two days, 30 days, or across the entire year. Historical data and logs are also available.
QoS Round Trip sensor, which measures your lines' quality of service. This covers packet loss, jitter, latency, MOS, and duplicate packets.
With PRTG, however, you need five to 10 sensors for each device, or one sensor for each switch port. This means you're likely to get through the initial free sensors quickly, especially if you have business-level requirements or if your organization is likely to grow. In other words, the free version of PRTG isn't scalable. If your needs exceed the free 100 sensors, you'll have to upgrade.
The pricing model is another potential issue. Because you're required to choose a pricing model allowing for a specific number of sensors and installations, it's possible you'll end up paying for more than you need. For instance, you may exceed the sensor limit for the PRTG 500 edition by a couple of sensors, but you'll still have to pay an increased premium for the next edition, PRTG 1000, even if you aren't anywhere close to the sensor limit.
Because of the pricing model, your costs will mount substantially as you grow, with four paid editions to go through—each more expensive than the last—before you reach PRTG XL1, which allows for unlimited sensors. The good thing about the PRTG pricing plans is all the licenses are fully featured and perpetual. You can access a free 30-day trial of the unlimited version of PRTG here.
3. ExtraHop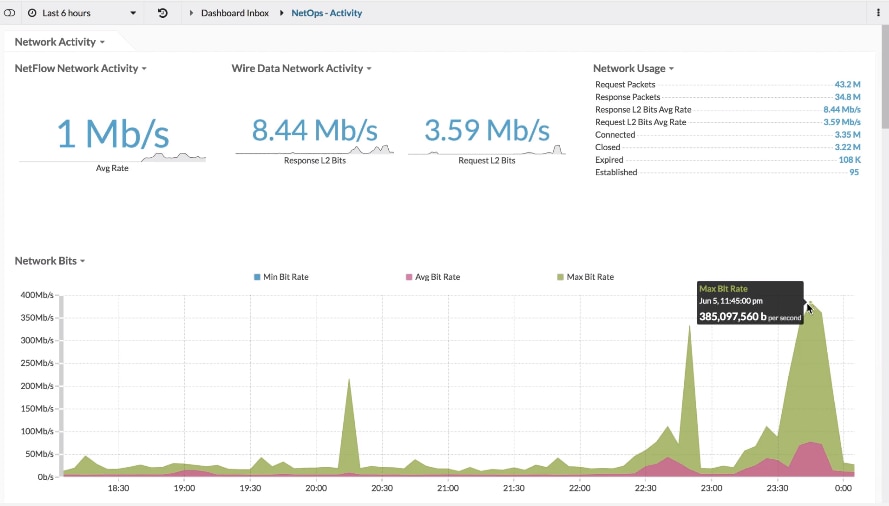 Copyright ExtraHop Networks 2023
With ExtraHop, you can correlate traffic across multiple users, devices, and tiers to assist with rapid problem identification. This allows you to take immediate action to rectify issues before performance is affected. You can also analyze VoIP and video traffic at scale and in real time. Through precision packet capture, ExtraHop supports auditing and compliance.
Users can download and install the ExtraHop VoIP platform quickly and simply, giving them global VoIP insight into call status and volume, load balancing and routing, call quality, and non-VoIP protocols supporting VoIP infrastructure.
ExtraHop is a dependable provider offering numerous solutions encompassing network performance, application analytics, security operations, and cloud-native security. The ExtraHop solutions boast highly sophisticated features, but they could be more user-friendly. Unfortunately, there is an initial learning curve with ExtraHop; it can take time to become familiar with all the features of each program and to learn where they're located within the user interface. A demo of the software is available.
4. ThousandEyes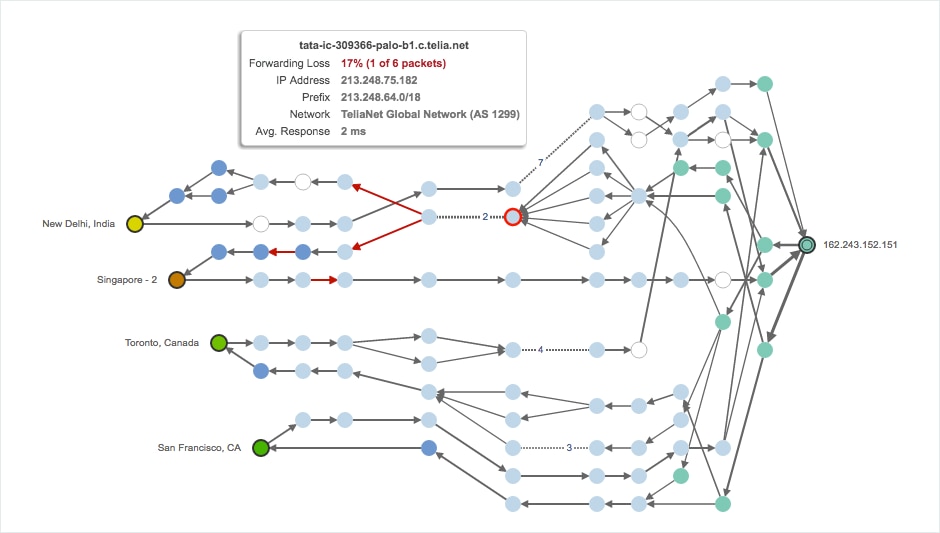 © 2023 Cisco Systems, Inc. All rights reserved.
ThousandEyes offers a comprehensive VoIP monitoring solution. It monitors every aspect of voice calls from start to finish (including SIP signaling and RTP streams) for every network segment. The program correlates SIP transactions, QoS measurements, and voice quality with network performance. It affords you instant insight into the end-to-end service experience, assisting you with the identification and diagnosis of VoIP issues within minutes.
ThousandEyes takes a proactive approach to monitoring SIP signaling and RTP voice streams using enterprise and cloud agents. It lets you visualize your third-party service provider networks and enterprise WAN, giving you a better understanding of ISP routing and the topology of the network.
The tool's migration feature, which facilitates a graceful migration by testing the suitability of your existing WAN and internet for VoIP, is also valuable. Additionally, the tool enables you to stage an expansion to other offices and call centers, simulating utilization and capacity rates to give you insight into viability.
One big benefit of ThousandEyes is its pricing is usage-based, so you never pay for more than you need. However, for large businesses or companies expecting substantial growth, a pricing model not based on usage would probably be preferable. A 15-day free trial is available. Though it's not fully functional, the trial does include VoIP RTP and SIP tests.
5. VoIP Spear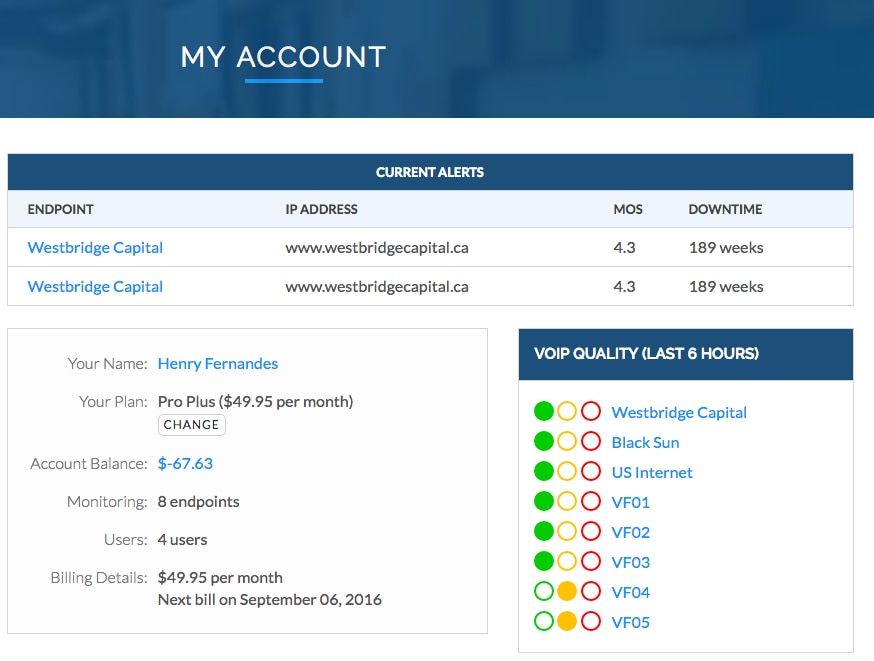 © Copyright 2023, Toepoke Software, Inc.
VoIP Spear makes this list because of the value it offers. With the top-end edition of this program, which you pay for through a monthly subscription, you can monitor up to 100 endpoints. You can monitor these endpoints with a frequency of up to one minute, with:
one-month data archive,
five testing servers,
an alert system,
API access,
and advanced testing capabilities.
The free plan lets you monitor one endpoint, and you can use it for as long as you'd like, so there's no pressure to upgrade.
The advanced testing capacity means you can install VoIP Spear's testing software onto your own servers, giving you highly accurate results because tests are conducted directly from your equipment to your endpoints. This is a 24/7 VoIP monitoring tool allowing you choose between globally located testing servers.
There's no manual installation for VoIP Spear, which means it's super easy to set up. You can try it for free by inputting your details here, and with no credit card details required, you can cancel at any time.
6. VoIPmonitor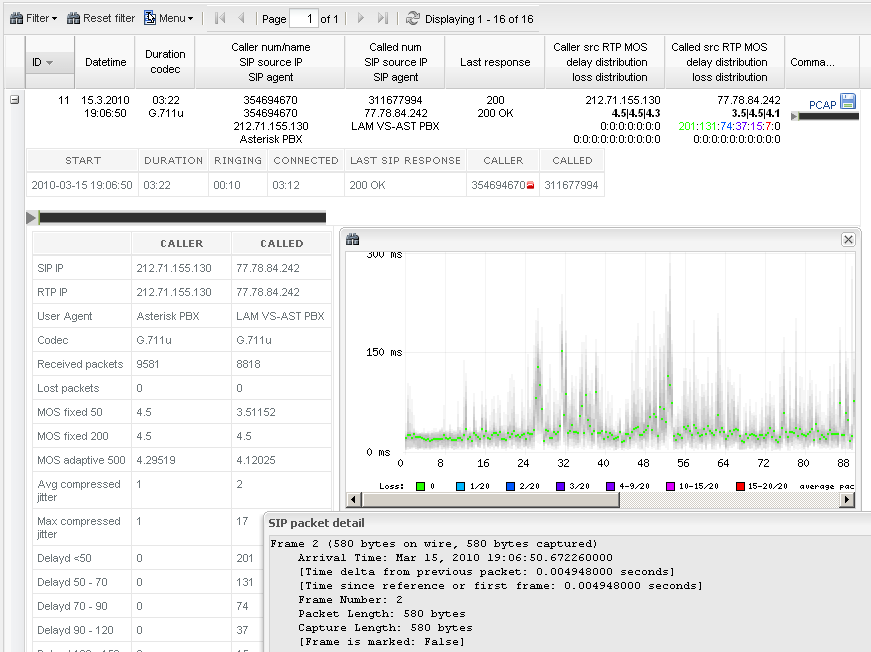 Copyright © 2023 VoIPmonitor
VoIPmonitor is an open-source packet sniffer designed to deliver effective VoIP call analysis. It can support up to 20,000 calls on one server and can be used as a web GUI, monitoring key metrics like packet loss and delay.
This is not an especially user-friendly program, but it's suited for those who are fans of open-source software. Open-source programs, however, aren't especially suited to enterprise-grade requirements, and they aren't as dependable as closed-source software. Nevertheless, this program has plenty to offer, including an alerts system capable of automatically updating you and covering issues related to MOS, packet loss, and jitter. You can also download the source code for VoIPmonitor, which makes it extremely flexible if you have the right knowledge and experience. This is a free tool.
How to Choose VoIP Monitoring Software
Generally, free tools aren't well suited to business use. If you want a scalable and enterprise-grade program, you can't do better than SolarWinds VoIP & Network Quality Manager. This software offers a wide range of sophisticated features and is the most user-friendly. To top it off, all SolarWinds products are backed by a vast community of loyal users and on-hand support technicians. Check out the 30-day free trial.