The Trivial File Transfer Protocol (TFTP) is a file-transfer protocol suited to the transfer of firmware updates, the movement of system images, and similar tasks requiring functionality over form. TFTP is more lightweight than the File Transfer Protocol (FTP), with a smaller footprint. It's also faster and easier to implement and configure, particularly when performing large-scale transfers of workstation configurations, files, updates, and more. A notable disadvantage of TFTP, however, is it doesn't offer optimal security and is more vulnerable than FTP.
TFTP can be used in several ways, including to back up network or router settings configurations quickly and simply. You can also use it to save iOS disk images and deliver upgrades. TFTP even allows you to remotely boot a system without a hard drive. By using TFTP, you can rapidly perform tasks otherwise slowed by carting a hard drive to multiple machines.
Although there are numerous benefits associated with using TFTP for certain tasks, the process can be error-prone and complex. TFTP servers may be the solution to this issue, streamlining your TFTP activities and increasing your control over them. This guide provides a list of the best TFTP servers on the market, and ranks SolarWinds® Engineer's Toolset™ as the most versatile, user-friendly, and suitable for business use. Read on to find out how the other TFTP servers measure up.
Top 6 TFTP Servers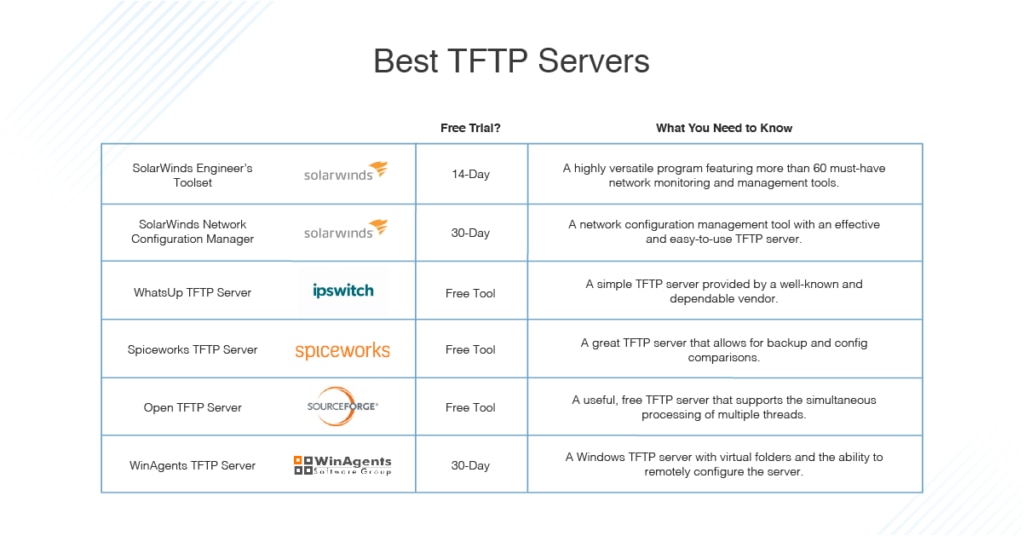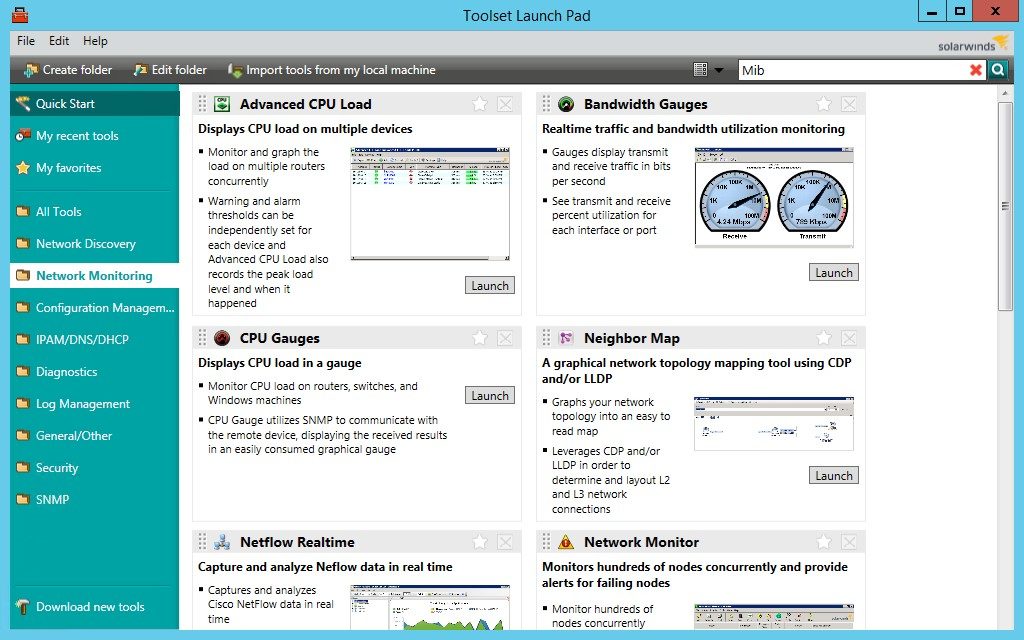 SolarWinds is best known for its Network Performance Monitor, which most network administrators will be familiar with. As a market leader in delivering IT management and monitoring solutions, SolarWinds has garnered a reputation for dependability and cost-effectiveness. Its products are always ahead of the curve and advanced, while offering surprising user-friendliness. SolarWinds Engineer's Toolset (ETS) is no exception.
ETS ranks highest on this list of the best TFTP servers because it is a must-have for all administrators. The toolset features more than 60 tools, all of which are genuinely useful and well designed, delivered at a fraction of the price of other network software. ETS is more than a TFTP server, because it gives you access to all of the must-have utilities you've been looking for—in a single, unified package. These functionalities offer range and unrivaled comprehensiveness, covering everything from diagnostic tools to configuration management capabilities.
The TFTP server component of ETS is simple but effective, enabling you to concurrently upload and download executable images and configurations to switches and routers. This TFTP server is augmented by many of the other tools included in ETS, including the ability to automatically and rapidly discover your entire network. This encompasses the discovery of switch port mapping, equipment, MAC to IP address relationships, and much more. By automating this process, ETS saves you time and resources otherwise spent manually identifying your network components.
Engineer's Toolset features real-time monitoring and alerting capabilities to keep you informed of your network's overall health and availability. Specialist tools are available for monitoring traceroute, CPU, memory, response time, interface, and more. This, combined with the ability to perform robust network diagnostics, makes for rapid and effective troubleshooting. ETS's powerful and advanced diagnostics make resolving complex network issues simple, with tools for accessing ping sweep, DNS, and traceroute diagnostics.
One of the key issues with TFTP is it's more vulnerable to security breaches than FTP. ETS enhances your security with Router Password Decryption, SNMP Dictionary Attack, and SNMP Brute Force Attack, tools allowing you to simulate attacks to assist with the identification of network weaknesses.
ETS also offers configuration and log management tools, IP address and DHCP scope monitoring capabilities, network stress testing functionality, and much more. Moreover, it can be integrated with SolarWinds Network Performance Monitor to improve problem-solving capacity. When the tools are integrated, you can access ETS's Response Time Monitor, Memory Monitor, Interface Monitor, CPU Monitor, and traceroute tool on any element within the NPM console.
ETS features an easy-to-use web console allowing you to access the tools from anywhere and from any device, provided you have access to the internet. The dashboard is simple and dynamic and has an intuitive and easy-to-navigate layout. The tools are highly user-friendly, with zero training or experience required.
With no learning curve, you can get started with the TFTP server tool—and the other ETS network tools—straightaway. A 14-day free trial of ETS is available.
SolarWinds also offers a free tool called TFTP Server, which lets you push OS images, configuration updates, and firmware. You can also back up configuration files, and transfer files up to 4GB in size. With the free TFTP Server, you are able to authorize specific or multiple IPs.
This is a powerful tool, despite being free, capable of being ran as a Windows service. If you want to try out SolarWinds TFTP server capabilities before committing to a purchase, you can download the free tool here.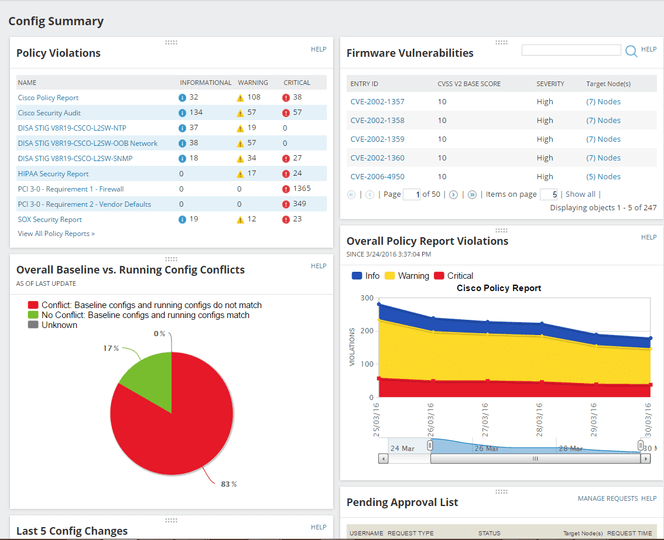 SolarWinds Network Configuration Manager (NCM) provides a TFTP server offering a range of advanced functionality. This includes the ability to push device OS and firmware updates, and conduct advanced device configuration backup, versioning, and searching. NCM also offers advanced configuration template and script management, full configuration change management, and configuration audit capabilities.
Like ETS, SolarWinds NCM offers more than a TFTP server. This software was designed to save you time by automating network configuration management and backup processes and ensuring wider network compliance. It's a highly versatile program offering numerous automated elements, including change management, change tracking, compliance auditing, and backups.
With these automated operations, you can push approved and standardized configuration changes to devices in a few minutes, detect and reverse unwanted configuration changes, maintain policy compliance with continuous auditing and remediation, and minimize device downtime. By reducing the manual labor associated with repetitive tasks, NCM can save you a vast amount of time.
NCM's vulnerability assessments assist with boosting your network security. NCM is integrated with the National Vulnerability Database, giving you access to the most up-to-date CVEs. This takes all the legwork out of vulnerability detection.
To enhance security further, NCM provides Network Insight for Cisco ASA, with the ability to automate firewall activities. This means you can discover security contexts, backup and restore configuration files, discover and audit access control lists, and manage Cisco ASA upgrades.
With Network Insight for Cisco Nexus, you're able to filter, search, and identify configuration changes for access control lists. You can also view interface configuration snippets and access virtual device context support for parent/child detection. In addition, NCM supports device lifecycle management, with insight into when your hardware and software configurations reach end of service and end of life.
Like SolarWinds Engineer's Toolset, Network Configuration Manager can be integrated with SolarWinds Network Performance Monitor, extending its functionalities and improving fault detection. The dashboard centralizes all NCM capabilities and delivers a user-friendly, intuitive experience.
NCM is much more than a TFTP server, offering an array of advanced network configuration management utilities. A 30-day free trial is available.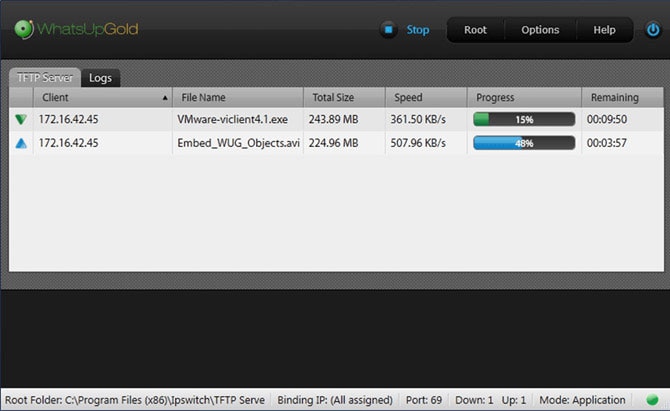 WhatsUp Gold, by Ipswitch, is another well-known network monitoring solution. While WhatsUp Gold is a paid tool, Ipswitch also provides a free TFTP server tool, designed to secure and simplify the transfer of configuration and system files across your network.
The free WhatsUp TFTP Server saves you ample time and resources when downloading and uploading files. Its primary function is to transfer OS software and configuration files across devices in your network. It's also able to back up your entire environment quickly and easily.
Though simple, WhatsUp TFTP Server offers a range of useful functions. You can back up network configurations, copy data over the network, browse computers and devices, and upload configurations back onto network devices. The interface is basic, which means you shouldn't have any trouble finding your way around.
The drawback of this tool is it doesn't offer extended functionalities, like added security features, and the user interface is rudimentary. As such, it isn't especially suited to enterprise-grade requirements.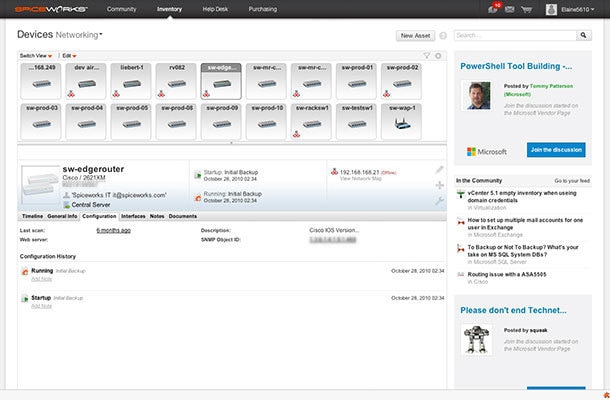 The free TFTP Server from Spiceworks prioritizes network management optimization. This tool will keep your devices up to date and ensure all your configurations are standardized across every switch and router, throughout your organization. The best thing about it is it keeps your devices running the latest firmware and configurations with minimal effort or intervention on your part. This is a basic but highly effective tool.
Spiceworks TFTP Server lets you view network configurations side-by-side with current backups. This allows you to conduct accurate comparisons, so you can rapidly identify devices running out-of-date software. These insights can help you spot rogue behavior in network segments with fast precision.
The tool lets you backup network configurations to file, and restore those configurations to devices quickly and simply. It also supports alerts, so you're notified if changes are made to a device's configuration.
As a free tool, Spiceworks TFTP Server is useful for administrators looking for an easy route into maintaining and monitoring network devices. However, it isn't especially scalable or suited to large-scale business operations.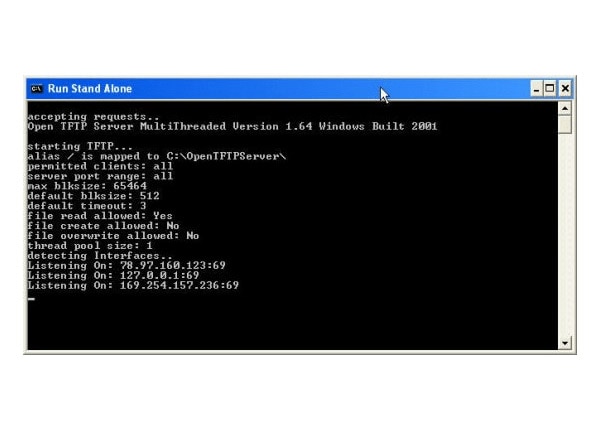 Open TFTP Server is a multi-threaded program allowing you to run multiple processing threads simultaneously. With this tool, you can keep track of concurrent instances of TFTP devices. Open TFTP Server is a freeware program designed to manage PXE Boot, firmware, and more.
This tool can be run as either a Unix daemon or a Windows service. It has numerous useful functionalities, including changeable client port ranges and thread pools. Open TFTP Server supports almost every industry standard feature, covering PXE Boot, firmware load, total size (tsize), block size, interval time, and block number rollover for large files.
One of the best features is the extensive logging and historical logging capabilities, which are useful for forecasting and in-depth analysis. This tool has minimal system resource requirements, which makes it useful for any administrator concerned with resource overutilization.
Open TFTP Server is especially suited to automation and factory environments, where you have to maintain configuration files for old equipment. As a free tool, it's highly functional and easy to use, though not ideal for business use.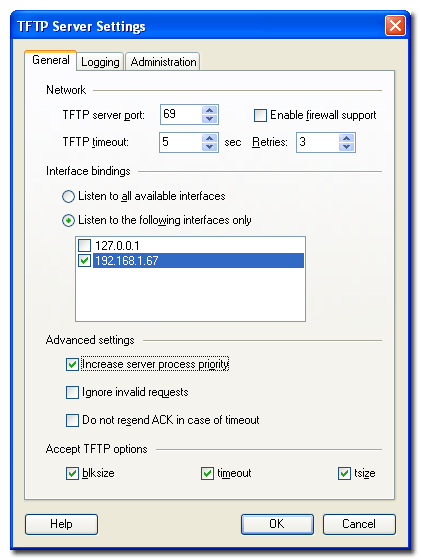 WinAgents is a suite of software with a powerful TFTP server. It can be run on Windows 2000, XP, Vista, 2003, 7, and 2008. WinAgents TFTP Server also supports 64-bit platforms, but by running a 32-bit process.
WinAgents runs as a background operation on a 24-hour basis. It features IP-based access control, allowing you to configure rights of access to files according to the client's IP address. It also supports the transmission of files through firewalls, with use of only one UDP port.
One of the best features of this tool is the ability to remotely configure the server, in addition to examining current TFTP sessions and server work logs. It offers full support of tsize, block size, and timeout, allowing you to optimize and enhance data transmission processes.
With WinAgents' virtual TFTP folders, you can assign specific and varied access rights for each folder. This increased level of access control is a welcome feature, letting you create folders appearing to exist for TFTP users, but not physically existing on the server's disk. This makes file organization, which is notoriously difficult with traditional TFTP servers, easier. You can also implement highest precedence settings for the server process, to make handling large volumes of TFTP clients faster and more manageable.
WinAgents TFTP Server lets you alter server settings without requiring you to restart the server. Although this is a simple feature, it saves time and streamlines the process of changing server settings. This is a highly scalable program, with a built-in cache system to facilitate maximum productivity and scaling.
Overall, WinAgents TFTP Server is a cost-effective and simple tool packed with useful features. You can use it to make reserve copies of device settings, store sound files for IVR systems, update flash images, and perform a range of other processes.
Choosing the Right TFTP Server
While many of the products in this guide offer powerful TFTP servers, none can deliver the same degree of comprehensiveness and overall usefulness as SolarWinds Engineer's Toolset. With more than 60 tools included, ETS provides a user-friendly TFTP server in combination with enhanced network security, monitoring, management, troubleshooting, and analysis. If you're looking for a cost-effective TFTP server with a range of other advanced network tools, then ETS is the software for you. You can download a free trial here.