Packet loss causes network disruption, lags, and losses in connectivity, ultimately impacting business performance. In this article, I'll discuss packet loss testing, concluding with a list of my favorite packet loss test tools.
---
How to Choose the Best Packet Loss Testing Tool
What Are Packets?
Before answering the question "What is packet loss?" you first have to understand what packets are.
Network traffic is often thought of as something that flows, like a stream or a river; however, the information being transferred across a network does not form a single, coherent river of data. Rather, information is transmitted in what we refer to as "packets." These packets, as their name suggests, are small, discrete units of data. Alone, these units don't necessarily make much sense. They're just portions of the overall message being transmitted, which have been packaged into multiple layers. But when combined, these packets achieve meaning.
Packets have to move through a range of hubs to reach their destination, including fiber optics, wireless routers, and copper cables. Once delivered successfully, packets are given a time stamp.
What Is Packet Loss?
So, what is packet loss?
When a packet is considered lost, it means it has gotten delayed or been misplaced within the hubs it has to travel through. When delayed, a packet will eventually time out, in which case a new packet is sent to replace it. If a packet weren't sent to replace it, the recipient of the data would only receive part of the message, and likely in an incoherent form. This process is referred to as retransmission timeout, otherwise known as RTO. While the packets will arrive eventually, the process of retransmission results in late arrival and poor performance.
Packets can also arrive damaged, incomplete, or flawed, making them essentially useless. Again, the solution here is to replace the packet by sending a new one.
4 Common Causes of Packet Loss
There's no simple answer to the question of what causes packet loss. With a range of contributing factors, you will have to conduct diagnostics on your network to discern what exactly needs fixing. Packet loss can be caused by any of the following, or even a combination:
1. Faulty Cables
Layer 1, the physical network layer, refers in part to the actual cables and wires the packets travel through. If your ethernet cables are faulty, damaged, lagging with network traffic, or poorly wired, then they could potentially be leaking packets. This basically means packets get lost or disrupted along the way.
2. Insufficient Bandwidth or Congestion
This is one of the main causes of network packet loss. If your network bandwidth can't cope with the amount of traffic, or there's an unusual amount of congestion, then packets are more likely to get lost.
3. Software Issues
Buggy software can cause network packet loss. If you find a software bug you think might be causing network packet loss, be sure to report it to the vendor. This is tricky to fix on your end, but the vendor may provide you with a firmware patch.
4. Hardware Insufficiency
If your hardware is responsible for routing packets in any capacity, then it could be the source of the network packet loss. Switches, routers, firewalls, and other hardware devices are especially vulnerable to causing packet loss. To prevent this from happening, you need to ensure your hardware has the capacity to cope with the network traffic.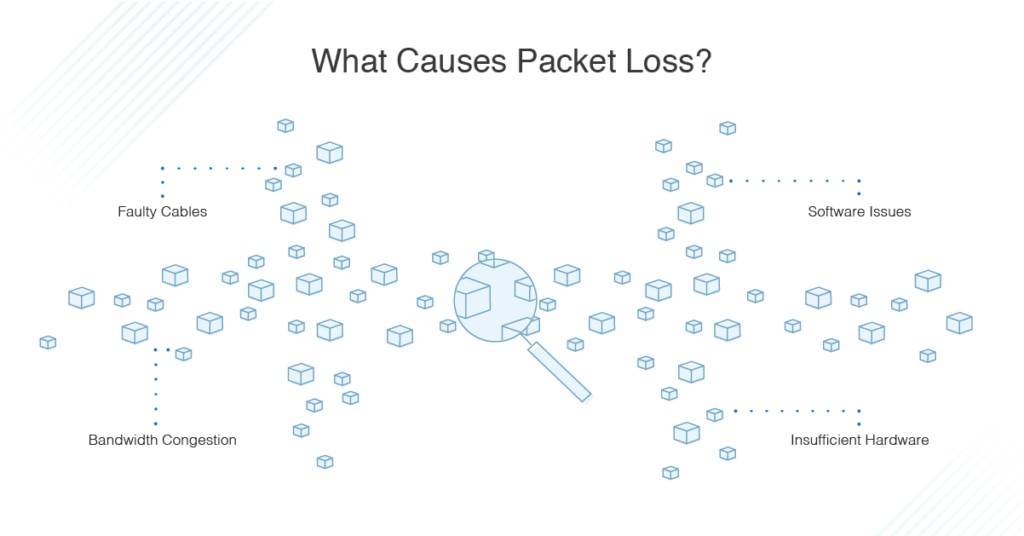 How to Check Packet Loss
How to check packet loss depends on the application or protocol in question. Because every application and protocol handles packet loss differently, the effects are likely to vary. Transmission control protocol (TCP), for example, generally handles packet loss quite well—packet delivery is acknowledged, and any lost packets are retransmitted. User datagram protocol (UDP), on the other hand, does not feature built-in retransmission, so it doesn't handle network packet loss as efficiently.
Packet loss may be best understood in terms of its effects on VoIP, or voice-over internet protocol. Think WhatsApp, Facebook Voice Chat, Skype calls, and Google Voice—essentially, any voice calls conducted over a network connection. When packet loss occurs within this kind of application, it manifests as "breaking up:" the voice quality is poor, and you may miss certain words or even entire sentences. This data gets lost along the way and is hard to recover. Sometimes, the application will lag, delivering speech late and confusing the conversation entirely. This could be a result of network packet loss, but could also come down to bandwidth problems, jitter, and delay. The same applies to video calls, like FaceTime, Skype video chat, and Facebook Video Chat.
Network packet loss can be the difference between a successful online gaming experience and utter failure. It can mean your video and voice quality during a Skype call is so poor the whole attempt to connect seems pointless. It can make streaming a Netflix program feel impossible. And all of this can potentially be caused by just 5% packet loss—the equivalent of a few microseconds of delay.
In general, one of the most obvious ways to "check" for packet loss is to listen to feedback from your end users. If there are complaints regarding poor network performance, then users may be experiencing the consequences of packet loss.
How to Test Packet Loss
Now that we've looked at what packet loss is, what causes packet loss, and symptoms to check for, we come to the golden question: how to test packet loss. The process I'll outline is for Windows, though it shouldn't be too dissimilar from the process required for testing packet loss with other operating systems.
Windows and others feature native tools show you a percentage of packet loss. You'll be using two commands, ipconfig and ping, to conduct a packet loss test.
There are two packet loss tests. One tests for packet loss caused by wireless signal coverage, and the other tests for packet loss caused by network congestion. In the scenario I pose to you, a Windows 10 machine is in use. It's connected to a standard Wi-Fi domestic network, with the access point (AP) acting as the router and internet gateway.
First steps of packet loss test:
Go to the command line interface by opening the "run" application. A shortcut for this is to hold down the Windows key + R, then type "cmd."
Open the command prompt or "cmd" application.
These initial steps need to be performed for both packet loss tests. After you have completed these steps, it's time to test for loss caused by wireless coverage.
Testing for Wireless Coverage
First, make sure you're located far from the AP, with concrete walls between you and the AP, so you can certify the loss is caused by signal coverage.
Find the AP IPv4 address. The command "ipconfig" will show your network adapter's IP configuration. Alternatively, the wireless LAN adapter Wi-Fi section might show you the IPv4 and IPv6 address, subnet mask, and default gateway.
Ping the wireless AP, the default gateway, by running a "ping [target IP] -n 25" command, replacing "target IP" with the default gateway IP.
This process will send 25 ICMP packets to the AP. A packet loss percentage and an average round trip time will then be calculated.
Testing for Network Congestion
If you want to conduct a packet loss test for loss caused by network congestion, follow these steps:
Locate yourself next to the wireless AP.
Test the internet connection against potential congestion. I'd recommend using Google.com to do this, because it is reliable and stable, so there shouldn't be any issues at the destination's end.
Once these packet loss tests are complete, you'll need to analyze the results. If you still don't know the source of the loss, try conducting a packet loss test at a different time of day, with a different device, or from a different location.
4 Best Packet Loss Test Tools
Testing for packet loss requires full visibility into your network. You need to be able to:
Identify what's causing the packet loss
Address the cause to keep your network healthy
A good packet loss checker will enable you to monitor your system and manage packet loss. To help you sort through the various solutions on the market, I've put together a list of my favorite packet loss test tools.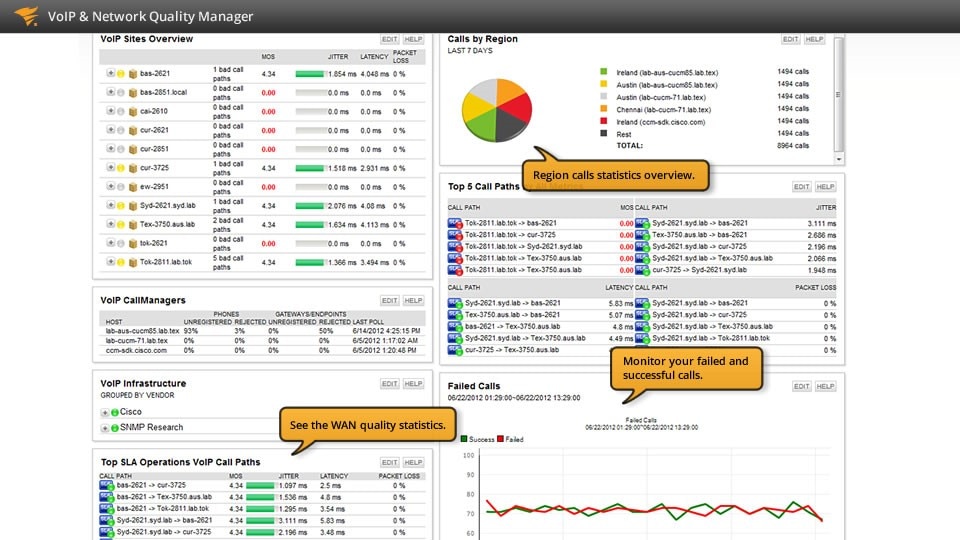 Key features:
packet loss testing
real-time WAN monitoring and WAN performance alerts
Key call performance metrics monitoring
jitter monitoring
searching and filtering call records
network latency monitoring
user-friendly dashboard
My top packet loss test tool is SolarWinds® VoIP & Network Quality Manager (VNQM). It offers real-time WAN monitoring and site-to-site WAN performance alerts, and call record detail (CDR) analysis to identify VoIP performance problems and providing VoIP monitoring utilities for Cisco devices. The packet loss test and monitoring utilities provided by VNQM are powerful and advanced, allowing you to monitor key VoIP call performance metrics to help you pinpoint what's causing poor call quality. Call detail records are generated by Cisco and Avaya communication manager programs and correlated with WAN performance, to assist you with diagnosing any issues within your environment.
This is a cleverly designed packet test tool, letting you quantify packet loss performance for emulated VoIP traffic, which creates VoIP deployment performance baselines. All VoIP call records can be searched and filtered according to packet loss metrics, which are stored in CDRs or call management records. You can filter by the most common error codes or by call quality. This helps you pinpoint where packet loss is exceeding threshold limits, so you can eradicate VoIP problems. VNQM also allows you to monitor jitter and network latency.
As with all SolarWinds products, the VNQM dashboard is notably appealing and user-friendly, with colorful and dynamic graphs and charts making data easy to read. A 30-day free trial is available.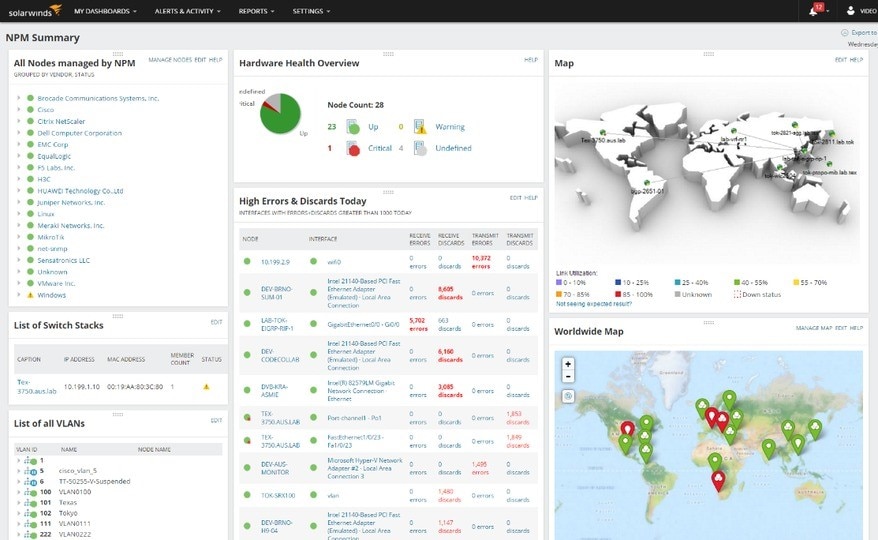 Key features:
Comprehensive network performance solution
Deep packet inspection
Optimizing latency, bandwidth, uptime, and latency
Clear and clean layout
Network Performance Monitor (NPM) is SolarWinds comprehensive solution for monitoring network performance, and its functionalities cover packet loss tests. This program was designed to optimize your latency, bandwidth, uptime, and latency. Network latency can be measured at the packet level with NPM, and the deep packet inspection feature enables you to boost network speeds and calculate network response time.
The Quality of Experience dashboard is one of my favorite features of NPM. Its layout is clear and clean, with metrics graphically represented in an easy-to-interpret way. You gain visibility of average response time and packet loss in the form of dials; network latency and packet loss in the form of bar charts; and average CPU load and memory utilization.
With deep packet inspection, you can resolve end-user slowdowns, analyze more than 1,200 applications to determine their impact on user experience, and restrict and classify network traffic. Network traffic classifications can be automated by the packet analyzer component of NPM.
This packet loss checker is dependable and powerful. Like SolarWinds VNQM, it's available as a 30-day free trial.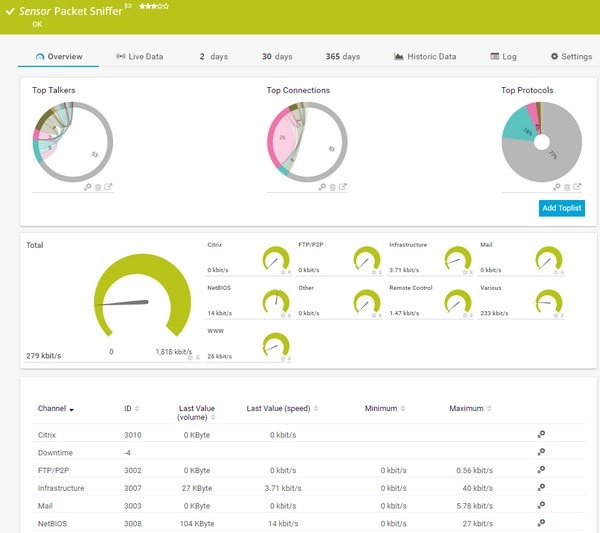 Key features:
measure packet loss
sensor-based network monitoring program
Cisco IP SLA sensor
PRTG Network Monitor is a sensor-based network monitoring program. Essentially, it allows you to combine sensors of your choosing to create a monitoring solution suited to your needs. In this sense, PRTG is what you make of it, and this is one of its most notable benefits.
PRTG Network Monitor features three basic sensors for isolating and fixing packet loss. There's the Ping sensor, the Cisco IP SLA sensor, and the Quality of Service One Way sensor. The Ping sensor is used for measuring availability of devices and calculating packet loss as a percentage, while the Cisco IP SLA sensor measures packet loss rate. QoS One Way monitors network paths, so you can measure and reduce network packet loss.
The disadvantage of PRTG is its pricing model is also sensor-based, which can lead to businesses paying for more than they need. You can download a 30-day free trial.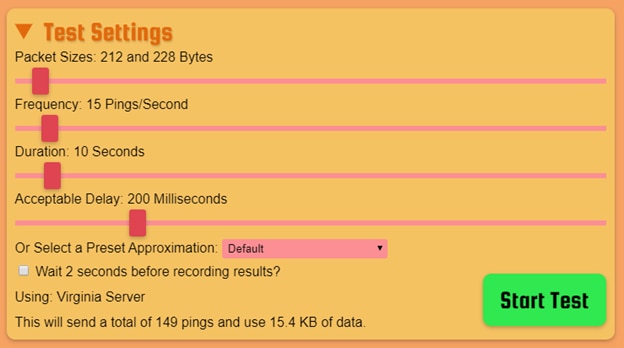 Key features:
web based program
easy to operate
Packet Loss Test differs from the other programs on this list as it's web based, meaning you can conduct packet loss tests from within your browser. This makes it easy to use, though not necessarily suitable for business purposes.
To use this free tool, simply tweak the settings by dragging the toggles, specifying packet size, frequency, duration, and acceptable delay. Alternatively, select a preset approximation to make it even simpler to use. This will send 149 pings and use 15.4KB of data.
The great thing about this tool is you don't have to download anything.
How to Choose the Best Packet Loss Testing Tool
If you're looking for packet loss test tools that are reliable and sophisticated but still easy to use, I highly recommend SolarWinds VNQM. These packet loss test tool is feature-rich yet supremely user-friendly. If you're comfortable with the sensor-based pricing model, Paessler PRTG Network Monitor is a viable alternative. Finally, the free online Packet Loss Test is appropriate for personal use.