VLAN configuration and management involves maintaining and organizing all the data associated with your network. This information is crucial when a network needs to be repaired, modified, upgraded, or expanded. The main role of network configuration management is to replace a device's operations if a failure occurs, but different devices save and store configurations in varying formats. This makes it difficult to find the relevant information when a device needs to be replaced, which is why VLAN monitoring and management software is important.
I've put together this guide to outline the basics of VLANs, to explain the advantages of VLANs over LANs, and to give you insight into what you should be looking for in VLAN management software.
Skip to the 4 Best VLAN Configuration and Management Tools List >>>
Basics of VLANs
A VLAN, otherwise known as a virtual local area network, is a group of connected devices offering all the capabilities typically associated with a local area network (LAN). There are a few differences between a normal LAN and a VLAN; the most notable is VLAN devices don't have to be on the same network or physically connected to operate.
In a VLAN, device connections are created logically, which means the network is more flexible than a LAN. It also offers flexibility in making changes, as VLAN connections are not impacted by the physical location of each device. VLANs are used as an alternative to LANs because they offer greater scalability, better security, and improved network management.
Advantages of VLANs
In a regular LAN, all connected devices must be physically present in a specific location. If a user moves to another geographical destination, the network infrastructure must be altered. In a VLAN environment, however, there are no restrictions on the location of the connected devices, which means devices can be configured on a central basis no matter where they are. This has obvious benefits for network management, affording IT administrators increased flexibility and fewer limitations.
Employing a VLAN has advantages in the following areas:
Network performance: Using a VLAN can result in improved network performance without the need to make physical alterations to your network. You can establish individual VLANs for each group of users, thereby compartmentalizing your traffic. For example, you could establish distinct VLANs for admins and operators. With such an arrangement, a bottleneck associated with bandwidth in the admin VLAN would not impact the operator VLAN, as the separate VLANs mean the operator and admin groups operate as distinct networks.
Security: By dividing users into distinct groups, VLANs can improve security. In the event of a cyberattack, the impact is limited to the VLAN where the attack originated. This means users of other VLAN groups can continue to access their network and their work. In other words, VLANs can significantly limit the damage of attacks, supporting business continuity and preventing network-wide downtime.
Fault management: Using VLANs also improves fault management. Because users work in small groups, identifying the root cause of an issue is much easier. Finding the source of the issue is as simple as locating the group it originated from, narrowing down the potential causes of the problem. Additionally, with users connected in these small groups, troubleshooting is more effective.
Why Do I Need VLAN Management Software?
One disadvantage of VLANs is they must be manually configured in most cases, which is time-consuming and resource intensive at best and error-prone at worst. By employing VLAN configuration and VLAN management software, however, you can automate key operations. With this software, you don't have to access and log in to every device, altering the settings one by one—a process highly likely to result in mistakes. After all, human error is one of the most common causes of configuration errors.
An effective VLAN configuration program allows you to apply device configuration changes in bulk, saving time and making configurations more reliable and consistent. VLAN configuration tools allow you to view the status of a range of devices at a glance. Bulk changes are made possible via a centralized console, and the tool ensures all the configurations are nonconflicting and appropriate.
Some VLAN software even lets you establish permission levels, so administrators can't accidentally change more than necessary. Instead, admins must issue a request for approval before making a change. VLAN configuration tools also back up configurations automatically and according to a schedule you define, allowing you to restore past configurations when you need to.
In short, automation is one of the biggest benefits of VLAN software. In most cases, you can automate repetitive maintenance activities, significantly reducing your workload.
Best VLAN Configuration, Management, and Monitoring Software
Network configuration management systems store all your configuration data in a central server so you can easily find and download device configs when needed. This is the basic function of VLAN management, though many network configuration management tools offer much more.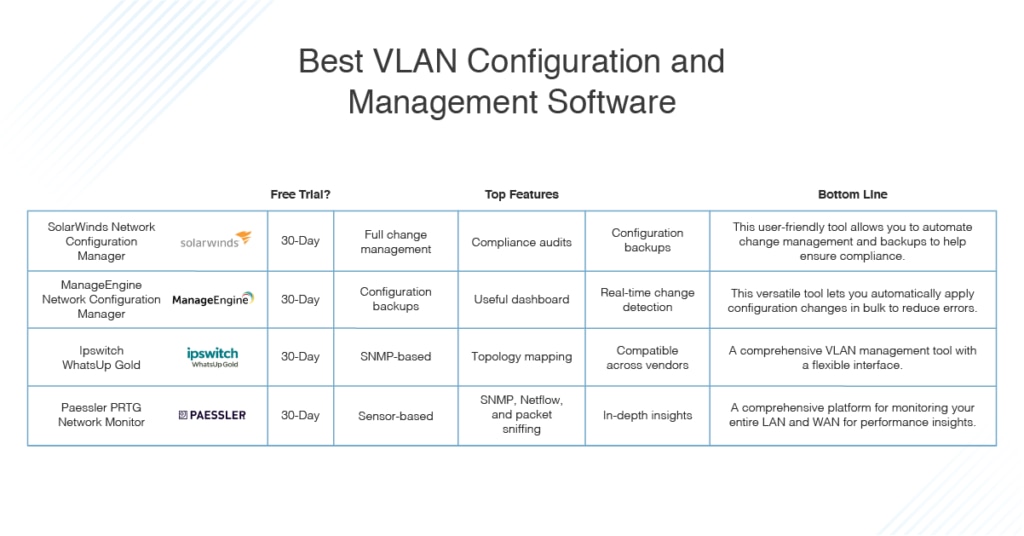 To help you choose between the many VLAN management programs, I've compiled a list of the best VLAN software available. In ranking these tools, I've considered user-friendliness, suitability for business use, sophistication, and range of features.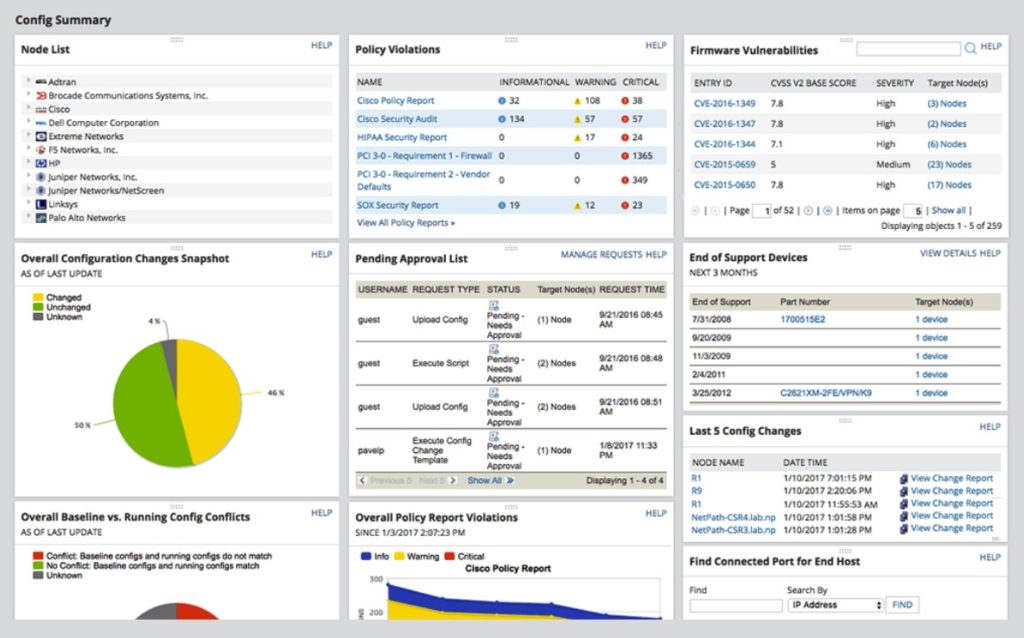 SolarWinds® Network Configuration Manager (NCM) is incredibly well designed. It offers comprehensive VLAN configuration and troubleshooting functionalities and boasts wide network configuration management utilities. This includes network automation, device life cycle management, network compliance, and vulnerability assessment capabilities. The tool is feature-rich and combines a wide range of advanced functionalities with user-friendliness.
NCM gives you the ability to create your own configuration change template. Just establish the changes you want and how you want them made, and the program will automate the process according to your specifications. You can also schedule changes, so you don't have to rely on human intervention.
This program was designed for multi-vendor, complex networks. It automates repetitive tasks in addition to change management, change tracking, compliance auditing, and configuration backups. These automated network configuration capabilities assist with deploying standardized configurations, detecting out-of-process alterations, auditing configurations, and correcting violations.
The NCM dashboard is user-friendly and displays data graphically and dynamically. It shows all your critical information in the fewest possible pages, minimizing time spent navigating the program. But because the information is divided into distinct widgets, ease of data interpretation isn't compromised.
NCM is integrated with the National Vulnerability Database, which helps protect you against malware. It can also be integrated with SolarWinds Network Performance Monitor—one of the most popular SolarWinds products—so you can extend its functionalities. This tool was built for growth and is a truly business-grade solution. A 30-day free trial is also available.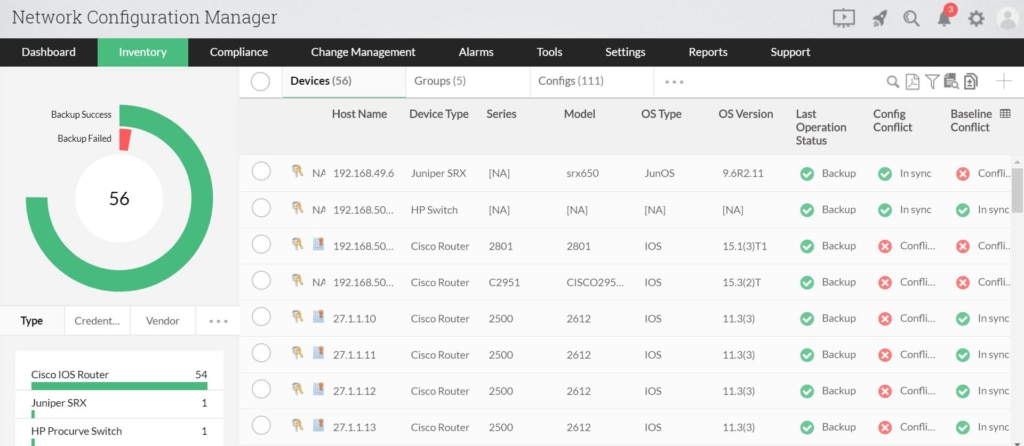 ManageEngine Network Configuration Manager (NCM) is a versatile tool offering a range of useful features. It allows you to automate configuration tasks, saving you time by cutting out the labor associated with repetitive manual activities. You can also apply device configuration changes in bulk from a centralized console, reducing errors and establishing greater consistency.
User activity tracking is also available with Network Configuration Manager, helping you boost accountability by tracking who does what and when. This record can be extremely helpful when it comes to troubleshooting an issue.
With real-time change management, this tool makes it easy to stay up-to-date. You'll receive instant notifications when there's a change or unusual activity, and you'll be able to prevent unauthorized alterations. This increases security and makes your team more compliant.
Configurations are backed up automatically for switches, firewalls, routers, controllers, and more, so you can restore a previous configuration if something goes wrong with the current one. This is great for safeguarding business continuity and rapid disaster recovery.
Like all ManageEngine products, Network Configuration Manager features a cleverly designed, easy-to-navigate dashboard and has no learning curve. Data is displayed in graphs and charts where appropriate, making interpretation fast and accurate. If you choose NCM, you'll benefit from a mobile application, so you can stay in the loop even when you're on the move.
The free edition includes configuration backup, network automation using configlets, real-time change detection, detail reports, network compliance management, and support for devices from more than 200 vendors. However, it only monitors up to two devices; if you exceed this, you'll need to upgrade to the Professional or Enterprise package, neither of which is as cost-effective as the other available tools. You can schedule a free, personalized demo here.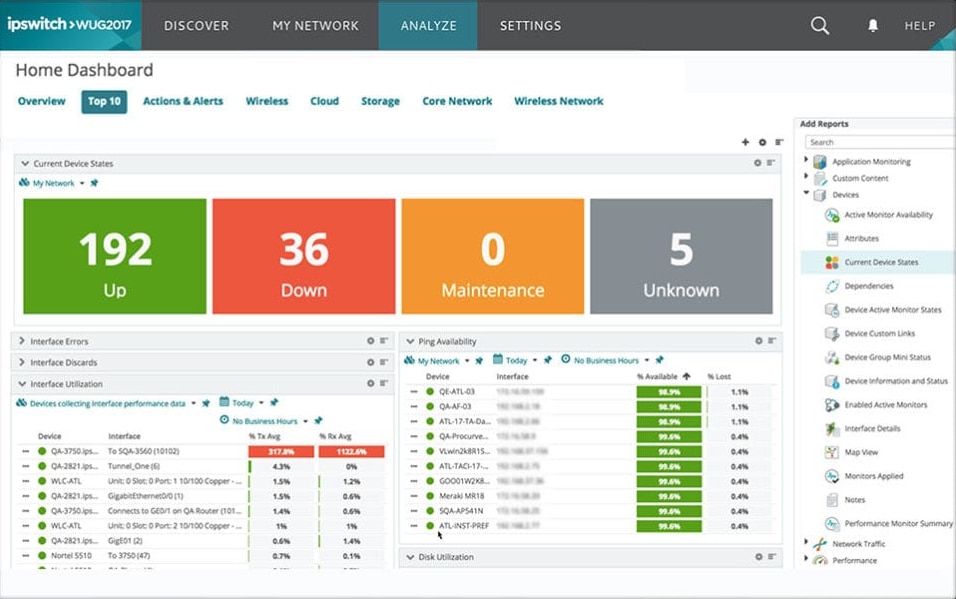 WhatsUp Gold offers a comprehensive solution to VLAN management. Its SNMP-based interface is flexible, allowing for the automated deployment of VLANs across numerous devices. Configurations can also be delivered simultaneously, reducing the need for manual intervention.
This program also features automated topology mapping, which gives you visual insight into the settings of trunk configurations. You can analyze this information in an explorer-style view, grouping the devices according to their VLANs alongside key device info.
WhatsUp Gold sets itself apart by focusing on delivering functionality across a wide vendor spectrum. However, it could be more user-friendly. A free trial of this program is available.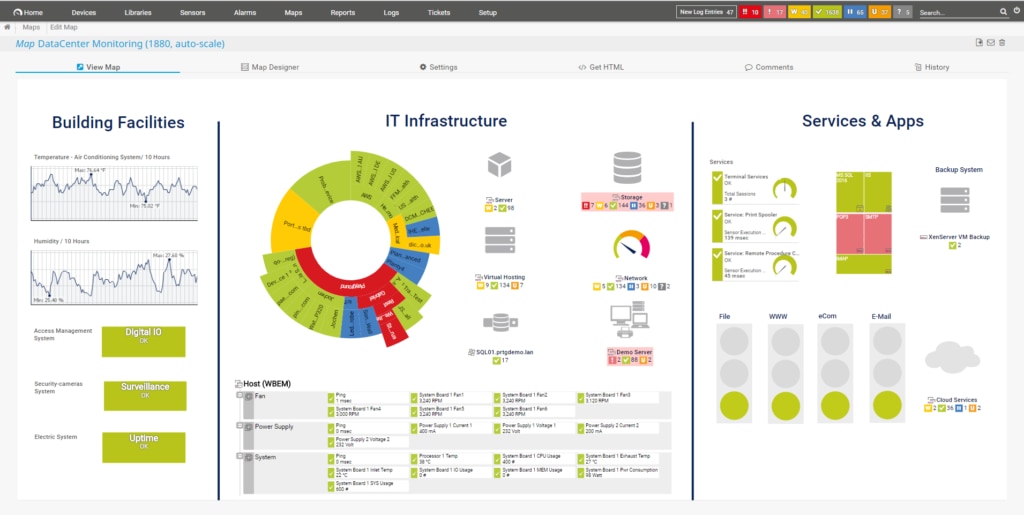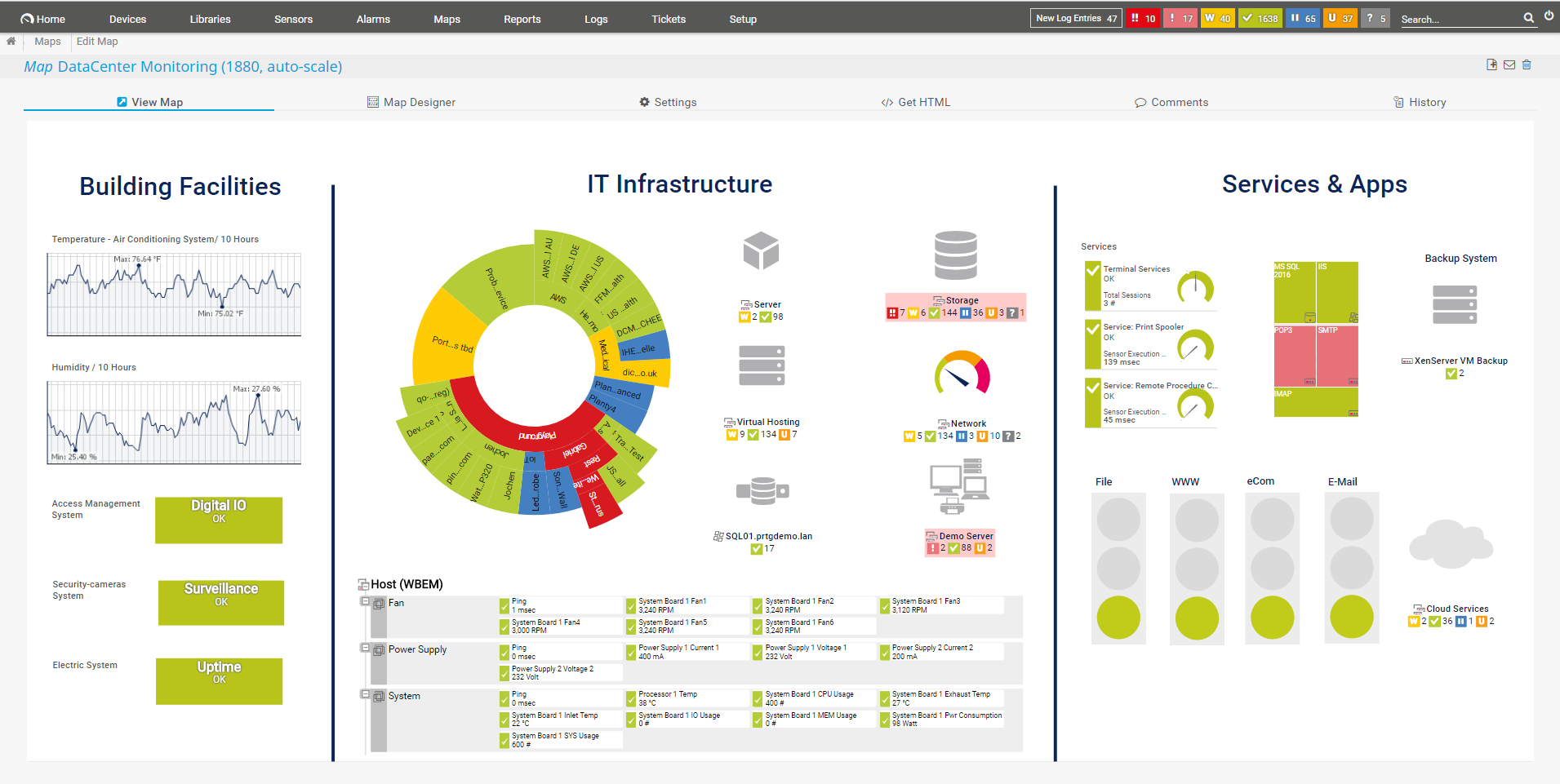 Paessler PRTG Network Monitor takes a unique approach to network management. It uses a sensor-based model, which means the program is what you make of it. With hundreds of sensors available, you can choose exactly what you want to monitor within your network. The first 100 sensors are free, so you can potentially create a sophisticated VLAN monitoring solution by choosing the right ones.
PRTG is versatile and offers the ability to monitor your entire LAN and WAN, including devices and servers, availability, bandwidth, traffic, and much more. PRTG uses SNMP, NetFlow, and packet sniffing as well as other flow protocols to deliver a comprehensive monitoring experience.
The issue with this tool is once you exceed the first free 100 sensors—which is all but inevitable if you anticipate growth—the value for the money rapidly declines, and you may end up paying for more sensors than you need. A 30-day free trial of the unlimited version of PRTG is available.
Choosing the Right VLAN Configuration Tool
SolarWinds Network Configuration Manager takes the number one spot on my list, which is no surprise—you'll find SolarWinds products at the top of most software "best of" product lists. SolarWinds is a dependable organization, is ahead of the curve in the market, and has a history of producing some of the best IT software around.
NCM is no exception. Although it's an advanced program, using it requires little to no training or experience. Users benefit from around-the-clock technical support and a vast community of supporters. If you're looking for a scalable, automated, and business-grade solution, you can't do better than NCM. You can see for yourself by downloading a free NCM trial.