This guide will help improve your understanding of network topology diagrams and provide definitions for network infrastructure diagrams (also known as network architecture diagrams) and network segmentation diagrams. I'll then outline the pros and cons of attempting to manually create a network topology diagram.
I'll also provide a summary of the benefits of SolarWinds® Network Topology Mapper, a mapping and diagramming solution designed to help you visualize your network, understand the way your devices connect, and troubleshoot network problems. This enterprise-grade tool is versatile, user-friendly, and scalable, making it the ideal choice for small and large businesses alike. A 14-day free trial is available.
Why Is Network Topology Important?
Your network's layout is an important factor for several reasons. First and foremost, your network's layout plays a key role in how your network functions and how well it performs. Selecting the appropriate topology type for your business's operational model can improve performance, make fault location and identification easier, enable you to troubleshoot issues more effectively, and inform network resource allocation activities to boost network health. A carefully managed and streamlined topology can also improve data efficiency and increase energy, minimizing maintenance and operational costs.
You may already be familiar with the main network topologies, but there are six primary types you should know as you build a network diagram. These include bus (a straight line), ring (a circle arrangement), tree (with multiple branches), star (with one central node), mesh (with connections between all the nodes), and any hybrid of these types. The different topologies offer different advantages in terms of failover protection and scalability.
Your network's structure and design are typically displayed and potentially manipulated from within your software-generated network topology diagram. With a network topology diagram, you can gain valuable visual insight into the logical and physical layouts of your network, enabling admins to view connections between components during troubleshooting activities. Overall, the arrangement of a network can have a significant impact on your network's connectivity, availability, and functionality.
There are a range of different network diagram types, which can make understanding the difference between them a little confusing. The three main types of network diagrams are the network topology diagram, the network segmentation diagram, and the network architecture diagram (sometimes called the network infrastructure diagram.) Below, you'll find a quick definition of each.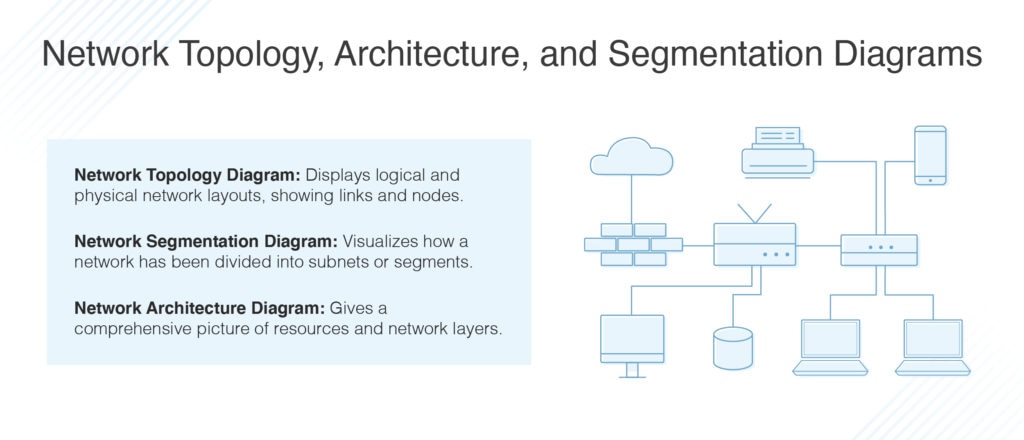 What Is a Network Topology Diagram?
The topology of your network plays an important role in determining network performance and scalability. A network topology diagram provides insight into how your network is structured and organized and gives you a logical or physical view of how nodes and links have been set up and how they interrelate.
There are two main categories of network topology: physical and logical.
Physical Network Topology: This topology category refers to the arrangement of actual connections (i.e., cables and wires). To set up, maintain, and provision this type of topology, you must understand your physical network.
Logical Network Topology: This category provides high-level insight into how your network is arranged. It should include which nodes are connected, how they're connected, and how information is being transmitted across the network. A logical network topology typically includes cloud and virtual resources.
Effective and comprehensive network monitoring and management activities require you to have a robust understanding of the logical and physical topology of your network to ensure its health and efficiency.
Though logical and physical are the two main categories of network topology, there are many more network diagram types.
Networks can be arranged in many ways, each with their own merits and disadvantages making them more or less suited to individual business needs. A network topology diagram tool can help you automate the process of creating a network topology diagram and tailor the diagram to the needs of your business. When selecting a network topology diagram tool, administrators have plenty to choose from. To ensure the right network topology diagram solution is implemented, businesses should consider their scale and size, their budget, and their goals.
Several operations contribute to effective management of your network topology, including visual mapping, configuration management, and performance monitoring. The challenge is aligning these operations to create a network topology that works for your business.
What Is a Network Segmentation Diagram?
Network segmentation involves dividing a network up into several subnets or segments, each of which acts as its own micro network. With network segmentation, administrators can control how traffic flows between subsets according to granular policies. A business might use network segmentation to improve performance, enhance monitoring activities, localize technician problems, and increase security. A network segmentation diagram provides a visual representation of how the network has been segmented.
What Is a Network Architecture Diagram?
A network architecture diagram, also known as a network infrastructure diagram, helps admins visualize their complete network infrastructure and architecture. It provides a comprehensive picture of resources and network layers, potentially including hardware, layout and topology, wireless connections, software, protocols, and more. Like the standard network topology diagram, these types of diagrams depict devices and device connections with symbols and lines.
But network topology diagrams and network architecture diagrams aren't the same. Network architecture refers to the overall design of a computer network, while network topology is more limited and refers to the arrangement of elements (i.e., links and nodes).
Manual Network Diagrams Pros and Cons
Network topology diagrams play a key role in helping you keep your network running smoothly. However, manually creating a network diagram can be time-consuming and may not be resource-efficient. Here are some of the pros and cons of creating a network diagram, assuming you do so manually.
Pros:
Maintain and potentially improve device visibility
Improve troubleshooting activities
Improve your team's understanding of the network and provide a useful visual reference point
These pros also apply when you leverage automated network diagramming and mapping tools. Unfortunately, the disadvantages of manually creating a network diagram are extensive.
Cons:
Manually creating a network topology diagram can take you hours—or even days—because it requires you to collect a huge amount of device information, including details for switches, firewalls, routers, and more
The bigger and more complicated your network, the more difficult it is to manually track your network components, particularly when new devices are added or changes are made
If your network diagram has been created manually, it must be manually updated and doesn't update automatically; this means information on your network diagram will quickly become inaccurate and outdated, especially if you postpone updates
A static network topology diagram doesn't provide any performance data insights
Using Network Topology Diagram Software
By using network topology diagram software, you can benefit from the following features:
Auto-discovery: An automated network topology diagram tool can automatically discover all your devices and their details so you don't have to.
Simple customization options: With most network topology tools, you can modify colors, layouts, connection options, and icons on the network map.
Increased network control and security: A tool allowing you to create live network diagrams capable of automatically updating can help you detect unknown or suspicious devices as soon as they appear on your network.
Live performance insights: Live network monitoring and mapping tools can give you insight into network performance and bandwidth metrics.
Choosing the Right Network Topology Diagram Tool
SolarWinds Network Topology Mapper is one of the most advanced yet user-friendly tools on the market. This tool allows you to automate the creation of network topology diagrams by leveraging a multi-layer discovery technique, and it's compatible with Cisco devices. Network Topology Mapper discovers your complete WAN or LAN and automatically generates a dynamic network diagram fully integrated with OSI Layer 2 and 3 topology date. This includes switch-to-node, switch-to-router, and switch-to-switch port connections. In just a few clicks, you can export your diagram and share it with colleagues via Microsoft Visio. You can also export maps to other common formats, including PNG and PDF.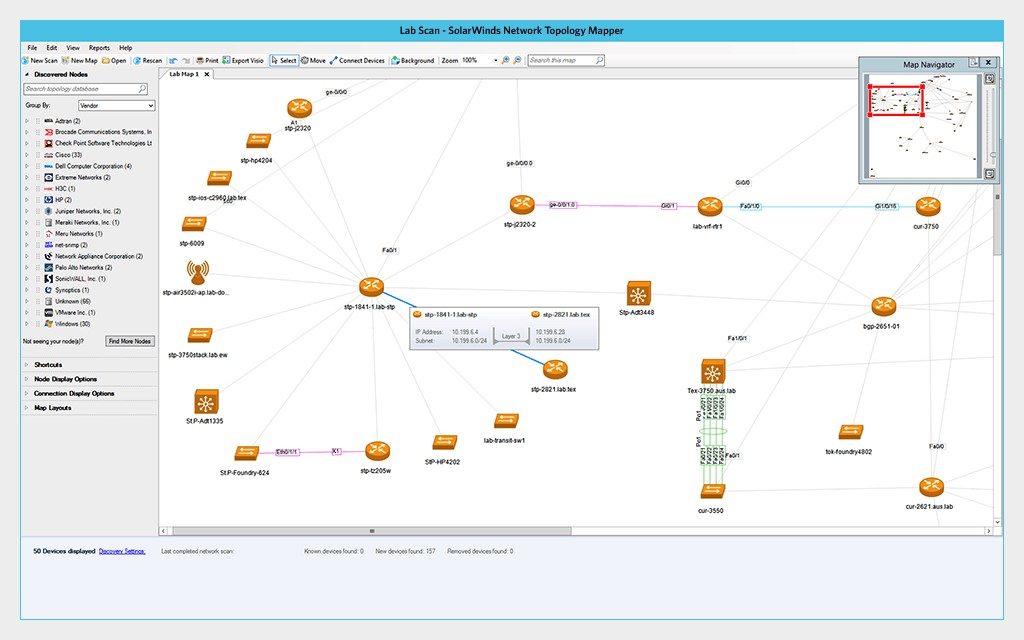 SolarWinds Network Topology Mapper also helps you meet PCI compliance requirements as well as other compliance regulations related to network diagram maintenance. This solution is designed to be compliant with FIPS 140-2. To ensure your diagrams are always up-to-date, Network Topology Mapper schedules scans and automatically detects and implements changes to the network. This includes when new devices are added and network topology is modified.
Network Topology Mapper also includes network inventory management capabilities, allowing you to manage inventory for your hardware assets. You can even automate the creation of reports so you can keep key parties informed. Network Topology Mapper's powerful reports are customizable, easy to interpret, and comprehensive, helping you track network information and inventory.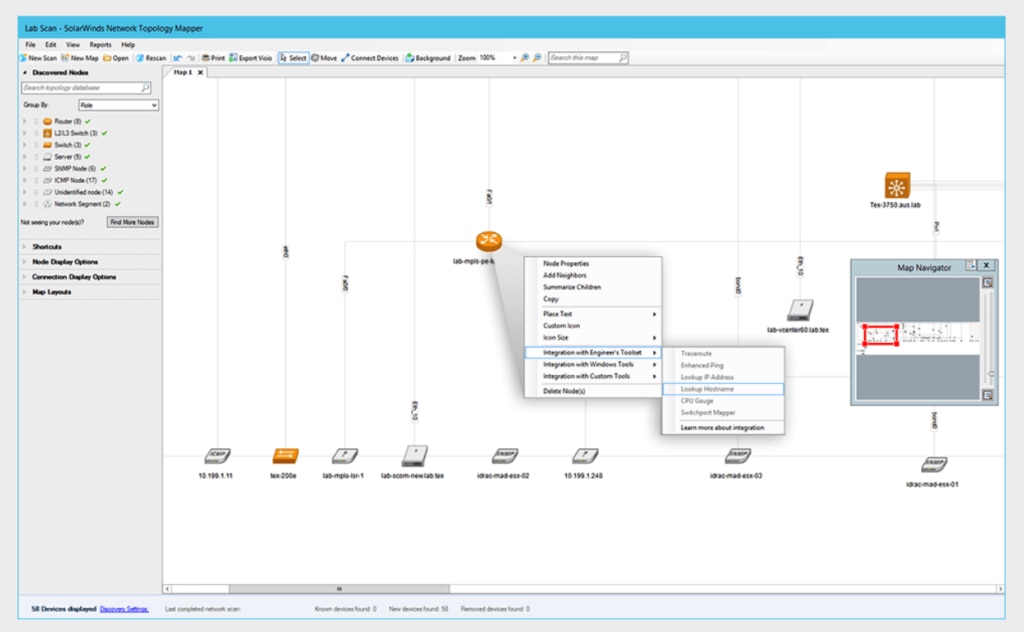 With the ability to create multiple maps from a single scan and plenty of other useful utilities, SolarWinds Network Topology Mapper delivers a comprehensive and easy-to-use solution for your network topology diagramming needs.
Getting Started With Network Topology Mapping
As your network and your company grows, manually maintaining a network topology diagram will become increasingly challenging. Leveraging an automated network topology diagram tool is the best way to ensure your network topology diagram is accurate and efficient and that you're taking full advantage of it. For a reliable and robust network topology tool capable of automating the creation and maintenance of your maps, try SolarWinds Network Topology Mapper.