Network capacity planning lets you determine, plan for, and meet the future needs of your network infrastructure. Without effective network capacity forecasting, you run the risk of network downtime and the degradation of your network performance. This can lead to problems like employees being unable to complete their work, high latency on your network services, increased customer churn, and more—all of which can lead to serious financial losses.
The best way to prevent these issues is by investing time and resources into network capacity planning. Typically this means investing in a tool like SolarWinds® Network Performance Monitor (NPM) to help automate and streamline your process. Before we can address the best ways to approach the process, though, it's important to first define what exactly we mean when we talk about network capacity planning.
How to Plan Network Capacity
Best Network Capacity Planning Tools
1 SolarWinds Network Performance Monitor (Free Trial)
2 ManageEngine OpManager Plus
3 Nagios XI
4 Flowmon
Choosing the Right Network Capacity Management Tool
What Is Network Capacity Planning?
Network capacity planning is defined as the process of planning your network for availability, bandwidth utilization, and other capacity constraints. It's a method of ensuring you have enough capacity available in the face of varying and increasing requirements. The process is important because, much as we often want to think otherwise, networks aren't infinite resources. Even the modern networks with bandwidths of 1 Gbps, 10 Gbps, or more will eventually reach full capacity as amounts of data and numbers of users increase. Network capacity planning can help you see this point coming, so you can plan ahead instead of scrambling for solutions when it's too late.
How to Plan Network Capacity
There are different ways organizations can approach their network capacity planning, but no matter the approach, it's a multi-step process that begins with understanding your current capacity utilization and making data-based predictions about future needs. The key steps of network capacity planning are:
Measure current utilization and identify problems
Before you can start planning, you have to first understand your current network utilization. This means monitoring and measuring metrics including memory usage, disk usage, CPU load, and interface utilization for all the devices within your network. From there, you should identify your top network capacity problems based on those metrics. If you have a quality network monitoring tool, you should be able to see a list of the most pressing capacity issues right from your dashboard.
Customize capacity threshold metrics
A good way to stay on top of your capacity needs and plan for future ones is by customizing your key threshold capacity metrics based on your current utilization as measured in the first step. A network monitoring and capacity planning tool should then help you accurately predict capacity exhaustion based on calculations of the peak and average daily use of your critical devices.
Estimate future capacity requirements
From there, you can begin estimating your future needs using historical data and making forecasts based on the patterns you see. In addition to historical information, you also have to consider any upcoming deployments, projects, or trends that could increase the demands on your network. Using a capacity forecast chart, like the one a network capacity planning tool gives you, can help you make better predictions for your future needs with device-specific forecasts that leverage the metrics discussed in the first step.
Plan future network capacity needs
Finally, it's time to plan your network capacity needs. This means making sense of all the information you gathered in the previous steps and using it to make a plan for the future that includes scheduling device upgrades and determining when you may need to invest in more bandwidth or another server.
Best Network Capacity Planning Tools
While some elements of wired or wireless network capacity planning require the human touch, success is largely based on having the insights and data you need to successfully plan ahead. That's where network capacity planning tools come in. The tools on this list are the top options when it comes to capacity planning.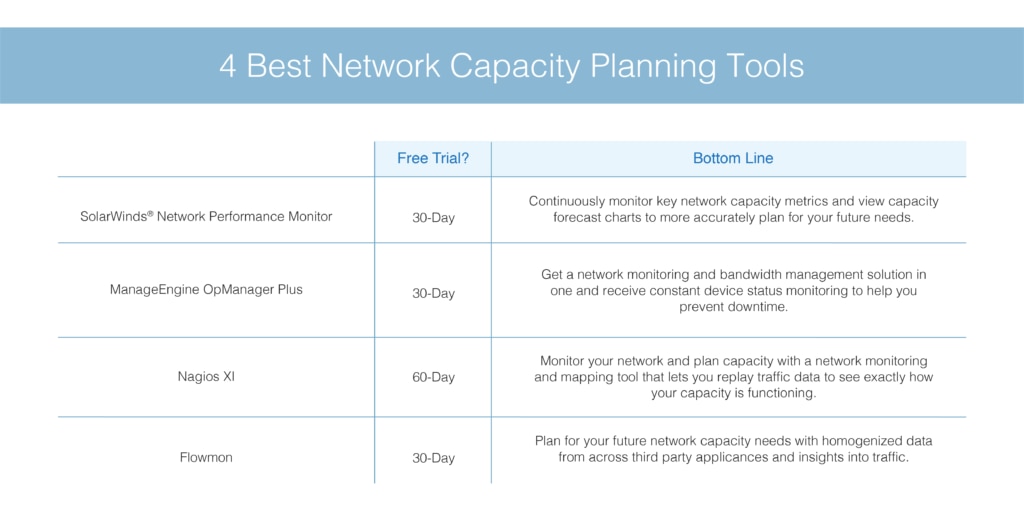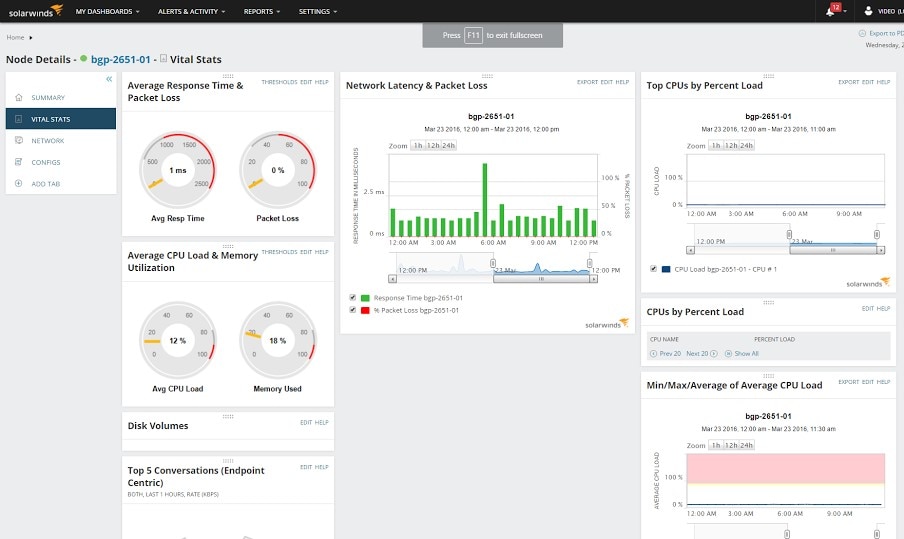 SolarWinds Network Performance Monitor is a top tool for network capacity planning. The powerful network monitoring solution tracks key metrics from across your whole network to give you the insights you need to effectively plan for your future network capacity needs and prevent downtime or performance degradation.
NPM's network capacity planning process begins with a complete network scan to give you a baseline of your network equipment capacity. The monitor then starts running continuously, tracking the status of your network devices and delivering up-to-date data on key capacity metrics including memory usage, disk usage, CPU load, and interface utilization. If NPM detects any devices approaching their full capacity, an alert can be automatically generated, so you have time to act before it reaches full capacity.
All this data and more is continuously logged, so within a few days of running NPM, you'll have the preliminary baseline information you need to start your network capacity planning. From there, you can turn to NPM's Top Capacity Problems resource to identify the most pressing capacity issues that could impact your network performance in the future. You can also look at the tool's capacity forecast charts for specific forecast data about your monitored capacity metrics and devices. Armed with this information, you can make concrete plans for your network's future capacity needs. If you want to get even more information for your capacity planning, you can combine NPM seamlessly with SolarWinds NetFlow Traffic Analyzer (NTA).
You can try a fully functional trial of Network Performance Monitor free for 30 days.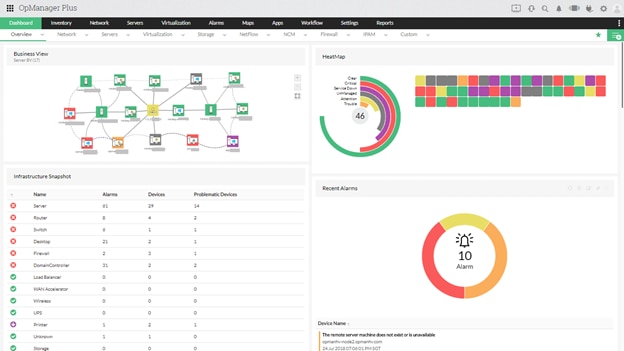 ManageEngine OpManager Plus combines network monitoring with bandwidth management to give you the data you need for effective capacity planning. The tool can map your entire network with its discovery function, recording the statuses of all your devices. It will then continue monitoring the statuses of devices as long as you keep it running, meaning you'll never be caught off guard when a device is approaching capacity. All this data is gathered and stored, so you can use it for your capacity planning efforts.
If you want more information about your network beyond what you can use for your network capacity planning, OpManager Plus also includes network configuration management, server monitoring, IP address and switch ports management, firewall log analysis, and application management.
Try ManageEngine OpManager Plus free for 30 days.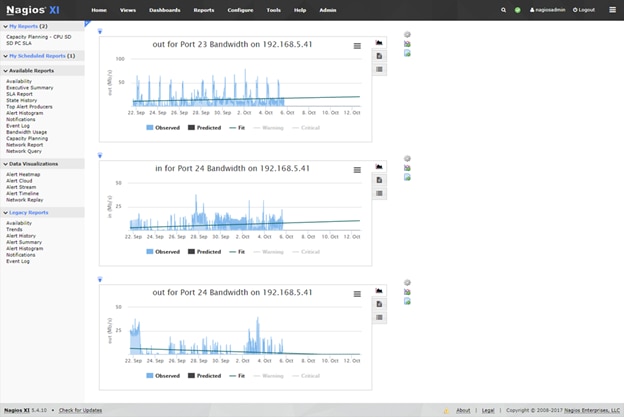 If you're searching for a free tool that can expand to a paid enterprise solution, Nagios XI is a great fit. Nagios XI is a server and network monitoring solution that runs on Linux or as a virtual machine on a Windows host and is built on the open-source Nagios Core engine. Unlike most of the other solutions on this list, Nagios doesn't use SNMP for its network device monitoring. Instead, it has its own proprietary method built right into the engine, which communicates with your network devices to regularly collect status reports and metrics.
Even though it collects data slightly differently, Nagios XI still gives you the information you need for effective network capacity planning, including a complete network map. The useful dashboard presents your metrics as live data, which makes it easy to view the status of your network devices. The tool can replay your traffic data while you're doing your capacity planning, so you can easily see your network's capacity stats over multiple days at once. Like the other top solutions on this list, Nagios XI has a great alerting system designed to notify you as soon as the system detects anything odd.
You can download Nagios XI for free, or if you want the enterprise tool, you can download a free trial of the enterprise version free for 60 days.
Another good option for network capacity planning is Flowmon, a network monitoring tool that uses NetFlow/IPFIX technology to collect, sort, and visualize your network utilization data. This makes it easier for your teams to get the insight they need to understand your current capacity use and your future needs. The tool's historical data tracking also makes it easier to see your capacity utilization trends to predict future trajectories.
The Flowmon solution passively collects data about your network and devices including metrics on throughput, latency, bandwidth, error rate, quality of service (QOS), and more. The solution can homogenize metrics from third-party tools, so you can analyze them as if they came from a single source—a great asset when it comes to capacity planning. Once all those metrics are collected, Flowmon shows you how much traffic is generated by the various elements of your network to help you accurately assess the impact of your delivered services on your network. The tool also automatically generates reports and alerts you whenever it detects an issue. The visibility delivered by Flowmon makes it a great option for organizations looking for a tool to support their capacity planning efforts.
Download a free 30-day trial of Flowmon here.
Choosing the Right Network Capacity Management Tool
Network capacity planning is an essential practice for any organization. Its success depends on having the right tools that give you the information you need to understand your current capacity utilization and how future shifts will affect that utilization. SolarWinds Network Performance Monitor (NPM) does just this, delivering continuous monitoring, capacity forecasts, and reports, empowering you to make data-driven decisions about your future network capacity to prevent performance degradation or outages.