As modern IT environments are complex and have a distributed setup with multiple servers, frameworks, and applications, it becomes difficult for teams to manage, monitor, and analyze servers without having a dedicated log analysis software. Moreover, the management of the Apache server requires timely and accurate feedback on its performance.
This is where Apache Log Analyzer greatly helps. With its comprehensive and flexible logging capabilities, server administrators can quickly analyze, filter, and monitor Apache log data from massive volumes of logs.
Outlined below are the best Apache Log Analyzer tools worth checking out in 2022.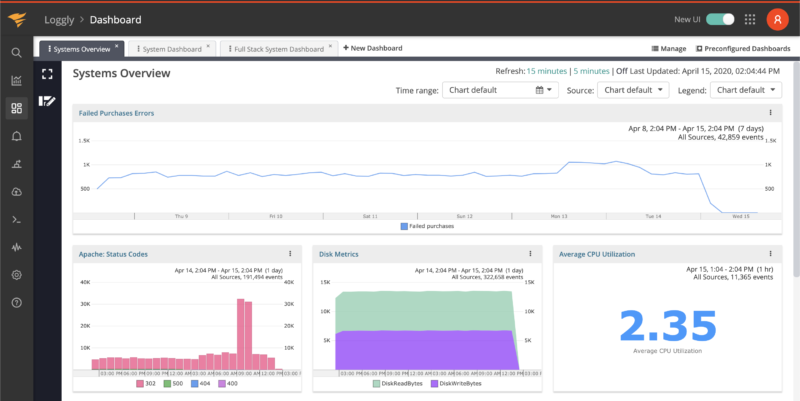 SolarWinds® Loggly® offers effective monitoring, management, and analysis of Apache logs. Businesses use this tool to centralize logs and gain a unified view of crucial business information. Apache logs can easily be imported to Loggly using syslog daemons such as rsyslog without using any separate or additional software.
Loggly has the ability to scan through Apache logs quickly using its advanced search and filter capabilities. This helps to inspect and discover all the critical events. Additionally, Loggly's GitHub integration accelerates and simplifies the troubleshooting process.
Moreover, businesses can view a live stream of Apache logs in Loggly's intuitive dashboards. The real-time visual representation of logs helps in the early detection of errors and hidden patterns. This also helps to monitor and improve the health and performance of the Apache servers and applications.
Additionally, teams can set and integrate alerts with Slack, Pagerduty, and HipChat to get real-time notifications about issues and malicious activities. Loggly integrates well with other SolarWinds products to trace errors automatically using features like root-cause analysis and exception tracking.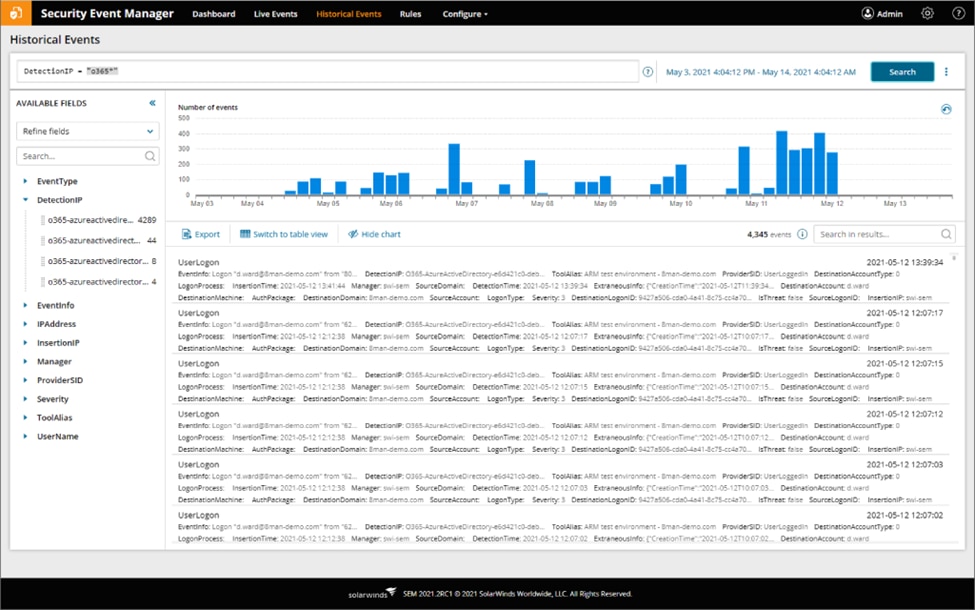 SolarWinds Security Event Manager (SEM) is a leader in log management, offering an intuitive approach that means you don't have to compromise accuracy in favor of usability. It typically only takes a few minutes to configure SEM and start monitoring your Apache web server logs. From there, SEM can access a wide range of log formats, including Apache access logs, Apache syslog data, error logs, and more.
The SEM log analyzer can store a huge amount of cloud-based log data, which means it's easy to quickly access a huge number of historical logs using advanced search capabilities, intuitive log filters, customizable alerts, and more. This means you don't need to worry about things like your web server's size or your stack's complexity when it comes to finding the logs you need.
The SEM Apache log analyzer tool is specifically designed to help teams identify anomalies more quickly. The solution's real-time log monitoring and intuitive log viewer software helps take the hassle out of Apache log monitoring. With its agent-based approach, SEM makes centralizing your logs simple. The tool automatically collects logs across various server types, including Apache web server, and lets you monitor logs and view any possible traffic abuse, errors, or security threats like hackers from one place. Once you've configured the SEM agent, it sends the data it collects from your Apache web server straight to SolarWinds SEM for real-time analysis of your Apache log files, delivering actionable insights you can use to respond to security threats fast.
If you're looking for an Apache Log Analyzer tool that also helps with compliance, you again have to look no further than SolarWinds SEM. When the time comes for a security audit, SEM can help you document your core operating system logs and application logs more easily. It includes exportable report formats based on popular industry standards like HIPAA, PCI DSS, SOX, and more. With more than 300 customizable templates designed to help you generate reports both for compliance standards and for internal security audits, you'll have no trouble creating the reports you need with SEM.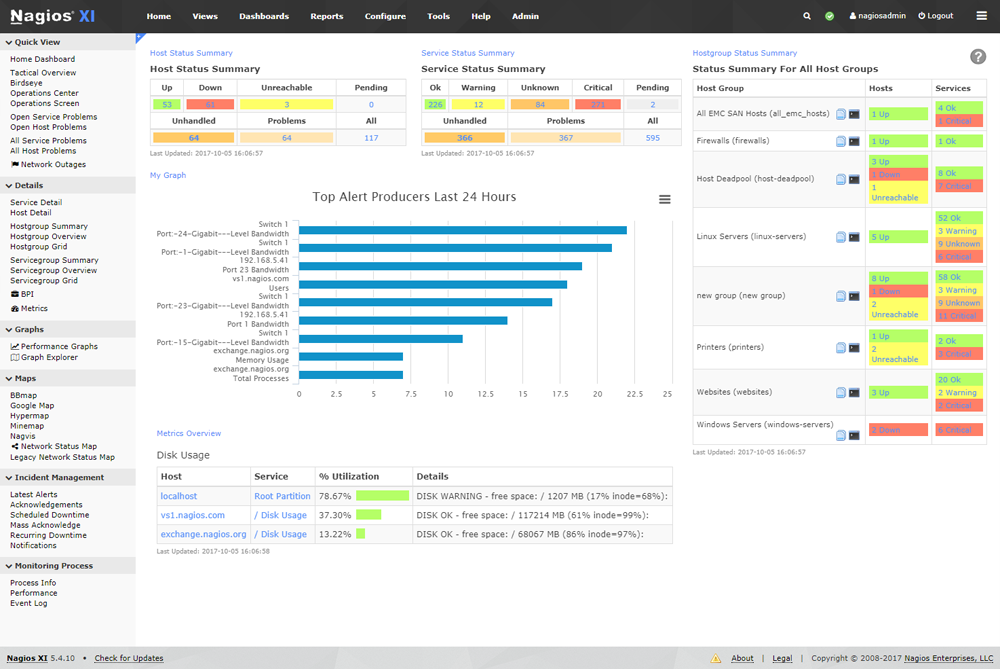 Nagios offers web log monitoring and analysis of IIS and Apache servers. Apache web log monitoring helps in faster detection of server and application issues. The tool sends instant alerts to relevant teams as soon as it detects specific patterns or issues. With its out-of-the-box dashboards, teams can get a unified view of logs generated through multiple websites, web analytics, and geolocation data.
The tool offers unique features such as automatic parsing of Apache and IIS log files. With its easy integrations and web analytics capabilities, the tool provides increased security, server availability, faster detection of failed processes, network outages, and more. It also helps in meeting audit and regulatory compliance.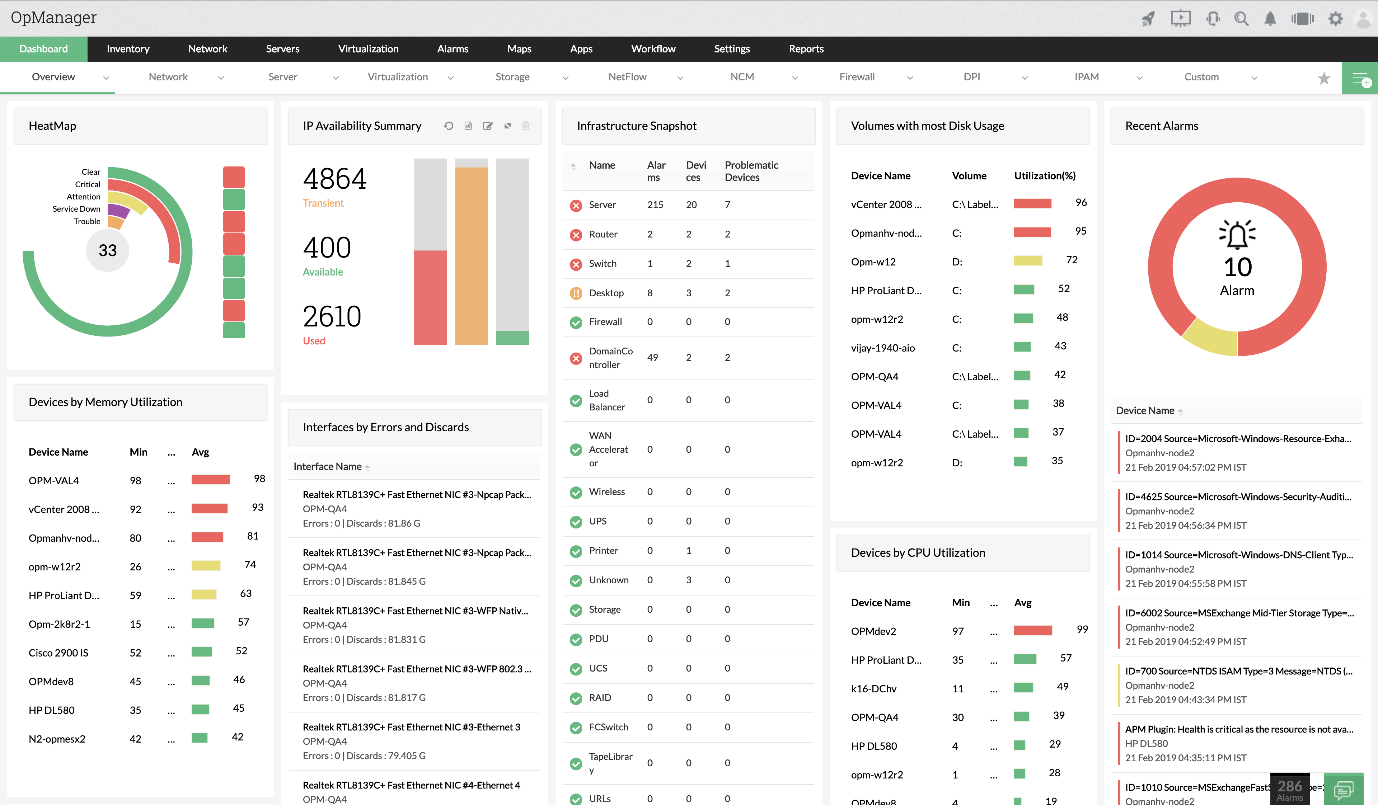 Apache servers create massive volumes of logs to help detect errors. EventLog Analyzer includes several logging features to monitor Apache server logs efficiently. It automates the process of log analysis to help teams gain in-depth visibility into critical business information.
With this tool, organizations can view auto-generated reports in different formats such as tables, charts, and graphs. It detects malicious user activity, provides insights into server activity, filter information, and drill-down to the raw data. It can also import logs from different versions of Apache web servers. Moreover, the tool sends instant alerts via SMS and email when it detects errors and notifies teams for quick resolution.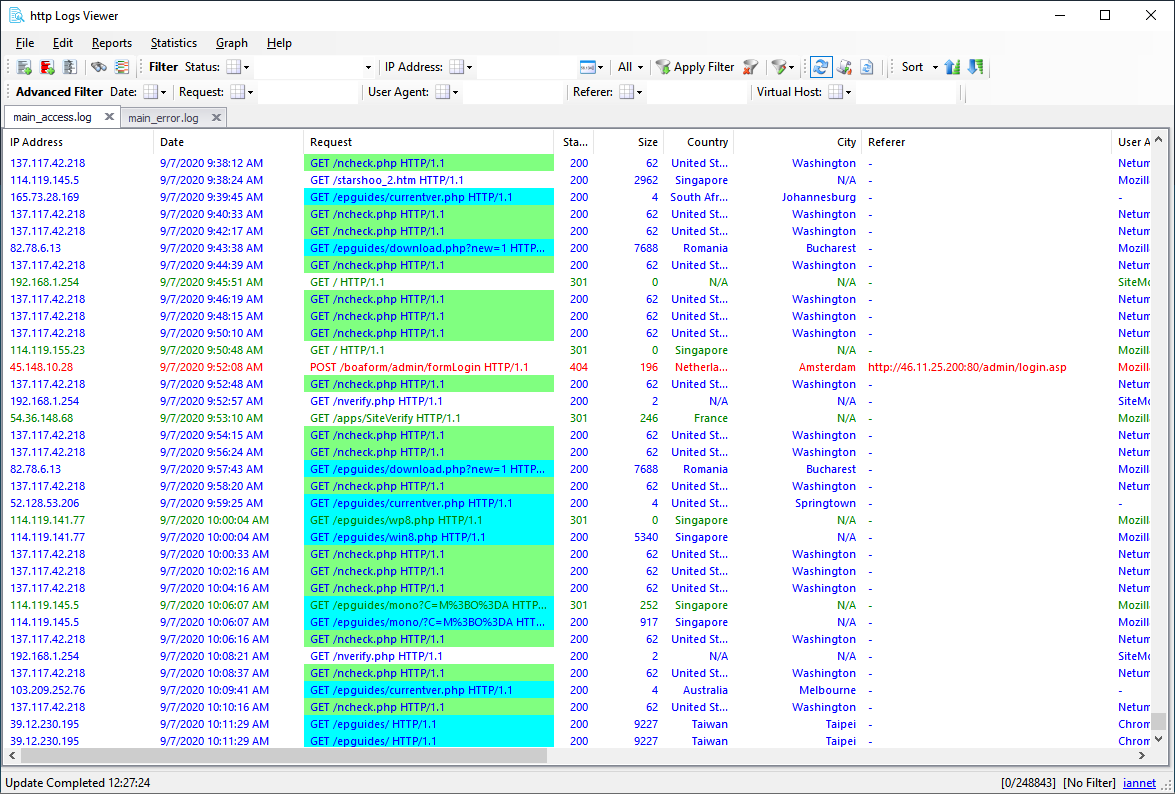 Apache or http Logs Viewer is a comprehensive Apache log server monitoring tool designed to filter and analyze Apache and other log files. It allows teams to search log files and highlight http requests. Organizations use this tool to make websites more productive through web analytics and real-time detection of errors. Moreover, the tool generates elaborated reports on log data that includes pie and column charts, extract critical statistics, and determine visitor's history.
10-Strike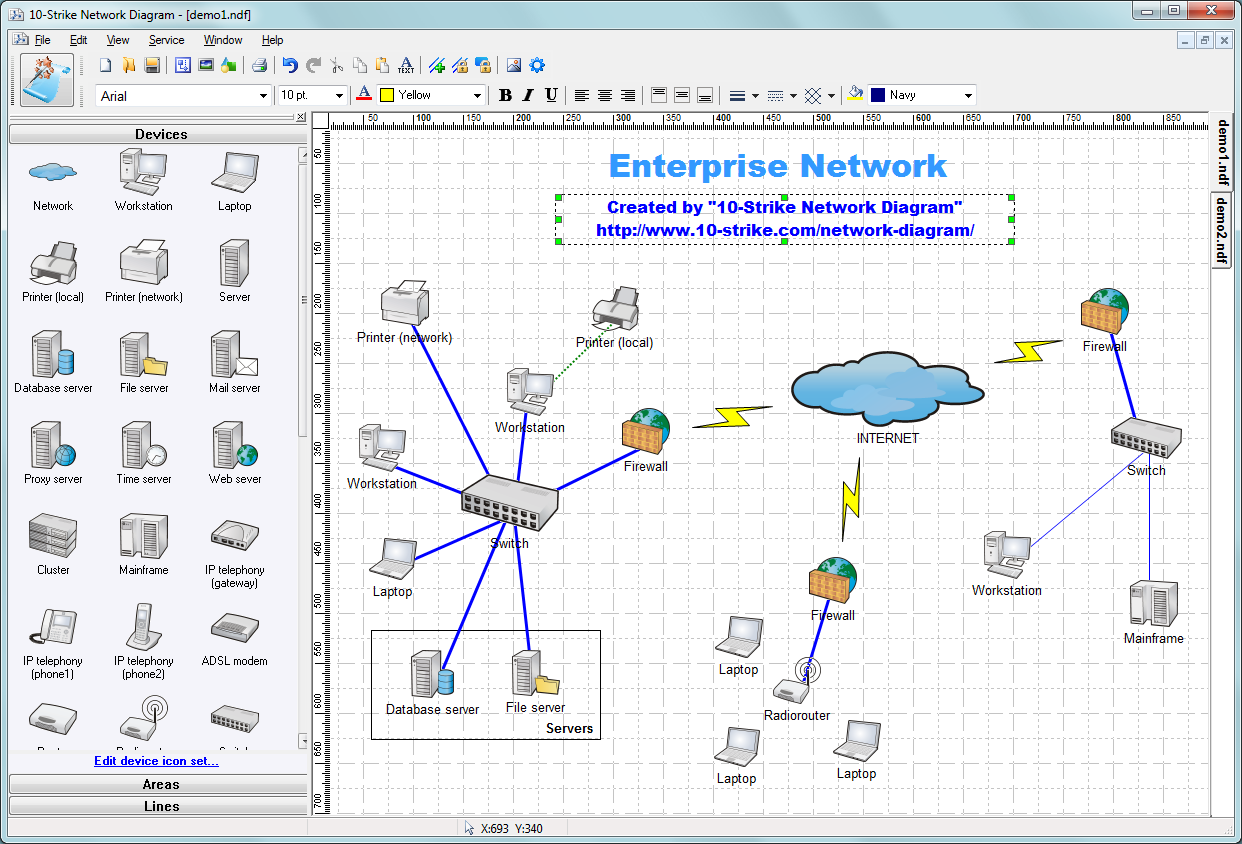 10-Strike Log Analyzer is a log analyzer tool designed to process raw log files generated from Apache log servers. With this tool, teams can quickly determine, search, and filter logs to create specific reports. Additionally, the tool is capable of creating different reports and histograms such as referring sites, file requests, and referring URLs to help teams find errors and malicious user activities in Apache servers.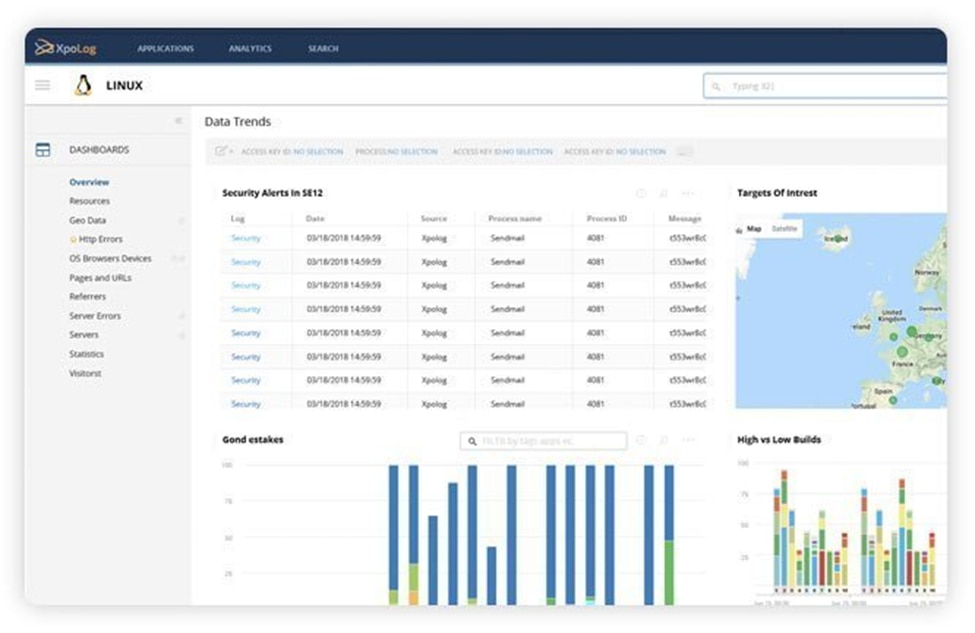 XpoLog automated log analyzers are designed to deliver maximum value while demanding minimum effort from users with log experience. In addition to Apache, XpoLog supports other major web servers including Windows IIS / ISA. At the center of the tool's offering is its accurate, rapid log analysis focused on both data loss and root case analysis.
Like many of the other tools on this list, user-friendliness and ease of use are essential elements of XpoLog. However, the ease of use assumes a certain level of knowledge and expertise. The XpoLog log analyzer is designed to help IT and DevOps teams really get to the bottom of their Apache logs with the help of advanced log data analytics on both your logical and physical system entities. To further support its user-friendliness, XpoLog runs both on the cloud and on-premises.
XpoLog has great features that make it a good option for businesses looking for a quality Apache log analyzer. From fast installation and setup (typically in under five minutes), to reliable notifications on key metrics and custom events, to a powerful and intuitive user interface, there's a lot to like about XpoLog.
Choosing the Right Apache Log Analyzer
Apache log analysis tools vary immensely depending on their logging, monitoring, and alerting capabilities. Organizations must choose a solution to not only fulfill specific logging needs but also improve the overall performance of Apache servers. The tools highlighted above are advanced, sophisticated, interactive, and scalable solutions offering unique logging features and functionalities.
SolarWinds Loggly is one of the best log analysis solutions that not only focus on monitoring and analyzing Apache web logs but also improve service quality by making better use of the organization's development resources. SolarWinds Security Event Manager is another great option for deep insights into your Apache logs and to help you identify potential security events fast—before they have a chance to cause real damage.
However, before making a decision, it's important for organizations and IT teams to consider certain factors, the organization's specific requirements, and a range of features to ensure a smooth logging experience.