Healthcare has evolved rapidly, and today's industry professionals have access to advanced technologies. However, the increased innovation also means the healthcare sector is more complex than ever before. This is where IT Service Management (ITSM) comes in.
Effective ITSM for healthcare can help you provide best-in-class service to your patients, while improving job satisfaction among your workforce. By keeping your tools and systems running at optimal levels, you can ensure you're leveraging the full benefits of modern technology in an industry where it often means the difference between life and death.
In this article, we'll explore the role ITSM plays in the healthcare sector. Then we'll look at four ways it can benefit your organization.
An Introduction to ITSM for Healthcare
ITSM is how your staff manages the delivery of IT services. An ITSM team typically oversees a wide range of technology, from applications and servers to individual employee laptops. An ITSM team is also responsible for the activities associated with designing, creating, delivering, supporting, and managing the lifecycle of those IT services.
In healthcare, ITSM promises to help mitigate risks, reduce human error, and improve patient care. Effective ITSM tools will also make it easier to break down the silos that can negatively impact the patient's experience.
Modern, efficient ITSM is crucial for all industries. However, it's particularly important in healthcare, where errors can have disastrous consequences. For example, if a healthcare worker cannot access a patient's complete records, it may lead to a delay in diagnosis and could put the patient at increased risk.
ITSM for Healthcare (4 Benefits)
Since the healthcare industry directly impacts people's health and wellbeing, it's impossible to underestimate the role IT management plays in the healthcare sector. However, not all ITSM software is created equal. Let's look at four benefits to enhancing your IT teams with modern, powerful ITSM for healthcare.
1. It Can Keep Your Staff and Patients Healthy by Minimizing Contact
The COVID-19 pandemic has triggered a fundamental change in healthcare services. To keep patients and healthcare professionals safe, it's crucial for your team to be able to deliver services remotely when necessary.
A comprehensive ITSM solution should be able to securely record, access, and distribute patient and healthcare professional records with no physical contact. A cloud-based system such as SolarWinds® Service Desk can help your team collaborate remotely, further reducing face-to-face contact.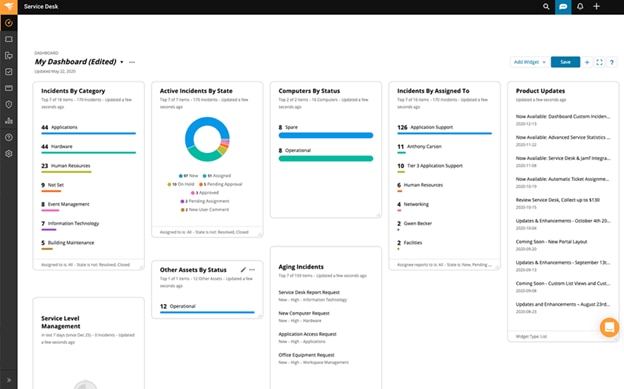 Many employees are starting to return to their physical places of work. However, it's smart to have the tools in place to support staff who may need to work from home, potentially on short notice. This includes situations where a team member tests positive for COVID-19, and your entire workforce has to self-isolate as a precaution.
For any business, it's important to ensure workers can continue to contribute value, wherever they work. However, in healthcare the stakes couldn't be higher, as your team is responsible for keeping people safe and healthy. With a cloud-based solution such as SolarWinds Service Desk in place, you'll be in a position to provide the highest level of patient care, even when working remotely.
2. ITSM Can Prevent Life-Threatening Service Disruptions
In the healthcare industry, a service outage or disruption could put lives in danger. By adopting a service desk for healthcare, you can track IT and medical assets to avoid these potentially life-threatening events.
However, if a crisis does strike, it's vital to resolve it as quickly as possible. Tools such as SolarWinds Service Desk can automate critical crisis management tasks, including smart dynamic forms to ensure all the required information is recorded, incident dependency, prioritization, and assignment. This helps ensure your team has access to everything they need to start resolving the issue.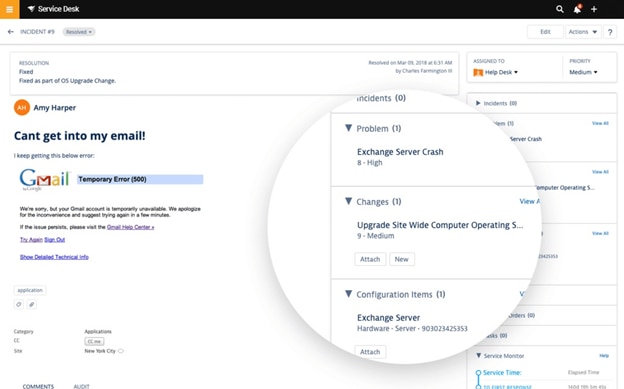 Some IT service management solutions use artificial intelligence (AI) to recommend a solution for critical incident tickets, accelerating their resolution time. For example, SolarWinds Service Desk helps you consolidate critical incident tickets' resolution by providing relevant suggestions when an event is similar to other open tickets.
3. It Helps Improve the Patient Experience
When a patient has a medical question, they usually want an answer fast. If someone's health is potentially on the line, a delay is never acceptable.
An efficient service desk for healthcare can improve the quality of the support you provide to your patients, by helping you process their inquiries more quickly. For example, SolarWinds Service Desk automatically assigns tickets based on custom criteria, such as keywords, categories, and requestors.
This can significantly reduce the amount of work required to organize incoming patient requests, which can expedite ticket resolution.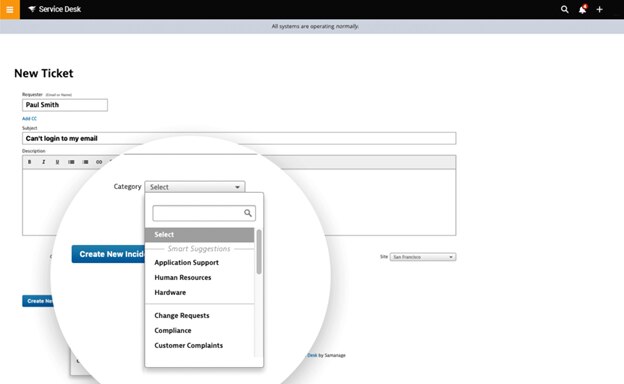 Occasionally, medical professionals may need to consult additional resources to fix an issue. Some self-service portals use AI and machine learning to help users quickly locate the information they need.
When healthcare professionals can resolve their own issues, they'll have more time to spend with their patients, improving the quality of patient care.
4. ITSM Streamlines Common Healthcare Workflows
Most healthcare professionals are highly trained. It rarely makes financial sense to have your most valuable staff members consumed with busy work. Automated ITSM tools can help ensure your employees deliver the most value to their patients and your organization.
By automating your most common and time-consuming healthcare workflows, you can save your staff a considerable amount of time. Automation can also help ensure these tasks are performed consistently, which reduces human error and improves the patient experience.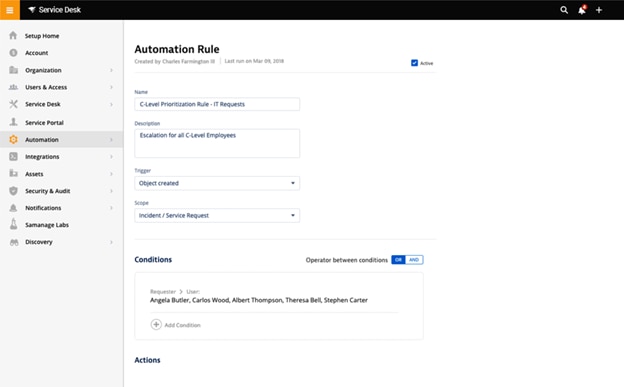 Retaining talent is a common challenge in the healthcare industry. For your organization to run effectively and efficiently, you need your best staff. However, forcing skilled employees to spend time on tedious work can negatively impact their motivation, productivity, and overall job satisfaction. With experienced healthcare professionals in high demand, automating mundane and tenuous workflows can help you retain your most valuable workers.
Conclusion
IT Service Management (ITSM) is essential for all industries, but healthcare is a rare example where the quality of your management can mean the difference between life and death. To ensure you're providing world-class service to your patients, you'll need access to modern ITSM tools.
Let's recap some of the major benefits ITSM tools such as SolarWinds Service Desk have to offer the healthcare industry:
They can keep your staff and patients healthy by minimizing contact and increasing online collaboration and support
They streamline common healthcare workflows and thus improve patient experience and help prevent or mitigate life-threatening service disruptions.