Exchange Server databases can be tricky to manage, and IT administrators can feel inclined to simply leave the files and information inside them alone. However, Exchange database monitoring is essential for clearing up space without damaging your system. This can help speed up performance, increase operation success, and save you time and energy by expediting troubleshooting and double-checking for accuracy.
Exchange database maintenance is integral to keeping your business communications and operations running quickly, consistently, and without error. Exchange database monitoring consists of solving performance issues, identifying improvement opportunities, and ensuring integrations and deployments stay functional. You can use Exchange database maintenance tasks to monitor health, availability, and performance of other Windows services related to Exchange.
Optimize your overall network performance through sufficient Exchange Server monitoring. I recommend you optimize Exchange database monitoring efforts with server monitoring software. A great Exchange Server monitor and manager is SolarWinds® Server & Application Monitor (SAM), which is designed to keep you on top of your mailbox database and overall Exchange Server health and performance. SAM enables you to view metrics on visually sensible dashboards, set alerts based on thresholds and baselines, and dive into critical details to effectively identify and troubleshoot Exchange database issues. There's a 30-day free trial of SAM available for download.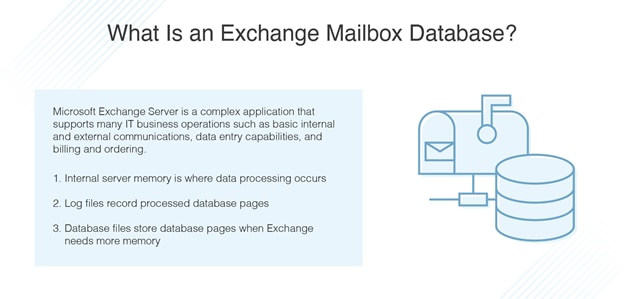 What Is an Exchange Mailbox Database?
Microsoft Exchange Server is a complex application supporting IT business operations such as basic internal and external communications, data entry capabilities, and billing and ordering. For you to perform these functions efficiently and with accuracy, you must thoroughly and consistently monitor your Exchange database.
There are three fundamental aspects to Microsoft Exchange:
1. Internal Server Memory
This is where data processing occurs. Whenever new database pages are needed, Exchange Server creates and processes them by reading information from the disk into memory.
2. Log Files
As soon as Exchange Server finishes processing database pages, they're written in the log file in use. Every storage group—with each group containing one or more database files—has its own set of log files starting with its own prefix (e.g., E00, E101, etc.). When a log file is filled, it's closed and renamed with an additional zero per save. This enables you to see closed files of specific storage groups.
3. Database Files
Once Exchange needs more memory, this is where database pages are stored. Database pages are flushed from the memory to the database file—they're not read from log files then written, which is a common misconception. Database flushing also occurs when pages are kept too long in memory.
You can store your mailbox database or mailbox databases on the Exchange Database files. The mailbox database is where almost all Exchange mailbox data is hosted, making it the primary repository for Microsoft Exchange. On disk, the mailbox is usually called "mailbox database.edb" or "Priv1.edb" on older versions—now you can customize the mailbox database's name.
In theory, mailbox databases can be massive and hold large amounts of data. However, it's best practice to limit the mailbox database to a reasonable size, within constraints of your service level agreement (SLA). Because mailbox databases take up so much space on your Exchange server, they're ticking time bombs—your network needs space for optimal performance, and overloading your Exchange database can damage your network's functionality. Losing track of Exchange files can also lead to accidental deletions or other mishaps that negatively impact performance.
How to Check Exchange Database Health
Here are some best practices you can follow to improve Exchange Database monitoring efforts:
Separate database and log data in different volumes. Each volume should be backed by individual disks, and you shouldn't add more than one database or log per volume.
If you have a DAG configured with two Exchange servers, place the database and log on the same volume. You shouldn't put more than two co-located databases and logs on the same volume. This pattern continues the more Exchange servers you have configured with your DAG.
In general, the number of databases configured per volume should equate to the number of copies on each database.
For quick, efficient, and accurate Exchange database maintenance, use an Exchange Server database monitoring tool. Exchange database monitoring software is designed to automatically discover operations and issues present in Exchange Server, enabling you to immediately and thoroughly address these problems before end users are deeply affected. Exchange database monitoring tools can also help you make important decisions about expansions, implementations, and other potential Exchange Server modifications.
Recommended Tool for Exchange Database Monitoring
SolarWinds Server & Application Monitor (SAM) is designed to help you maintain overall Exchange server and mailbox database capability, capacity constraints, and more. SAM is built to automatically collect Exchange server metrics and display them in real time via easy-to-use dashboards. SAM can also use automation tools to capture historical performance data—this includes root cause ID, which can aid the troubleshooting of Exchange database issues.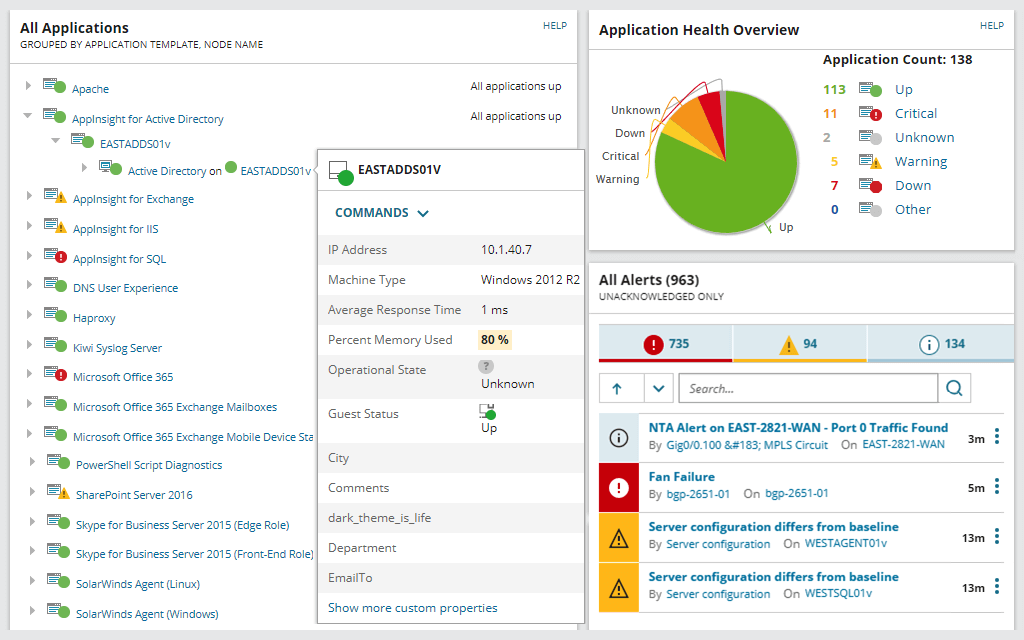 SAM also supports alerting capabilities, designed to generate prompt alerts to help you quickly start maintenance procedures. SAM's advanced customization features enable Exchange Server alerts to offer in-depth information in visually appealing templates. You can test alerts and send notifications using SAM, and create thresholds informed by baselines SAM is built to automatically generate. These thresholds could be used to trigger Exchange database maintenance alerts.
Solve mailbox issues related to Exchange Server with SAM by uncovering details such as:
Mailbox database size
Size of mailbox attachments and mailbox-synced devices
Number of mailbox attachments and mailbox-synced devices
Sent and retrieved mail trends
Information store details
Mount status
Replication status
These SAM metrics and more can help you monitor Exchange mailbox database performance and identify spam or user-related issues. They can also help you clean the Exchange mailbox database to improve overall health, speed, and storage capacity.
SAM also enables you to stay ahead of mail storms by actively running Exchange database monitoring tasks. Mail storms could come from anywhere—viruses, faulty applications, and large email aliases and chains could trigger mail storms. SAM's alerting system is designed to report on mail storms as well, enabling you to address them before related issues take over.
SAM is designed to monitor Exchange Server and provide you with the information you need to discover and address health crises before they complicate end-user activity. SAM enables you to track aspects of Exchange along with Mailbox Server such as Hub Transport Server, Edge Transport server, and the CAS. This lets SAM support complete, well-rounded Exchange database maintenance views.
SAM is built to drill down into specific component details and provide overall metric updates. These statistics are then displayed via simple, intuitive dashboards on a user-friendly interface. Exchange database monitoring dashboards enable you to quickly collect critical information, which you can use to troubleshoot issues and optimize Exchange Server health.
Concluding Thoughts on Exchange Database Maintenance Tools
Microsoft Exchange Server is common enterprise software that helps various organizations perform critical business functions. Send emails, enter data, and manage ordering and billing with help from Exchange Server. Mailbox data, which is crucial to Exchange Server activity, can eat up space and resources if improperly managed.
It's essential to monitor Exchange database health and mailbox database performance. Exchange database monitoring can help tasks run successfully and enable you to solve issues quickly, identify root sources, and prevent future occurrences. Use a tool like SolarWinds Server & Application Monitor (SAM) to configure alerts, troubleshooting capabilities, and automated tools designed to gather metrics for easy-to-read dashboards and visualizations.
SAM is built to help you fully, accurately monitor Exchange Server and other mailbox database systems to optimize speed, efficiency, and resource allocation. This can help you maintain peak Exchange database performance and optimize enterprise operations. SAM is a good solution for organizations of all sizes. Download a 30-day free trial of SAM today.