As a database administrator (DBA), you need to demonstrate your skills on a daily basis. However, if you have no formal training or certification, it can be challenging to land a new job or achieve an internal promotion.
Fortunately, there are various highly-regarded database certifications for the leading databases. Whether you work primarily with SQL or Oracle, you can use a prestigious certificate to increase your earning potential.
In this guide, we'll explore what to look for in a DBA certification. We'll also look at the best options for different databases.

What to Look for in a Database Certification
Not all database certifications are made equal. As such, there are a few factors to consider when choosing the right one for you.
Firstly, and perhaps most importantly, you'll need the correct certificate for the database you use. There are certifications for all the leading options, such as SQL, MySQL, Oracle, and PostgreSQL. Some qualifications cover several databases, which can help if you work with multiple systems.
You should consider the different elements that make up the certification. Many certificates may need you to demonstrate any of the following skills:
You may like to consider the cost of the database certification. Some courses and certificates may cost several thousand dollars. Therefore, you might want to consider if the investment is worthwhile for your career as a DBA.
Finally, you might like to consider the reputation of the certificate issuer. For example, if you want a qualification for Oracle databases, getting it directly from Oracle could make sense.
4 Leading Database Administrator Certifications
We've already explored the importance of a database certification and how to choose the ideal one for you. With those factors in mind, let's look at four of the best options for different databases.

The Microsoft Certified: Azure Database Administrator Associate certification is one of the best options for SQL DBAs. It's a dual qualification built to demonstrate your proficiency in both SQL and Microsoft Azure databases.
It's an entry-level SQL certification designed to qualify you as a DBA. To earn it, you'll need to pass a single exam. In the assessment, you'll need to demonstrate your ability to:
Use T-SQL for administrative tasks
Construct and use a High Availability and Disaster Recovery (HADR) environment
Adequately allocate and use data resources
Automate tasks
Although the exam has an administrative fee, you can complete the training courses for free on the Microsoft website. As such, you can easily ensure you have mastery of the necessary skills.
If you pass the assessment, you'll receive an online certificate you can save and share with your new or potential employers. You'll also get a Microsoft Certified badge you can add to social networks such as LinkedIn or your resume.
Price: The exam costs around $165, depending on the country where you take it.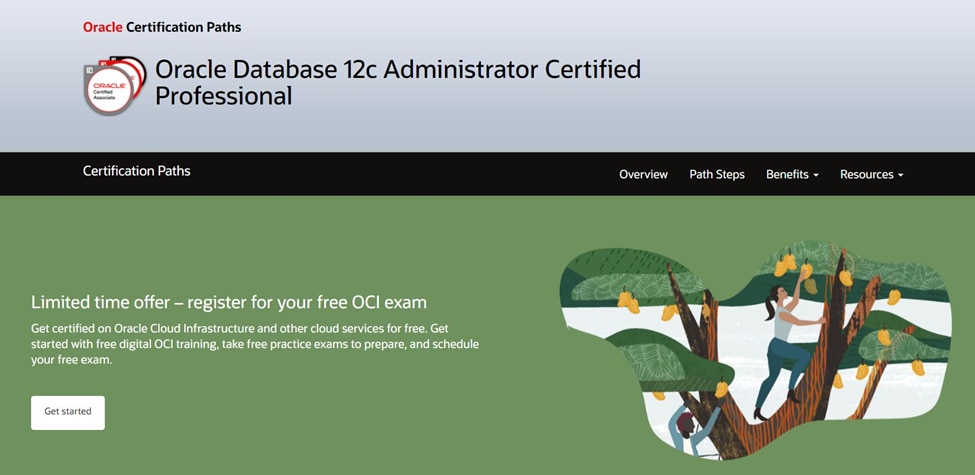 If you work with Oracle databases, you could aim for the Oracle Database 12c Administrator Certified Professional certificate. This is a higher-level certificate that builds upon the basics offered in entry-level Oracle certifications.
Additionally, the Oracle database certification is a stepping-stone to the Certified Master qualification. Therefore, it could be suitable for experienced DBAs looking to jump to a senior administrative role.
To earn the Oracle Database 12c certification, you'll need to demonstrate the following skills:
General database administration proficiency
Development and use of database backup solutions
Cloud computing strategies
Installations and upgrades
You'll need to pass at least one advanced administration course from the Oracle University platform. These modules can either be remote or in-class, but don't offer self-taught alternatives. Then, you'll take the final exam to gain the certification.
If you pass the exam, you'll earn the relevant badge. You can display it online, such as in your resume or professional networks. Additionally, you'll be able to print out a certificate recognizing your credentials.
Price: The exam costs $245.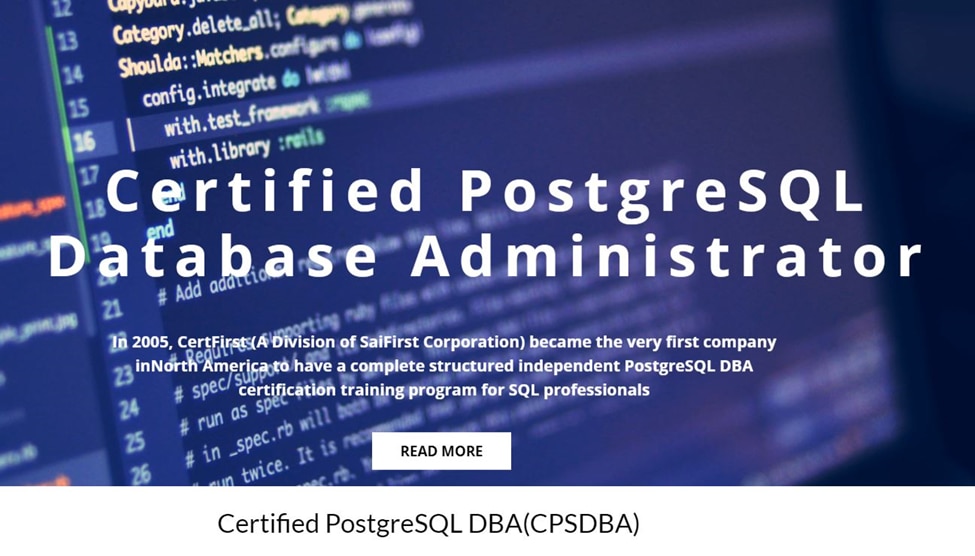 PostgreSQL databases are open-source systems used by more than 5000 companies worldwide. As such, getting qualified in DBA for PostgreSQL could open up multiple employment opportunities with sizable businesses.
The Certified PostgreSQL DBA (CPSDBA) is an entry-level, vendor-neutral certification. Therefore, you'll learn how to manage the database type without influence from particular companies.
During the course, you'll learn and demonstrate skills in the following areas:
System architecture
Management of database clusters
Basic database management and creation
Security and monitoring of data
Database maintenance and upgrades
Advanced customization topics
Unlike some other certifications, the CPSDBA has a strict timeline. You'll need to complete all courses in four days and then receive the qualification. As such, you may need to take some time off work to achieve this certificate.
Price: The complete qualification costs $1795.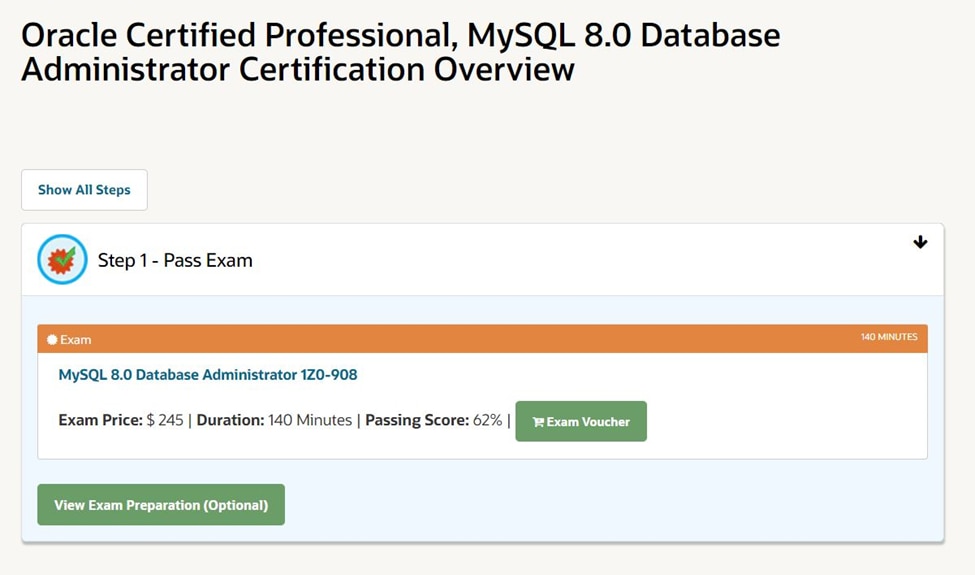 MySQL is the second most popular database management system worldwide. Therefore, you'll likely need to work with it at some point in your DBA career. As such, gaining a MySQL database qualification can improve your skills and open doors to new positions.
The Oracle Certified Professional MySQL 8.0 Database Administrator Certification is a standalone certificate with an associated exam. It demonstrates professional competency with the MySQL 8.0 system.
To gain this certificate, you'll need to show the following proficiencies:
Server installation and configuration
Security protocols and protection against database attacks
Maintenance and monitoring of processes and growth
Optimization of MySQL queries
Configuration of high availability techniques
You can complete free training via the Oracle University platform. However, you'll likely need some practical experience from your role as a DBA to master the concepts.
Then, you'll take the exam online. If successful, you'll receive the certification within 30 minutes of completing the test. The certificate comes with an online badge you can display across your social media and professional profiles.
Price: The exam costs $245.
Conclusion
Database certification can demonstrate your skills as a proficient database administrator (DBA). Furthermore, a prestigious certificate could increase your job prospects or land you an internal promotion.
To recap, these are four of the leading database certifications for DBAs:
As a DBA, you likely need to dedicate yourself to numerous tasks every day. With our SolarWinds® database solutions, you can more easily manage your database performance and increase the efficiency of your data pipeline.