Most successful online businesses can provide top-notch customer support. It's one of the most powerful ways to keep users coming back to you. However, it's near impossible to provide the best support you can as your customer base grows unless you employ industry-leading service desk software.
Service desk software enables your business to provide better customer support and to do it more efficiently. It's one of the best investments you can make once your user base starts to grow. The only question is which software or platform is the best fit for you.
In this article, we're going to compare Spiceworks vs. SolarWinds® Service Desk. We'll tell you everything you need to know about both platforms, from their features to prices, and how to get started.
Spiceworks Help Desk vs. SolarWinds Service Desk: What Both Platforms Offer
Before we go any further, let's take a minute to introduce both service desk platforms and go over how they work. Then we'll break down their individual features.

Spiceworks is a free support service platform, offering full access to the software without any available premium features. However, ads are shown within the software itself, so you'll want to decide whether this is a deal breaker for you initially.
With Spiceworks, users can submit tickets via a support portal, where they can also check on the status of each issue. Your agents can accept tickets, add internal comments, and close them once they solve the problem. To help keep things moving along, the platform can automatically assign tickets to the right people and you can monitor your team's performance at any time.
You can easily set up knowledge bases and user portals through the platform, meaning users can take care of simple issues on their own. For more complex tickets, you can have agents collaborate to reach solutions faster.
Spiceworks can also connect to multiple websites, enabling you to set up more than one customer portal, and manage tickets through a web dashboard or an app. You can use an online version of the platform or download the software and host it on your own server. With the latter approach, you get freedom over how you'd like to customize your service desk, and you can even set up plugins to expand its functionality.
Price: Both the cloud and self-hosted versions of Spiceworks are free for unlimited agents and tickets. However, you'll want to check whether you can handle the server requirements for the self-hosted version of Spiceworks. You'll need at least 40GB of space, 4 virtual CPUs, and 8GB of RAM. In our experience, virtual servers with those specs usually start at around $40-50 USD per month.

Service Desk is one of several IT management products under the SolarWinds banner. The platform enables you to provide customer service by implementing ticket management through multiple channels, with a focus on email.
The software lets you set up internal knowledge bases to help your agents tackle the most difficult tickets with ease. A thorough knowledge base can pay off as your agents will be able to get better ratings in customer satisfaction surveys (another feature offered by Service Desk).
With Service Desk, agents can collaborate on tickets to reach solutions faster. The platform also lets you track tech assets and company devices, making it an all-in-one IT management solution.
Price: The basic Service Desk plan costs $15 USD per month per agent, for all the functionality we've discussed so far—although advanced tiers exist.
Spiceworks vs. SolarWinds Service Desk: Key Features
There's a significant difference in price between Spiceworks and SolarWinds Service Desk, so it's important you understand each platform's features before you decide.
Spiceworks
Both the cloud and self-hosted versions of Spiceworks offer the same base functionality, such as:
Enabling you to set up customer portals on multiple websites
Receiving tickets via your customer portals
Assigning agents to tickets and an internal commenting system
Having multiple agents collaborate on complex tickets
Setting up knowledge bases and user self-service portals
Those are pretty much the basic features you get with any service desk platform. The difference, in this case, is Spiceworks offers them for free. This applies to an unlimited number of tickets for as many agents as you need.
If you want to add more functionality to Spiceworks, you can use the platform's self-hosted version. There are a lot of plugins and customization options available, although you'll also need to take server costs into consideration. Depending on how big your team is, paying for a server can still be a bargain, although you'll need some technical know-how if you want to customize Spiceworks extensively.
SolarWinds Service Desk
Although SolarWinds Service Desk isn't free, there are more features by default than with Spiceworks, such as:
Setting up user service portals and internal knowledge bases
Enabling customers with satisfaction surveys
Tracking your team's performance through real-time user feedback
Managing your business's IT assets.
Service Desk also gives you access to in-depth reports about your team's performance, which enables you to identify problem areas with ease. For a small team of agents, using Service Desk can be cheaper than setting up a server to use self-hosted software.
Since SolarWinds Service Desk is a cloud service, you don't have to worry about setting up or optimizing the software. It works as soon as you finish setting up your account and you can test it for yourself.
How to Get Started With SolarWinds Service Desk
Switching to a new service desk platform can completely overhaul your customer service capabilities. If you're ready to give service desk software a go, you can check out the SolarWinds Service Desk free 30-day trial: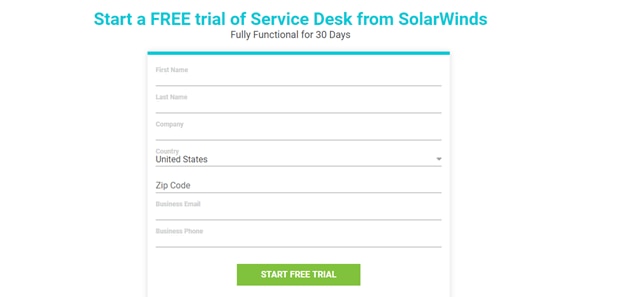 All you need to set up an account is to share some basic contact information. You don't need to enter any payment details until you're ready to commit to a subscription. In any case, once your trial starts, you can access your Service Desk dashboard right away: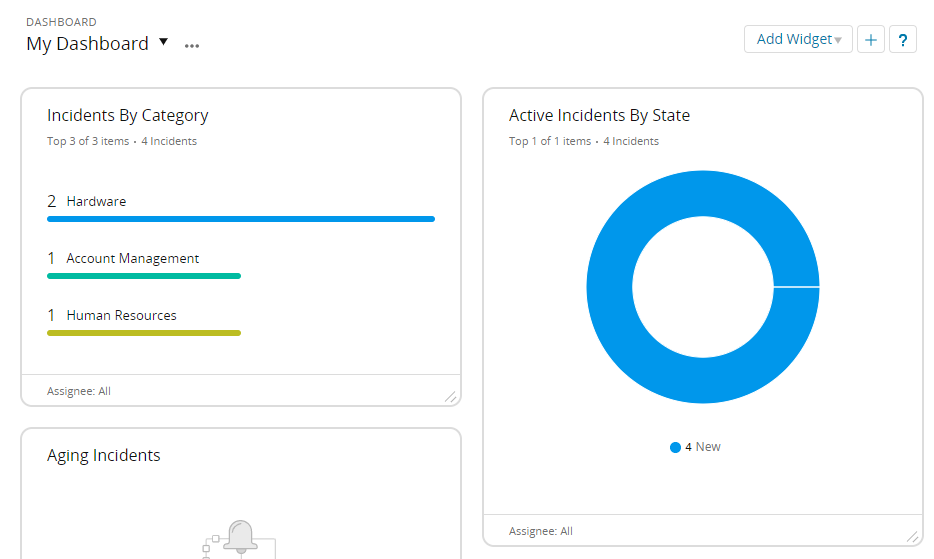 There are a lot of features and sections available here, so take your time to learn the ins and outs of the platform. If you want some guidance, you can take a quick look at the Service Desk documentation, which covers everything you need to know.
Conclusion
Customer service is the cornerstone of any online business. If you can't provide customers with a decent support experience, they're less likely to recommend you to their friends or to do future business with you. To provide a good experience, you need to give your team the tools they need to manage tickets efficiently.
Spiceworks is an excellent service desk option if you're looking for basic ticket management functionality for free. However, if you want access to features such as IT asset management and team performance metrics, SolarWinds Service Desk might be a better fit for your business.
*As of June 24, 2020