High customer satisfaction ratings, brand recognition, and good customer service features are all hallmarks of a good help desk solution. But how can you tell which solution offers the most effective IT services management (ITSM) for your technicians and end users?
Before you invest in new help desk software, it's important to understand the unique advantages each platform brings to the table. To help you decide which service desk solution is best suited to your needs, the following offers a side-by-side comparison of two popular ITSM solutions: the cloud version of SysAid, which is comparable to SolarWinds® Service Desk, and a cloud ITSM solution.
How Easy Is It to Use SysAid vs. Service Desk?
Your first consideration for your new help desk software should be the ease of implementation. When your IT services are unnecessarily complicated to deploy and use, you can lose money in the long run from delayed services and customer dissatisfaction. An effective ITSM software will require minimal setup effort, easy maintenance, and the interface will be intuitive for your technician and users to figure out.

SysAid help desk software is compliant with ITIL standards, and it offers a helpful IT services bot—named Automate Joe—designed to help automate IT maintenance tasks. Like all SolarWinds products, Service Desk is designed to offer an intuitive user experience and ease of setup. Service Desk offers a range of key ITIL features, including automation for multi-step workflows and ticket routing.
SysAid vs. Service Desk Features
For a deeper dive into our SysAid vs. SolarWinds comparison, let's look at the central features for any ITSM help desk software. These features include:
Addressing Tickets
For addressing tickets, SysAid vs. Service Desk is an easy comparison. SolarWinds Service Desk offers a detailed focus on ticketing management, with automated escalation to the right experts and problem grouping for related tickets. SolarWinds highly intuitive end-user experience also helps your clients quickly and efficiently submit tickets. SysAid also includes automated ticketing retrieval and visualization, but it doesn't have the same emphasis on automated issue escalation as SolarWinds Service Desk.
SLA Management
Successful compliance with Service Level Agreements (SLAs) will require you to keep track of each SLA established at the beginning of your contract with a client—and to deliver on your SLAs in a timely fashion. With built-in asset discovery, asset management, and SLA reminders, SysAid and Service Desk both offer strong solutions to SLA management. When you comply with your SLA agreements, you can ensure client trust, and create a strong reputation for your IT services.
Customer Service
Customer service from your help desk software provider is a crucial (and often overlooked) component of your help desk software. Both SysAid and Service Desk offer valuable, reliable customer service to guide you through your help desk implementation. Both software providers offer 24/7 phone support, online communication with qualified experts, and reliable training webinars. Compared to SysAid, SolarWinds Service Desk offers a slightly wider array of informational documents online.
Start With SolarWinds Service Desk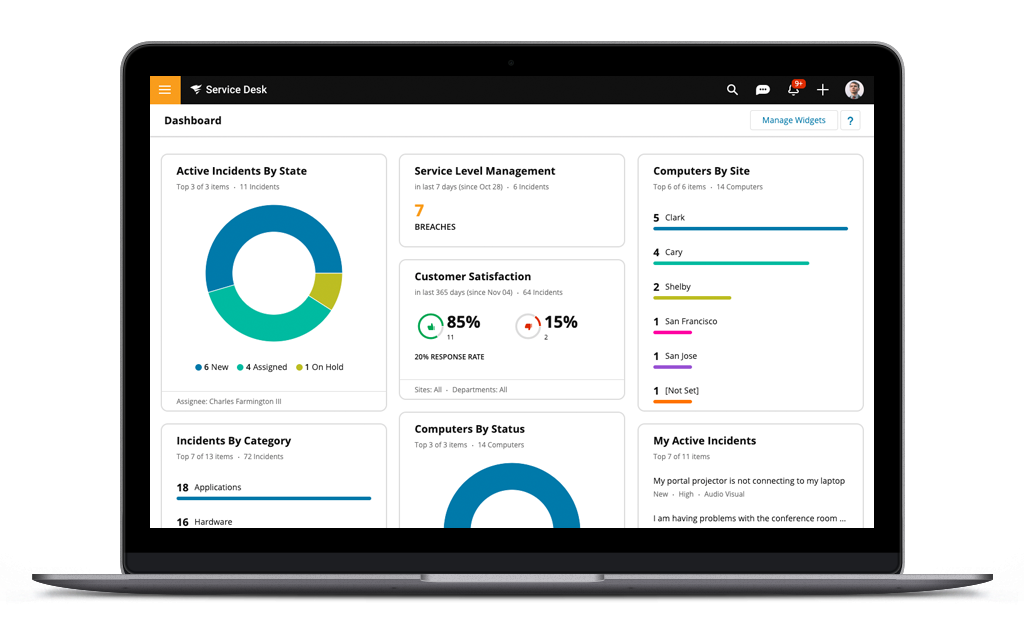 There's a reason why SolarWinds Service Desk and SysAid are popular brands in ITSM. Both offer concrete solutions to address ticket management, service level agreements, customer service, and other important ITSM functions.
Overall, I feel SolarWinds Service Desk is the best solution for your money. All in all, SolarWinds Service Desk is a practical, sustainable ITSM tool—and the most bang for your buck. See if it's the right tool for you with the Service Desk 30-day free trial