Your website is likely a critical aspect of your business. However, trying to keep an eye on its availability yourself simply isn't realistic, which is why you need a quality uptime monitoring tool.
Fortunately, there are plenty of affordable solutions to choose from. Among the most popular are SolarWinds® Pingdom® and Uptime Robot. If you're trying to decide between the two, we're here to help.
In this post, we'll look at Pingdom vs. Uptime Robot, discussing their unique features and key differences. Let's get started!
An Introduction to Pingdom vs. Uptime Robot
Even with the most reliable hosting provider, sometimes issues can take your WordPress site offline. The sooner you're aware of it, the quicker you can fix it. That's easier to do when an uptime monitoring service lets you monitor your website from nearly anywhere.
If you've been looking into website availability and uptime monitoring tools, you've undoubtedly come across two of the big names in the market: Pingdom and Uptime Robot. Let's take a closer look at each of these options.
Pingdom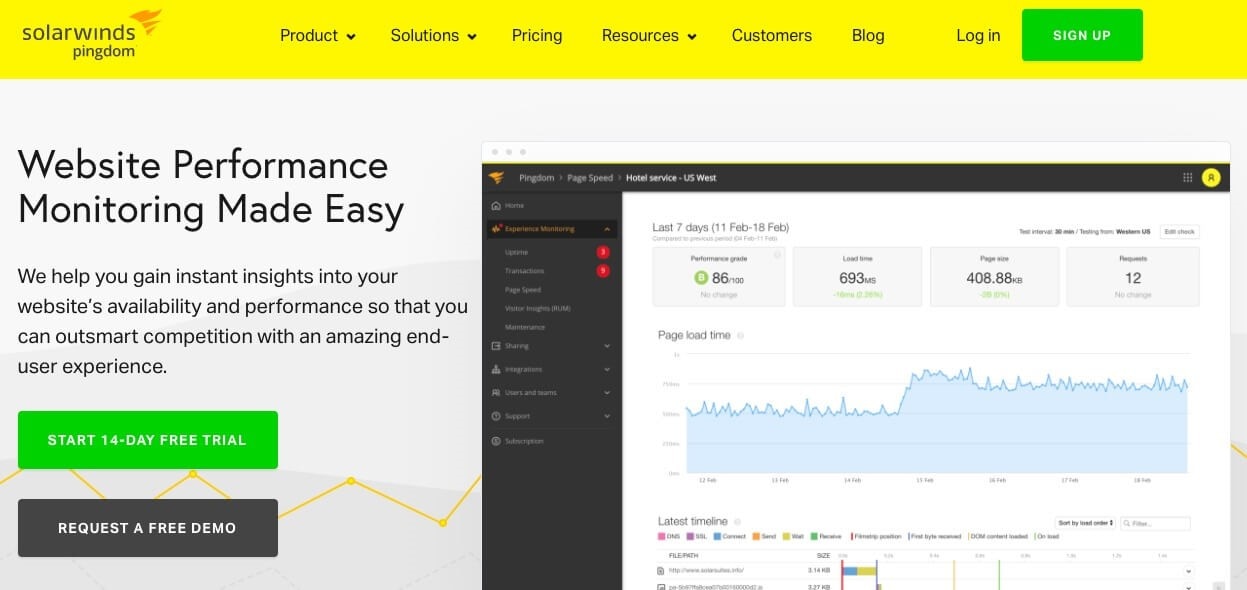 With more than 100 Pingdom servers across the globe, you'll be able to monitor your site in the most important places.
As part of the SolarWinds family, Pingdom offers different products and services to help you gain insights into your website's performance. These include:
Uptime monitoring. You can test the availability of your website, applications, and servers.
Real-User Monitoring (RUM). Pingdom doesn't just tell you when your site is (or isn't) online. You can also use it to learn more about your visitors, and more importantly, how they use your site.
Page speed monitoring. A major part of website performance is loading times. You can test, monitor, and identify ways to improve your site's speed.
Root cause analysis. A critical part of uptime monitoring is being able to understand what caused the issue in the first place.
Instant notifications and alerts. If something happens to your site, it's better you know before your customers do.
Pingdom is a robust website performance monitoring tool designed to be easy to scale and use. It's simple and reliable, and comes with a user-friendly dashboard.
Uptime Robot
Uptime Robot offers a quick, straightforward way to check your site's availability. It enables you to verify downtime in various locations, monitors your website every five minutes, and alerts you if it's down. Plus, it does this for free.
Every few minutes, Uptime Robot collects your website's header and looks for HTTP status codes such as "404 Not Found." If one is located, it will check to make sure the page or site is actually down. If it is, Uptime Robot will send you an alert.
With the free plan, you get up to 50 monitors. It also includes two months of logs, and five-minute monitoring intervals. If you upgrade to a premium package, you'll unlock access to more resources and advanced features.
Pingdom vs. Uptime Robot: Key Differences
You may already be noticing some key differences between Pingdom and Uptime Robot. However, there are some important distinctions we haven't covered yet.
User Interface
Considering how important uptime monitoring is to your website's performance, you'll want to make sure the tool you choose is easy to use. Let's look at how Pingdom vs. Uptime Robot compare in this area.
Uptime Robot doesn't offer as many services and features as Pingdom, so the dashboard is relatively simple. It lets you easily find the uptime status and information you need.
While Pingdom comes with more options, it doesn't sacrifice usability along the way.\

The dashboard includes sections for managing user and team access, email reports, and integrations.
Pricing
Another notable difference between Pingdom vs. Uptime Robot is the pricing. As we mentioned earlier, Uptime Robot is free to use, making it an attractive option if you're on a tight budget. If you want to upgrade to a premium plan, you also have an impressive range of options to choose from. Packages start at $9 USD and go up to $499 USD.
Of course, a low price tag usually comes at the expense of limited features. If you're looking for the minimum in terms of website availability and monitoring, however, this tool will likely suffice.
Pingdom includes an impressive offering of services. So naturally, you can expect the price range to be a bit higher. While you can use the website speed test tool for free, the other uptime monitoring features require a paid plan.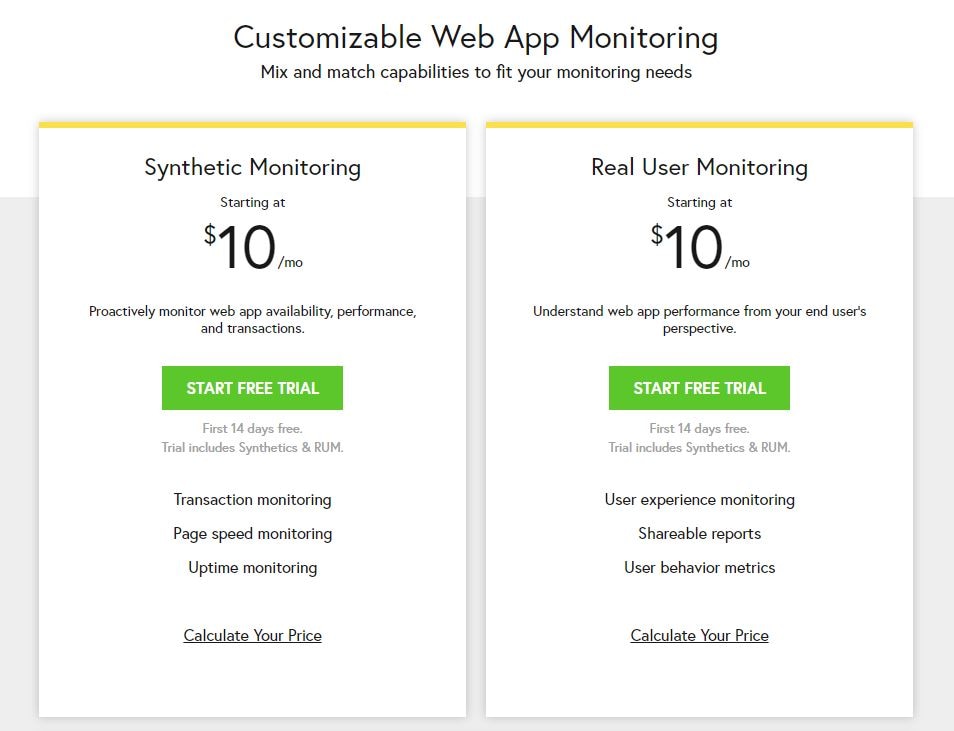 These plans start at $10 per month and can be scaled to your needs using price calculation widgets.
How to Get Started With Pingdom
All things considered, if you're looking for a tool to act as your complete uptime monitoring solution (and more), Pingdom is worth the paid plan. You'll have peace of mind knowing your website can be monitored from anywhere in the world. Plus, through performance testing and alerts, you'll continuously have the opportunity to improve your site.
Best of all, Pingdom offers a 14-day free trial. So, if you're interested in this uptime monitoring service but aren't sure about committing to a plan yet, we recommend signing up for a trial run to see how you like it. You can also request a demo for an even closer look at Pingdom and how it works.
Conclusion
If something happens to your website, it's important to resolve the issue before it can disrupt your business operations. This is one of the reasons website performance and uptime monitoring tools are so essential.
When you're debating between Pingdom vs. Uptime Robot, there are a handful of factors to consider. While Uptime Robot is a free tool capable of handling your basic uptime monitoring needs, it's limited in terms of features. For an all-in-one solution that's user-friendly and cost-effective, you can't go wrong with SolarWinds Pingdom.
*As of April 2020