There are many services you can use to monitor your website's performance. However, those platforms use several different tools. To get the insights you want, you'll have to choose the right website monitoring service to match your needs.
If you can get access to around-the-clock monitoring, for example, you won't just be able to catch performance issues before they turn into full-blown crises. It'll also be easier to spot errors in your website's functionality, and fix them in time to help prevent costly losses.
In this article, we're going to help you decide which website monitoring service is the right fit for you by comparing two popular options: SolarWinds® Pingdom® vs. Site24x7. Let's jump right in.
Pingdom vs. Site24x7: An Introduction to Two Monitoring Services
When you start looking at the options available for monitoring your site's performance, you'll likely run across both Pingdom and Site24x7. While these services have some similarities, choosing between them requires understanding their differences as well.
To do this, we're going to start by looking at the specific features both services offer, and their pricing options. That way, you'll know which one provides the tools you need and is right for your budget.
Site24x7
Site24x7 is an all-in-one monitoring service encompassing websites, servers, cloud infrastructure, networks, and applications. In other words, it wears many hats. To succeed in all of those tasks, it offers you a broad range of tools to work with.
When it comes to website monitoring, Site24x7 enables you to stay on top of uptime data and web transactions. It monitors real-user activity as well, and enables you to set up synthetic-user testing. The latter involves user-simulated tests to help you examine key processes on your website (such as checkouts) and find errors. Plus, you can configure alerts, so you'll find out immediately if anything is going awry.
However, Site24x7 stands out when you want to go beyond website monitoring. It's a complex service requiring much time to get used to, particularly if you plan on implementing its full stack of tools.
Price: Site24x7 plans start at $9 USD per month if you pay annually. However, the Starter tier provides access to only the website monitoring functionality. The number of tests you can run is also limited—for example, the Starter plan supports one synthetic-transaction test.
If you want access to Site24x7 full range of tools, you'll need to pay for an All-In-One Plan. Those start at $25 USD per month. To expand the range of websites, servers, applications, and networks you can monitor, you may also need to pay for extras.
This means, despite its many upsides and reasonable pricing, Site24x7 might not be the best option if you want to run unlimited tests without incurring additional costs.
Pingdom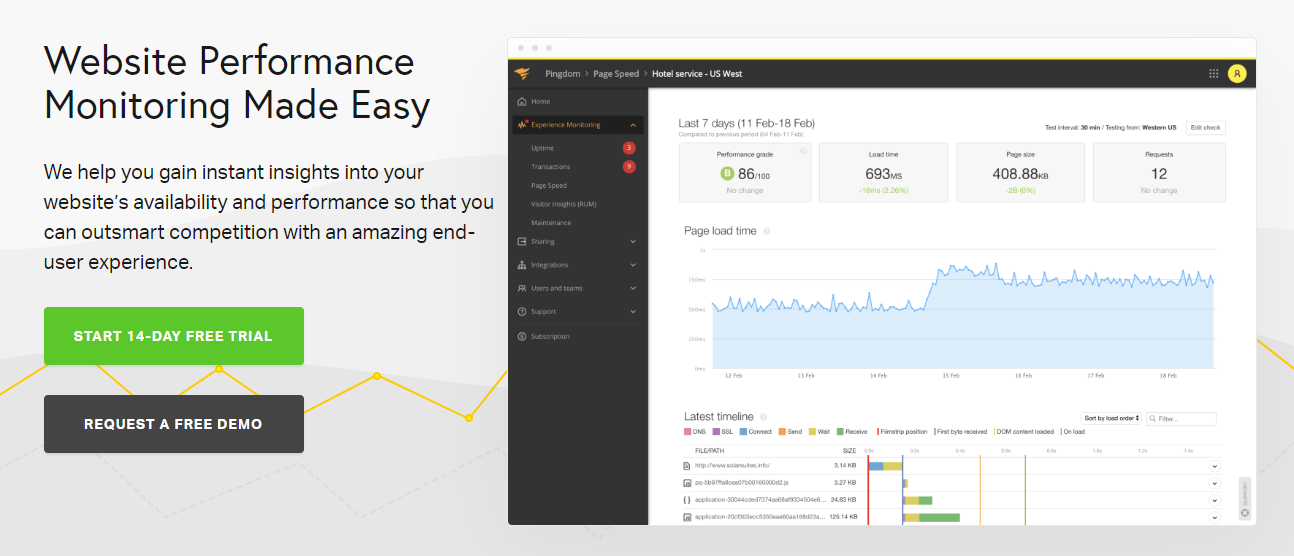 Pingdom is designed to simplify website and server monitoring, while at the same time providing you with access to advanced tools if you need them. With every Pingdom plan, you'll get access to the following:
Uptime monitoring
Page speed tests
Error logs and analysis
Real-user monitoring (RUM)
Synthetic interaction testing
Customizable alerts
RUM and synthetic interaction testing are two of the best tools for website performance tracking. They're also two features Pingdom and Site24x7 have in common. However, with Pingdom, you'll get access to five times the data from real users. Beyond this, even the Pingdom basic plan enables you to set up three synthetic transaction tests, which are also fully customizable.
Page-speed monitoring is at the core of the Pingdom experience. By using Pingdom, you can analyze the performance of every element on your pages. If there are any spikes in performance, you'll be able to spot them easily. Plus, with the detailed information you'll have access to, you'll know exactly what needs adjusting.
Since you'll get access to plenty of historical data as well, you can also spot trends in website performance. This enables you to monitor how the changes you've made in the past have impacted your site over time, so you can make better decisions moving forward.
Price: Price: As of June 2020, Pingdom has two main pricing plans: Synthetic Monitoring and Real User Monitoring (RUM). Prices start at $10 per month. Both plans are scalable and can be tailored to your needs using price calculation widgets.
Conclusion
The more complex your website is, the more important monitoring becomes. Every update you make has the potential to cause slowdowns, and if there's one thing visitors don't like, it's websites running slowly. For businesses, website monitoring isn't just a good idea—it's a must.
However, service too difficult to navigate or those giving you access to many features you don't need can cause more problems than they solve. The Solarwinds solution's goal is to provide you with a powerful yet straightforward website monitoring tool to simplify your workflow, which makes it an easy recommendation.
*As of March 2020