Website monitoring tools can be intimidating. It's often difficult to know precisely what you need to keep your website running in tip-top shape because these tools give you access to so many options and features. Without the right background, you can end up overpaying for functionality you don't need.
When it comes to this type of service, two of our favorite options are SolarWinds® Pingdom® and Dynatrace. Both offer the features you need to monitor nearly every aspect of your website's performance, but they're very different platforms. Knowing what each of them provides is key to choosing the right one for your needs.
In this article, we're going to compare Dynatrace and Pingdom, focusing on their features, ease of use, and pricing. By the time we're done, you'll have a better idea of which service you should sign up for.
Pingdom vs. Dynatrace: What's the Best Website Monitoring Tool?
Pingdom and Dynatrace are different in terms of the features they offer and the users they're best suited for. With this in mind, let's break down what makes each option unique.
Dynatrace
At its core, Dynatrace is an application performance monitoring (APM) tool. The service offers you a broad range of advanced features you can use to monitor web applications across different stacks and pinpoint performance issues (as well as other types of errors). To do this, Dynatrace relies on machine learning. It bills itself as a "zero-touch" configuration service.
As far as features go, Dynatrace offers real user monitoring (RUM), session replays, and synthetic testing, among other functionalities. You also get access to in-depth metrics and analytics, and the platform's "AI engine" (referred to as "Davis") helps you identify errors based on this data.
Price: The platform offers three different pricing models: Self-Service, Enterprise, and Webscale. Pricing is set on a case-by-case basis. In our experience, licensing costs are usually in the thousands of dollars, which means Dynatrace is generally better for large businesses or enterprises.
Pingdom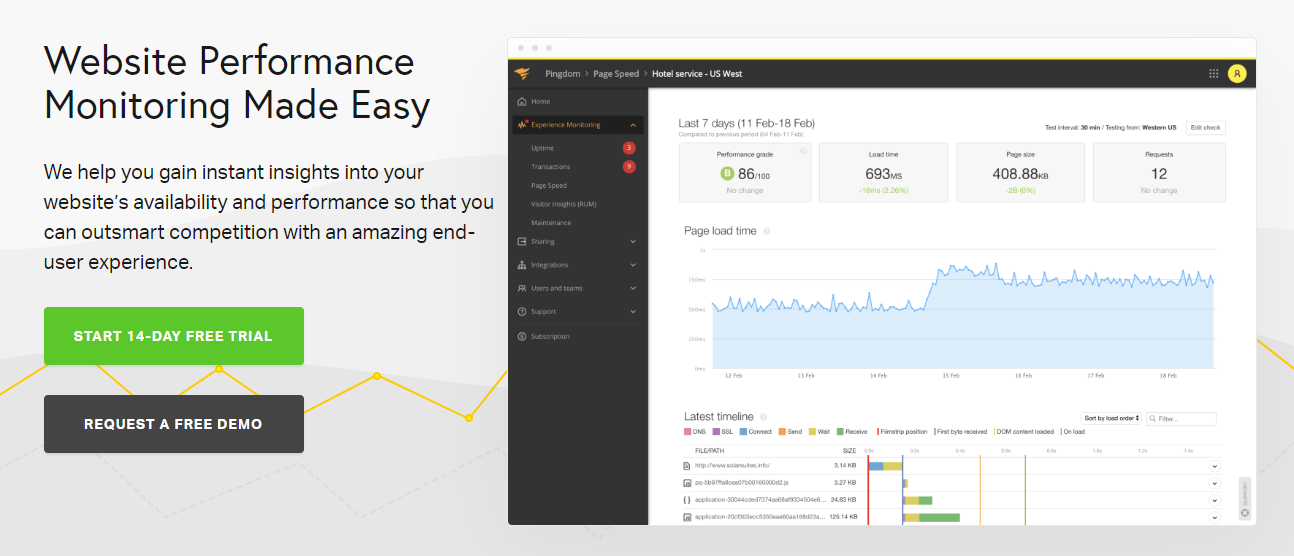 With Pingdom, you don't get access to a n AI engine, but the service offers a broad range of tools you can use to monitor your website's performance and spot errors immediately.
Pingdom enables you to run page speed tests for your entire website using servers from around the globe. The service also monitors real user performance, so you know whether your visitors are having a positive experience. If real user data isn't enough, you can set up synthetic tests targeting key elements within your website to see if they're working correctly, such as checkout pages and forms.
These tools are packaged in an easy-to-understand interface, even for people with no experience monitoring web infrastructure. This makes Pingdom a valid option whether you want to monitor a single website for personal purposes or need to ensure your online business is in tip-top shape.
In case something goes wrong, Pingdom automatically alerts the right people on your team. The service also runs additional checks when it detects errors or dips in performance, so you don't get emails at 3 a.m. unless there's something seriously wrong with your site.
Price: you can choose between Synthetic Monitoring and Real User Monitoring (RUM), which start at $10 per month. There's also a free trial, so you can test the service, and custom plans for enterprises if you're looking for a more tailored option.
The Advantages of Using Pingdom vs. Dynatrace
Dynatrace and Pingdom target two entirely different types of users. Here's a quick breakdown of who can benefit the most from each platform:
Dynatrace: This service is a great option if you're part of a large team and need an all-in-one APM solution.
Pingdom: If you're looking for a suite of easy-to-use web performance tools capable of providing in-depth metrics, Pingdom is the way to go.
If you're on the fence, both platforms offer free trials. With Pingdom, you don't need to enter credit card information to set up an account and begin running your first tests, so we recommend you start there.
Conclusion
There are many approaches you can take when it comes to monitoring a website's performance. Page speed tests are a great start, but they don't paint a complete picture. You need access to real-life data from users, and this is where Dynatrace and Pingdom can come in handy.
On top of providing this data, Pingdom enables you to set up synthetic tests. It sends you alerts if something goes wrong, and you can use it to monitor multiple websites. If you haven't used a website monitoring tool before, Pingdom is a perfect starting point, and it offers several advanced features for more experienced users.
*All the data was presented in this article as of March 2020.