Providing online customer service is harder than you might think. It's not just a matter of scale either—without the right tools, your team won't be able to handle complaints efficiently and find the best solutions.
The goal of service desk software is to solve those problems and help you provide a better customer experience. Some platforms, like ManageEngine and SolarWinds® Service Desk, also enable you to tackle internal incidents, making them holistic solutions.
In this article, we'll compare ManageEngine vs. SolarWinds Service Desk. We'll talk about how they work, what features they offer, and their prices, so you know which service is best for you.
ManageEngine vs. SolarWinds Service Desk: What Both Platforms Offer
Before we can dig into what makes each of these service desk platforms unique, we need an overview of what services they offer. Let's start with ManageEngine.

ManageEngine is the name of an entire suite of tools for IT teams. Their ServiceDesk Plus platform enables your team to set up knowledge bases and user self-service portals and manage customer tickets.
With ManageEngine ServiceDesk Plus, users can submit tickets via email, a web portal, and phone calls. Tickets show up on a globally accessible dashboard. You can set up custom statuses for tickets and assign them to the right people to keep the line moving.
The platform also enables you to monitor your team's performance and check if anyone is falling behind with their queue. You can generate help desk reports to make sure your numbers are up to par and more.
ManageEngine works with multiple websites, which makes it a great option if you manage more than one online business.
Price: ManageEngine plans start at $8 USD per month per agent. More advanced plans include features such as IT asset and contract management, among others.

SolarWinds Service Desk is also part of a broader family of IT management services. This platform focuses on customer service and to help you improve yours, it enables you to manage tickets from different channels. Most of the time, though, they'll come through your service portal.
With Service Desk, you can set up an internal knowledge base to help your agents tackle tickets more efficiently. The more thorough the database is, the less time you spend on simple requests. If customers are satisfied, they can answer surveys to provide you with agent feedback your team can use to improve.
To make work easier, Service Desk enables multiple agents to collaborate on the same tickets, which is helpful for complex cases. The platform also enables you to track IT assets and manage company devices.
All this happens within the Service Desk dashboard, which you can integrate with other platforms and use to generate in-depth reports.
Price: Service Desk plans start at $15 USD per month per agent. For this price, you get access to all the features discussed above. More expensive tiers add functionality such as custom roles, internal groups, and more.
ManageEngine vs. SolarWinds Service Desk: Key Features
Now you have a rough idea of each platform's offerings, let's focus on their specific features, so you can decide which ones can benefit your business the most.
ManageEngine
ManageEngine ServiceDesk Plus offers a comprehensive set of features to help you provide customer support, some of which let you:
Set up internal knowledge bases and user service portals.
Manage customer tickets you get via email, web portal, and phone calls.
Assign tickets to specific agents.
Monitor your agents' performance.
You can use a single ManageEngine account to manage service requests from multiple websites. Keep in mind, you still need to pay a fee for each agent. Overall, ManageEngine provides a useful set of tools at a competitive price for the industry.
SolarWinds Service Desk
SolarWinds Service Desk's starter prices are a bit more expensive than ManageEngine. However, the platform's starter plan also gives your team access to a broader set of features:
Set up user service portals.
Create an internal knowledge base to speed up ticket resolution.
Provide customers with satisfaction surveys.
Track your team's performance with real-time feedback.
Manage your business's IT assets.
Generate in-depth reports through your service desk.
Although getting your team set up with Service Desk is a bit more expensive, it might be worth it for your business. If you value customer satisfaction, being able to survey your users is a lifesaver. Likewise, if your company provides IT assets to your employees, you need a service desk platform that can help you keep track of them.
How to Get Started With SolarWinds Service Desk
The right service desk platform can completely overhaul your customer experience. However, it's hard to grasp what impact a service desk can have until you've tried one for yourself. With SolarWinds Service Desk, you get access to all features free for 30 days.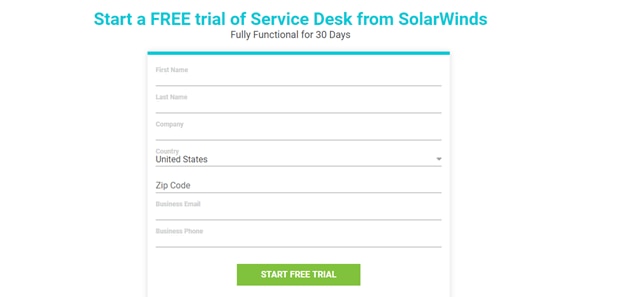 Provide some basic contact details to set up a test account.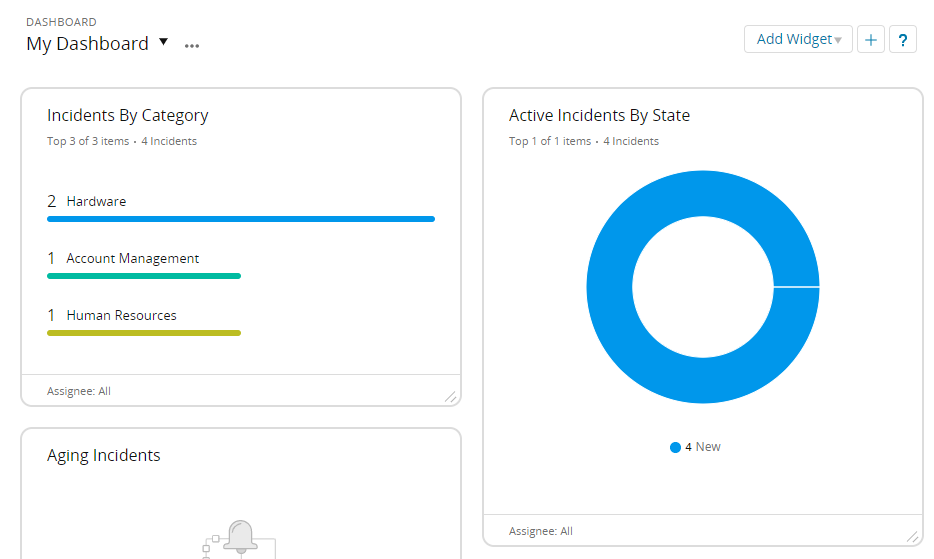 During those 30 days, you can use Service Desk for real-life testing with your business. Before you do anything else, though, you'll want to take a quick look at the platform's documentation.
If you upgrade to a paid plan at any point during your trial, your data won't go anywhere. Your team can go on working seamlessly with the new tools at their disposal.
Conclusion
Service desk platforms range a lot in terms of functionality. At the base level, you want a service to enable you to manage tickets more efficiently. However, if you run a more complex business it's also important you get access to IT asset management, in-depth agent performance reports, and more.
With ManageEngine, you get a great starter service desk platform at a very competitive price. However, if you want access to more advanced features, SolarWinds Service Desk can provide you with the tools you need to offer better customer service.
*As of June 19, 2020