Providing top-notch customer support is one of the most important things you can do to keep users coming back. If customers know you support them, they're more likely to make future purchases, recommend you to their friends, and rate your services highly.
The smartest thing you can do to stay on top of support requests is to use a service desk platform. With both LiveAgent and SolarWinds® Service Desk, you get the tools you need to handle any volume of tickets your business gets.
In this article, we're going to compare LiveAgent vs. SolarWinds Service Desk in depth. We'll show you what both platforms offer, break down their features, and discuss which option offers you the best value for your money.
LiveAgent vs. SolarWinds Service Desk: What Both Platforms Offer
To kick things off, let's take a quick look at what type of tools each platform gives you access to, and their starter prices.

LiveAgent is a help desk platform designed to provide one of the best free plans in the industry. The service enables your customers to send support requests via email or live chat, which your team can manage through a centralized dashboard.
Using LiveAgent, you can set up as many service agent accounts as you need. The platform can also help you set up a knowledge base, so users can try to troubleshoot issues before getting in touch.
If you're a bit more old school, LiveAgent also enables you to process incidents through a Voice-Over IP (VoIP) number and manage them through your dashboard. With the platform's premium plans, you get access to even more contact channels, such as social media, forums, and messaging platforms such as Viber.
Price: LiveAgent is one of the only support desk platforms offering a free plan with unlimited agents. However, the plan is fairly limited, as it only provides you with a single email attached to your service desk, and it can only handle one live chat conversation at a time. Plus, it only stores ticket history for up to seven days.
Premium LiveAgent plans start at $15 USD a month per agent, with access to unlimited emails. More expensive plans support multiple chats.

SolarWinds Service Desk is a comprehensive platform for customer service, internal incidents, and asset management. The service's starter plan enables you to process tickets you get via your support forums (which it helps you set up) and email. Live chat and phone support are also available with some of the platform's more advanced plans.
Using Service Desk, you can create both support forums and a knowledge base for your business. Combined, both features can help lessen the workload on your team's shoulders.
The platform also enables you to set up user satisfaction surveys and get feedback for your agents. Together, those tools provide you with the information you need to identify bottlenecks in your support services.
To help your team accomplish more, Service Desk also includes internal collaboration tools such as adding requests and notes to tickets, routing incidents to other teams, and more. Finally, the platform also includes IT asset management functionality, which can help you keep track of company devices.
Price: SolarWinds Service Desk plans start at $15 USD a month per agent. The starter Team plan includes all the functionality we've talked about in this section. More advanced tiers give you access to features such as workflow automation, integration with third-party platforms, and additional support channels.
Although Service Desk doesn't offer a free tier, the platform does come with a generous 30-day free trial.
LiveAgent vs. SolarWinds Service Desk: Key Features
Both LiveAgent and SolarWinds Service Desk are excellent options for businesses aiming to offer better support. However, because service desk platforms require a suitable budget, it's important to choose an option with the most crucial features. Let's go over both services.
LiveAgent
LiveAgent is a fantastic option if you don't have a significant budget for customer support services. With its free plan, you can:
Create unlimited agent accounts
Process tickets via email, live chat, and phone
Retain ticket records for up to seven days
Set up email notifications for your team
Tackle internal incident reports
Set up internal knowledge bases and customer portals
Get feedback concerning your support services
Overall, the LiveAgent basic plan offers a comprehensive set of tools for customer support services. However, keep in mind you're limited to a single instance of each support channel. Although you can have unlimited agent accounts, the limited instances can create a bottleneck in your services.
In practice, the service pushes you towards using its premium plans—which start at $15 USD per month—unless you're providing support for a small business. If you only need to handle a limited number of tickets, the LiveAgent free tier will help you save money.
SolarWinds Service Desk
With SolarWinds Service Desk, you get a more rounded set of support service tools from the get-go. Here's what you can do with the platform's basic tier:
Set up unlimited agent accounts
Process tickets via support forums and email
Set up customer service portals and an internal knowledge base
Manage internal incidents and company IT assets
Store ticket information indefinitely
Create satisfaction surveys and get real-time feedback for your team
Provide your team with internal collaboration tools
To get access to all those features, you'll need to sign up for Service Desk's Team plan, which costs $15 USD per month. Even for a small business with one or two support agents, this investment can be well worth it to help you provide better support services across the board. Plus, you can test the platform free for 30 days.
How to Get Started With SolarWinds Service Desk
When you're ready to get started, you can try out all of the SolarWinds Service Desk features through our free trial. You get 30 days to test the service without having to enter any payment information: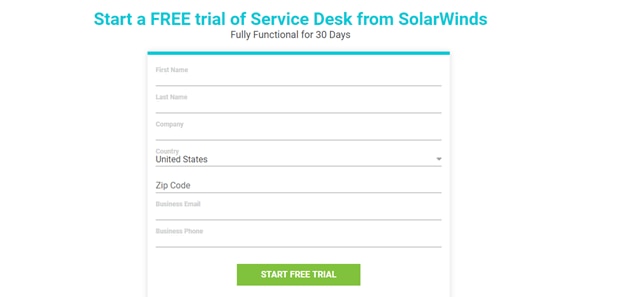 Immediately afterwards, you'll get a confirmation email and you'll be able to log in to your Service Desk dashboard.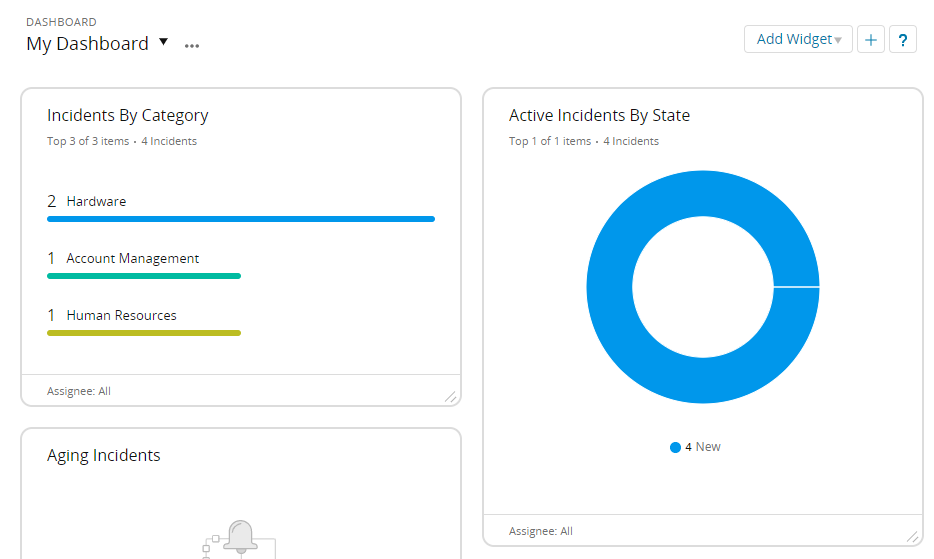 Any data you save during your trial will be preserved if you decide to upgrade to a Service Desk plan. If you're having problems finding the features you need, take a look at the documentation, which will help you set up the tools your team will need.
Conclusion
Providing the best support service you can is a ticket to retaining customers and bringing in new ones. However, the larger your business grows, the harder it becomes to tackle support requests or tickets efficiently—even with a large team. A suitable platform can make all the difference.
If you don't currently have a budget for support services, LiveAgent provides the basic functionality your team needs and they offer a fully free plan. On the other hand, SolarWinds Service Desk provides you with a more comprehensive set of support tools, and at $15 USD a month per agent, it's an expense even a growing business should be able to swing.