The future of work is remote. With many working environments undergoing drastic change, real-time and automated remote monitoring and management (RMM) of IT infrastructure becomes critical for businesses. Organizations are turning to RMM tools for monitoring remote endpoints and networks to automatically detect and remediate operational bottlenecks and security threats. They help businesses keep up operational efficiency, employee productivity, and network security without disruption. Moreover, it is extensively leveraged by managed services providers (MSPs) for centrally supporting multiple customers.
RMM software is undoubtedly critical for MSPs, and it empowers them to gain visibility and control across geographically distributed systems. It helps MSPs support customers 24/7 by automating IT management and remote monitoring.
As a centralized platform for managing endpoints and integrations, enforcing security, and enabling data backups, RMM software helps MSPs add value for customers by simplifying IT operations, optimizing costs, and enhancing service delivery. Choosing the right software is critical for business growth and expansion in the rapidly transforming remote work environment.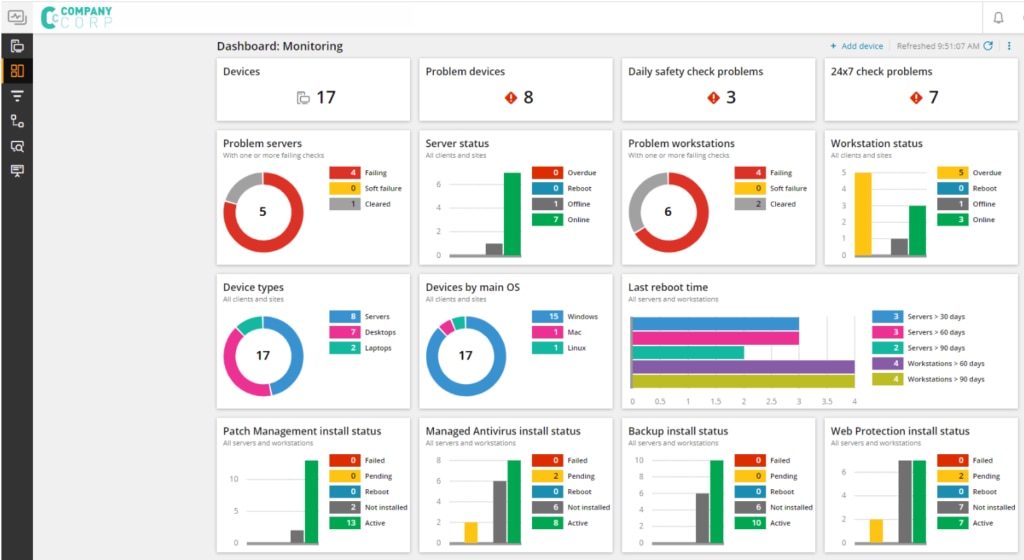 N-able® RMM provides MSPs with a comprehensive suite of tools to monitor, maintain, and secure their customer's IT systems and networks within a single integrated platform. It is a cloud-based remote monitoring solution for automating routine IT support tasks, simplifying asset management, and improving visibility and control across managed networks.
With a unified dashboard and smart alerts, N-able RMM can help IT providers adopt a proactive managed services model that boosts efficiency and productivity. It offers integrated endpoint detection and response to help identify, block, and tackle security threats—all from the same dashboard MSPs use to monitor customer systems. It also allows automated patch management and customizable patch management policies to dynamically secure endpoints and help you drive compliance. Network monitoring is quick and straightforward with N-able RMM. Technicians can monitor network devices like routers and switches from the same dashboard they use to manage laptops, desktops, and servers.
The remote control functionality in N-able RMM allows MSPs to perform maintenance from anywhere without disturbing end users. Furthermore, it's built for easy scalability and supporting businesses as they expand. N-able RMM offers flexibility with modular pricing to serve customers at all stages of growth. MSPs pay only for what they use instead of getting locked into a stringent contract.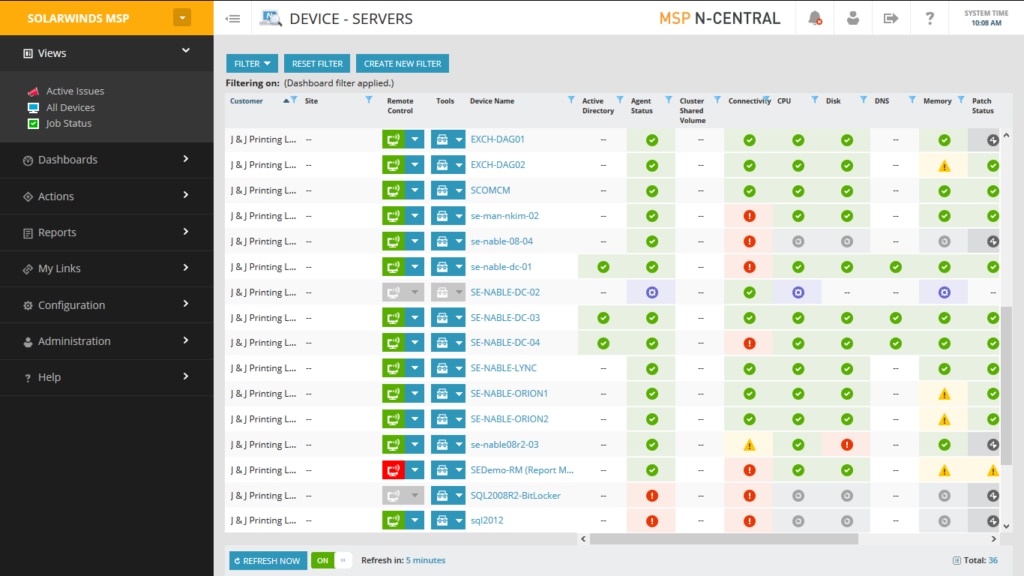 N-able N-central® equips MSPs to gain deeper visibility into increasingly complex customer networks. It is available as an on-premises or hosted solution, and allows for easy integrations and customization to suit distinct monitoring needs, versus of a one-size-fits-all approach.

With its advanced automation engine, it's easy to automate complex tasks without learning a scripting language. This helps increase efficiency and saves the IT team's valuable time. Moreover, the N-central remote access functionality allows MSPs to provide faster support from anywhere, and remote issue resolution helps improve service delivery.
Furthermore, it allows seamless integration with N-able Endpoint Detection and Response (EDR) to enhance endpoint security. N-central allows for easy customization rules, and its custom field options help to set up smart workflows and alerts across hundreds of thousands of endpoint devices to enhance remote monitoring efficiency. It supports quick scalability by allowing popular PSA integrations and offering open APIs—to quickly integrate with third-party tools to meet specific customer requirements.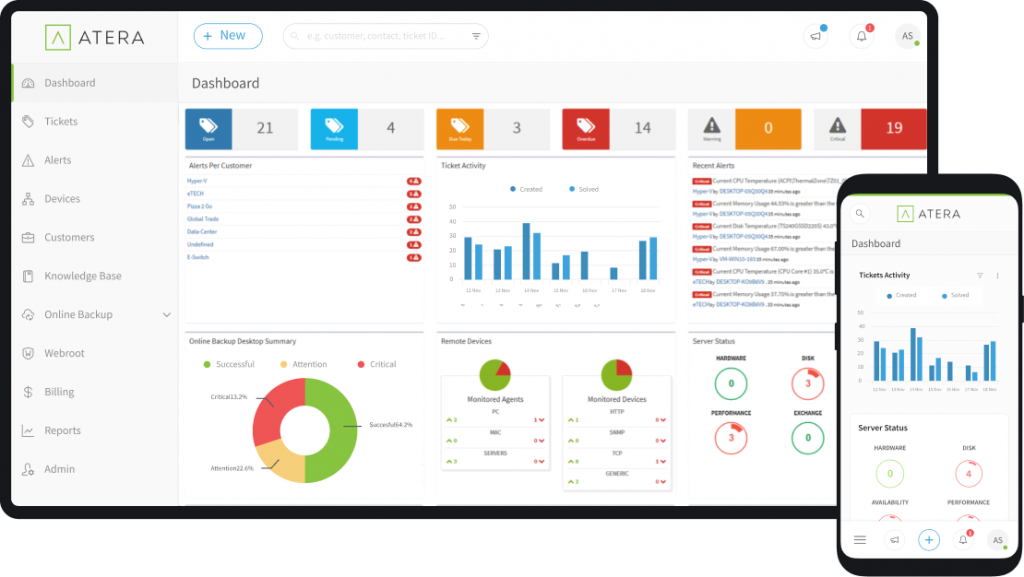 Atera offers a remote monitoring and management platform with features such as patch management, remote access, and root cause analysis to identify issues before they escalate and hamper performance. It automates routine IT maintenance tasks and allows quick network scans to discover problems early and fast.
The Atera service level agreement (SLA) manager allows MSPs to keep track of SLAs to help prevent contract breaches. It also lets users set up customized alerts for notifying any system failures or network issues immediately.
The Atera RMM mobile app provides remote access to devices and workstations on the go and offers push notifications directly on mobile phones to enable prompt troubleshooting.
ConnectWiseAutomate automates routine support tasks and auto-remediates recurring issues to allow the support team to focus on critical activities that add value to end customers.
ConnectWise Automate provides a unified dashboard and detailed reports to help MSPs analyze and pinpoint issues fast, often before customers even feel the impact. Its seamless remote endpoint management and network discovery features allow automatic deployment and detection of devices across multiple customer networks for quick resolution and minimum downtime.
Kaseya VSA automates general IT processes and routine maintenance tasks to accelerate IT incident resolution and eliminate errors and delays. It employs policy-based automation to standardize IT processes, increase operational efficiency, and boost productivity.
Along with the IT process automation, Kaseya VSA offers a remote control feature to access endpoint devices for remotely managing desktops and workstations and resolving issues without disturbing the end users. Network discovery and control functionality provide complete visibility across the entire IT network.
It also automates vulnerability management to safeguard against security threats in real time. Kaseya VSA facilitates proactive monitoring by allowing users to set up customized alerts for performance variations.
Conclusion
Monitoring and managing endpoints and networks for multiple customers around the clock can be complicated, time-consuming, and expensive. An RMM software solution can help automate the IT infrastructure monitoring and management process to help MSPs enhance the efficiency of managed services.
Using the right tools is imperative for MSPs to track the health and security of their customers' IT environment. The best platforms are built for MSPs to manage and control thousands of endpoints in real time from anywhere.
Evaluate the efficiency and reliability of N-able RMM and N-able N-central with a free 30-day trial for the respective solution. Get hands-on experience and see for yourself whether these customized RMM solutions are a good fit for your needs.