With an increasing number of employees working from home, getting top-notch security software has become more important than ever before. While spam can be harmless and viewed as a minor productivity issue, it's also a significant source of email-borne threats that can put the whole company at risk. Therefore, getting a robust, scalable anti-spam filter is now a necessity, especially for IT services providers and other large-scale use cases. Read on as we guide you through some of the best solutions that help you correctly filter out unwanted email and may even provide additional email security features.
Automate spam filtering
Anti-spam software automatically protects individual or business accounts to ensure security and improve productivity. It analyzes the content in an email, verifies the recipient's address via several protocols, and blacklists fraudulent accounts in real time. The best anti-spam filters utilize advanced machine learning techniques to always ensure the highest level of protection.
Anti-spam tools include inbound and outbound filtering features to identify the sender through IP address, account name, email address, and more. Outlined below are the best spam protection solutions to consider before making an informed choice.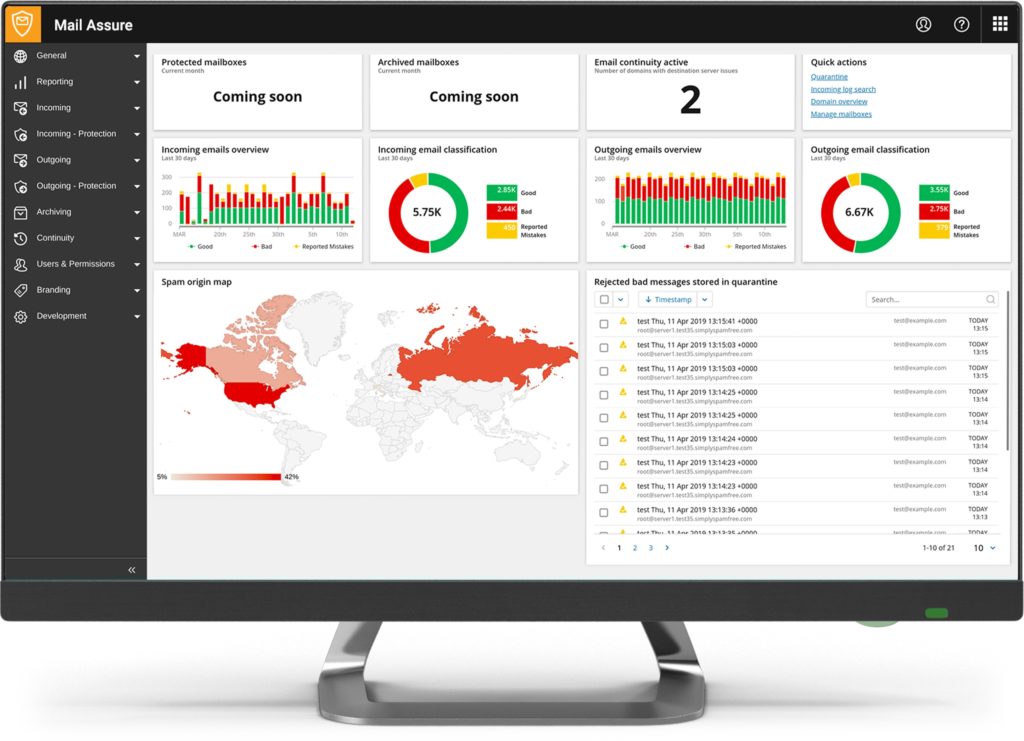 N-able™ Mail Assure is an anti-spam software that helps keep networks safe and secure. Organizations and MSPs use this tool to protect the client network from email-borne attacks. The tool uses cloud-based security, robust encryption, and archiving features to secure and store inbound and outbound messages for the long term. The key features of the tool include:
Machine learning and collective intelligence to fight against email threats
Filtering engine to handle unwanted email
Robust archiving with unlimited storage and encryption add-on
24/7 email continuity to support productivity
Seamless integration with Microsoft 365 for a native experience
SpamExperts is a powerful email security solution for ISPs and web hosting services. The tool protects the client's network against the latest threats by continuously updating spam and malware protection. The software includes inbound and outbound filtering and archiving features to filter messages flowing through over 2.5 million active domains daily. It improves resource efficiency and cuts down excessive resource utilization. Its user-friendly interface, additional security and storage options, live quarantine features, and multi-level controls make this tool a perfect choice for businesses, web-hosting providers, and telcos.
SpamTitan simplifies email security by blocking spam, phishing, malware, malicious messages, viruses, and ransomware. The tool works great for businesses, schools, and managed services with advanced offerings such as email spam filtering, spam blocker, double anti-virus protection, advanced phishing protection, advanced threat protection, and more. The tool also generates extensive and detailed quarantine reports, provides outbound email scanning, sandboxing, and dedicated Real-Time Blacklists (RBLs). The additional features of the tool include:
2x AV protection
Email spoofing protection
Email spooling
Email link analysis
SPF/DKIM/DMARC checking
Zerospam is a highly accurate and simple-to-use anti-spam software that offers unparalleled AI-powered filtering technology to secure critical and confidential emails. It uses the latest technologies such as filtering and machine learning to ensure organizations' email security is up to date and free from ransomware, fraud, spear phishing, and more. The solution offers an extra security layer to your cloud to offer complete protection.
Access controls
Audit logs
Quarantine feature
Spam filter
Email recovery options
SPAMfighter is a powerful anti-spam solution that optimizes PCs with several filters and offers PC security. It is a global provider of security products, offering its services to millions of users worldwide. It provides various tools for security, optimization, and business and server solutions that focus on protecting the network or confidential emails from spam, viruses, and phishing fraud.
Additionally, it offers spam and virus protection in the cloud that saves time and resources. It is a simple and easy solution for organizations, companies, and individuals looking for reliable email security software.
Free automatic updates
Real-time protection
Blacklists or blocks phishing emails and domains
Spam Abuse Reporting in a single click
Antideo is an email validator software that protects your outreach from malicious content, malware, and cyberthreats. It helps organizations validate an email address, detecting locations and spammers from an open source existing spammer database. It not only validates emails but also validates a wide range of both national and international phone numbers worldwide. It also offers IP health checks to disable unnecessary proxies. Using this tool, managed services can maintain a clearer list of prospects without damaging the domain's reputation.
Anti-spam and anti-malware for Microsoft Exchange is designed specifically for Microsoft Exchange. It prevents the delivery of spam and phishing emails by blocking threats before they reach the end users. It consists of built-in anti-malware and filtering capabilities that help protect your inbound and outbound messages from malicious software. Administrators do not need additional filtering software or technologies to block unwanted emails. With its multi-layered protection, it catches every threat, malware, or ransomware.
Blocks spam and malware instantly
Automatic inbound email queuing
Content filtering capability
Outbound email filtering
IP blacklist prevention solution
MailChannels is a secure and reliable platform to deliver emails to end users without any spam, malware or threats. It offers inbound and outbound filtering features to cut support tickets by 90%, reduce delivery issues, protect customer inboxes against spam or phishing emails. The tools provide a modern user experience with a powerful interface that makes the management of customers simple and efficient. It can deliver 99.9% uptime even after operating across multiple channels to keep the services on track. The tool has a reliable and proactive support system that handles user queries within 30 minutes or less.
Conclusion
Anti-spam software is a must to ensure that all systems are safe and protected from malware, spam, fraud, and other cyber threats. Highlighted above are the best spam protection tools that include a range of functionalities such as inbound and outbound filtering, email archiving, IP address blacklisting, and email encryption. The next step to making an informed decision and choosing the software that meets your needs is to evaluate tools mentioned above using their free trials.
Read more:
Note: Product specifications and other information set forth herein have either been made accessible by suppliers, manufacturers, publications, or gathered from publicly available sources as of the date of this document. Although measures are taken to ensure the accuracy of the information as of the date of this content, N-able makes no representations or warranties as to the completeness or accuracy of the information and shall incur no liability for any errors or omissions. © 2021 N-able Solutions ULC and N-able Technologies Ltd. All rights reserved.