Working in Information Technology (IT) isn't always easy. If you're handling requests from multiple departments and communication channels, the challenge only grows. As such, finding a way to simplify and organize incoming tasks can be essential if you want to smoothly run a team.
Fortunately, you don't have to do it alone. A ticketing system can be the key to upgrading your help desk. By using this helpful software, you can reduce your workload and streamline your entire IT department.
In this article, we'll introduce you to IT ticketing systems. Then we'll cover three top reasons why you should consider adopting one for your company.

What Is a Ticketing System?
Help desk ticketing systems are flexible organizational tools. They enable you to centralize multiple requests from different channels. That way, you can better prepare to manage your tickets no matter where they originate.
For example, you may get most of your requests through email. However, there may also be people who prefer call-ins in or walk-ups. Ticketing systems make it possible to holistically manage all of these in the same place.
However, IT ticketing systems can do even more than that. They can also enable you to track each request's progress. That way, you're not dealing with a sea of tickets. Instead, you can get a better idea of how efficient your team is.
Another feature that builds on progress tracking is filtering. This can help you understand anything from a ticket's age to its priority. Additionally, some systems even include automation. That means you can spend less time sorting and more time finding solutions.
All in all, support ticketing systems are a customizable way to add order to your IT department. However, try to keep in mind different systems offer different features, so consider asking software providers what they can help you do.
One popular tool for managing IT tickets is SolarWinds® Web Help Desk® software. It has advanced features to perform the activities described in this article—common in IT support departments.
3 Reasons to Use a Ticket System
Here are a few compelling examples of what help desk ticketing systems can do for you.
1. Monitor Your Help Desk Performance
Oftentimes, IT departments are the backbone of a company. Top-tier tech performance means other parts of the organization can operate at their fullest potential. With ticketing systems, you can make sure your department is providing that crucial support.
These tools help you track your performance with concrete feedback. One way they do this is by generating reports to monitor each ticket's operational details: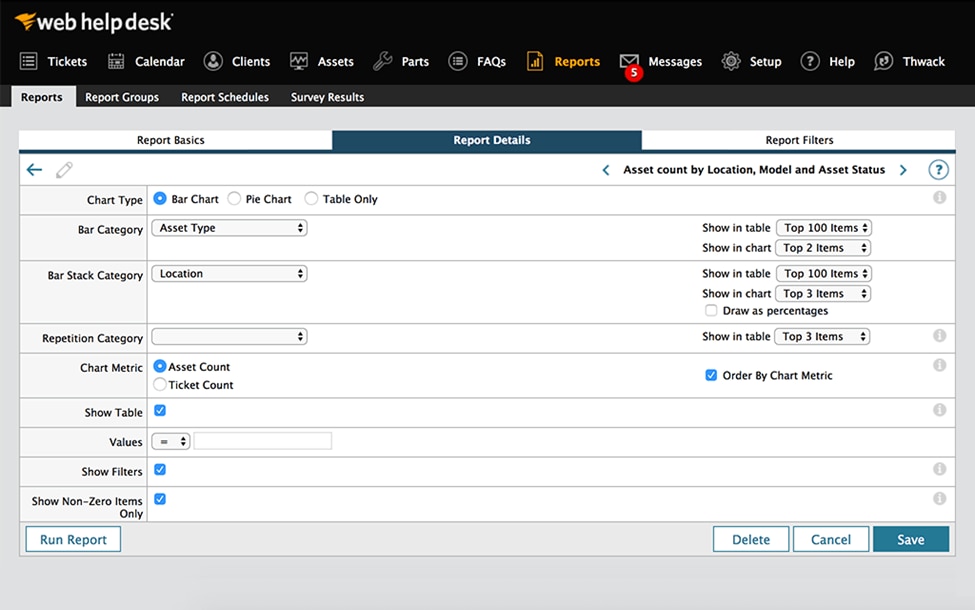 Another way you can oversee your performance is through analyzing individual tickets. If you see a negative trend, you can use IT ticketing systems to view requests as case studies. That way, you can better understand the details of events that may interfere with meeting your Service Level Agreements (SLAs).
Once you understand how to address any performance issues, you can also use helpdesk ticketing systems to deliver related alerts. If your resolution times are low, for example, you can receive messages when a ticket reaches a certain age. This can help you tackle problems before they get worse.
2. Increase Your Efficiency
One of the main benefits of support ticketing systems is automation. With automatic organization features, you can focus less on administrative tasks and more on resolving technical issues.
For example, you might choose to automatically direct certain tasks to the service agent best equipped to handle them. You can even create several of these parameters for a clear categorization system across your organization: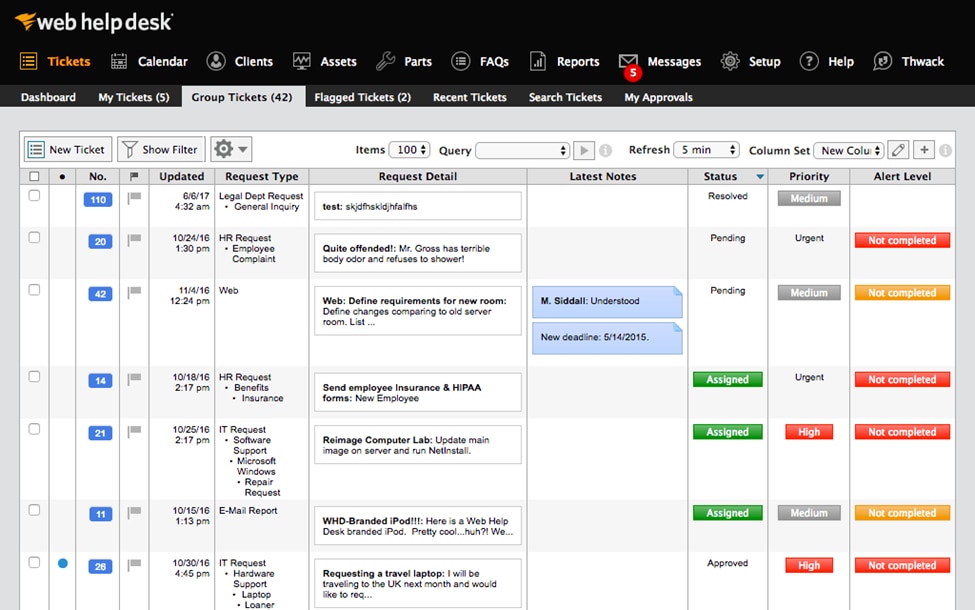 Helpdesk ticketing systems can also offer at-a-glance features such as color-coding. Therefore, it can be even easier to understand your performance.
You can also use ticketing systems to improve efficiency through ticket histories. If you have a complex issue, you may need several technicians working on it. This can result in a confusing web of different actions.
Histories can help you understand the full scope of a problem without having to hunt for your records. There's no need to repeat actions or manually update records. This may allow you to further focus on better supporting your organization.
3. Improve Communication Between Agents and Customers
Ticketing systems aren't just formidable organization tools. They can also help you more effectively communicate with your customers. Whether you're seeking more information on the problem or just showing you can handle the issue, this can be a valuable feature.
For example, let's consider the history feature once more. IT ticketing systems help give your customers access to this information too. With this added transparency, they might feel more informed about a ticket's progress.
Hopefully, this will allow them to feel more at ease about their requests. Additionally, it can cut down on the number of unnecessary follow-up requests that might slow down resolution times.
Another way helpdesk ticketing systems support better communication is by providing the full details of any given problem. It can be difficult to consider all aspects of a ticket. However, a centralized dashboard can help reduce this friction: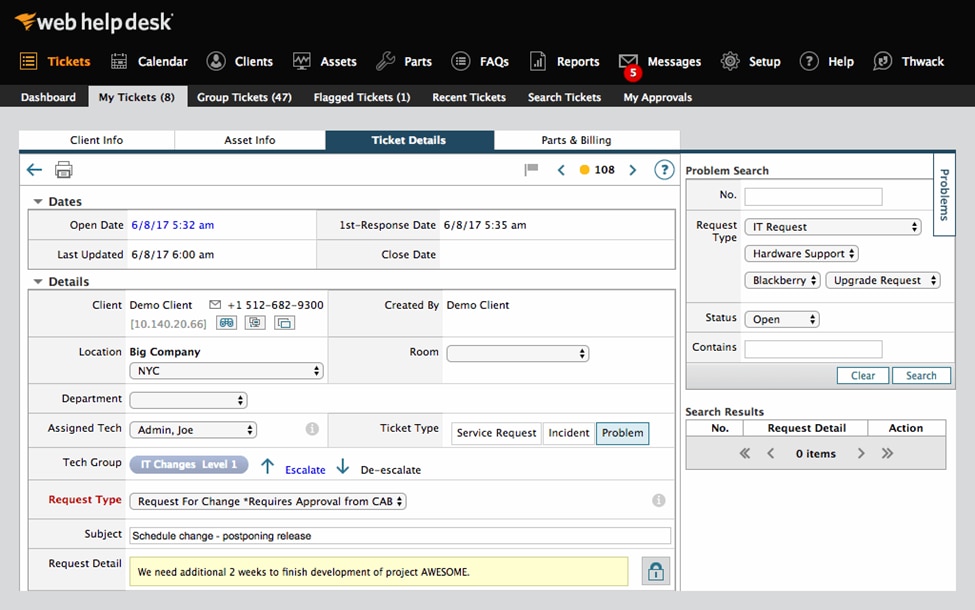 Help desk ticketing systems can also offer your customers plenty of self-service options. For example, they may gain access to a robust knowledge base. As a result, you may see a reduction in tickets with simple solutions.
What's more, support ticketing systems offering this feature can also improve customer relations. Some users may want to seek a faster resolution than the ticketing process can offer. As such, providing the tools to help them do it themselves may cut down on any frustrations due to wait times.
Conclusion
When it comes to resolving issues, almost every company can benefit from some added organization. Fortunately, this process can be simple. By taking advantage of ticketing systems, you can help upgrade your help desk and streamline your customer communications.
If you're considering adopting a ticketing system, keep in mind these three major benefits:
Increased ability to track your progress
A boost to your resolution efficiency
Better communication between technicians and customers