You're likely familiar with the concept of a "wide area network," or WAN. But just to refresh, WANs are simply a type of network spanning a large geographical location. Businesses use these types of networks to transfer information from office to office, between staff and clients, or to work with suppliers. In my experience, businesses need to optimize these WANs and make sure they're efficient if they want to be able to work professionally with high-quality service provision. WAN optimization can help speed up the most important parts of the network so business-critical processes have high uptime, speed, and reliability.
What Is WAN Optimization?
WAN optimization involves prioritizing specific parts of the network to receive more bandwidth. For example, you might want to allocate more throughput and bandwidth to the parts of the network involved in a critical data-processing task, to make sure it's completed quickly. Many WAN improvements can be accomplished with either physical or logical changes to your network. 
Why Is WAN Optimization Important?
Businesses are increasingly facing pressures on their WAN setups due to increased use of cloud computing, applications, and other network-wide technologies such as web portals. The associated increase in traffic across the WAN makes WAN optimization even more important, as network slowdowns can become a major issue if you don't proactively manage this complexity and volume.
Numerous different business processes are affected by a slow network. Even simple actions, like employees accessing files, can become unacceptably slow. If the network is dragging, it might take their business-wide file manager a while to load, and then even longer to open the file. Even though it seems like a small, two-minute task, these problems quickly add up.
Meanwhile, admins may have trouble effectively managing and monitoring their network—and ensuring network security—if they're fighting against inefficient, high-latency network infrastructure. WAN optimization can potentially allow admins—and their software tools—to more effectively protect all devices and end-users.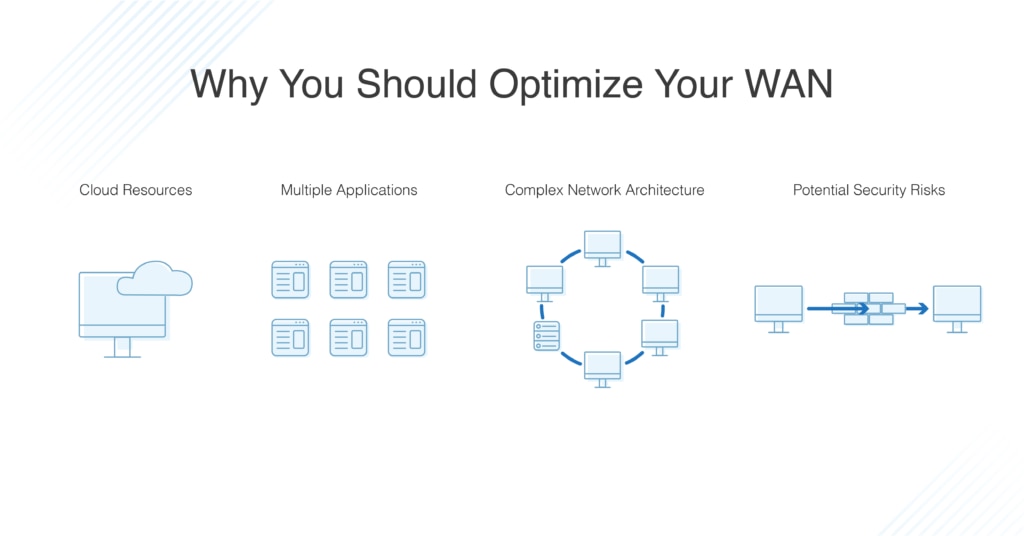 WAN optimization also supports remote and mobile workers. When someone works remotely, they're expanding the WAN and requiring business data to travel further. Without WAN optimization, their connection could be slow. Even simple business processes such as email can become inconvenient to use. If the network is optimized correctly, all employees will be able to access network portals and business information, even if they're connecting remotely.
Furthermore, even applications not directly affected by optimization processes can benefit when bandwidth is freed up in relation to other parts of the network. All these benefits increase business efficiency and promote cost savings as a result. 
Common Techniques and Solutions for How to Optimize WAN
There are several different techniques for optimizing a WAN.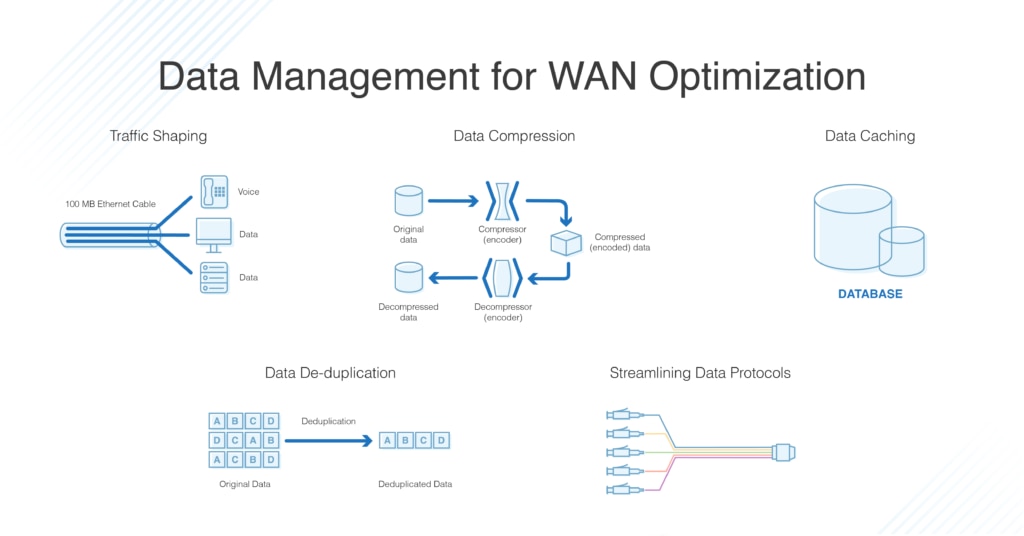 Traffic shaping and bandwidth allocation (or ring-fencing): Certain types of network traffic are given priority (and increased bandwidth) or certain applications are prevented from using bandwidth.
Data compression: Data is reduced in size so it affects bandwidth less.
Data caching: Data that is used often is earmarked for local hosting so it can be accessed faster.
Data deduplication: Instead of sending data through the network and ending up with multiple copies of the same data, references or links to the data are sent instead.
Streamlining data protocols: Multiple requests from applications are bundled so fewer requests go through the network.
Best WAN Optimization Tools: WAN Optimizers and WAN Accelerators
Instead of managing each of the above processes separately, using a WAN optimization tool is the most efficient approach, as you can go through them automatically and precisely. Some tools are called WAN optimizers and others are called WAN accelerators, but in many cases, these do the same thing, since WAN acceleration is a type of WAN optimization.
My pick for a WAN optimization solution is SolarWinds® Network Performance Monitor (NPM) for several reasons. First, it allows you to baseline your WAN performance, and then set up alerts when your network isn't behaving as expected. NPM can also provide reports and comparisons of network pathways (using its proprietary NetPath™ tool), so you can see exactly which parts of your network are experiencing bottlenecks or issues.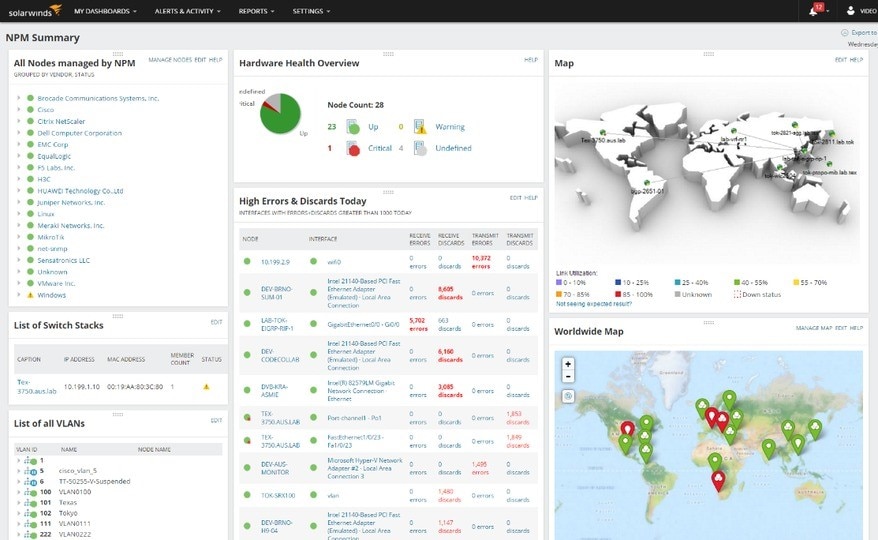 NPM also includes hardware health metrics, network and application performance data, and network topology mapping and navigation, which allows you to compare different data sets in real-time. This can help you pinpoint the cause of a WAN issue, speeding up the troubleshooting process.
Optimizing your WAN can be a massive step in improving your business network functionality, as it reduces downtime, improves employee productivity, and helps ensure reliability in your services to clients. I recommend SolarWinds NPM as an all-around tool for beginning and continuing this important business process. You can try it out with a 30-day fully functional free trial.