Before the COVID-19 pandemic, working from home was just one of many ways to run a business. Now, almost every enterprise has established remote offices for their employees—even IT teams who in the past would never consider a remote workforce. To provide your team with the support they need regardless of their location, you need the right set of tools.
Two common ways remote IT employees can work properly from home are a virtual private network (VPN) and a remote desktop protocol (RDP). When considering using a VPN vs. remote desktop solution, it's critical to understand the key differences between these two software options. And if you're looking for more thorough and secure ways to work from home, I'd suggest starting with SolarWinds® Dameware® Remote Support (DRS) or Dameware Remote Everywhere (DRE). Download a 14-day DRS free trial or a 14-day DRE free trial today.
What Is a Virtual Private Network?
A VPN server extends your private enterprise network over the internet, enabling you to create a secure connection within your corporate IT environment. Once you've logged in to the VPN, you can access your domain account and any restrictions, privileges, and resources shared on the network. In this way, a VPN connection aims to replicate the experience of sitting at your office desk.
You can use a VPN with any device, including your computer, tablet, or smartphone. A VPN connects your device to another computer (called the server) to the internet, sending all network traffic over the server's encrypted internet connection. Your server could be anywhere in the world—even in another country. This lets you browse the internet and securely access local network resources, even those you couldn't access normally. For instance, you'll often hear of people using VPNs to watch TV shows only available on streaming platforms in certain countries.
While a VPN could enable you to access resources already shared on the network, there isn't much flexibility outside of that. Once you set up shared VPN resources, you can't change it—for instance, you can't retroactively share a folder on your VPN. Another major drawback to using a VPN is the large bandwidth requirements. This means databases won't perform well, or run at all, over a VPN connection.
What Is Remote Desktop Protocol?
Remote desktop protocol, also known as "remote access" or "remote desktop access," is a secure network communication protocol developed by Microsoft. Applications with RDP can let you access and manage a device from remote locations, almost as if you were working on it locally. You can think of remote access as screen sharing because a remote desktop application essentially mirrors your entire computer's interface—you can launch applications, change administrator settings, and perform other tasks as usual while using remote desktop protocol.
RDP uses internet connection to virtually connect a user with their remote device, then assist a "take-over" of an existing user's roles. This means remote access doesn't require separate credentials or dedicated IT infrastructures and uses less bandwidth because of it. Like VPN, RDP is protected with the internet's encryption. Over the supported internet connection, RDP transmits a monitor (output device) from the remote server to the client, and the keyboard plus mouse (input devices) from the client to the remote server. Most data will go from the server to the client, meaning RDP connections are asymmetric.
When using remote desktop protocol, each remote access session must be initiated by an IT administrator. Around-the-clock unattended support is difficult to achieve, if not downright impossible. Also, remote access connections need constant monitoring, especially when dealing with sensitive or proprietary data. If an attendant isn't paying close enough attention, the host device could become compromised—bad actors frequently use RDP connections to gain low-level access to a single network node and expand from there.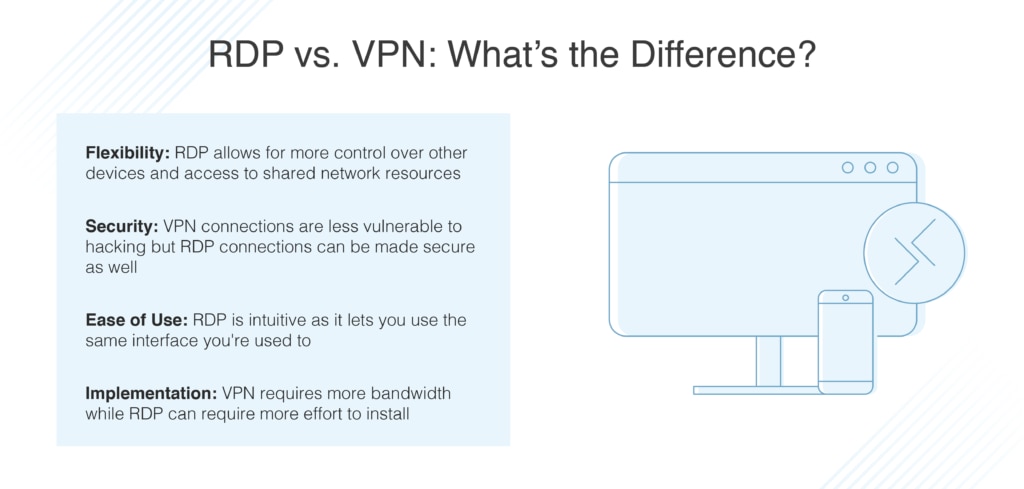 Key Differences Between RDP vs. VPN
RDP and VPN have the same core purpose: to support remote IT work. However, there are a few areas where these two tools are quite distinct. It's important to consider these key differences as you choose between VPN vs. remote desktop.
Flexibility
Because RDP allows you to have full control over a local computer and access shared network resources, it has more flexibility than VPN. You also don't have to plan ahead when using RDP, which makes it easier to make changes on the fly.
Security
Although both VPN and RDP are encrypted through internet connection, a VPN connection is less accessible to threats than a remote desktop connection. For this reason, VPN is often considered more secure than RDP.
Ease of Use
Using a VPN requires you to familiarize yourself with a separate interface, which depends on the VPN you're using. Conversely, RDP essentially mirrors your device so you're using the exact same screen, interface, and movements as you usually do. This makes using remote desktop protocol far more intuitive than using VPN.
Implementation
While RDP may be easier to use, it requires more time and effort than VPN to correctly install and configure. But despite being simpler in these areas, VPN requires more bandwidth than RDP.
Tools for Remote Access
Both VPN and RDP could offer more when it comes to securing important enterprise information, offering additional functionalities, and ensuring compliance throughout your network. If you need these additional features, consider investing in more specialized and advanced technologies. Two such tools are SolarWinds Dameware Remote Everywhere (DRE) and Dameware Remote Support (DRS), both of which offer more capabilities than just RDP and VPN on their own.
DRS is built to leverage an integrated internet proxy, as opposed to VPN. An internet proxy serves as an intermediary between two or more devices—essentially, it's a "middleman" that accepts traffic from one device and passes it onto the other without sacrificing security. Having an integrated internet proxy improves the security capabilities of DRS. Along with exchanging data safely between devices, an internet proxy can provide other security enhancements—for example, you can enact port obfuscation and shield certain devices from being exposed on the public internet by enabling the integrated internet proxy on DRS.
By using an integrated proxy, DRS is built to let you remotely access networks that usually wouldn't support RDP. This is because you can route connections through the proxy, which is inside your corporate network. Through this capability, DRS can enable your team members to use their own devices—even mobile devices!—to safely access your corporate network. DRS is also designed to support secure live chat, unattended access, input control, and turnkey setup for simple installation.
Gain even more security enhancements with DRS, such as device shielding and port obfuscation, plus remotely access devices and networks you normally wouldn't be able to reach using just a VPN connection.
If you're leaning more towards RDP, consider the additional features DRE is built to offer. DRE is designed to increase the security of RDP connection to Windows servers as well as Mac, iOS, and Android devices. Through the capabilities DRE offers, you could require local-level authentication whenever a session begins, lock devices at the end of each support session, and create a master password for every agent on which RDP is installed. Along with multi-factor authentication, DRE is also designed to leverage AES-256 encryption for secure remote sessions on desktops and mobile devices.
DRE can also let you enable automatic timeouts for idle support sessions. This helps further prevent unauthorized access during the RDP connection. You can pause secure remote desktop sessions on DRE and use blank screens to better maintain confidentiality during encrypted support sessions. Record these sessions using DRE, then export them to the cloud or as an .xls file for further auditing, analysis, and quality assurance. Along with session video recording capabilities, DRE is built to support real-time session monitoring and includes powerful reporting.
Summarizing VPN vs. Remote Desktop
The COVID-19 pandemic may have brought the need for remote IT assistance to the forefront of our attention, but the concept of "anywhere, anytime" IT is here to stay. With the world getting more accustomed to remote lifestyles, people will continue to expect remote services throughout industries—including technical support. While you could use a VPN or basic remote desktop protocol to support remote IT employees, these technologies are limited in functionality and prone to security compromises. For more promising tools, turn to software like SolarWinds Dameware Remote Support (DRS) and Dameware Remote Everywhere (DRE).
The importance of protecting the security, privacy, and capabilities of your IT staff and end users cannot be overstated. To improve upon VPN and RDP technologies, download a trial of DRS (14-day free trial) or DRE (14-day free trial) today.