Cloud-native digital products, including customer-facing websites and business-critical applications, are extremely important for most online businesses. Many businesses face challenges in maintaining high levels of uptime with a streamlined end-user experience due to increasing website traffic, application errors, server outages, and a myriad of other technical issues.
Website performance has a direct impact on the organization's bottom line. A slow-running website or application leads to higher bounce rates and even significant financial losses due to higher customer churn. Therefore, it's crucial to analyze and monitor online websites and applications in real time.
What Is Website Performance Monitoring?
Website performance monitoring is an effective way to gain instant insights into a website's availability and performance. It enables webmasters to perform regular tests and receive alerts when the site's down, making it easier to track and resolve issues well in advance. There are plenty of monitoring tools designed to ensure services are available for customers worldwide. Outlined below is a list of cloud-based web performance monitoring tools organizations can use to ensure high availability, optimize their websites, and deliver a better customer experience.
Pingdom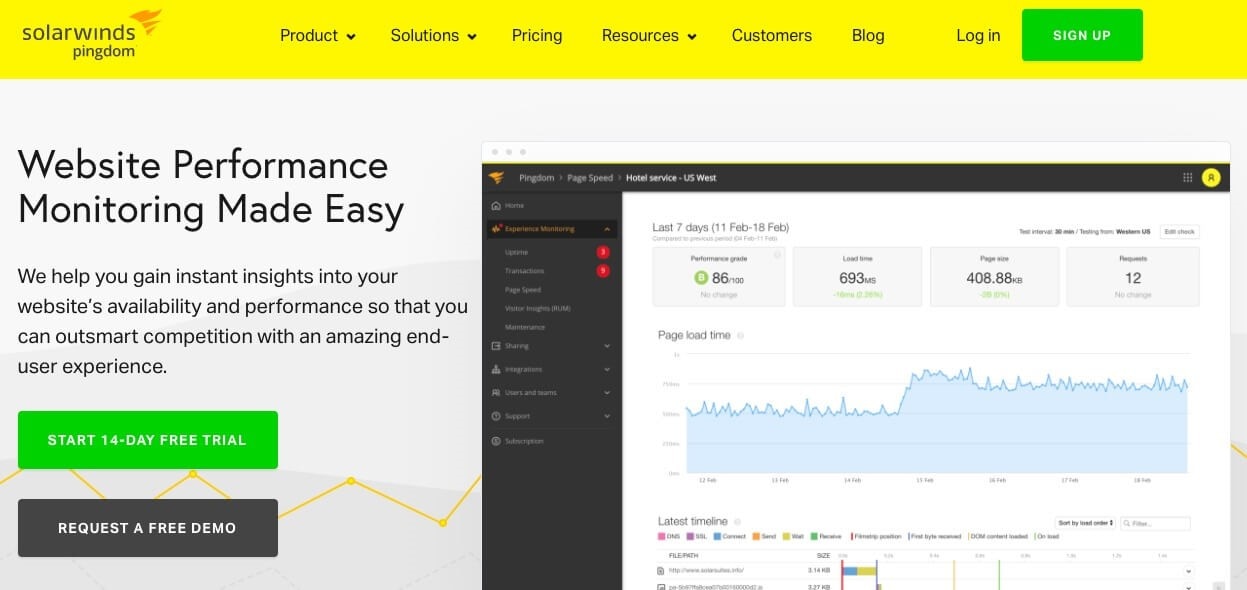 SolarWinds® Pingdom® is a complete website performance monitoring solution. It combines synthetic and real user monitoring (RUM) to provide quick visibility and enhanced troubleshooting. It helps monitor site performance from more than 100 locations worldwide. Pingdom offers a wide range of capabilities—including top-level dashboards and granular page-level metrics—in an intuitive and user-friendly solution.
Synthetic Monitoring
Synthetic monitoring is a way to monitor the end-user experience by actively simulating a visitor's interactions. Synthetic monitoring includes features such as the following:
Uptime Check: Uptime monitoring provides an overview of a website's availability from all over the world. It runs additional tests and performs a root cause analysis to prevent recurring issues.
Transaction Monitoring: From simple to complex, Pingdom helps monitor business-critical transactions like signups, logins, and checkouts in a real Chrome browser. With its simulation capabilities, it ensures customers have a smooth experience throughout their website journey.
Page Speed Analysis: Pingdom tests the page load speed every 30 minutes and examines how long it takes to load different page elements such as CSS, JavaScript, HTML, and images.
Alerts and Notifications: Pingdom sends instant alerts to notify you about content changes, error messages, HTTP status, and more. It also allows webmasters to prioritize alerts based on the severity of outages.
Real User Monitoring (RUM)
Pingdom RUM helps monitor a website's performance based on real user interactions. Webmasters can view live visitor insights and performance trends over time to improve the end-user experience. It also allows you to customize and share reports with key stakeholders.
User Experience Monitoring: This tool offers advanced filtering features enabling teams to understand user experience based on their geographic location, device, browser, and platform.
User Behavior Metrics: This solution provides usage metrics based on the top-visited pages, bounce rates, browsers used, and the number of active sessions to identify user behavior and their site experience.
Live Map: The live mapping feature helps you determine trends across regions or devices and enables teams to optimize website configurations accordingly. This not only helps to keep the website up-to-date but can improve performance.
Page Load Performance: Organizations can set performance levels, check load times or time to first byte, and analyze performance metrics like Apdex score (customer satisfaction score) to ensure customers get the site experience they deserve.
Site24x7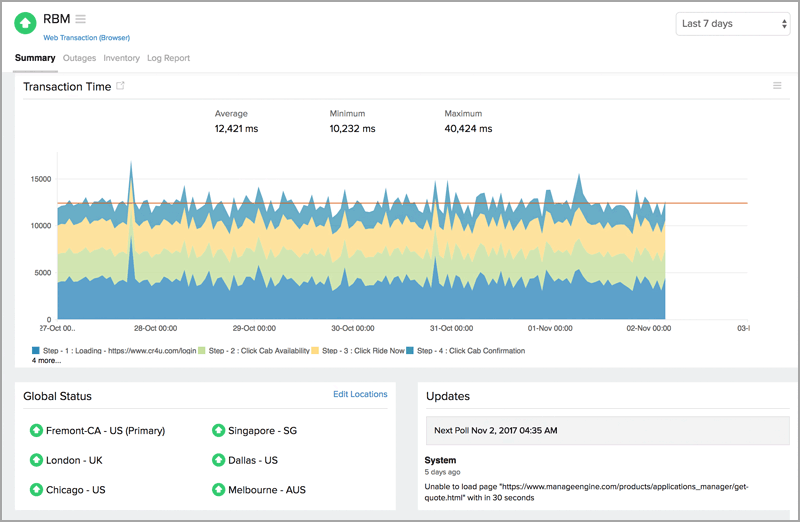 Site24x7 is an all-in-one performance monitoring solution for DevOps and IT operations. Using this tool, organizations can easily monitor internet services such as FTP servers, HTTPS, DNS servers, POP servers, SSL/TLS certificates, REST APIs, SMTP servers, SOAP web services, and URLs. It's an agentless website monitoring tool designed to provide synthetic web monitoring to ensure end users get uninterrupted services and maximum uptime. Teams can track their website performance from more than 110 global locations. Site24x7 offers robust features, including real user monitoring, public status pages, and more. To learn more about the tool, you can opt for its 30-day free trial version.
Monitis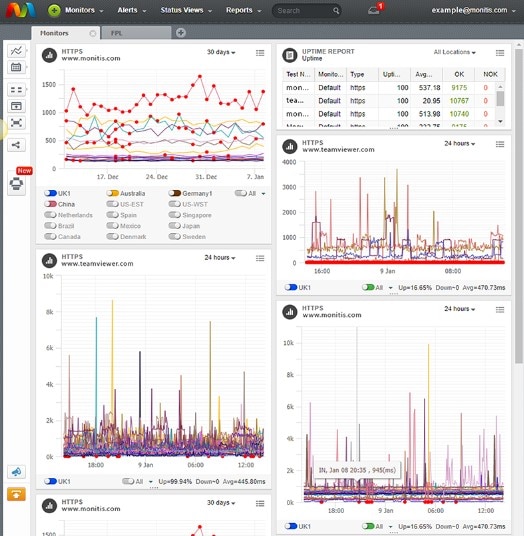 Monitis is a cloud-based website monitoring solution designed to frequently check websites—it can check them as often as every minute. The solution is fast, intuitive, and easy to use. It offers unified dashboards to display crucial information about websites, such as uptime, health, response time, custom metrics, and more. The solution enables teams to set triggers and get instant notifications via email, SMS, or phone calls. With easy-to-use integrations and plug-ins, Monitis simplifies API monitoring to fulfill unique monitoring needs. Organizations can also get real-time views from more than 30 strategic monitoring locations, interactive charts, and elaborated reports. You can access a fully functional 15-day free trial version to understand the product features in detail.
Uptrends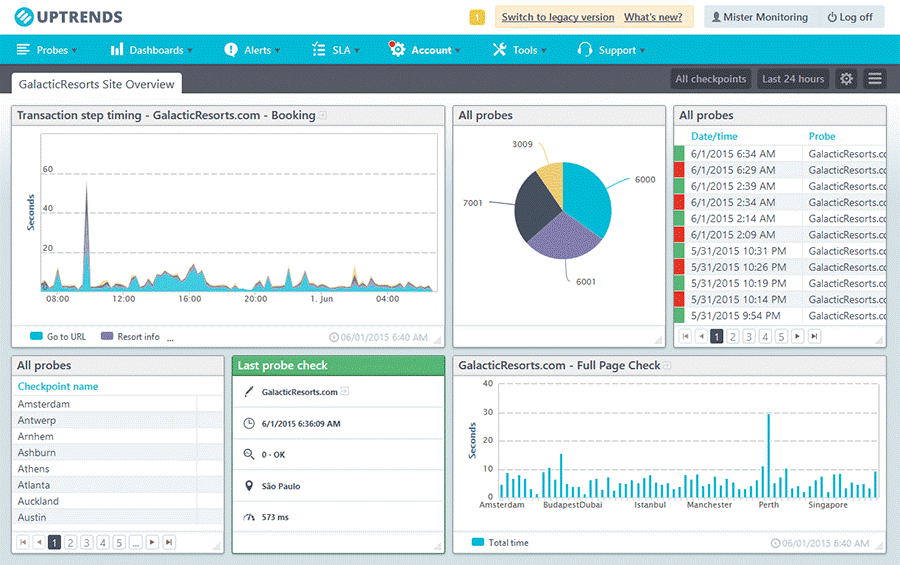 Uptrends is an advanced website monitoring tool built to optimize the uptime and performance of websites, APIs, and servers. Uptrends can check website availability from over 200 locations worldwide. Besides website monitoring, the solution offers API monitoring, real user monitoring, SSL certificate monitoring, and server monitoring. Its key features include waterfall reports, third-party integrations, custom dashboards, public status pages, and transaction screenshots. Uptrends also offers a 30-day free trial so you can better understand its features and functionalities.
New Relic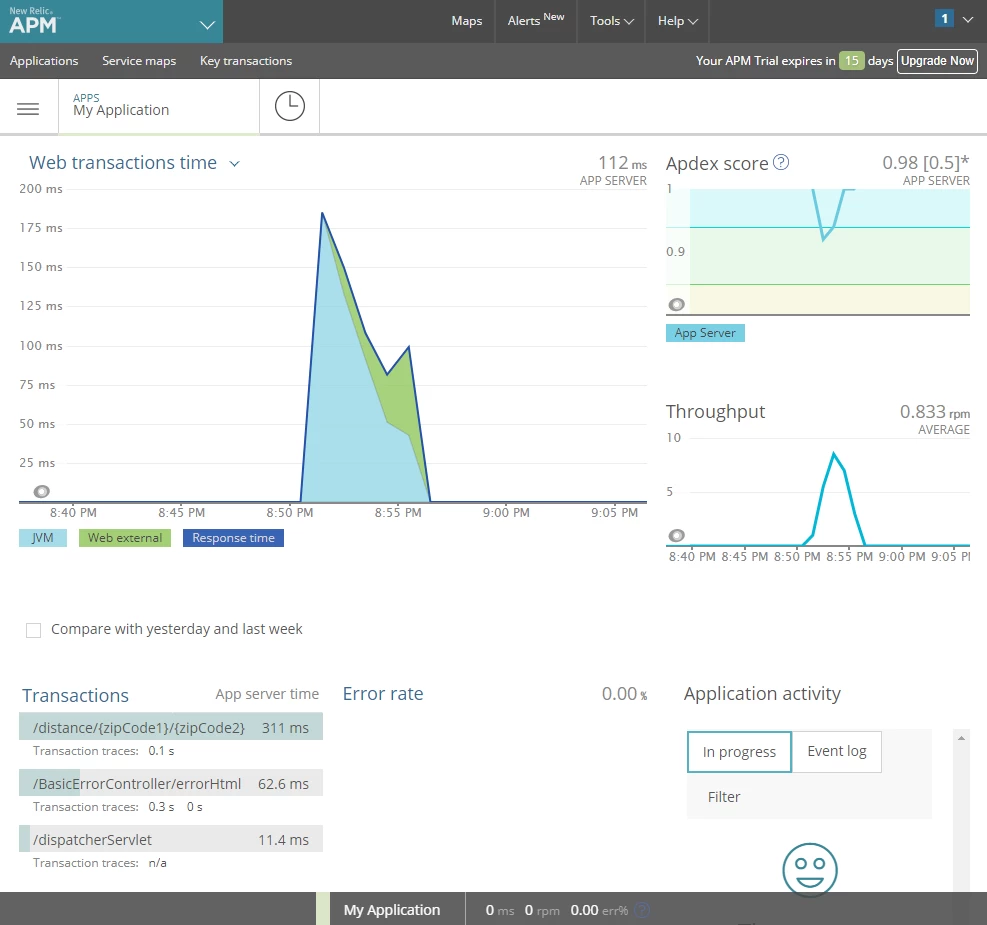 New Relic is a cloud-based monitoring solution used to understand web app performance, dependencies, and bottlenecks. It enables teams to analyze app elements, find the root cause of issues, gain actionable insights in real time, and optimize site performance. Besides uptime and availability monitoring, New Relic includes features such as error monitoring, Chrome-based scripts, API testing, elaborated performance reports, waterfall analysis, and instant alerts via Slack, PagerDuty, and more. Try its 30-day free trial version to get a better understanding of how the tool works.
Conclusion
Though most of these tools offer robust features, it's important to look for a simple and easy-to-use solution. SolarWinds Pingdom is the most reliable web app monitoring solution with mixed capabilities (synthetic monitoring and real user monitoring) to fit every organization's monitoring needs. With this solution, organizations can proactively monitor web app availability, performance, and transactions. In addition, it provides page-level metrics and user behavior metrics to understand users' overall site experience.