Even if you're not familiar with the ins and outs of SharePoint, you've probably heard of the platform. Launched by Microsoft in 2001, this popular web-based collaborative tool offers document management and storage systems teams can use to create and support websites and online portals. The platform uses workflow applications, "list" databases, and other logistical, web, and security features for business teams to work together, safely exchange documents and information, automate workflow processes, and assign access privileges to users and groups. SharePoint is highly configurable, allowing businesses to tailor how they use it to meet their specific organizational needs.
In this article, I'll discuss the possibilities of cooperating SharePoint servers within a farm. I also recommend tools designed to work with single or multiple SharePoint servers. Read on to learn about:
The most important areas to monitor in SharePoint servers
Best practices in monitoring performance and functioning of SharePoint servers and farms
Recommended tools for monitoring your SharePoint environment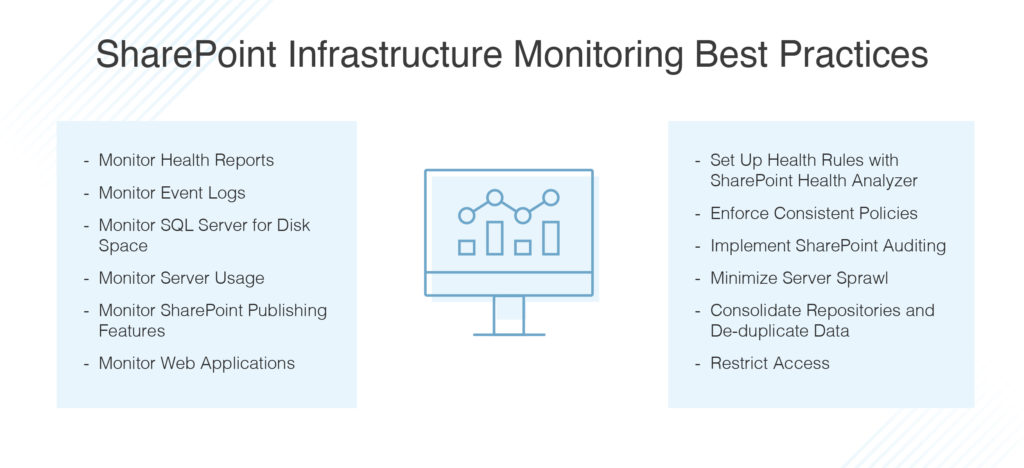 SharePoint Infrastructure: The Basics
One key element of basic SharePoint infrastructure is the concept of farms, which are groups of servers working in tandem to support the basic critical operations of a site.
A SharePoint farm typically comprises three server types: application, database, and web front end (WFE). Application servers deliver the infrastructure and services applications hosted within the SharePoint farm require to operate. The database stores and retrieves the site's associated data. WFEs process end-user requests via web pages; if a site's traffic is such that additional WFE servers become necessary, a load balancer can help ensure request loads are evenly distributed. This makes it possible for organizations to effectively and efficiently scale their environments to meet increases in end-user traffic and workloads.
SharePoint infrastructure and farms can be set up in several ways, including on-premises, cloud-based, or hybrid environments combining elements of both. When using the on-premises version of SharePoint, all software, servers, network infrastructure, and data storage are kept in-house or hosted by third-party servers. SharePoint Online offers a cloud-based alternative included in Office 365 subscriptions for teams to access the same tools and resources through their web browser or mobile device application. Hybrid deployments allow organizations to install SharePoint on-premises while still using Office 365 cloud-based services.
Designing your SharePoint farms in practical terms is a different matter, but what ultimately matters most is selecting a farm topology aligned with the needs of your organization. Different SharePoint infrastructure designs have their own set of benefits and drawbacks—some emphasize minimum server roles, maximum availability, or a custom arrangement tailored specifically to departmental or organizational needs.
Farm topologies are flexible and, in the case of large enterprise companies, can be assigned specific roles (i.e., farms devoted solely to content, service, or search, all working in tandem). Server architecture has an impact on overall performance and bandwidth, as do network design, server location, access needs, and other contributing factors.
Given the critical business services these farms support, they require adequate infrastructure and support services to ensure maximum uptime and security. This makes SharePoint health checks, SharePoint infrastructure monitoring, and SharePoint server performance monitoring software essential. A tool like SolarWinds® Server & Application Monitor (SAM) can help ensure your services perform optimally, pass SharePoint health checks, and meet service levels. Overall, SharePoint infrastructure monitoring is critical to the health and success of your organization.
SharePoint Infrastructure Monitoring Best Practices
Without SharePoint server monitoring software, your team is effectively choosing to overlook any potential faults or issues within your deployment that could impact end users, customers, or business operations. Here are some SharePoint infrastructure monitoring best practices to follow.
Monitor Health Reports
SharePoint health checks are critical for taking stock of the overall efficiency and performance of your environment—which is why it's critical to regularly monitor your SharePoint infrastructure's health reports. This will keep you informed of important metrics like webpage load times, site latency, response times on both the database and user ends, database capacity, and more, including whether any alerts have been detected. Monitoring your health reports is an important first step to identifying any infrastructure issues before they can affect end users.
Monitor Event Logs
Event logs are an invaluable resource for troubleshooting many kinds of performance issues, including those related to your servers and SharePoint environment. While a third-party SharePoint server monitoring software is still recommended for maximum security and deep insights, SharePoint allows you to check event logs and the ULS (Unified Logging System) without leaving the application, which can be a useful way of identifying abnormal events or activity that might be otherwise overlooked.
Monitor SQL Server for Disk Space
While SQL Servers are a fundamental part of how SharePoint functions and is structured, SharePoint isn't a true database in itself, and shouldn't be used to handle, store, or process large data volumes or complex transactions. Monitoring disk space is critical to preventing the environment from filling beyond optimal capacity, which can lead to queued or dropped requests, the loss of data or application traffic, and slow overall system performance.
Monitor Server Usage
SharePoint server monitoring is also essential, as the health and performance of your servers can have wide-reaching effects across the rest of your infrastructure and environment.
Monitor SharePoint Publishing Features
Once the SharePoint Server Publishing Infrastructure features have been activated at the site collection level, you can create and publish webpages for your intranet. SharePoint server publishing infrastructure monitoring tools provide similar visibility and insight into the health and performance of your intranet pages.
Monitor Web Applications
Monitoring the performance of your web application makes it easier to identify which pages are experiencing slow load times and whether an application, the network, or the infrastructure is causing the delay. Careful and consistent monitoring practices help pinpoint which specific components or transactions within your site collection are responsible for detected issues.
Set Up Health Rules With SharePoint Health Analyzer
This feature allows you to schedule automated SharePoint health checks on your server farm for signs of performance, configuration, or other issues. SharePoint Health Analyzer monitors farms by applying health rules, which you can accept as the defaults or configure from Central Administration as needed.
Enforce Consistent Policies
SharePoint infrastructure monitoring can help ensure you're aligned with regulatory and industry requirements. For instance, having robust retention and disposition policies can help minimize opportunities for data loss or for end users to accidentally delete critical data. The right policies can be a significant value add for most organizations by providing greater control over how your information is managed and stored. SharePoint server monitoring lets you draw more value from your own data for business advantage.
Implement SharePoint Auditing
SharePoint includes innate auditing capabilities that enable you to view log reports for your site collections. SharePoint auditing logs contain data you can use to determine which end user accounts are associated with actions affecting the sites, lists, libraries, and other objects in the collection, which can simplify accountability and troubleshooting processes. Monitoring end-user actions on content within your collections can often prove an essential part of demonstrating regulatory compliance. It's vital to use the SharePoint auditing features to search, filter, and analyze these logs.
Minimize Server Sprawl
Limiting your SharePoint farms and managing the information silos provides several benefits, including consolidating your SharePoint infrastructure monitoring needs. Furthermore, moving data from production environments typically creates immediate improvements in application performance, availability, and scalability. This also helps reduce backup times and costs.
Consolidate Repositories and De-Duplicate Data
Actively managing your information growth is key to preventing disk utilization from impacting performance. Consolidating and removing information from SharePoint, especially when it comes to inactive or "orphaned" sites, can also reduce operational expenses by moving your environment to a more appropriate lower storage tier.
Restrict Access
The rule of least privilege applies in SharePoint as well. Many organizations host valuable information and content on SharePoint servers and sites, so restricting SharePoint permissions is critical. This helps prevent data breaches and makes it easier to track access.
Choose a Robust SharePoint Infrastructure Monitoring Solution
My preferred tool for SharePoint infrastructure monitoring and SharePoint health checks is SolarWinds Server & Application Monitor (SAM). SAM offers a comprehensive suite of application and server monitoring and management features, including SharePoint server monitoring capabilities. This SharePoint health analyzer tracks critical metrics like webpage latency, load times, request wait times, SQL query execution times, and more across your site collection, providing real-time visibility into the health and performance of your environment.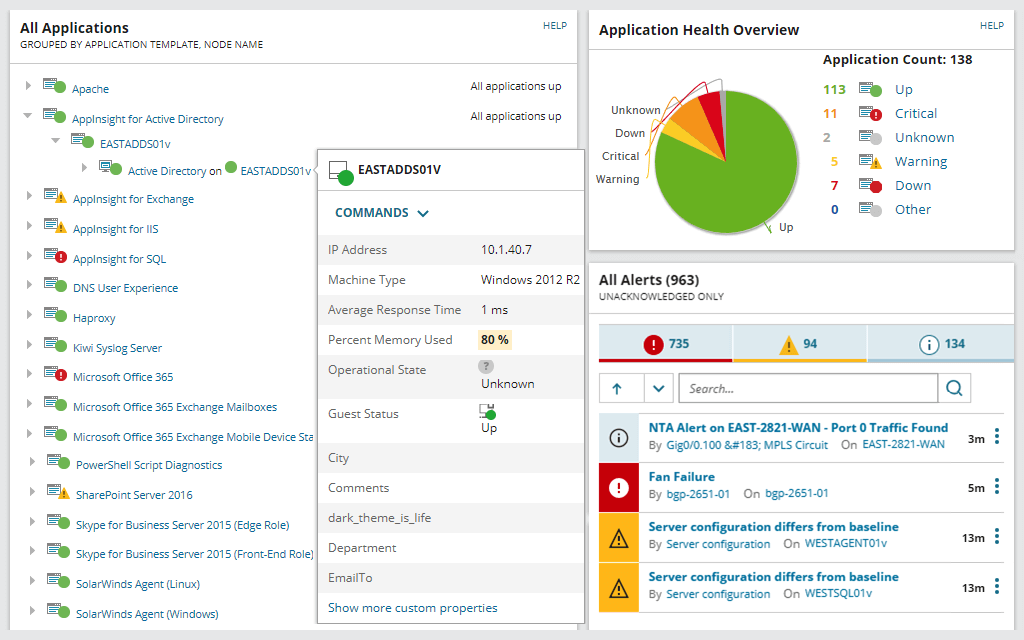 When performance, usage, or configuration issues do arise, SAM makes it easy to identify which part of your SharePoint infrastructure is at fault, down to the specific component or web site transaction. This helps streamline the troubleshooting process and minimizes the trickle-down effects end users experience. SAM SharePoint server monitoring capabilities extend to virtual machines and environments.
What's more, SAM is designed to be easy to use. The application includes a comprehensive smart alert system built into the SharePoint infrastructure monitoring tool, which can be configured to flag issues and notify your team of issues related to capacity, storage utilization, performance, and other key areas. SAM can also be used for SharePoint server publishing infrastructure monitoring. Get started today—SAM offers a fully functional 30-day free trial.