The hard drive on your desktop or laptop is a highly active computing component. Almost every activity generates hard drive activity, including background system processes you may not even notice. Excessive hard drive activity can cause numerous issues, potentially slowing down your system and draining your laptop batteries. This is why it's so important to use the right hard drive monitoring software.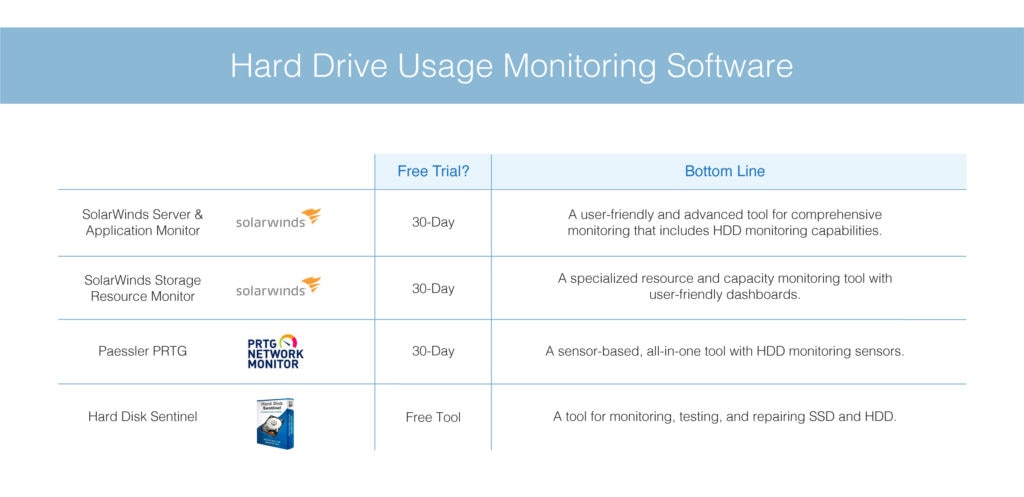 If you're noticing the signs of a failing hard drive—such as clicking and humming noises, PC hanging or slowdown, disk errors, and blue screens of death—then a hard disk drive (HDD) monitor can help you identify and rectify hidden HDD errors. Windows provides a free Check Disk tool capable of helping you achieve an ongoing hard drive monitoring strategy, but its functionalities are limited. For those in search of an HDD monitor designed to deliver more advanced visibility into the health and usage of your hard drives, this guide reviews the best HDD monitors on the market today. My top pick is SolarWinds® Server & Application Monitor (SAM) followed by SolarWinds Storage Resource Monitor (SRM).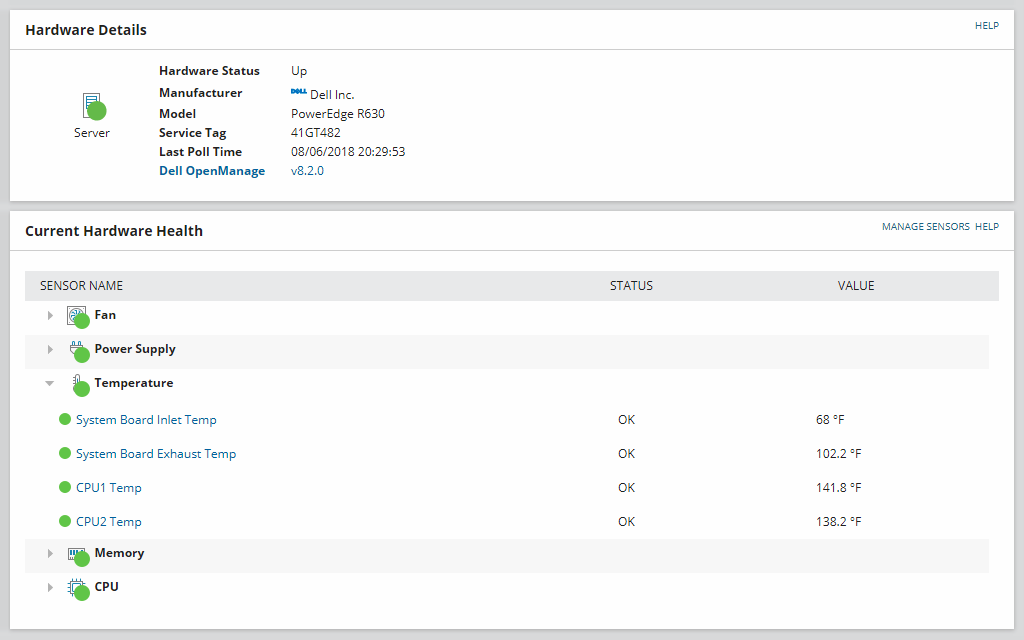 SolarWinds SAM is a highly versatile tool built to provide hardware health monitoring capabilities to ensure server and application uptime. SAM can be purchased as part of the SolarWinds Server Performance & Configuration Bundle (SPCB), which includes both SAM and SolarWinds Server Configuration Monitor (SCM). This bundle covers your hardware monitoring requirements, delivering a powerful disk usage monitor and HDD monitor designed to keep your IT infrastructure operational.
The SPCB bundle displays information about the hardware and software in your network through a single view, regardless of the vendors behind each product. This hardware monitoring software lets you monitor multi-vendor servers, databases, and applications from a single, fully customizable view using SAM templates.
SAM helps you monitor hardware health by giving you instant visibility into device status (up, critical, or warning) and by monitoring key metrics such as server temperature, CPU fan speed, and power supply. It also allows you to establish baselines and use these values as points of reference for future configuration comparisons.
SolarWinds SAM also assists with optimizing resource utilization and preventing outages by helping you identify the root cause of issues quickly and efficiently. This HDD monitor gives you a detailed view of your server resources, including memory used, disk capacity, and CPU load. With clear insight into server resource consumption (and with built-in capacity forecast charts and metrics), you can easily identify when your server resources are likely to reach capacity.
SAM gives you access to more than 1,200 application monitoring templates for monitoring Exchange, Microsoft IIS, SQL Server, Linux, Active Directory, Apache, Windows, and more. With a built-in AppStack™ dashboard, this hard drive monitoring software helps you understand the contextual dependencies between underlying hardware, virtual infrastructures, and applications.
Many disk usage monitors on the market don't support multiple server hardware vendors, hypervisors, and operating systems. This means users often need to purchase several monitoring tools, which is expensive and time-consuming. With the SPCB bundle, which includes SAM, you can monitor performance and compare configurations for hardware and software from multiple vendors. These vendors include IBM System X, HP, Dell, Blade Chassis, Windows, Linux, AIX, Solaris, UNIX, HP-UX, VMware, and Hyper-V. You can also track data center components, such as building environmental systems and APC for power supply health.
SAM is a user-friendly and scalable tool, which makes it ideal for small and large companies alike. If you want to extend its capabilities, consider the SolarWinds SPCB bundle. You can download a 30-day free trial here.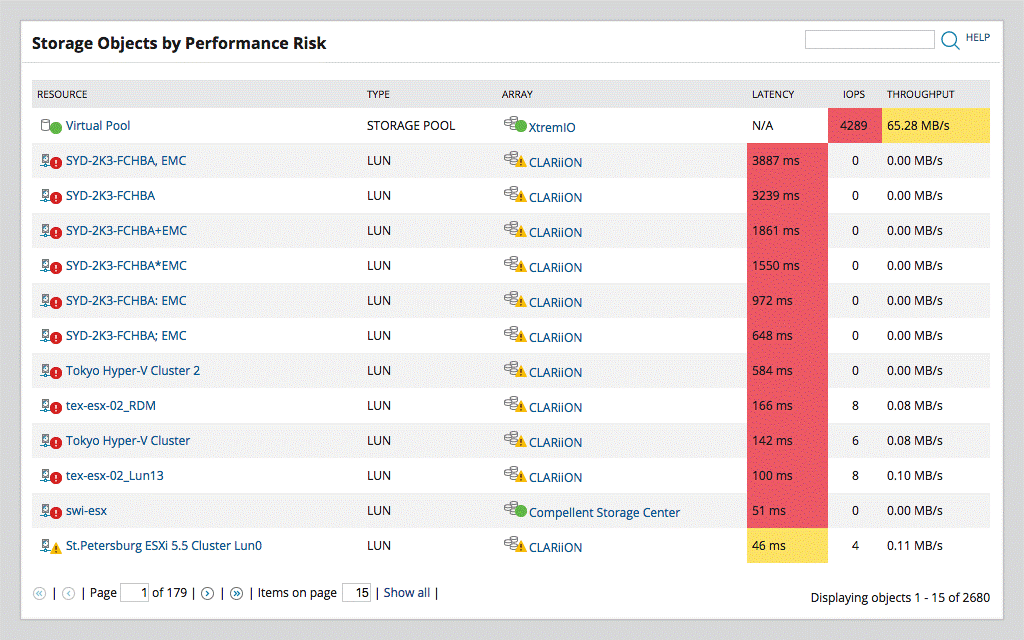 SolarWinds SRM is a disk usage monitor designed to proactively track storage consumption and facilitate highly precise storage capacity planning. Like SolarWinds SAM, SRM is a user-friendly and powerful tool designed to accommodate companies of all sizes in a scalable and cost-effective way.
SRM collects storage capacity data and tracks usage over time, identifying capacity issues in storage environments. You can leverage this storage capacity planning tool to view storage growth trends and forecasts of when your capacity is likely to be reached. This HDD monitor features detailed dashboards allowing you to trace dynamic relationships from virtual machines (VMs), apps, LUNs, arrays, and pools to rapidly and efficiently identify the root cause of performance issues. These utilities help you determine which systems are affected by storage issues so you can take proactive measures to prevent downtime. With these features, you can automate storage capacity planning and save yourself a significant amount of time.
SRM allows you to quickly and easily produce capacity trend reports, with both predefined and custom reports available. Reports can display performance and capacity trends across multiple vendors in your storage environment, giving you detailed insight into the health of your storage infrastructure. Out-of-the-box, web-based reports can help you understand growth rates and forecast costs by giving you access to real-time performance data for your storage environment. This includes NAS volumes, LUNs, server volumes, storage pools, and much more—all without creating complex spreadsheets for tracking capacity or managing multiple tools for separate vendors.
SRM provides you with end-to-end performance visibility across your complete IT infrastructure, allowing you to troubleshoot performance and storage problems before they affect your end users. SRM features AppStack, an application stack management utility built to give you access to dashboards displaying every layer of your infrastructure, including applications and virtualization layers. With this utility, you can view which virtual machines and applications are dependent on certain storage elements, helping you quickly identify the root cause of issues.
SRM is a robust hard drive monitoring software built to combine user-friendliness with a range of advanced features. A 30-day free trial is available.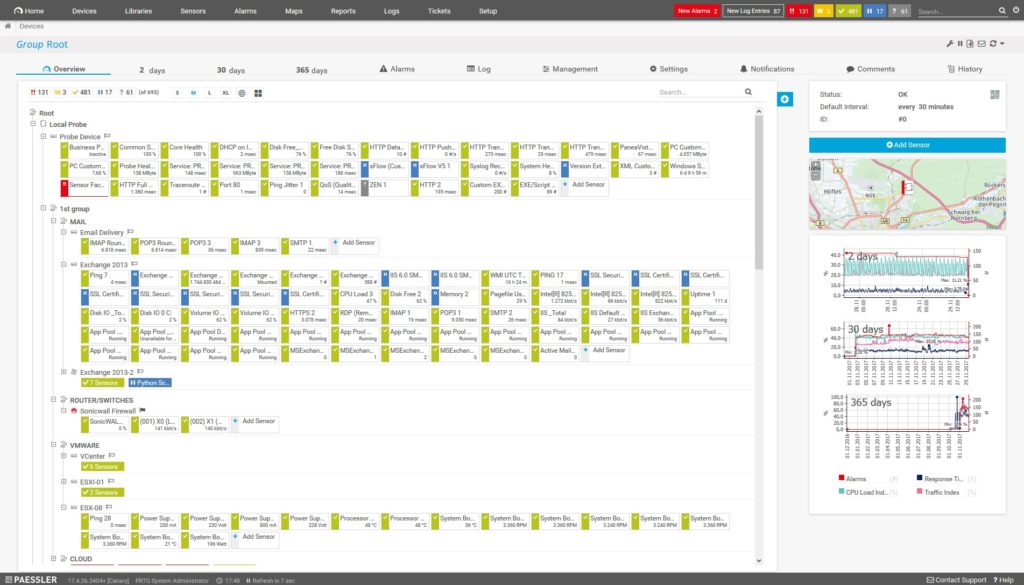 Paessler PRTG is an industry-leading, all-in-one network monitoring and management tool. This program is versatile and complex, giving you access to almost every monitoring capability you can imagine. As a sensor-based tool offering traffic, device, application, and server monitoring, you can customize the features in PRTG to suit your requirements. You can even use the tool's customizable HTTP API to extend the software.
PRTG features a WMI HDD Health sensor, which connects to the parent device through WMI and monitors the health of integrated development environment (IDE) disk drives on the target system. To achieve this, it uses Self-Monitoring, Analysis, and Reporting Technology (SMART), which is built into most modern IDE hard disk drives.
The WMI HDD Health sensor can display read error rate, spin-up time, reallocated sectors count, start/stop count, power-on hours, seek error rate, spin retry count, calibration retry count, load cycle count, and much more.
Paessler PRTG is a good option for businesses with minimal requirements, as the first 100 sensors are free to use. However, you may be surprised by how quickly you use up your free sensor allowance. If you're a company anticipating growth, then the pricing model of PRTG may not be cost-effective. You can download a 30-day free trial of the tool's unlimited sensor package here.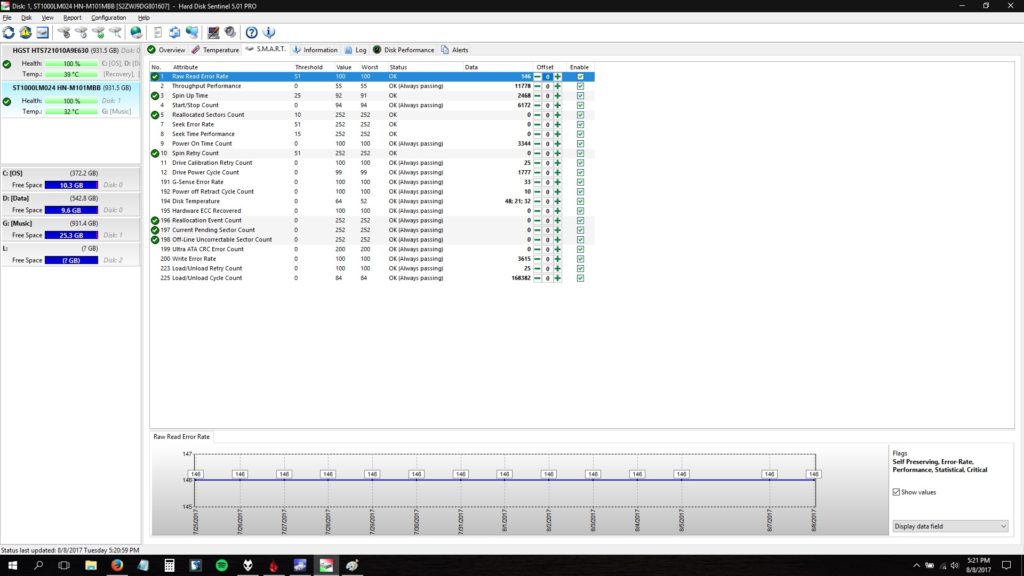 Hard Disk Sentinel is a popular solid-state drive (SSD) and HDD monitoring and analysis tool capable of monitoring and diagnosing hard disk drive issues in addition to testing and repairing them. The tool reports and displays the health, performance, and degradations of your SSD and HDD, allowing you to make informed decisions about how to prevent data loss and disk failure.
The key features in Hard Disk Sentinel include advanced detection algorithms, scheduled and automatic disk backup options, comprehensive alerts and reporting, and much more. You can download Hard Disk Sentinel here.
Choosing the Right Hard Drive Monitoring Software
Overall, SolarWinds SAM tops the ranks, though it's followed closely by SolarWinds SRM. While SAM is likely best suited for companies who want access to more comprehensive server and application monitoring capabilities, SRM is ideal for organizations looking for a specialist HDD monitor. Both these tools are known for their dependability, user-friendliness, and efficiency. You can access a free trial of SAM here and a free trial of SRM here.