When it comes to saving on your database infrastructure cost, you must have a way to efficiently visualize your cloud-hosted database activities. Using a cloud-based database cost monitoring tool can enable you to gain clear, accurate insights into where costs are going in your database. By remotely discovering and analyzing these key metrics, you could act immediately and save money without compromising database performance.
In this article, we'll go through what cloud-based database cost monitoring entails and share our top five database infrastructure monitoring tools for cloud database cost management. You'll find the full list below, starting with SolarWinds® Database Performance Monitor (DPM). DPM is designed to use real-time cloud database monitoring to help you understand costs and their causes, then eliminate over-provisioning and maximize your database's performance. You can try a 14-day free trial of DPM.
What Is Cloud-Based Database Cost Monitoring?
Cloud-based database cost monitoring enables you to avoid spending your financial resources on inappropriately sized databases. If you don't scale your database to suit your needs—meaning your database has too much or too little resources than needed to function—you'll end up losing money unnecessarily. Naturally, it's important to be economical, no matter the size of your business.
Cloud-based database cost monitoring involves two types of monitoring to focus on visualizing costs:
Database infrastructure monitoring, which enables you to gain insights into the usage and performance of your database elements
Cloud-hosted monitoring, which supports the remote access of critical data for quick and instant retrieval
By combining these two monitoring types, cloud-based database cost monitoring enables you to view the details of your database spending anywhere, any time. Through cloud database monitoring, you can consistently collect and recollect important database infrastructure cost metrics—such as resource consumption, performance levels, transactions, storage usage, and more—then analyze them to find cost-saving opportunities.
The act of taking critical cost metrics and turning their data into actionable insights, such as decreasing idle services and removing over-provisioned resources, is known as cloud database cost management. Many cloud-based database cost monitoring tools are built to support cloud database cost management and related capabilities.
What Is a Cloud-Based Database Cost Monitoring Tool?
A cloud-based database cost monitoring tool is built to let you remotely visualize database infrastructure cost information and transform discoveries into cost-reducing actions. This can enable you to save money while optimizing your database, promoting performance without overspending costs and resources. The best tools will be able to help you cut costs quickly without sacrificing functionality.
Like any cloud database management system, a cloud-based database cost monitoring tool is designed to quickly, accurately, efficiently, and consistently gather these metrics. This helps ensure you're always getting correct and up-to-date database information without falling behind. In addition, cloud-based database cost monitoring tools are often designed to:
Structure critical cost data using visualizations
Generate thresholds for alarms and reports
Compare real-time and historical cost data for pattern and anomaly detection
Protect database infrastructure cost data, both in-transit and at-rest
Many cloud-based database cost monitoring tools are built to bring these capabilities together in a single platform, using easy-to-navigate dashboards or other intuitive organizational features to create a streamlined database cost savings journey.
Recommended Cloud-Based Database Cost Monitoring Tools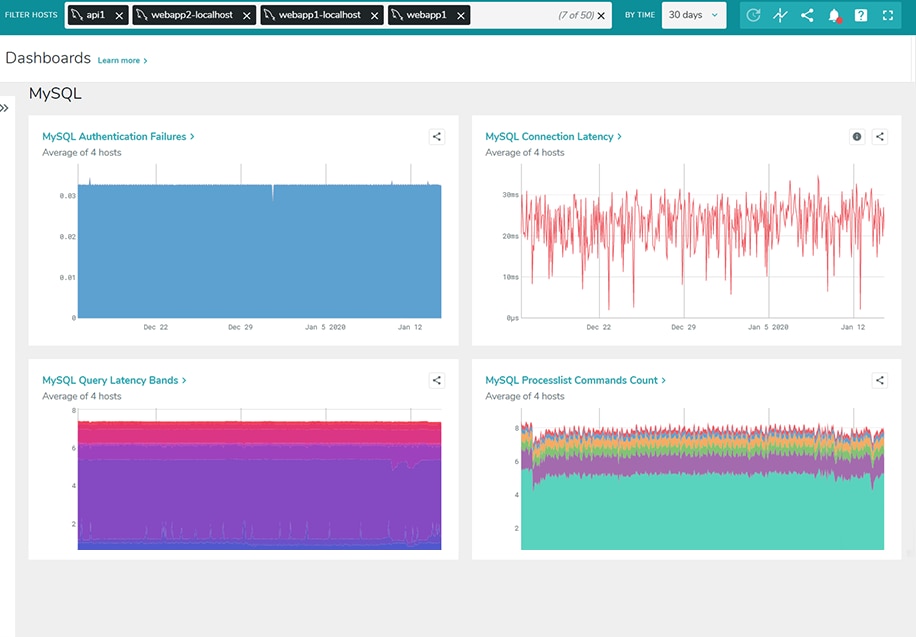 SolarWinds DPM is built to use real-time cloud monitoring capabilities to help you gather, track, and visualize cost utilization. DPM is designed to detect issues across multi-vendor relational databases, such as overprovisioning and resource contention, then correlate overspending with specific database elements. By helping you eliminate wasted or idle resources, DPM can enable you to maximize system utilization and save money at the same time.
Along with being a monitoring tool, DPM is designed to act as a cloud database management system. DPM is built to detect anomalies by contrasting real-time and historical cloud database system metrics. Through this, DPM can enable you to detect and fine-tune infrastructure cost hogs then adjust resources accordingly. You could also dive deeper into these issues to prevent them from repeating in the future. I strongly recommend using this tool also because of the tips it provides on how to optimize database queries or configure the database and hardware. All this in the online version without having to install all the software on your own servers.
DPM's interface is a stand-out feature—the DPM dashboard is designed to create clear visualizations of database infrastructure cost metrics, enabling you to quickly act on these understandings. This interactive dashboard can enable you to gather and analyze important cloud-based database cost metrics, which could result in cost-saving, actionable insights. DPM's cloud monitoring capabilities can enable you to access the DPM dashboard, as well as all other functionalities, from any location at any time. Try a 14-day free trial of DPM today.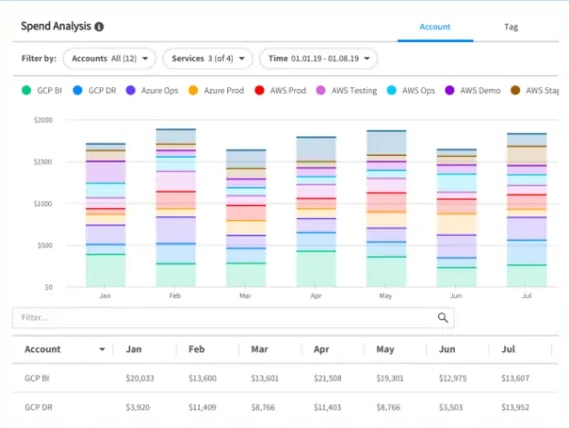 Cloud Analyzer by Spot includes advanced tools designed to provide in-depth visibility into your cloud database infrastructure costs. Using predictive analytics and machine learning capabilities, Spot can enable you to easily see where cost optimization can occur in your cloud database system. Spot then enables you to quickly implement those improvements with a single click, expediting cost management.
Spot Cloud Analyzer is designed to help you understand cloud costs primarily through mapping your cloud infrastructure. This can enable you to gain comprehensive insights into resource usage from across your database. Spot Cloud Analyzer is built to help you identify the best opportunities to reduce cloud database costs via rightsizing, commitment usage, and purchasing strategies.
Along with measuring real-time resource utilization, Spot Cloud Analyzer is designed to track results over time to contextualize cost information. Understanding this data can help you easily scale workloads and cut cloud database costs. You could also create and share important findings with team members using custom reports, improving communications and streamlining the cost-cutting process. Spot Cloud Analyzer offers a free trial on their homepage.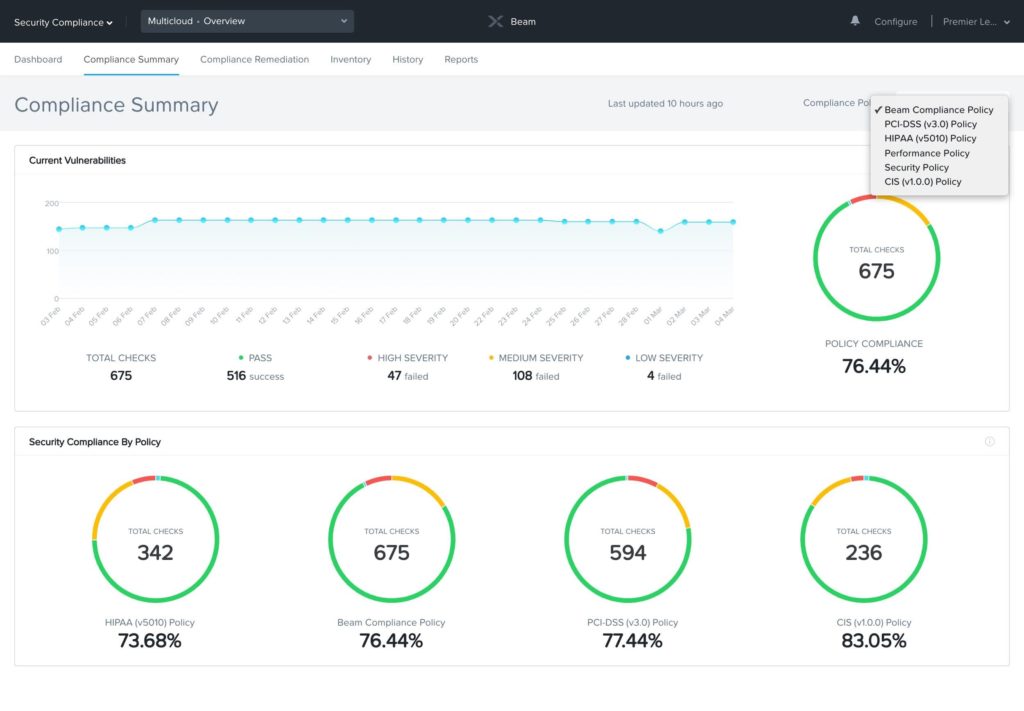 Nutanix XI Beam is designed to help you clearly define budget use through complete cloud database cost monitoring. Beam is built to map costs throughout your cloud-based database infrastructures, giving total clarity into which costs are related to which aspects. XI Beam is made to support multi-cloud management, which can enable you to take full financial responsibility for your database infrastructure costs.
Along with detecting idle or underutilized resources, Beam is built to help you simplify cost management with tools like automated scheduling tasks, right-sizing capabilities, and intelligent Reserved Instance (RI) reporting. This can enable you to allocate costs according to database infrastructure consumption. Beam can also enable you to identify database infrastructure cost leaks and cloud cost anomalies, so you can correctly allocate cloud resources and costs.
To aid cost management, XI Beam is designed to make insightful recommendations to help you optimize resource utilization. By helping you understand patterns in your cloud-based database infrastructure and come to informed conclusions, Beam can enable you to make the right decisions when it comes to cutting your cloud database costs. There's a 90-day free trial of Nutanix XI Beam available for download.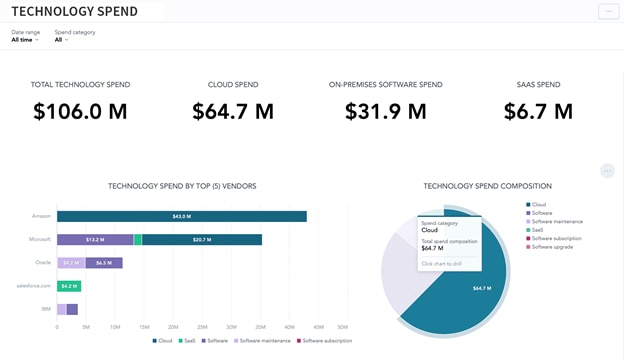 Through clear analysis of relevant database infrastructure monitoring metrics, Flexera One is designed to display a unified view of your database costs. This helps place critical cost metrics in context for detailed insights into cloud spending. With this centralized view of database infrastructure cost, Flexera One enables you to effectively identify and act on money-saving opportunities.
To help reduce or eliminate wasted cloud costs entirely, Flexera One enables you to understand combined billing data and detailed usage information when it comes to your database's cloud-based infrastructure. From there, you can deep-dive into costs by specified categories. You can tag cloud resources to track their budgets and spending habits.
The core benefit of Flexura One is the platform's ability to work collaboratively with team members. With robust reporting capabilities, Flexura One enables you to analyze, forecast and budget on cloud infrastructure costs. Flexura One also leverages an alerting system with tailored alerts on a scheduled or ad-hoc basis, notifying you when you've gone over budget. You can request a demo of Flexura One Cloud Management.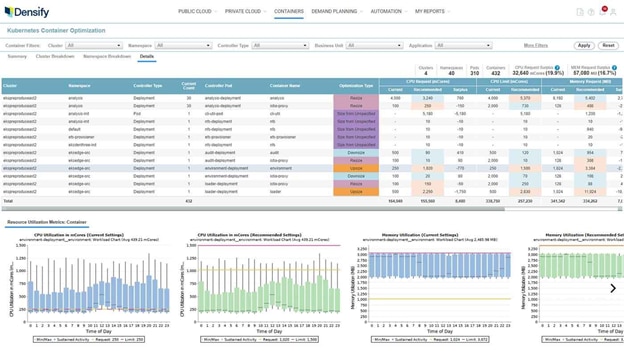 Densify is designed to address cloud-based database cost monitoring by first tackling optimization of individual cloud-based database instances, then ensuring cost management from the ground up. This enables you to see the exact steps it takes to reduce costs and preserve cloud database performance.
Densify is made to collect database infrastructure cost analytics using machine learning. These capabilities are built to help you reduce costs by eliminating wasted resources and overprovisioning. Densify can also enable outlier analysis with help from historical cloud database management to help you quickly identify anomalies in cloud spending patterns. Configurable outlier reports are designed to give you control over what defines an anomalous pattern.
Along with analytics and analysis, Densify is built to review database infrastructure cost data with full-featured reports and filters. Densify reports are designed to cover many aspects of cloud-based database cost monitoring, so you can identify all types of issues and their root causes. Download a 14-day free trial of Densify today.
Conclusion on Cloud-Based Database Cost Monitoring
A cloud-based database cost monitoring tool is essential to viewing, understanding, and addressing costs through database infrastructure monitoring. The right tool can help streamline the process of saving money and optimizing your cloud database performance. While there are many excellent tools out there, SolarWinds Database Performance Monitor (DPM) stands out as a clear, comprehensive, and powerful cloud database monitoring and management solution. I recommend using this tool within a 14-day trial. Start on this site—no need to download.