When something goes wrong, a help desk is the central point of contact for customers and employees to reach out for help. The help desk plays a vital role in helping end users fix issues and enabling them to find what they need. Organizations rely on help desk software and solutions to establish and continually provide such assistance and support services.
Traditionally, help desk software has been a central place to log and manage tickets raised by end users. But now, a simple ticket management help desk solution won't suffice for most companies. The expanding IT ecosystem compounded with bring-your-own-device policies creates a complex IT ecosystem with diverse assets, which require special tools and processes for streamlined IT service management. The help desk implementation has to be flexible and extensible to accommodate these requirements and increase efficiency.
This article explores two popular help desk software solutions, Zendesk Support and SolarWinds® Web Help Desk®, and compares them in terms of functionality, features, extensibility, deployment models, and relevance for varied organizational requirements.
Zendesk Support
Zendesk Support is a popular help desk solution primarily focused on customer service. The tool can integrate seamlessly with other products and solutions offered under the Zendesk umbrella to enable omnichannel customer service across channels such as email, chat, voice, and social messaging apps. Moreover, the tool provides knowledge base management via Zendesk Guide to enable self-service for end users.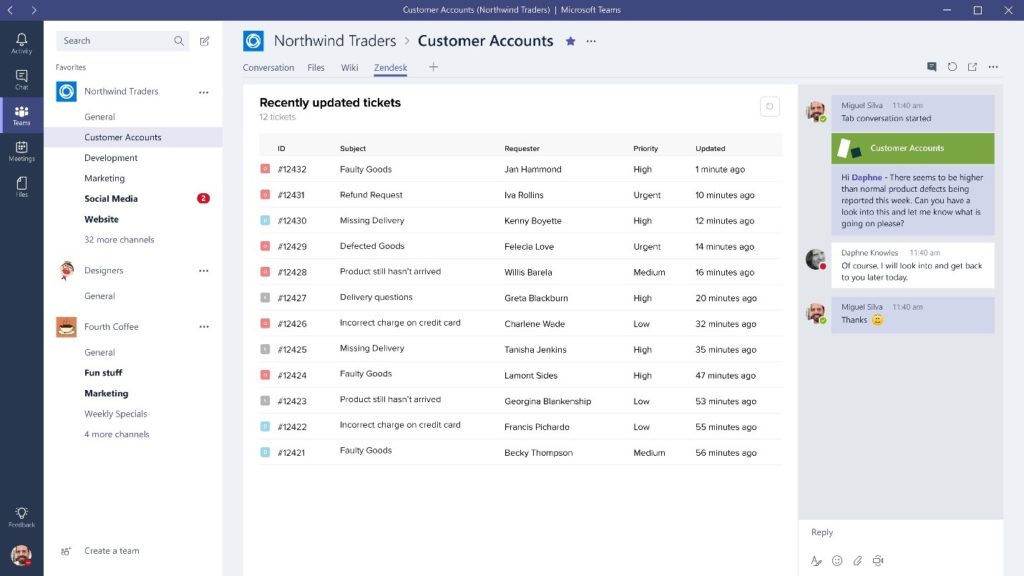 Web Help Desk
SolarWinds Web Help Desk is a help desk solution with multiple features and functionalities such as ticket management automation, knowledge management, relational ticket association, native integration with LDAP and Active Directory, and customer satisfaction measurement, among others. It also has built-in workflows available for automating and controlling IT change management and incident management.
Zendesk vs. Web Help Desk
While Zendesk Support targets customer service in general, the Web Help Desk solution offers features and functionalities for IT teams who offer support to both customer and employee groups. Here are the key differences between Zendesk Support and Web Help Desk to help you zero in on a solution best suited for your needs.
IT Asset Management
Across IT organizations, asset management is a key function of the IT service desk. Zendesk Support requires third-party app integrations, available via their marketplace, for IT asset management capabilities. Web Help Desk offers built-in support for IT asset management, including asset discovery, reporting, inventory maintenance, and recordkeeping. It also imports asset information from spreadsheets, third-party asset discovery tools, and network management systems.
Artificial Intelligence and Automation
Zendesk provides AI-powered capabilities such as article recommendations relevant to a ticket, for support agents, and machine learning-based suggestions for new article creation and updating existing help articles. The Web Help Desk solution provides automation capabilities for ticket management, incident management, and change management, among others.
Deployment Model
Zendesk Support is only available as a SaaS deployment. Web Help Desk has both on-premises and cloud editions available; and, it offers FIPS 140-2 compatible cryptography. The advantages and disadvantages of these deployment models depend on the organizational requirements and in-house capabilities. In general, organizations dealing with various compliance requirements, such as data localization requirements, HIPAA, and PCI DSS, may need flexibility in terms of deployment.
Marketplace and Integrations
Zendesk Support has native integrations available to enable live chat, messaging, and voice-based support, while it lacks native integrations for enabling remote assistance. However, Zendesk Support has a marketplace for third-party applications and service integrations, such as third-party apps for remote assistance, which help extend the functionality of Zendesk Support beyond its core capabilities. Web Help Desk integrates with various other IT service management software and monitoring solutions under the SolarWinds umbrella, such as Network Configuration Manager, Network Performance Monitor, and Server & Application Monitor. This helps organizations use SolarWinds products and solutions to automatically create tickets when IT infrastructure problems are uncovered and subsequently automate ticket assignments to respective IT personnel. For remote assistance, Web Help Desk natively integrates with Dameware® Remote Support under the SolarWinds umbrella.
SLA Management
In professional and enterprise plans, Zendesk offers features to define and use SLA policies. It also highlights any tickets failing to meet SLAs, so support personnel can address the problem proactively. Web Help Desk also comes with SLA management features. It offers escalation automation based on predefined criteria from the ticket information and SLA report generation with performance indicators to help increase efficiency and identify bottlenecks.
Where to Get Started
Zendesk Support emphasizes customer service and support functions and has a marketplace for facilitating integrations with various third-party applications. Web Help Desk provides extensive capabilities for service desk management beyond what help desk software traditionally offers. On the other side, both Web Help Desk and Zendesk are extensible for varied help desk functions suitable for various types of use cases, besides their core capabilities and features.
Certain features of Web Help Desk clearly stand out for IT service management; for instance, its native integration with Active Directory, LDAP, and SolarWinds network management and server monitoring software simplifies initial setup and helps convert node performance issues directly into service tickets. It's imperative to consider the business requirements and needs at hand and the core capabilities required before you shortlist a solution. The ease of implementation, usability, and workflows are other factors to consider.
We recommend you run a proof of concept before you implement a solution. You can start with a 14-day free trial of SolarWinds Web Help Desk.
*As of August 12, 2020