The bigger your business grows, the harder it becomes to stay on top of service requests. Whether you're providing technical support or managing product returns, you need a system to help your team manage tickets efficiently and keep track of past issues.
With SolarWinds® Service Desk and Zendesk, you get access to the tools you need for customer support. The platform you decide to use will depend on your business' unique needs—including third-party integrations, your desire for user-friendly software, and more.
In this article, we're going to compare Zendesk vs. SolarWinds Service Desk. We'll focus on each service's features and talk about which one can provide the most value to your business.
Zendesk vs. SolarWinds Service Desk: An Introduction to Both Platforms
We'll start by introducing both platforms for the uninitiated. First, let's look at Zendesk.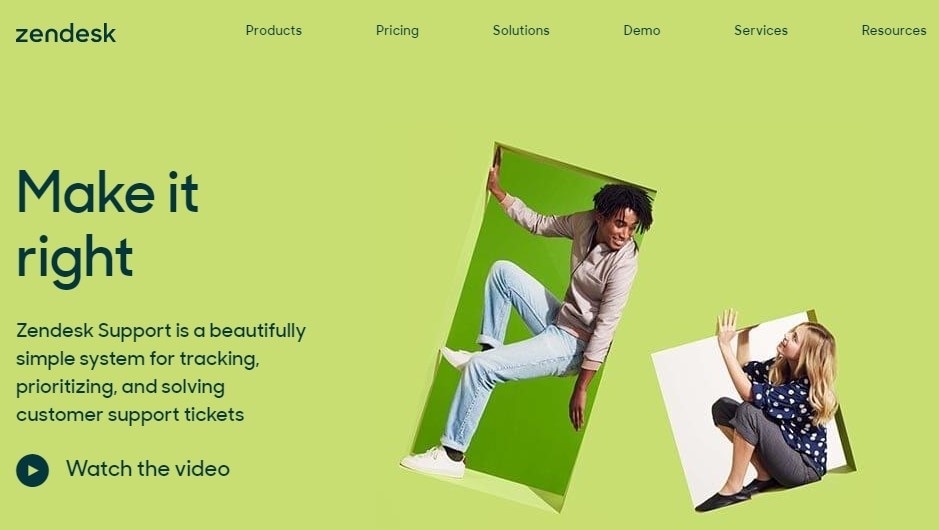 Zendesk likes to advertise itself as "more than just help desk software." The main hallmarks of help desk software are all there, though. With Zendesk, you can manage and solve support tickets from multiple channels.
The reason why Zendesk is reluctant to call itself help desk software is because it also offers plenty of other tools for modern businesses. These include live chat, call center software, analytics, community forums, and even tools to support your sales team. In other words, it's a one-stop solution for businesses of all sizes.
However, the support and sales tools Zendesk offers are separated into two different software suites. For this comparison, we're just focusing on the platform's support capabilities. Here's a quick rundown of how much the support service suite costs in general terms.
Pricing: Zendesk plans start at $5 USD per month per agent. The basic plan (called Essential) enables you to manage email and social media tickets. Plus, you get detailed interaction stories for existing customers. Ideally, though, you'll use the Team plan, which offers a more comprehensive set of support tools. This plan starts at $19 USD per month per agent.

SolarWinds Service Desk is a cloud-based platform focused on service management. With Service Desk, you get access to tools to track reports, company assets, support tickets, and more. To put it another way, you can use Service Desk to provide both internal and external support.
With Service Desk, you can centralize tickets from across multiple channels, enable team members to communicate to solve problems, route requests to other users, and more. The platform enables you to integrate third-party services and keep track of licenses—key for most modern businesses.
Pricing: Service Desk starts at $15 USD per month per agent. The starter Team plan enables you to manage email and community requests. You can also set up knowledge bases, run satisfaction surveys, and get access to advanced collaboration tools.
Zendesk vs. SolarWinds Service Desk: Key Features
Since we have a clear overview of what each platform offers, let's take a closer look at their individual features for easier comparison.
Zendesk
Although Zendesk is an all-in-one platform, we'll focus on its service desk functionality. Here's what you can do with the Zendesk Team plan:
Manage tickets from email and social channels
Set up custom workflows to speed up ticket management
Get access to a detailed interaction history for each customer
Set up knowledge bases
Monitor agent performance
Offer live chat support (for up to one concurrent user)
Get access to one Voice over Internet Protocol (VoIP) number for customer support
Set up third-party tool integrations
The Zendesk Team plan offers a broad range of tools and lets you manage support requests through five different channels. Plus, it enables you to set up simple automations to manage tickets outside your business hours, which could be ideal if you don't offer around-the-clock support.
SolarWinds Service Desk
SolarWinds Service Desk is a much more focused platform when it comes to features. The tools and functionalities the platform provides are geared towards improving the support service experience you offer.
Here's what you can do with the SolarWinds Service Desk Team plan:
Manage internal and external tickets and company hardware
Use automation tools to reduce internal costs
Get access to benchmarks to measure the efficiency of your agents
Manage email and community tickets
Centralize your online service subscriptions
Provide your users with access to satisfaction surveys
Get access to internal collaboration tools
The main disadvantages of SolarWinds Service Desk compared to Zendesk include the lack of live chat or VoIP functionality with the base plan. Likewise, Zendesk offers cheaper starting prices.
However, from a feature perspective, Service Desk offers a much more comprehensive set of tools for customer support and agent management. For example, the Team plan enables you to set up customer satisfaction surveys, so you have more than one way to monitor your employees' performance. The difference in price isn't stark for these kinds of tools, so small to medium-sized businesses can get much more from their Service Desk subscriptions.
How to Get Started With SolarWinds Service Desk
If you're still on the fence about which platform to use, you can try out Service Desk for free. The 30-day free trial doesn't require you to share any payment information. All you need is a business email address, and you can check out Service Desk for yourself: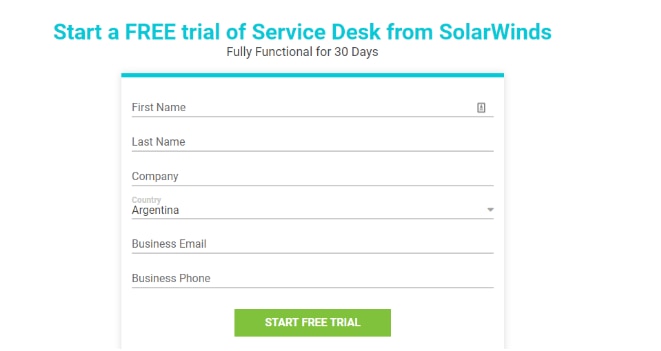 As soon as you sign up, you get access to the Service Desk dashboard. Here, you can get a quick overview of the reports still in your queue, so you know where to focus your team's efforts:
If you decide to upgrade to a paid subscription, you can retain all your existing data, so don't be afraid to make the switch once you've made up your mind.
Conclusion
No single service desk platform is a perfect fit for every business. To make the right choice, you need to understand what the pain points of your business are (for example, are you taking too long to solve tickets or do you lack the tools to keep track of them?). Armed with this information, it's easy to pick the right platform.
If you're on a tight budget, Zendesk enables you to get access to advanced help desk tools at some of the lowest prices on the market. However, if you don't mind spending a little bit more, SolarWinds Service Desk provides you with a much more focused set of tools for customer support and team performance analytics.
Are you ready to try out SolarWinds Service Desk and see what it can do for your support service workflow? You can take advantage of our free trial anytime you want.
*As of June 8, 2020