Security Information and Event Management (SIEM) solutions combine Security Information Management (SIM) and Security Event Management (SEM) functions into an integrated and comprehensive security management solution. Put simply, SIM utilities collect, analyze, and report on data from logs. SEM solutions complement these SIM utilities by analyzing event and log data continuously, usually in real time, to facilitate threat monitoring, incident response, and event correlation activities.
SEM and SIM capabilities enable businesses to analyze network alerts, providing critical insight into business security. SIEM tools are an essential technology for large organizations, because they combine SIM and SEM functions into a single solution.
In the competitive market of IT security software, choosing between the available SIEM solutions can be a challenge for businesses. To help you choose the software best suited to the needs of your business, this guide will review and compare two of the most popular providers of enterprise security information and event management solutions—SolarWinds and Splunk.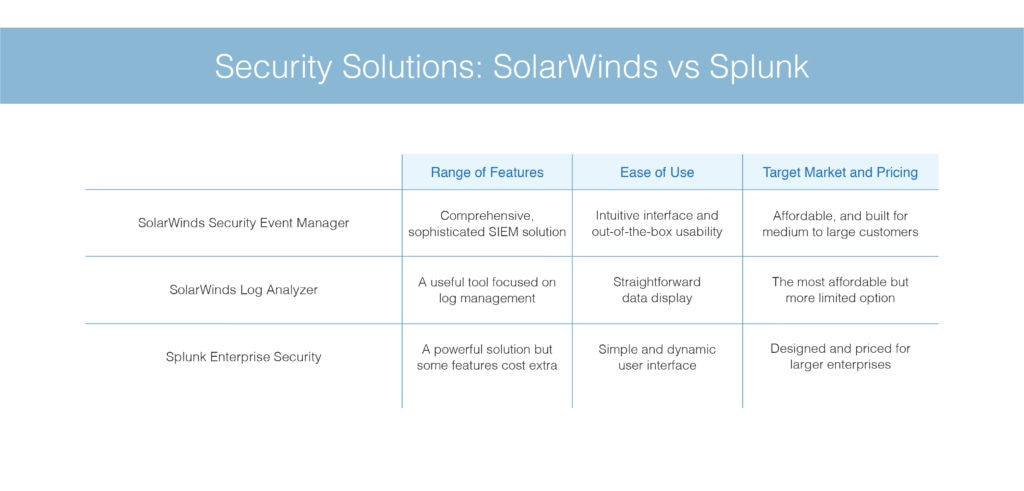 I believe SolarWinds® Security Event Manager (SEM)(formerly known as SolarWinds Log & Event Manager (LEM), SolarWinds Log Analyzer, and Splunk Enterprise Security are among the best-known and most popular SIEM solutions, offering an impressive range of advanced SIEM features. There are, however, some key differences between SolarWinds and Splunk offerings. This guide will address some of the main differentiators I see—including the ideal target market, range of features, ease of use, and pricing—to help you determine which is best for your enterprise.
In my assessment of SolarWinds Log Analyzer and SolarWinds SEM vs. Splunk Enterprise, I'll consider the products individually, before comparing and addressing the notable advantages and disadvantages of each.
SolarWinds
SolarWinds offers two key products for businesses looking for an appropriate security solution.
SolarWinds Security Event Manager (SEM)
SolarWinds SEM is purpose-built to help your business detect and respond to security threats as quickly as possible. With 24/7 activity monitoring and automated incident response features, this solution delivers continuous protection for your infrastructure. This tool also helps simplify compliance audits and reporting by leveraging audit-proven tools and reports designed to reduce the time needed to demonstrate compliance with industry standards and regulations. SEM's reports are designed with HIPAA, SOX, PCI DSS, and other regulations in mind.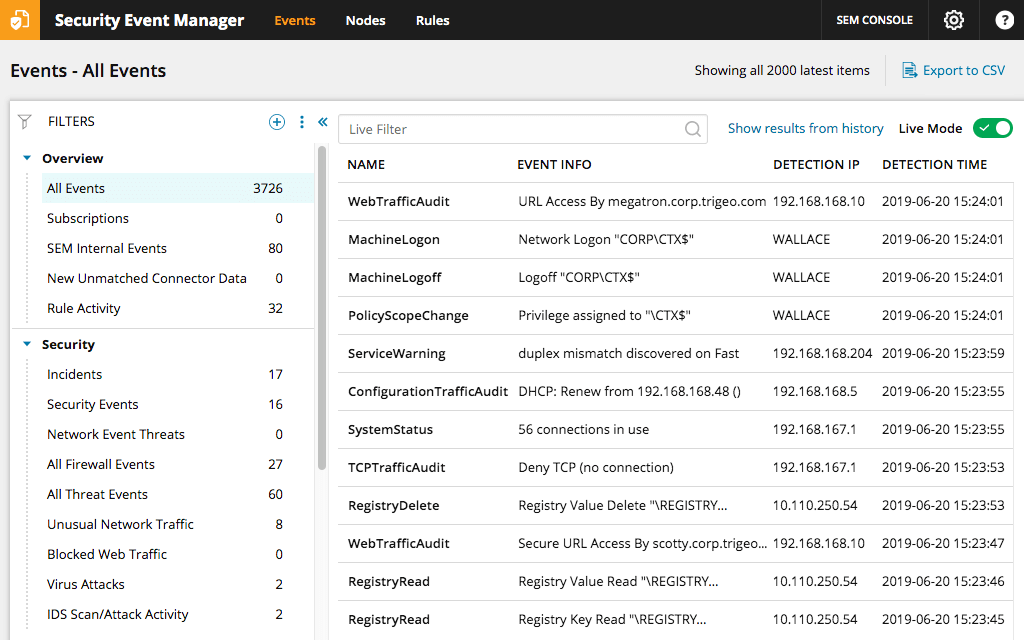 This tool includes additional features, including but not limited to automated compliance risk management, botnet detection, cyberthreat analysis, cross-site scripting prevention, DDoS prevention and mitigation, and insider threat management.
SolarWinds Log Analyzer
SolarWinds Log Analyzer allows you to collect, analyze, and consolidate thousands of traps, syslogs, VMware logs, and Windows events. With its cause-analysis features, Log Analyzer can leverage log data to provide invaluable performance insight. This solution allows you to use basic matching to perform searching. You can also apply filters and search criteria, then save and export your results quickly and easily. These search features help you rapidly identify availability and performance problems. With log aggregation, filtering, tagging, and alerting utilities, Log Analyzer facilitates highly efficient troubleshooting.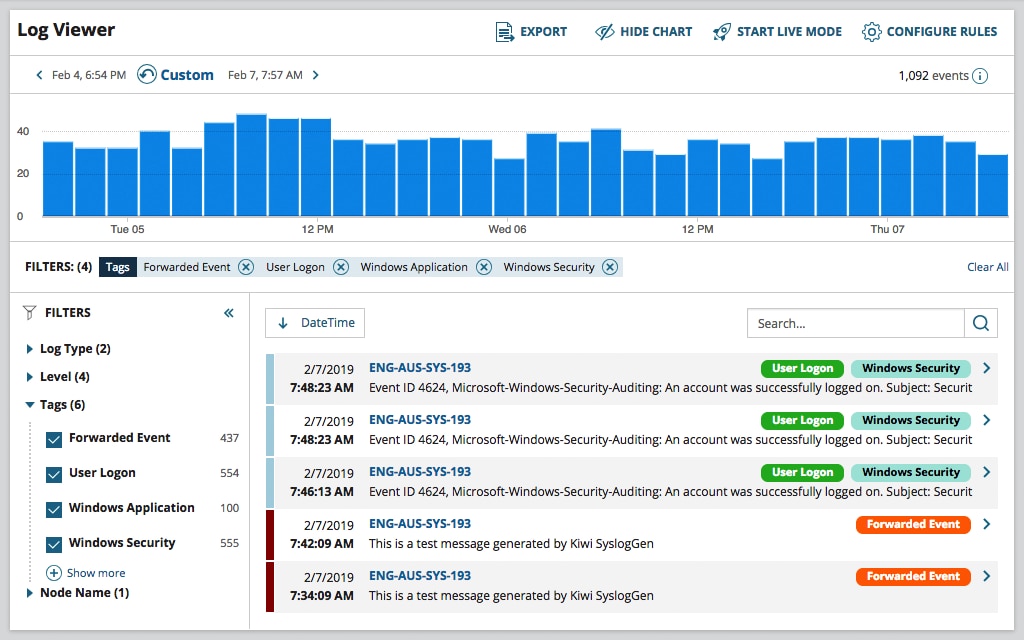 Splunk
Splunk offers a range of solutions that enable companies to grow into and scale the Splunk platform as their needs and goals change over time. The Splunk SIEM solution, Splunk Enterprise Security, allows you to monitor, detect, examine, and respond to security threats. This solution is available as a cloud service.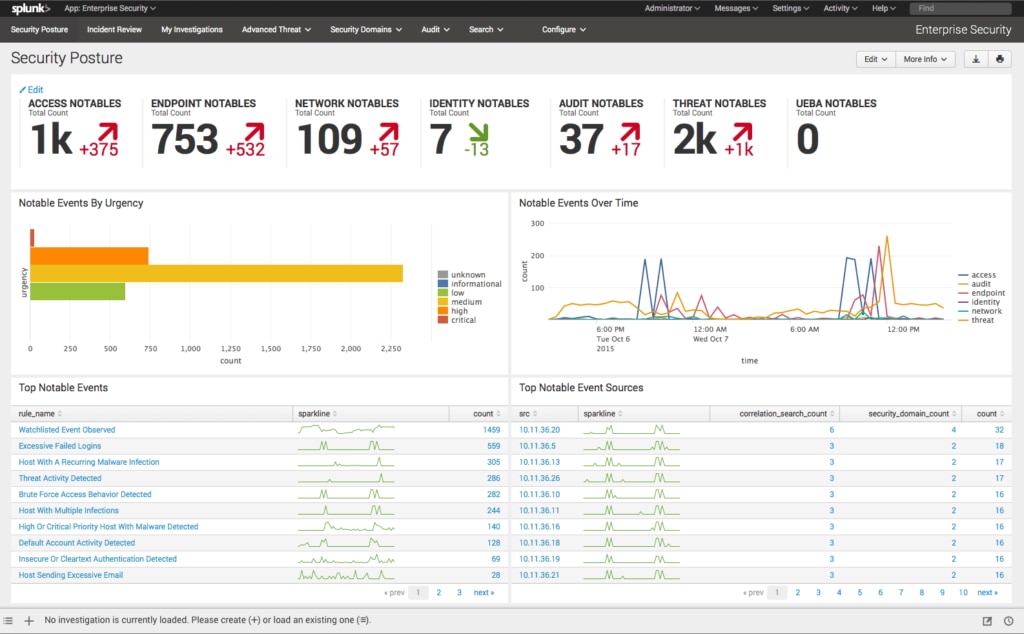 Splunk Enterprise Security
Splunk Enterprise Security provides its users with security-specific insight into data, which effectively optimizes incident response activities and increases detection capacity. Splunk offers businesses a clear picture of their security posture, enabling users to analyze raw event data and customize views to suit their preferences. In the Splunk application store, there are upwards of 1,000 applications you can use to augment the Splunk security tools.
SolarWinds vs. Splunk
To determine which is your best option, Splunk vs. SolarWinds, this guide will consider their range of features, ease of use, ideal target market, and pricing.
Range of Features
When comparing SolarWinds Security Event Manager vs. Splunk, the range of features is an important consideration. Both providers claim to offer a complete SIEM solution, but I feel the finer details set SolarWinds apart.
Although SolarWinds and Splunk both offer an impressive array of capabilities, I believe many SolarWinds utilities are more sophisticated and customizable. For example, SolarWinds SEM search functionality gives users the option of customizing and filtering their search by username, IP address, and more. I believe Splunk doesn't offer the same level of customizability.
As standard, SolarWinds SEM includes single sign-on functionality, high availability, clustering, and disaster recovery. However, I found these features are only included with the Enterprise or Cloud editions of Splunk, which come at an extra cost.
SolarWinds SEM also has the advantage in terms of the range of metrics, which I believe gives you more extensive data insight than Splunk. When using Splunk daily, I find the metrics are likely sufficient. However, I think the range of additional metrics from SolarWinds can be useful for analysis purposes, if you ever find yourself struggling to identify the root cause of an issue.
I feel SolarWinds Log Analyzer is less versatile than both SolarWinds SEM and Splunk Enterprise Security because it's a specialist log management tool. As such, its range of features is more limited, but I think it offers an especially comprehensive approach to log management.
I think a key disadvantage of using Splunk is that it doesn't offer native agent support for endpoint detection and response (EDR) or file integrity monitoring (FIM). There are, however, integrations with multiple third-party solutions available. I believe SolarWinds SEM, on the other hand, offers automated threat detection, inclusive of EDR capabilities and FIM capabilities.
I found Splunk offers a huge range of apps that can be integrated with Splunk solutions, including the User Behavior Analytics (UBA) app. Splunk UBA is driven by machine learning, which helps users identify anomalous behavior and threats across applications, devices, and users. I didn't see SolarWinds SEM has a specific user behavior feature in the same way, but if suspicious activities occur on your network, SEM is designed to alert on it.
In terms of the range of features, I feel SolarWinds SEM and Splunk Enterprise Security are evenly matched. However, I think SEM's customizability means the features available are a little more flexible and versatile than Splunk.
Ease of Use
I found SolarWinds SEM and Log Analyzer to both be easy to use and well-supported. SEM, for example, features an intuitive user interface, with out-of-the-box content that allows you to get started quickly and easily. I think Log Analyzer is also very easy to use and makes data interpretation simple, displaying logs in a real-time, interactive stream.
Overall, I believe SolarWinds as a provider minimizes the complexity usually associated with traditional enterprise solutions, allowing you to deploy and maintain products with minimal effort and investment—regardless of the size of your organization. With its THWACK® community, developers can have open discussions with users.
I think Splunk Enterprise Security is also reasonably easy to use. The solution is centrally run, and the user interface is simple and dynamic. Splunk also runs a community forum, where you can access support from other users.
Overall, I believe the out-of-the-box content of SEM gives SolarWinds the edge on user-friendliness, because it lets users get started with minimal experience or expertise. I feel Splunk, on the other hand, takes longer to launch and configure for actual use.
Target Market and Pricing
As easy-to-deploy, affordable solutions that provide immediate value and easy to maintain, I believe SolarWinds SEM and Log Analyzer are best-suited to mid-range to large enterprises with especially budget-conscious security teams, or teams who are tightly resourced.
In fact, I believe SolarWinds has a reputation for providing enterprise-grade solutions at an affordable price. With SolarWinds SEM, pricing is license-based and determined by the number of log-emitting sources, rather than log volume. This means users don't have to be selective about which logs to keep, because it won't impact cost. I feel SolarWinds Log Analyzer also has budget-conscious subscription and perpetual licensing options available and affordable, but I also think it's less comprehensive than SolarWinds SEM.
Splunk enterprise tools, which I feel are generally considered to be less affordable, may be more appropriate for larger organizations with fewer budget and resource constraints. The Splunk license cost is determined by the amount of data the platform ingests. Although there are pricing discounts available for NetFlow and DNS data, I believe this pricing model can be expensive. Splunk Enterprise Security can be licensed based on gigabytes per day. Licenses are available as term licenses or perpetual licenses, and there are alternative options for company-wide pricing.
Choosing SolarWinds vs. Splunk
While both SolarWinds and Splunk products are suited to companies looking for advanced SIEM capabilities, one is likely to be more suited than the other in terms of meeting your business' individual needs. If you use Splunk and are considering an alternative solution with robust features, I highly recommend SolarWinds SEM and Log Analyzer. If you're primarily looking for log management capabilities, I think SolarWinds Log Analyzer is probably your best choice, while SEM is likely to be more suitable if you want a complete SIEM solution. You can get started with a 30-day free trial of SolarWinds Log Analyzer or a 30-day free trial of SolarWinds SEM.
*As of October 28, 2020