Every business needs to provide its users with support services in one way or another. This applies regardless of your niche, industry, or product. However, the greater the volume of your customer base, the more difficult it becomes to stay on top of each incoming request.
Ideally, you'll have access to a service desk platform enabling you to centralize tickets from every channel you use to provide support. As such, you and your team can tackle service requests efficiently and make sure nothing slips past the cracks.
In this article, we're going to introduce you to two top service desk platforms, ServiceNow and SolarWinds® Service Desk. We'll break down how they work, what features they offer, and how much they cost. You can then determine which one is a better fit for your business.
ServiceNow vs. SolarWinds Service Desk: An Introduction to Both Platforms
Depending on your business, support services can vary dramatically. For some companies, all you have to worry about are customer tickets. Other businesses may need to manage employee hardware, internal errors, and more.
This means the ideal support platform you choose needs to be versatile, and both ServiceNow and SolarWinds Service Desk fulfill this criterion.

ServiceNow is a cloud platform designed to help you manage your business' digital workflow. It enables you to manage projects, coordinate teams, and provide IT support for your users, all in one package.
With ServiceNow, you get software custom built for specific industries, including healthcare, financial services, telecommunications, and more. We're talking about a modular service here, so you can pick and choose the tools you use for your business rather than have bundled elements gathering virtual dust.
Pricing: If you want to use ServiceNow, you'll need to contact their sales department to get a quote as pricing isn't publicly available.

SolarWinds Service Desk is a modern IT service management platform enabling you to provide better support for your team and users. With Service Desk, you can track incidents, assets (such as company laptops and smartphones), and manage support tickets, all within one portal.
Service Desk is focused on support services. It enables you to manage support requests from multiple channels, including email and your customer service portal. You can easily access tickets from your dashboard and monitor internal incidents.
Pricing: Service Desk costs $15 USD per month per user and you can sign up an unlimited amount of team members. The service can be expensive for larger teams.
ServiceNow vs. SolarWinds Service Desk: Key Features
On the surface, both ServiceNow and SolarWinds Service Desk enable you to tackle similar support tasks. With this in mind, let's break down the individual features both platforms offer.
ServiceNow
As we mentioned, ServiceNow doesn't just offer support services. It's an all-in-one platform for project and team management with support capabilities. However, for this comparison, we want to focus only on its support features. ServiceNow brings to the table:
Set up knowledge portals and chatbots to let customers self-solve their issues.
Provide your team with the information they need to take care of tickets.
Integrate all your support tickets into one portal.
Track the status of each ticket and review past interactions.
Monitor your agents' performance through in-depth analytics.
Assign tasks and automate workflows.
Build custom apps for customer service.
Integrate the platform with third-party services.
In a nutshell, ServiceNow offers the features your team needs to provide top-notch support. However, it's impossible to separate customer service applications from the rest of the platform.
SolarWinds Service Desk
As the name gives away, Service Desk is built with customer service in mind—and it shows once you take a close look at its features. Here's what you can do with platform:
Manage incidents (both internal and external) and company IT assets.
Provide your team with a customer service portal.
Set up knowledge bases your users can access (internal portals).
Automate support processes to reduce costs.
Get access to benchmarks, so you can monitor your support team's productivity.
Manage your online licenses and subscriptions from a single location.
Integrate your service portal with multiple third-party tools.
Overall, Service Desk provides targeted service features businesses of all sizes can benefit from. The platform's flexible pricing structure also makes it perfect for small businesses, if you only need to set up shop for a handful of support agents.
How to Get Started With SolarWinds Service Desk
If you want to try Service Desk for yourself, you can sign up for a 30-day trial at no cost. You'll need to use your business email to sign up: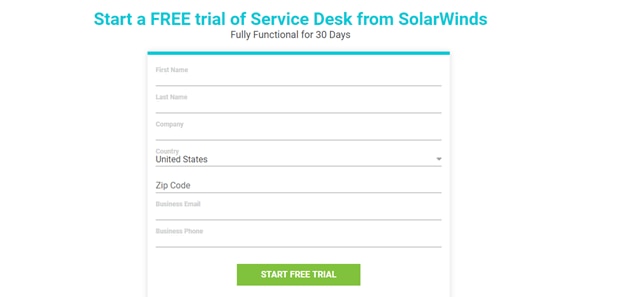 You'll then get access to the Service Desk dashboard. If you're feeling lost, you can check out the platform's documentation to help you get started.
You can also upgrade your trial account to a paid subscription at any point. All the data you've worked on during your trial comes with you, allowing for a seamless experience from start to finish.
Conclusion
A bigger customer base means a greater number of support and service requests you'll need to deal with. Managing these tickets effectively is key if you want to scale your business. As such, you'll want access to tools capable of empowering your team to tackle requests more efficiently.
Although ServiceNow is an excellent platform, it can be out of the range of most small business's budgets. However, SolarWinds Service Desk offers flexible pricing that varies depending on how many users you need. Beyond price, ServiceNow includes practically all the features your business needs to provide better customer support and track performance.
Are you ready to empower your team with the tools they need to provide better support for your users? You can try out SolarWinds Service Desk for free. Take it for a test drive and see firsthand what it can do for your business.
*As of June 23, 2020