Conducting business online can be highly competitive. If your website lets customers down, or you're not sure about how your key features perform, it might be time to bring new resources on board.
Fortunately, when it comes to keeping an eye on your website's performance, you have some top-notch options to choose from. Keep in mind, not all performance monitoring systems are created equal, however.
In this article, we'll square off with SolarWinds® Pingdom® vs. AlertSite. You'll get an overview of their key features and how they stack up against each other. There's a lot to cover, so let's get started.
The Lowdown on AlertSite Performance Monitoring (And Why It Matters)
AlertSite offers what's called "synthetic" monitoring for websites, applications, and Application Program Interfaces (APIs). This means actual traffic isn't needed to test user paths.
With synthetic monitoring, you can test for issues before they impact actual users. However, there's a learning curve to consider. We'll dig more into specific features later in the article.
In contrast to synthetic monitoring, real user monitoring (RUM) can be limited in AlertSite. To get an accurate idea of how AlertSite and Pingdom stack up, we'll compare their prices, user interface, reporting options, and locations.
Pingdom
SolarWinds Pingdom covers a wide array of data points. Additionally, users get highly visual reports and graphs as part of the reports available: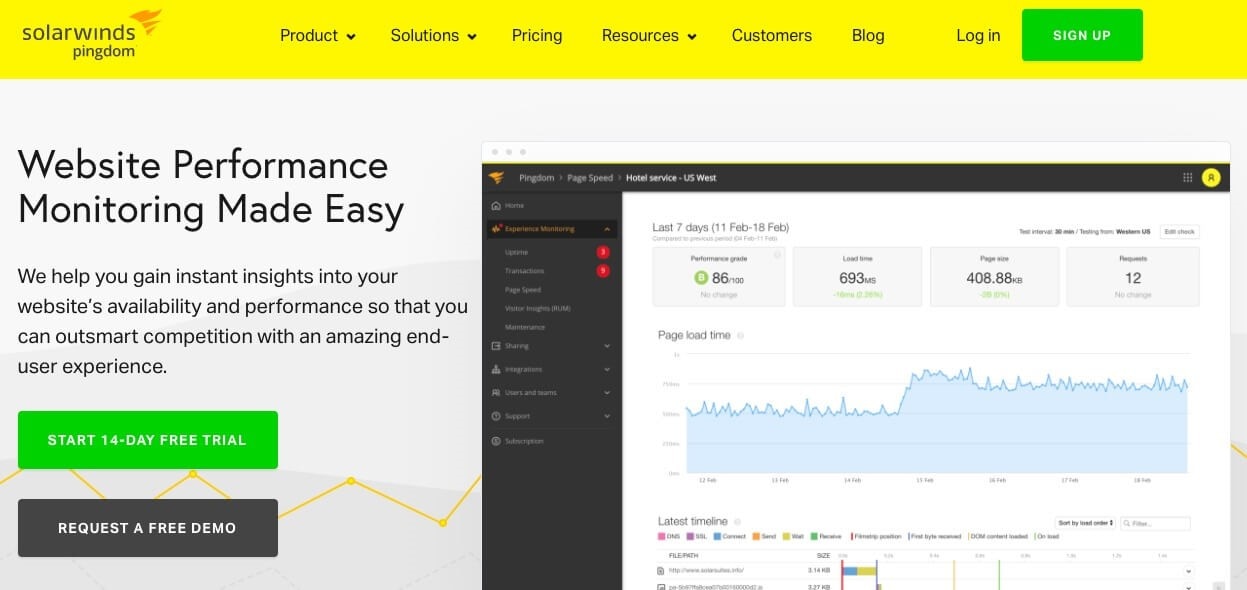 We'll detail Pingdom features in a moment but overall, this monitoring tool offers a comprehensive set of resources to help you make sense of all the data. This combines both synthetic and RUM features with in-depth reporting and alert options.
Price
To get a taste of what Pingdom can do, you can test your website's speed for free. For premium options, Pingdom offers a simple two-tiered pricing plan starting at $10 per month.
For organizations with broader needs, an enterprise option is also available.
Monitoring and Reporting
We've already mentioned Pingdom offers both RUM and synthetic monitoring. These tools will give you the option to record actual user interactions and develop planned transactions to get a comprehensive view of your site performance.
Additionally, practically all the reports you need are accessible directly through your Pingdom dashboard. Another feature worth noting is the Pingdom public-facing status page option, which lets you easily share or link to your performance monitoring status.
Locations
Performance monitors typically include the ability to test your site from different geographic locations. This enables you to help ensure your user experience is smooth, regardless of where your visitors are.
Pingdom currently offers testing from seven locations on five continents. This means you'll be able to get a picture of how your users around the world experience your website.
AlertSite
AlertSite is a SmartBear product and primarily offers synthetic monitoring across your websites, applications, APIs, and private networks.
Under the hood, there are some unique features, such as "hybrid" monitoring. This means you can combine internal and external monitoring for a comprehensive look at the overall health of your systems.
Price
Pricing for AlertSite is broken down by feature. For example, you can choose External, Internal, or Hybrid monitoring packages. While pricing is determined on a per-client basis (meaning you'll have to call and talk to a representative) it's primarily based on consumption, rather than flat fees.
This makes AlertSite scalable and geared toward larger organizations. However, it may seem inaccessible and costly for start-ups or moderately sized businesses. Even so, you can give the free trial a whirl before taking any next steps.
Monitoring and Reporting
Where AlertSite might fall short for some users is with its RUM offering—as we mentioned, AlertSite focuses on synthetic monitoring. However, you will find live monitoring options with this tool.
AlertSite uses another SmartBear product, DejaClick, to aid users in setting up web monitors. This is a user-friendly, "no-code" option for customers.
Since AlertSite is more comprehensive when it comes to synthetic monitoring, it may fall short of what Pingdom can offer in terms of drilling down to the root cause of web-related issues.
Locations
AlertSite offers reporting from five continents and more than 80 locations for its Hybrid Monitoring product. The global nodes offered include both physical and cloud options. Additionally, you can set up private node locations for monitoring your internal networks.
Why Pingdom Is the Right Choice for Your Website Monitoring Needs
Ultimately, choosing the best site monitoring option for your needs will involve multiple criteria. However, in terms of features, Pingdom seems to offer the most cost-effective price levels for a comprehensive and approachable feature set.
You'll get a more balanced approach to leveraging the power of setting up both synthetic transactions and RUM captures. Additionally, Pingdom free site speed testing tool is available for a quick comparison of the data you'll receive.
Additionally, Pingdom is highly effective when you're working in teams. Not only can you easily integrate reporting data with productivity applications like Slack, but creating team alerts within Pingdom is another time-saving benefit.
How to Get Pingdom Working for You Even If You're Using AlertSite
Getting started with Pingdom typically takes minutes. You can launch a 14-day free trial of Pingdom any time, and to get started, you only need to provide your email address and create a password.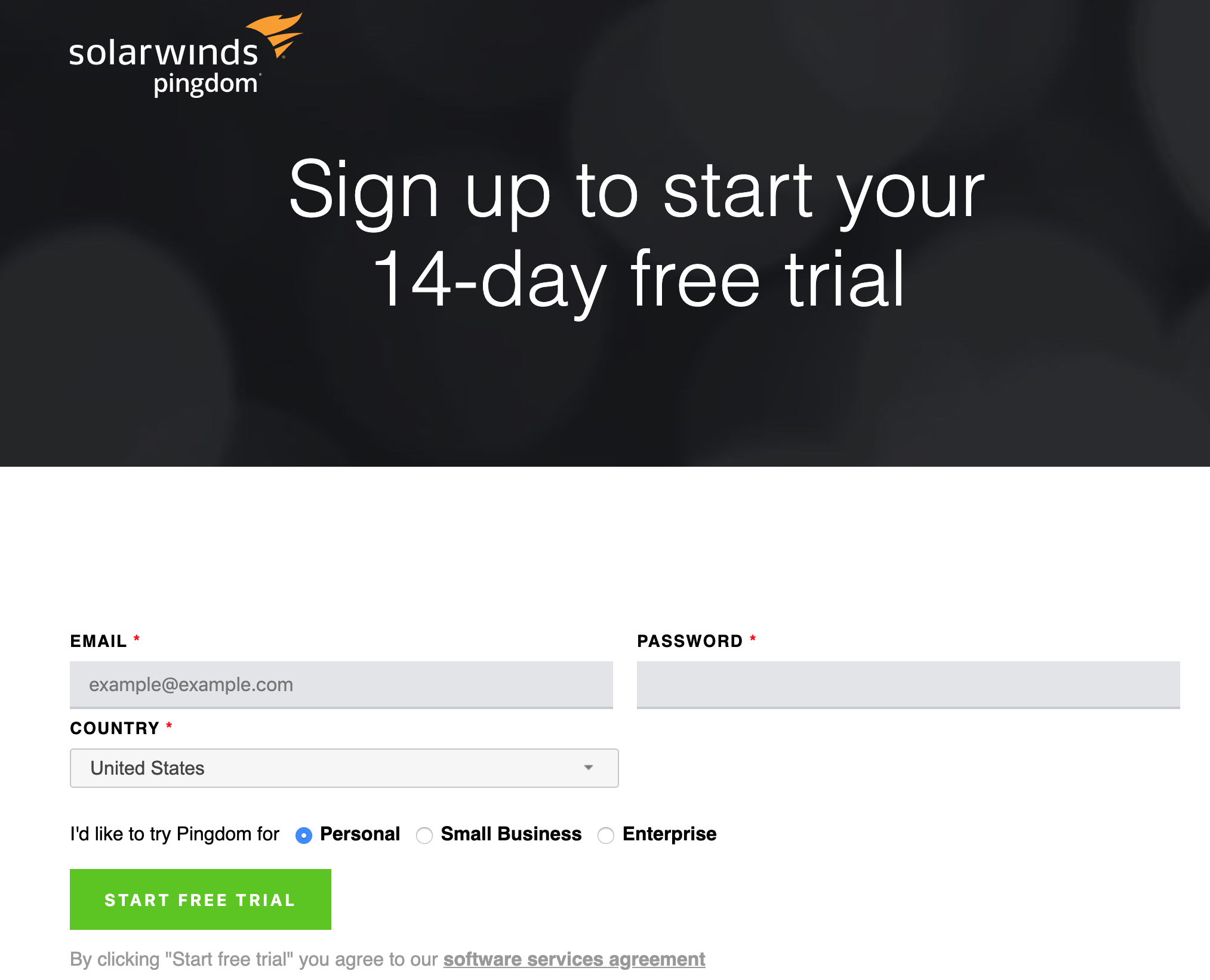 If you're using AlertSite and considering alternatives, you'll want to use your trial for a side-by-side comparison.
Additionally, you can try the cost-effective Starter plan we mentioned earlier for a low-risk, longer-term experience (albeit at a cost.)
Conclusion
Making strategic decisions about your website content and marketing should be based on the most accurate information possible. As such, your website performance monitoring solution shouldn't be a burden to your workflow. This is why Pingdom offers easy-to-use features and visual reporting.
Keeping you informed and confident is essential to the Pingdom solution's approach. Basically, you'll have the data you need to make the right choices for your website and your business.
*As of April 2020