Monitoring your website's performance is critical. However, this process isn't as simple as checking your loading times every now and then. To get an overview of your site's health, you need access to a set of monitoring tools enabling you to track aspects such as uptime, real-life user data, and more.
Many services can give you access to this kind of information. Using the right features and alerts, you'll be able to catch drops in performance before they become significant issues and deal with them quickly.
In this article, we're going to compare two popular website monitoring services: Datadog and SolarWinds® Pingdom®. We'll go over their features, pricing, and who should consider using each one.
Datadog vs. Pingdom: An Introduction
Comparing Datadog and Pingdom requires us to take a close look at what each platform offers and their prices. Later, we'll give you an overview of which service you should consider using depending on your needs. Let's start with Datadog.
Datadog
Summing up what Datadog does is complicated, as there are many strings to its bow. Using Datadog, you can monitor performance and log events across your entire development stack. This includes systems, apps, and services—Datadog offers over 400 integrations, so there's a lot to unpack.
With Datadog, you get latency and error distribution data for your infrastructure and all your applications. The service collects logs from every integrated service and provides you with visualization and alerts if issues pop up.
To get better insights, Datadog enables you to use a web record to monitor user behavior and run tests "powered by artificial intelligence (AI)" to spot bugs or performance issues within your applications.
There's a lot to like about Datadog, but the platform's documentation could be better. Their support is usually good about helping you set up the service for your entire stack, but if you're not comfortable managing integrations and configuring your dashboards, it can be hard to get started with Datadog.
Price: Datadog plans start at $15 per month for each host. If you want access to logs or application performance management (APM) functionality, however, you'll need to pay extra. The same goes for real user monitoring (RUM) and synthetic interaction testing, two features we'll cover in the next section.
Pingdom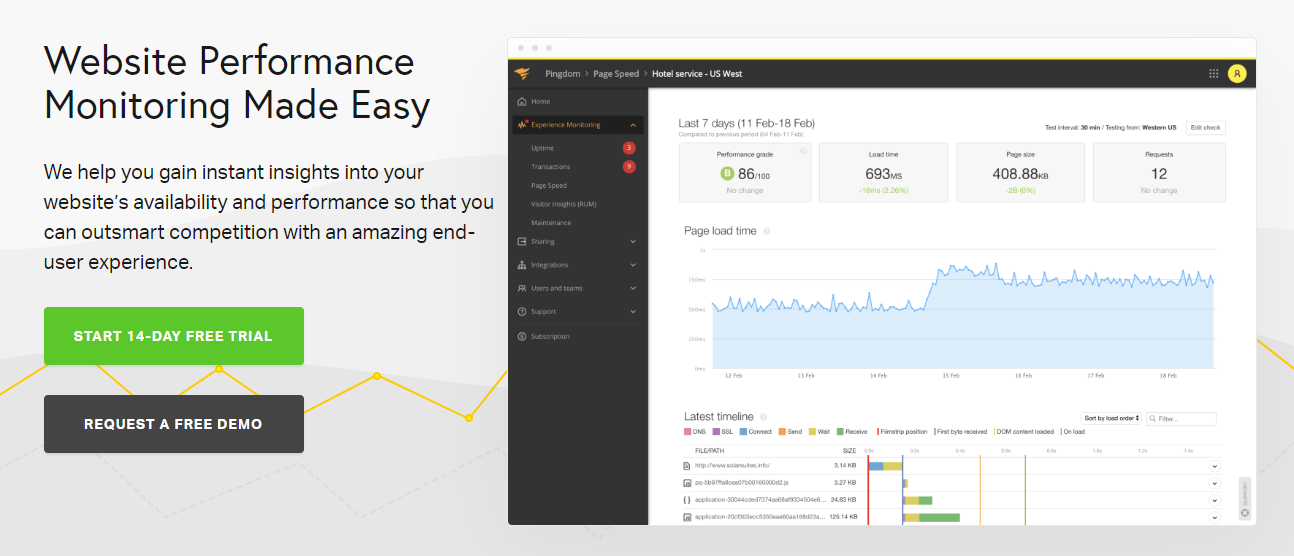 Pingdom is a website monitoring platform designed to provide a broad range of tools you can use to get an accurate reading of performance at any time. Some of these tools include the following:
Uptime monitoring. Pingdom uses a global network of over 100 servers to help ensure your website is accessible from all over the world.
RUM. With RUM, Pingdom collects performance data from real visitors, allowing you to view trends, monitor bounce rate, and group data for easier analysis.
Synthetic interaction testing. Instead of waiting for users to run into errors, Pingdom uses synthetic tests to ensure critical interactions within your website are working correctly. This includes login pages, checkout processes, and more.
Page speed monitoring. Pingdom tests your page regularly to ensure its loading times are within an acceptable range. You can also drill down and analyze the performance of individual page elements.
Error analysis. If something goes wrong, Pingdom helps you identify the source of outages so you can immediately fix the issue.
On top of these, Pingdom allows you to configure alerts so you can stay on top of potential issues. The platform verifies whether there's a real issue before alerting you, and you can configure which member of your team receives specific notifications.
Pricing: As of June 2020, Pingdom has two scalable pricing plans: Synthetic Monitoring and Real User Monitoring (RUM), both starting at $10 per month. For more details and price calculation, check out the pricing page on Pingdom.
The Advantages of Using Pingdom vs. Datadog
Pingdom and Datadog are very different solutions. As a service, Datadog is all about monitoring full development stacks. Pingdom, on the other hand, is much more focused. It enables you to test your website's performance using a whole suite of advanced tools. It also has an edge when it comes to pricing since, if you want access to a similar level of functionality using Datadog, it means paying for many extras. With Pingdom, you get these tools with the starter subscription plan—there's no need to pay for more.
How to Get Started With Pingdom
Although Pingdom doesn't offer a free tier, you can get access to a two-week trial without entering any payment information. This allows you to test the service for yourself. You just have to fill out a few fields and select which type of project you're using Pingdom for.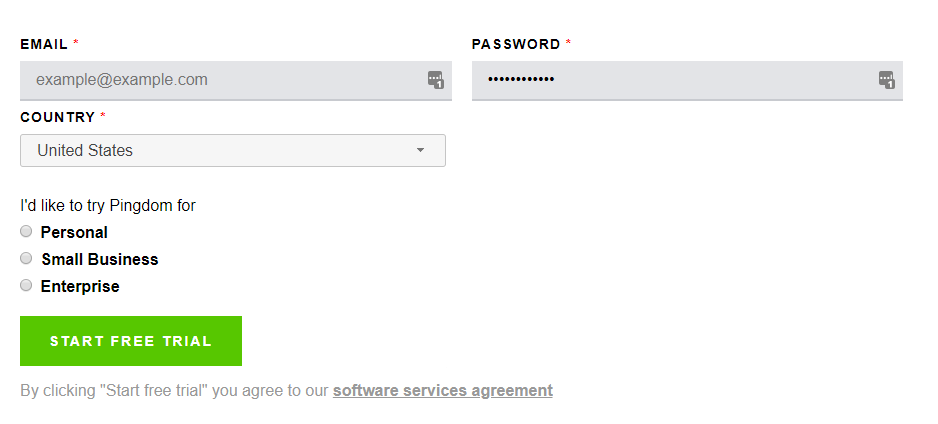 As soon as you go through the registration process, you get access to your Pingdom dashboard, which is easy to navigate. All the platform's key features, including RUM, uptime monitoring, page speed tests, and synthetic transactions, are right there.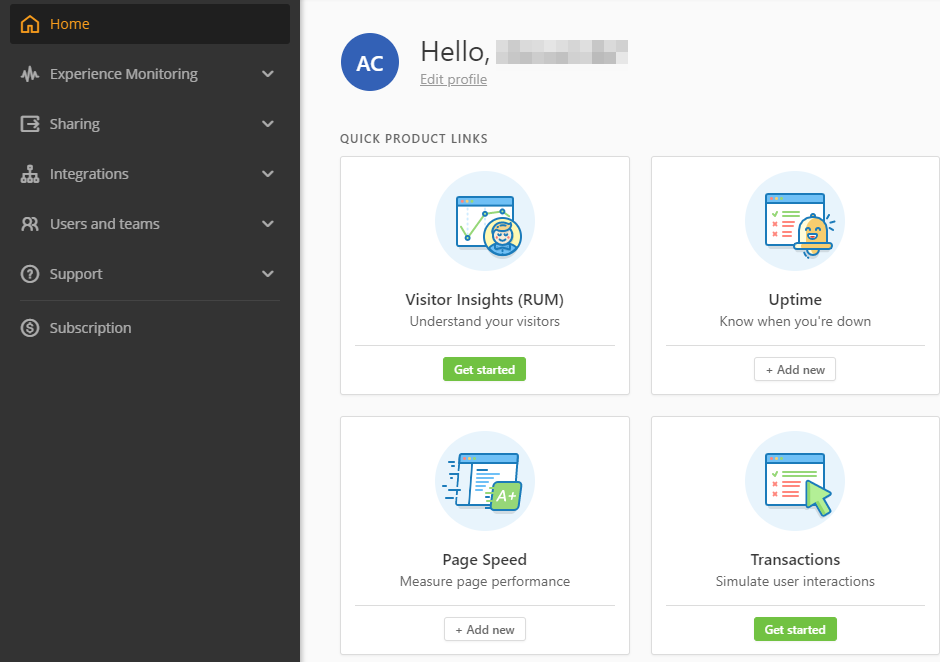 Configuring Pingdom is straightforward with most features thanks to its excellent documentation. However, you might need a little extra help when it comes to synthetic interaction testing.
Conclusion
Drops in website performance aren't a minor annoyance. If your business depends on its web presence, downtimes or poor performance can directly impact your bottom line. They can scare visitors away, and you might not notice until it's too late. With the proper set of web monitoring services, you'll have access to performance data.
If you're looking for an easy-to-use service with advanced tools for website monitoring, Pingdom is an excellent all-around option. RUM and synthetic interaction testing are invaluable tools for detecting drops in performance and bugs within your site before they become full-blown issues.