Software solutions help automate much of the IT service management (ITSM) help desk process, which can streamline the workflow and help save businesses money. However, with so many service desk tools on the market, many technician teams are uncertain about which product is the best fit for their needs. To make your decision easier, I've compared features for two popular names in help desk software: Cherwell Service Management vs. SolarWinds® Service Desk.
Usability and Setup
SolarWinds Service Desk is a SaaS tool, while the Cherwell Service Management tool is typically a SaaS tool but extends to an on-premises option. The Cherwell service desk tool offers a customizable dashboard, plus reports showing technician performance, much like Service Desk. Both platforms offer similar interactive features, including customizable client views and incident management assistance. While the core Cherwell platform is built for no-code workflow configuration, Service Desk takes a different approach to workflows, offering the added advantage of artificial intelligence (AI) software that uses machine learning to streamline your management process.
Ticket Management Process
Both Cherwell and SolarWinds products are built to ensure an excellent ticket management process. Both use a service catalog and knowledge base for the front end of the process. Both are effective options for escalating tickets into issue areas, so you can group together complaints stemming from the same IT problem.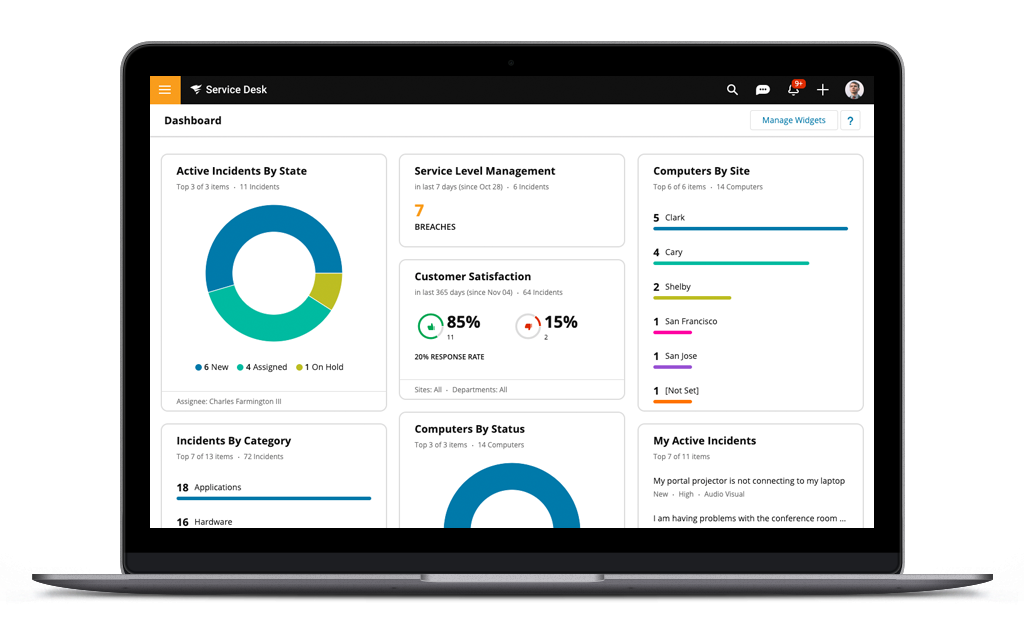 Service Desk is specifically built to help ensure necessary information is included in the ticket, then uses the power of AI to route the ticket appropriately, with or without technician configuration. The Cherwell IT service desk software, Cherwell Service Management, is built to leverage 11 specific ITIL processes, with a built-in automation engine including some out-of-the-box automation but generally requiring technicians to create specific workflows.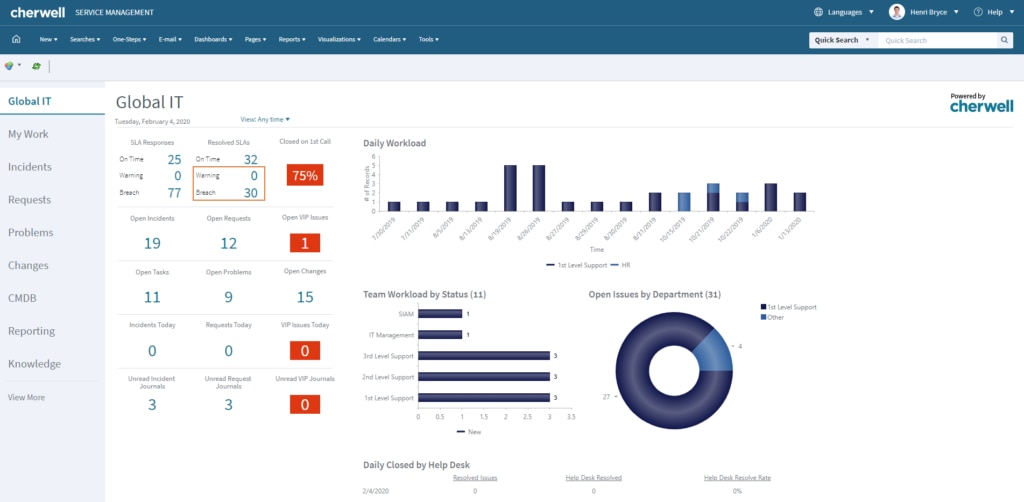 Assets and Configuration
SolarWinds Service Desk integrates with a SolarWinds add-on, called SolarWinds Discovery, for asset discovery and management. Service Desk allows for comprehensive IT asset management, including a centralized asset overview, automatic software and hardware discovery, and automatic risk detection for licenses and lifecycles. You can also get automatic notifications on service level agreements. In addition, Service Desk's REST API technology means you can integrate your ticketing processes with asset inventory. SolarWinds Service Desk is also designed with built-in configuration management database software (CMDB), which can help technicians associate incidents with specific configuration items.
Like SolarWinds Service Desk, the Cherwell service desk tool integrates with an add-on—Cherwell Asset Management, which has a feature for discovering installed software and gaining insight into licenses. It also lets you collect hardware inventory data. It's not clear if Cherwell offers automatic notifications to help you stay proactive, however. Like Service Desk, the Cherwell product centralizes CMDB data and helps visualize relationships between assets.
On-the-Go Mobility
On-the-go mobility is an area of service where the Cherwell vs. Service Desk comparison shows a major difference. SolarWinds provides a free Service Desk Mobile App download to view and manage your IT dashboard from your smartphone, so you can stay in touch with your help desk when you're on-site. You can receive ticketing alerts, resolve issues, and view the SolarWinds knowledge base from the palm of your hand. Cherwell Service Management doesn't offer similar mobile capabilities.
Choosing Cherwell vs. Service Desk
When comparing Cherwell vs. Service Desk, both options offer some great advantages. Cherwell has an intuitive user interface, streamlined ticketing assistance, and integrations with third-party apps. Compared to Cherwell, Service Desk offers many of the same advantages, but Service Desk includes a wider range of helpful features, including an intuitive third-party app and SLA management. With all these considerations in mind, I believe SolarWinds Service Desk offers better overall value*.