Many businesses rely on Wi-Fi for business productivity, particularly with the rise of BYOD policies. But if too many devices use an under-resourced Wi-Fi network, productivity can quickly slow to a halt.
Wi-Fi management software offers a solution, by offering an automated way to monitor and analyze Wi-Fi devices, traffic, and other relevant Wi-Fi activity.
If you're looking for comprehensive network management software with excellent Wi-Fi monitoring features, look no further than SolarWinds® Network Performance Monitor (NPM). This tool offers an easy-to-use and cost-effective way to track key Wi-Fi parameters, and gain the insights you need for faster Wi-Fi troubleshooting.
Why Is Wi-Fi Management Important?
Effective Wi-Fi management consists of monitoring devices that create and use the Wi-Fi network, analyzing their traffic, and troubleshooting slowdowns that could impact end-user experience. On the whole, Wi-Fi management aims to both avoid downtime and prevent rogue devices from accessing the network. Wi-Fi management is especially important for large-scale, dynamic business networks.
When an outage occurs on a Wi-Fi network, or if signal strength isn't sufficient in certain areas, end users are unable to do their work. In an era when many employees rely on mobile devices like laptops and smartphones, it's critical network management incorporates best practices for Wi-Fi networks, not just hardwired networks. With sufficient Wi-Fi network management, admins can ensure outages are quickly corrected and don't impact business productivity. At the same time, admins can keep an eye out for unauthorized devices or rogue access points that could infiltrate the network and cause potential data loss—after all, it's common for Wi-Fi networks to be highly dynamic, with devices leaving and joining the network on a continuous basis, potentially resulting in vulnerabilities.
Key Aspects of Wi-Fi Management
For effective Wi-Fi management, you'll want to have insight into a range of relevant devices, including access points, routers, and client devices. To effectively manage these devices, you'll want to ensure they have updated hardware, are configured correctly, and are authorized to be on the Wi-Fi network. You'll also need to be able to use packet sniffing, SNMP, and other protocols to check relevant devices, including the following:
Access Points
An access point (AP) essentially creates the office WLAN by sending the Wi-Fi signal into a specific area. It's connected to a router, switch, or hub to increase the number of users that can access the Wi-Fi. When access points are under-performing or overloaded, it can impact performance. It's also important to track rogue access points, which are access points installed without authorization and are capable of causing security issues.
Routers
A router is a wired device designed to provide wireless internet access to connected devices. It's a hub for the WLAN as a whole and needs to be functional—for instance, admins need to make sure the channels routers use to broadcast the Wi-Fi signal aren't overloaded and causing congestion.
Clients
Clients are the devices connecting to a Wi-Fi network, like laptops and printers. If you have too many clients on an under-provisioned network, you can run into congestion. You also want to avoid having unauthorized clients access the WLAN.
These devices form the basis of your Wi-Fi network, and you'll want to ensure you have visibility into how they function individually. But you'll also want to focus on the way they connect and function, so you can keep a handle on the following aspects of Wi-Fi management:
Wi-Fi Signal Strength and Coverage
Signal strength is strongest closer to the router, but employees are distributed through the office, so it's important to ensure routers have sufficient range and you have enough access points placed to maximize coverage, especially where walls and other obstacles reduce the signal strength. For a visual overview, a Wi-Fi heat map can overlay a color-coded visualization of your Wi-Fi signal over a map of your office, so you can more easily spot dead zones.
Wi-Fi Traffic
Monitoring and managing Wi-Fi traffic is necessary for understanding the stability and usage of your WLAN. Admins should monitor router traffic patterns to see what applications or endpoints are eating up available bandwidth and potentially leading to interruptions in service. It's also useful to have a historical view of Wi-Fi traffic, so you can view patterns over time and better pinpoint the top talkers on your network.
Wi-Fi Capacity
With the information you gain from managing and monitoring Wi-Fi signal strength and traffic, you have more context and understanding of whether you need to increase Wi-Fi capacity. If your network is overloaded, you may need to remove endpoints, add access points, increase bandwidth, change network topology, or take other measures to ensure performance.
Choosing Wi-Fi Management Software – 5 Recommended Tools
To maximize your Wi-Fi network management efforts, it's worth investing in the right software. Some of the sector's best wireless network management and monitoring software options are listed below: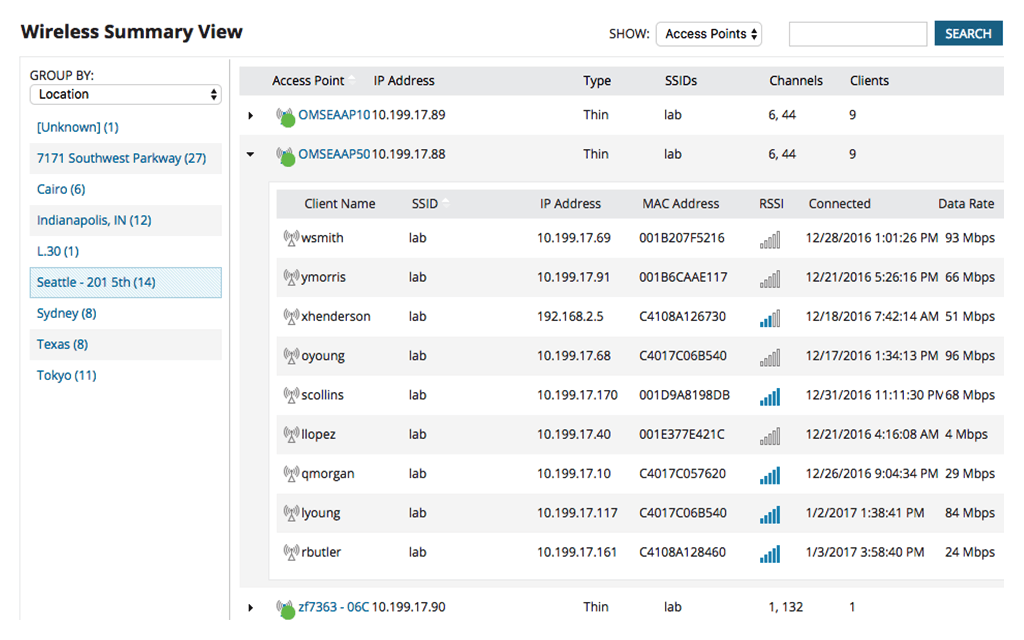 SolarWinds Network Performance Monitor (NPM) is a comprehensive network monitoring tool with robust Wi-Fi monitoring features to ensure uptime. The wireless network analyzer feature uses SNMP, traceroute, packet analysis, and more to gather performance, fault, and availability metrics for:
APs
Clients
Routers
Wireless controllers
It also includes information about individual devices. If you discover a wireless node in critical status, it's easy to drill down and view device details that help with troubleshooting.
For in-depth troubleshooting insights, NPM includes hop-by-hop network path analysis and cross-stack network data correlation for more contextual and in-depth information. The dashboard includes top-10 lists to help you prioritize troubleshooting, and is built to send alerts when metrics drop below set thresholds. You can also run reports on network performance, including for compliance purposes.
If you're interested in Network Performance Monitor, you can start with the fully functional 30-day free trial. Subscription and perpetual licensing options are available.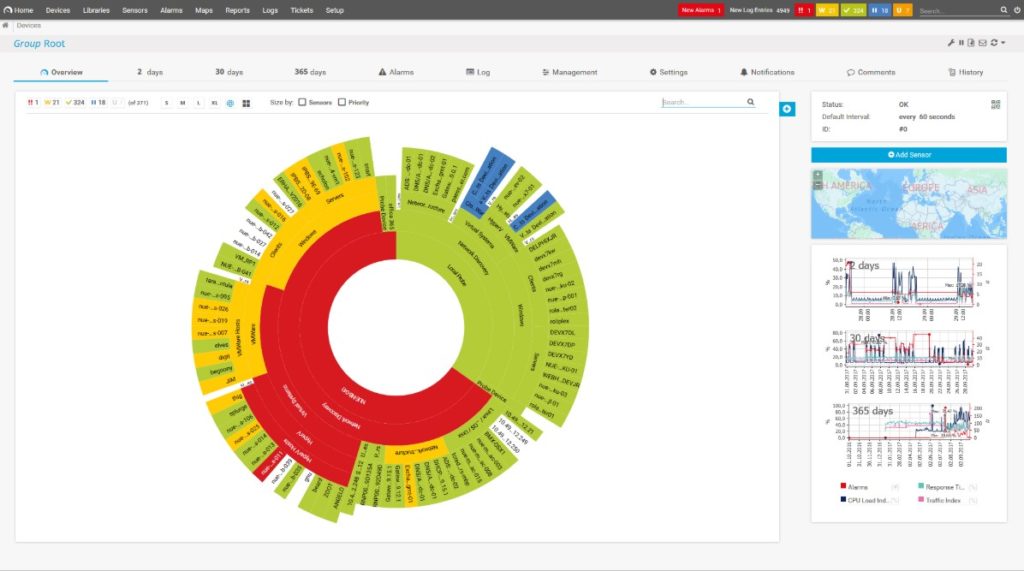 Paessler lets you monitor your entire IT infrastructure—systems, devices, databases, applications, traffic, and more. It's a powerful and all-in-one solution, so if you're looking for targeted Wi-Fi network management it might be more than you need. With Paessler, you can easily track your wireless network's elements and gain insight into device status, traffic, speed, Wi-Fi usage, and router signal strength, and router uptime/downtime. Paessler uses SNMP and Ping sensors to track device status and offer insight into data packet activity. Paessler can also give you insight into excessive network load, using built-in bandwidth sensors. Beyond these wireless-specific features, Paessler offers a wide range of infrastructure monitoring capabilities. To see if this is the right fit for your business, start with a 30-day free trial.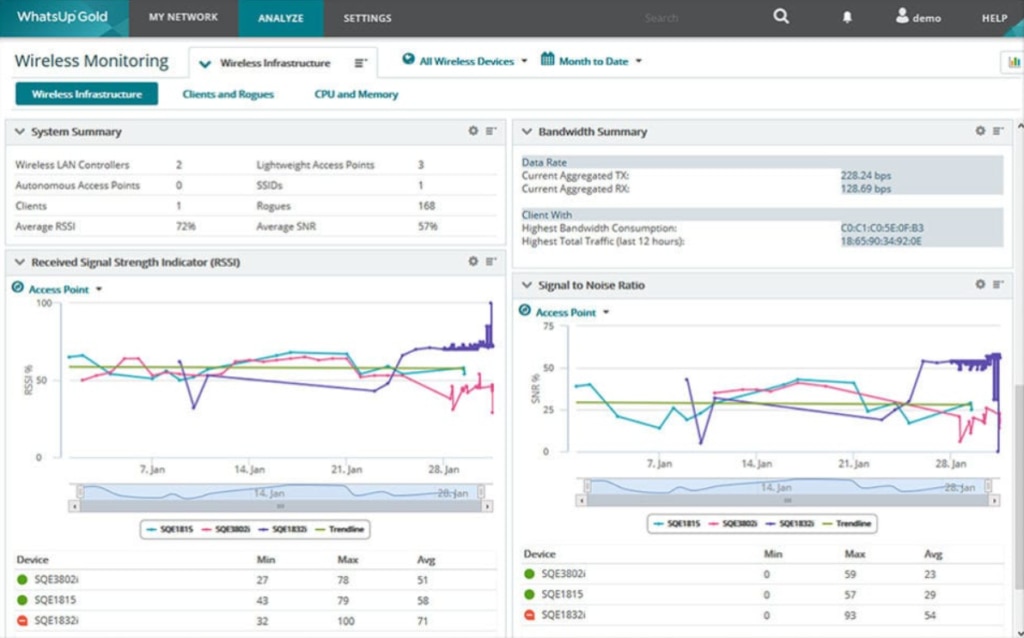 This is another all-in-one monitoring tool for your infrastructure, including wireless network infrastructure. It allows you to easily discover and map your wireless devices, and displays real-time and historical information about AP and client activity. Using WhatsUp Gold's Alert Center, admins can use one location to configure and view alerts. Set thresholds according to your needs, so you can receive alerts when CPU or bandwidth consumption levels are too high, or receive notifications if rogue APs pop up on your network. Users find WhatsUp Gold is an attractive application that can be used on a desktop, laptop, or mobile device. However, it must be installed on-premises and is only available for a Windows environment. A free trial is available, although its length is unclear.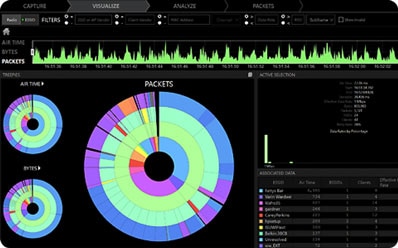 While inSSIDer MetaGeek Complete isn't a comprehensive network and infrastructure monitoring tool, if you're looking for a focused Wi-Fi scanning solution to get the job done, this may be a good fit. There's a free version of this tool offering Wi-Fi scanning capabilities appropriate for home networks or even small businesses. But the more complete, paid tool is built for network managers or installers to help handle congestion and coverage, and device interference and configuration settings. It includes a Wi-Fi analyzer for mobile dual-band Wi-Fi, and Chanalyzer, a spectrum and packet analysis tool, which means you can measure activity in the 2.4 and 5 GHz bands. The Eye P.A. tool offers useful visuals of the wireless environment, such as multi-layer pie charts of network traffic, although for heat mapping you'll need a separate (and pricey) tool, TamoGraph Pro. MetaGeek free trials vary depending on which element you'd like to try, but most last 14 days.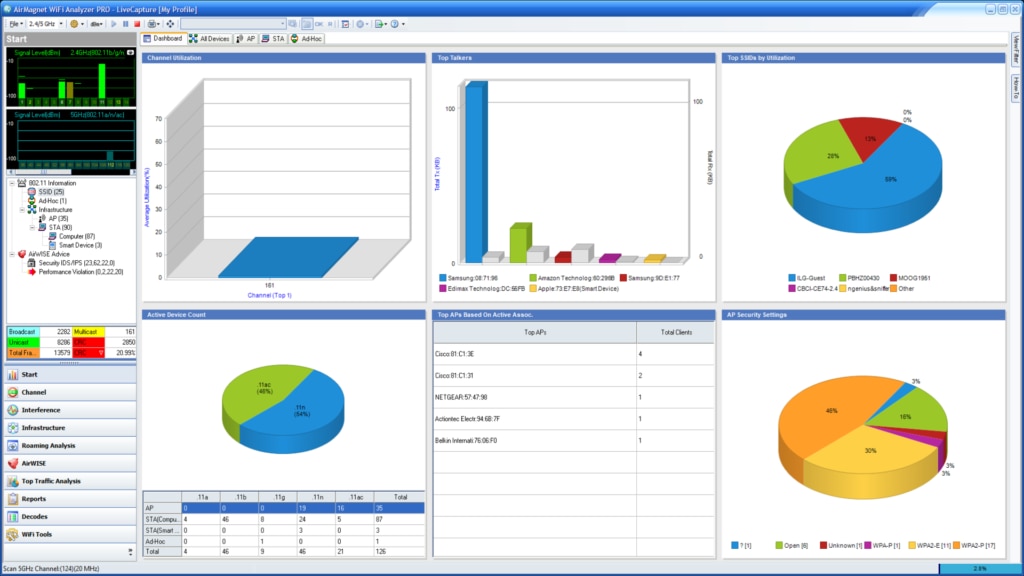 Another targeted Wi-Fi traffic capture tool, netAlly AirMagnet Wi-Fi Analyzer PRO is built to demystify common Wi-Fi issues, with real-time analysis for 802.11a/b/g/n/ac wireless networks. With this tool, you can use a simple dashboard to view information relevant to critical areas of Wi-Fi management, including connectivity, coverage, roaming, and even security. AirMagnet Wi-Fi Analyzer Pro incorporates tools to help pinpoint common problems like throughput issues, device conflicts, and signal multipath problems. Automated detection and diagnosis make it easier for admins to solve issues quickly. One interesting feature of this tool is you can perform testing from the client perspective with no access point downtime. It also includes compliance reporting features. If you're interested in AirMagnet, a demo is available.
Start Wi-Fi Management Today
Whether you're setting up a new Wi-Fi network or trying to better manage what you already have in place, the best way to get the insights you need is by deploying wireless network management software. Of the above options, I suggest using an integrated network management tool with robust Wi-Fi monitoring options, for a comprehensive network solution within one easy-to-use dashboard. For me, that means choosing SolarWinds Network Performance Monitor. Their 30-day free trial makes it easy to get started and explore NPM features.