Help desk software is evolving at a rapid pace, and with this evolution comes countless metrics to be monitored. Understanding what all of them mean, how they relate to help desk performance, and which should be a priority is increasingly difficult.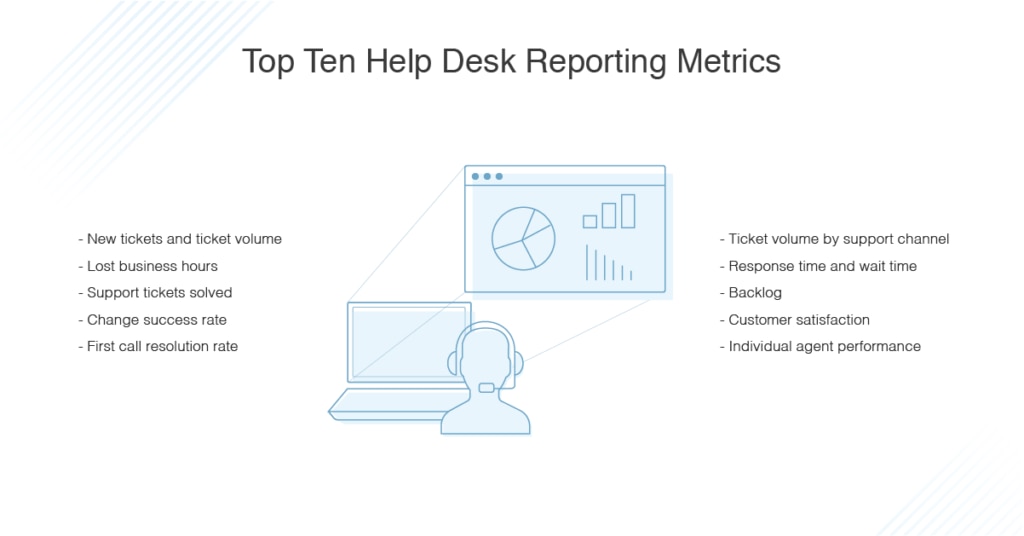 When it comes to help desk management, different guides and support sites are likely to be preaching different approaches. You can't monitor every single metric; in a business environment where time and manpower are invaluable resources, you have to be picky about what you monitor, but deciding which advice to rely on can be a real headache. That's why I've put together this guide to help desk metrics best practices.
In this guide, I provide a comprehensive list of the best IT help desk performance metrics to monitor and outline how each of them impacts the way your help desk performs.
Understanding Metrics
Which Help Desk Metrics Should I Be Monitoring?
The Top 3 Help Desk Metrics Best Practices
The Right Tools
Understanding Metrics
Metrics are complicated, and some team members may not even fully understand what some of them mean, which can make standardizing responsive action next to impossible. To know how to act, you must understand the data you're interpreting. This guide is designed to help you and your team understand what exactly you're analyzing, and why, so you can establish companywide standardized and consistent best practices.
If you have a help desk to manage, you're probably going to be asking yourself the following questions:
What do certain metrics mean?
How do these metrics affect performance?
If I can't monitor them all, then which should I be monitoring?
What are the help desk metrics best practices?
As already mentioned, with limited manpower and time, you can only monitor so much. But you can expand on this monitoring capacity with the correct tool supporting you. An effective help desk reporting metrics monitoring program reduces the amount of time and manpower required to monitor your chosen metrics. This means you can monitor more of them in greater depth, without sacrificing valued resources.
However, even with the best tool supporting you, you shouldn't be monitoring every possible metric. Unimportant metrics can clutter and confuse your monitoring approach.
Which Help Desk Metrics Should I Be Monitoring?
New tickets and ticket volume. This is a key help desk metric to monitor, because it informs staff planning. A ticket creation report should show the amount of support requests being managed in a given period (daily, weekly, monthly, etc.). This then allows you to conduct trend analysis and get a clearer idea of how many staff members are needed daily. Such foresight can dramatically improve customer satisfaction and help desk performance by ensuring the team is never understaffed.
Lost business hours. By tracking the number of hours IT services are unavailable, during which the business is facing downtime, you gain insight into how these lost hours impact the business. This is because service availability levels aren't always reflective of how well the help desk is performing. For example, if you have 99.9% service availability in one year, this number sounds impressive but doesn't highlight the eight hours of business lost during that period.
Support tickets solved. This is crucial to keeping up with demand. Your new and solved ticket trend lines should exist in parallel if your help desk is healthy, showing the amount of tickets you have correlating to the amount of tickets being solved. By monitoring these trends, you can identify any peaks and troughs demonstrating improvement and failure. If you're consistently falling behind, then you'll know it's time for a change. You can also distinguish anomalies from clear patterns.
Change success rate. This measures the number of successful changes considering the total number of changes executed in a given time. Change can be divisive. By mapping change success rates, you can investigate why change implementations might be failing—for example, poor collaboration between teams or improper communication with end users.
First call resolution rate. The higher your first call resolution rate, the better. This measures the percentage of incidents resolved by the first level of support. Achieving high rates correlates to customer satisfaction, so this is important.
Ticket volume by support channel. Knowing how customers prefer to contact you determines staffing levels. For example, if most of your customer queries come in over the phone, then having staff available to answer the phones will be a priority. But there are also live online agents, web forms, email, and even social networking channels to consider.
Response time and wait time. Both metrics are extremely important. "First response time" refers to the time between a support request being created and the first public agent comment on it. The longer this period, the more likely for your customer to be dissatisfied. Tracking and publishing this info can be a great way of marketing yourself, if your response times are consistently impressive. "Requester wait time" refers to the cumulative time a support request remains unresolved. This information is of crucial value, because it can inform internal targets for staff members.
Backlog. A backlog is where the requests you're falling behind on end up. It's essentially a queue. By tracking the size of your backlog, you can inform recruitment and strategy decisions.
Customer satisfaction. Staying on top of customer satisfaction is critical. This metric tells you when something goes wrong, which means you can get to work on fixing it.
Individual agent performance. This is another useful metric to monitor. If certain individuals are falling behind the others in their performance, then you could, for example, implement a targeted training strategy.
These are my top 10 help desk metrics, but there are plenty of others you should consider. These include:
SLA compliance rate, to help you maintain maximum compliance with SLAs.
Cost per ticket, which can help you minimize the rates.
Software asset utilization rate, so you can maximize return on investments.
Predicted backlog, which can help you learn from the past to prepare for the future.
Ticket distribution, which can help you identify a correlation between low first-time responses to support requests and satisfaction rates.
Agent use, so you can ensure you're achieving the best quality at the lowest cost, and your resources are neither overworked nor spread too thin.
Agent satisfaction, because happy agents are more likely to satisfy your customers.
The Top 3 Help Desk Metrics Best Practices
In addition to monitoring the help desk metrics listed above, I recommend implementing some other best practices. Here are my top three.
Use real-time reporting. Reporting tools inform your understanding of your business's performance. To maximize the efficiency and usefulness of reporting, it must be in real time. By analyzing real-time metrics, you have access to up-to-date information, enabling you to make high-level decisions to strengthen your business processes.
Perform customer satisfaction surveys. This one seems obvious, yet it's regularly overlooked. By creating customer satisfaction surveys, not only do you gain insight into how your help desk is performing, but you're also likely to find issues hiding away in your system. This could be an agent who isn't doing their job properly, or perhaps a fault in the help desk solution itself. Customer surveys are invaluable because they give you rare insight into the end user's experience, reducing the need for guesswork.
Offer a self-service portal and knowledge base. Self-service portals are a win for customers and agents alike. Allowing customers to create their own service tickets and follow their progress empowers them, while minimizing the time spent by agents creating tickets. A knowledge base is the next step, because it gives customers the opportunity to solve their issues themselves. Fill the knowledge base with your team's expertise and reduce the amount of time agents spend solving common, simple queries.
The Right Tools
A successful help desk and customer service solution incorporates monitoring of key metrics and the implementation of best practices. There are tools on the market designed to facilitate and support these processes. My favorites are Web Help Desk® (WHD) and SolarWinds® Service Desk (SD).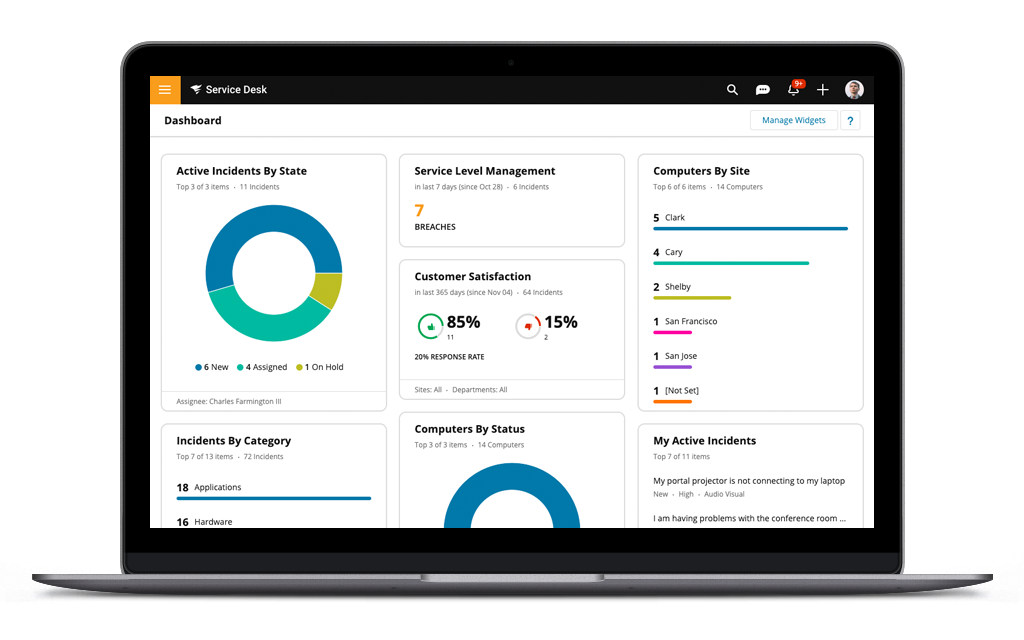 SolarWinds Service Desk, an IT service management solution, is a formidable and feature-rich tool, but I want to focus on its reporting utilities. With Service Desk, you have access to reports on incidents, service agents, service level breaches, customer satisfaction, problems, changes, releases, computers, software, and more. Dynamic and colorful bar graphs give you a big-picture view of specific metrics, like customer satisfaction. You can report on CSAT scores, ITIL processes, and resolution times, informing your decisions going forward. These reports can be customized, offering you the utmost flexibility.
Reports can be scheduled and updates automatically sent to relevant parties, like stakeholders, peers, managers, and executives. On the dashboard, you can manage your widgets to prioritize the help desk metrics you think are most important. This could include active incidents by state, incidents by category, and new incidents, among many others. Service Desk streamlines and organizes all your tickets, no matter where they come from—email, phone call, customized service portal, or even walk-up. All these tickets get integrated into Service Desk.
Bottom line: SolarWinds Service Desk is great for implementing best practices, because it offers real-time reporting, a self-service portal, and a knowledge base.
SolarWinds Web Help Desk (WHD) is a help desk solution offering automated ticket management, ticket creation, assignment, routing, and escalation. It has a built-in help desk knowledge base, which promotes customer self-service, and helps you meet your SLAs by sending "SLA breach approaching" alerts. The tool also allows you to customize de-escalation and escalation workflows.
WHD is particularly impressive when it comes to customer satisfaction. You can configure automated feedback surveys to be sent to customers as soon as a service request is completed, giving you regular insight into overall customer satisfaction. Its robust reporting utilities include built-in reports and dashboards for tracking technician performance, customer support requirements, and ticket status.
Bottom line: With Web Help Desk, you can monitor all the key help desk metrics, save agents time, encourage self-service, and track customer satisfaction immediately after a request has been resolved.
Conclusion
In the realm of customer support, there are approximately 10 billion metrics. These range from employee performance to average handle time and include everything in between. To monitor help desk metrics effectively, you need to make sure you're not taking on too much (by eradicating unimportant metrics), but also, you're not taking on too little (by overlooking key metrics). Striking the balance is hard, but I hope this guide has helped you narrow down the scope of customer support metrics and given you insight into best practices.
To be sure you're covering all the important IT help desk performance metrics, I highly recommend implementing SolarWinds Service Desk (which offers a free 30-day trial) or Web Help Desk (which offers a free 14-day trial). With their dynamic and intelligent approach to help desk metrics best practices and help desk reporting metrics, these tools will streamline your customer service solution.