Logs are raw and unfiltered data describing activities within a system. Logs can be used to detect system and application errors easily. They include information about website visitors and events details such as server crash, a random bug, security breach, overheating hard drive issues, dropped packets, and more. Logs provide developers with detailed information to localize errors and help system administrators ensure systems are running smoothly and as expected. Log messages play a crucial role in securing IT infrastructure by providing information about malware activity.
However, retrieving logs from multiple servers in the form of text files is difficult to manage and maintain. Having a robust and advanced log monitoring solution in place helps organizations centralize logs coming from servers, applications, network devices, and other sources. With a centralized log management database, organizations can easily determine the reason for incidents or errors and avoid the occurrence of such issues in the future. Let's look at how log management solutions work and compare two tools—Papertrail vs. Timber—in terms of log monitoring and analysis.
How Does a Log Management Solution Work?
Log management solutions capture logs and provide visibility into the health and performance of the application and infrastructure stack, and help in the diagnosis and correction of issues. Log management solutions manage logs following a five-step process:
Collect Logs: Log management solutions have a collector to collect raw log files or messages from different parts of the infrastructure stack.
Centralize and Index Logs: Once log data has been collected, it's centrally stored to streamline the search and analysis process. Indexing makes the log search easier and quicker.
Search and Analyze Logs: With the help of different search analysis techniques such as pattern recognition, tagging, normalization, correlation analysis, the log management solution helps search logs either manually or using machine learning.
Monitor Logs and Send Alerts: With machine learning and analysis, the software helps teams implement real-time and automatic log monitoring. This helps you send alerts when specific conditions occur. Log management solutions also enable continuous log monitoring of large volumes of log data through automation.
Generate Reports and Dashboards: Log management solutions can create and streamline reports. They also include customizable and reusable dashboards to help ensure confidential logs are only accessible on a need-to-know basis.
Log Management Tools
SolarWinds Papertrail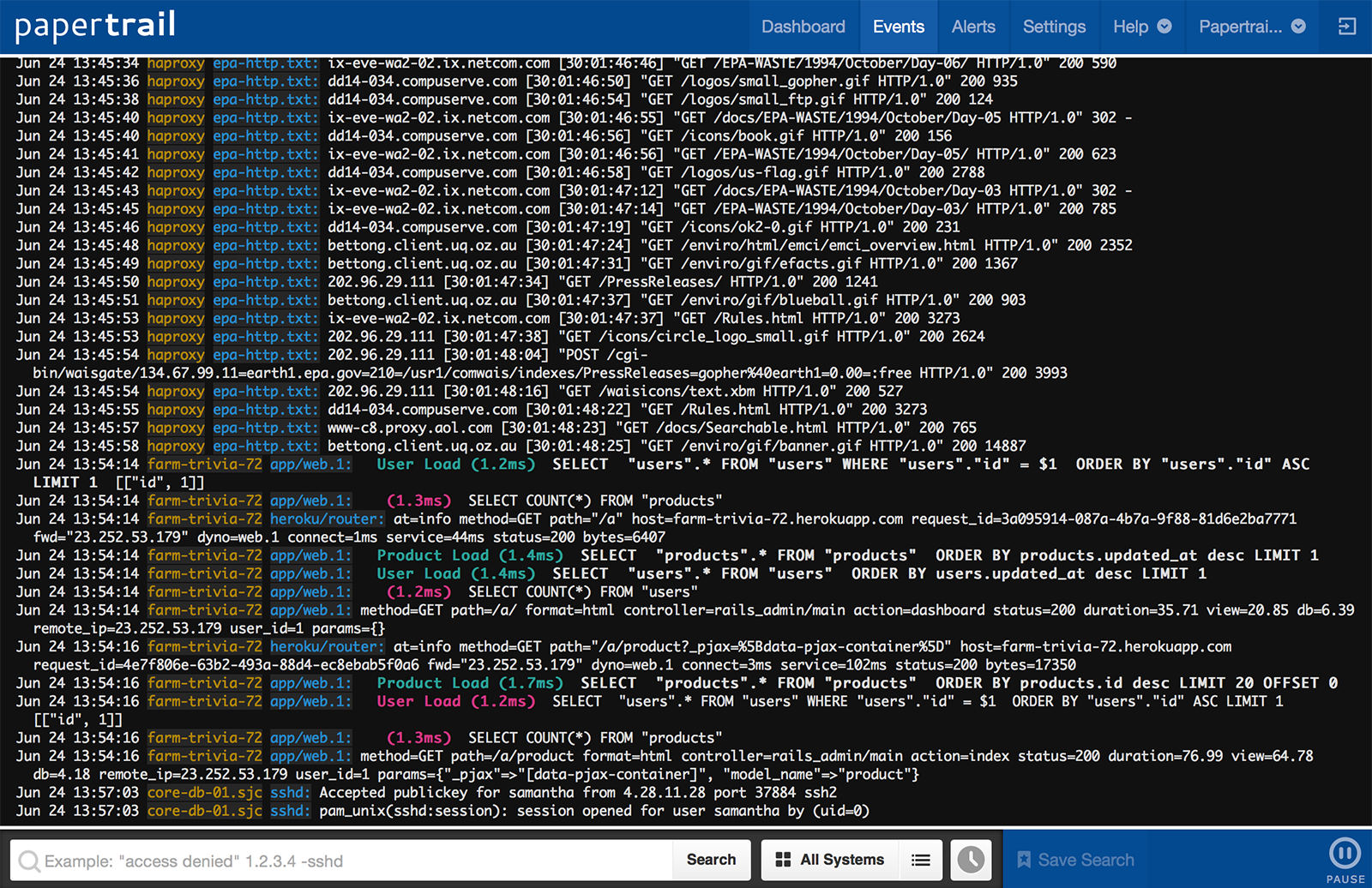 SolarWinds® Papertrail™ is a hosted log management solution designed to aggregate real-time log data, search, live tail, react and analyze. Papertrail offers team-wide access and integrations with popular communication platforms such as Slack and PagerDuty to help teams troubleshoot incidents, debug app requests, and resolve customer problems. Papertrail can be used with a wide variety of log types, including Windows events, syslog, Apache, text log files, Tomcat, routers, and firewalls. SolarWinds Papertrail helps reduce the need for cloud storage to store log data and provides safe and on-demand access to log files. It provides a central interface where users can easily access log messages. Besides log management and log storage capabilities, Papertrail tools can also monitor, host, consolidate, parse, and filter syslog messages. Papertrail scans incoming log messages to identify trends and generate real-time alerts to provide in-depth visibility into system activity and performance.
Timber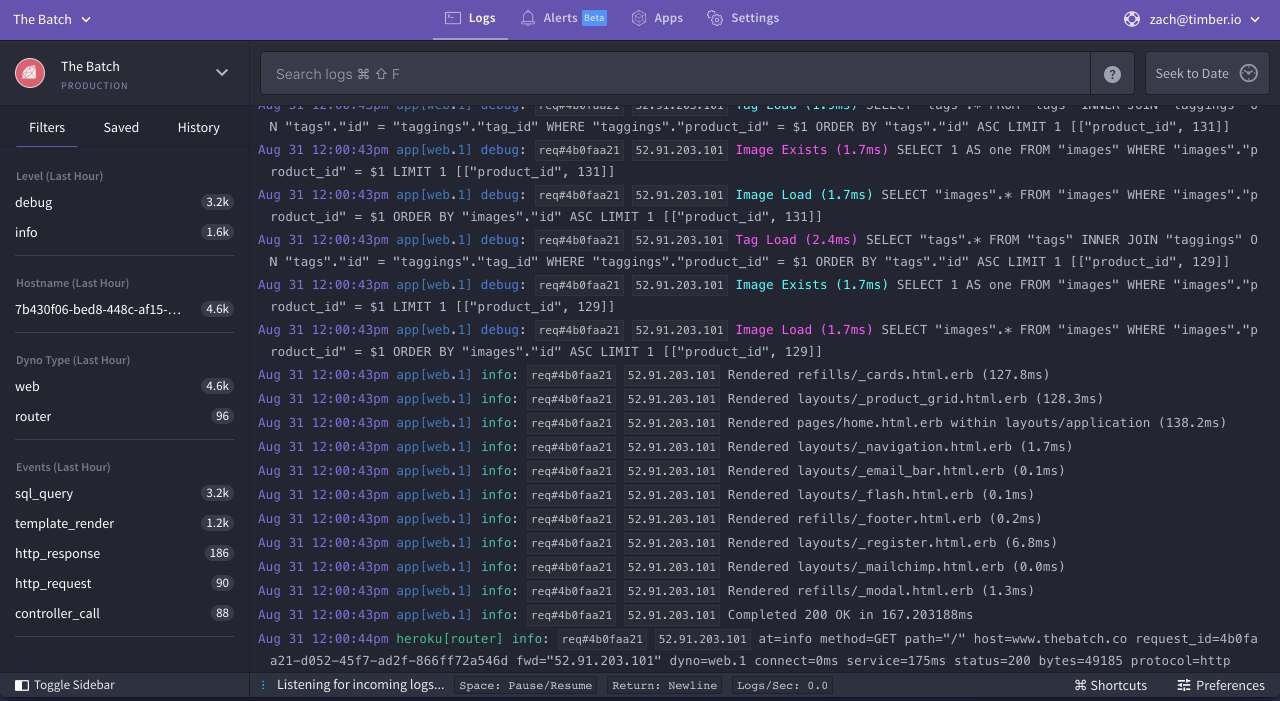 Timber is a modern cloud-based logging platform with automatic data enrichment and powerful search capabilities. It helps structure log data by adding valuable context, setting alerts, and creating graphs for easier understanding and identification of errors. Timber uses libraries and integration to enhance log data into rich, easier, streamlined, useful, and clean events. Timber offers the basic features organizations need for log management such as modern dashboard, fast searching and filtering, real-time tailing, and clickable logs.
Papertrail vs. Timber
Both Papertrail and Timber are powerful log management tools with advanced logging features such as graphing, alerts, live tail, and log search. However, they differ slightly in terms of features and functionality. Papertrail has an intuitive interface, and setup typically only takes a few steps as the solution works agentless. It includes features such as search query, date range, saved searches, and real-time logging for better log search and management. Unlike Timber, SolarWinds Papertrail offers PRO event and search update feature that can be viewed in real-time. Moreover, Papertrail log entries have various attributes you can use to modify CSS properties for systems and specific programs.
Centralized Log Aggregation
Log aggregation helps organize log data and make it searchable. Papertrail automatically aggregates logs from various applications, devices, syslog, and stores them at a centralized location. Timber doesn't fetch all unstructured logs. It can only collect events from specified apps. On selecting other apps, it displays errors saying "Bummer."
Live Tailing
Live tailing helps users look at the live feed of the logs in the system in real time. Papertrail, with its event log viewer, can easily search logs, live tail logs, and can create velocity graphs. Papertrail can live tail logs from multiple devices or hundreds of systems in real time. Timber also includes a live-tailing feature. However, it cannot fetch logs from multiple devices or servers simultaneously. Unlike Papertrail, Timber does not include an event log viewer and advanced logging features.
Alerts
Alerting is a crucial feature of a log management system, as it notifies you when certain conditions are met. Both Papertrail and Timber include alerting features. Papertrail includes multiple integrations such as Slack, Librato, PagerDuty, and Campfire to notify teams about crucial logs. Timber integrates with a single external service, Slack, to send notifications about important logs.
Conclusion
When looking for the best log management tool, consider three major factors: capabilities, usability, and price. It's crucial to understand whether the log management solution is going to fulfill your logging requirements. Every logging solution is different and includes capabilities that may or may not be suitable according to the scope and objective you are looking for. Make a list of features according to your organization's logging needs, which can help you make an informed decision. Check out the free versions of Papertrail and Timber to understand their specifications, features, and how these tools work.
 *As of June 2020