Getting to the root cause of IT issues and resolving them quickly is a crucial part of keeping customers satisfied with their services. IT service providers responsible for monitoring their customers' complex IT environments and systems face the challenge of determining how best to manage, organize, and complete each support request. With multiple customers and potentially hundreds of requests being submitted, quality of service is easily compromised if the right tools aren't being used.
To help ensure you're able to provide optimal support, consider adopting a ticketing software solution specifically tailored to the needs of a service provider. It can help your company increase technician productivity and reduce the likelihood of errors or delays. Here's what can help you make an informed choice.
The importance of ticket management systems
There are numerous benefits associated with using ticketing software, all of which can impact the long-term success and growth of your company. Here are some of the key reasons why help desk management software is an important investment for your business:
Improves client communications by providing a way for customers to contact you directly
Helps to monitor technician performance and establish quality control
Helps you stay competitive in an increasingly tech-oriented environment in which customers expect fast, digital-first services
Keeps documentation and records of previous communications with each client, both for the purposes of audits and future interactions
Delivers automated updates to save technician time and keep clients informed
Contributes to your company's brand image as a professional, organized, and reliable partner
Questions to ask when choosing ticketing software
In order to choose ticket management software that suits their needs and can help deliver services to customers, MSPs (managed service providers) and other IT companies can approach the market looking for dedicated solutions. To get a better sense of what ticket management software capabilities are necessary in your business, you can start by asking:
What is important to you as a business, and what benefits are you hoping to gain by implementing IT ticketing system?
Are you looking for a platform that can make billing easier? Or perhaps you want to improve technician productivity? If you're considering investing in IT ticketing software, establishing what you hope to gain can help you make the right choice.
How big is your business, and are you anticipating major growth?
The current size of your business should determine the scope of your needs—but you should also think ahead. To make the most of service desk solutions, you should choose software that can support your current workload and scale as necessary to accommodate growth.
Is cutting costs a priority for your business?
The right ticket management software can help you save money by minimizing the costs associated with technician labor. If chosen correctly, help desk management tools can help reduce non-billable work by creating tickets automatically. The right IT ticket system can also give you access to extensive data insights, helping you analyze trends and make targeted cost-saving decisions.
Finding the right ticket management software
To help you sort through some of the many options on the market, we've put together a list of some of the best IT ticket management tools available in 2021 for you to pick from. In selecting these tools, we've considered features like user-friendliness, suitability for business use, and the range of offered capabilities.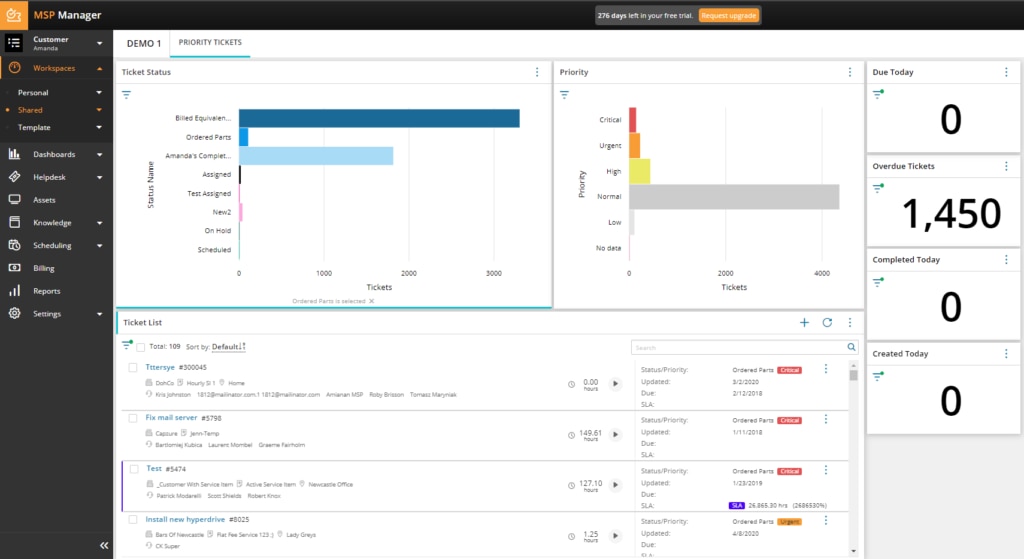 SolarWinds RMM and SolarWinds MSP Manager are highly comprehensive tools designed specifically for MSPs. RMM offers all-in-one remote monitoring and management capabilities in a powerful, consolidated dashboard. RMM enables you to manage your IT workforce in a consistent and productive way, with dashboards that give you instant visibility into the health of IT operations. MSP Manager is a highly comprehensive help desk management tool that helps you establish quick and efficient ticketing processes.
To provide your company with everything it needs to streamline the IT ticketing process, MSP Manager integrates seamlessly with RMM in one unified solution. That tool empowers your team to deliver quick and proactive service and allocate resources appropriately. With reliable, defensible invoices for quick approval, MSP Manager also helps you simplify billing and improve its efficiency. And to keep your team organized, this tool features scheduling capabilities, which let you create appointments in seconds and sync with other calendars.
To help you save technician time and better serve customers, the MSP Manager integration simplifies your workflow by organizing and automating many of your ticket management activities. You can view issue details, appointments, histories, time entries, and correspondence for each ticket from within a single console. Rapid creation capabilities mean you can automatically create tickets from incoming emails or via a built-in quick ticket feature. And with the mobile application your technicians can bring your service desk with them wherever they go, allowing them to access scheduled appointments, complete customer details, etc.
MSP Manager is an especially good choice if you're hoping to improve your billing processes, because it allows you to batch export invoices for use with your accounting software. This makes billing significantly easier and less time-consuming. And by integrating with RMM, this combination of tools allows you to provide things like managed antivirus and malware protection, patch management, backup and recovery, and much more alongside your help desk.
Jira Service Desk is a premium IT ticketing software solution that can help you manage incidents, announce changes to your interface or offerings in a proactive way, and identify the root cause of issues. This tool uses automation, queuing, and built-in asset management to streamline the process, empowering you to deliver efficient and quick support to your clients.
Jira Service Desk also includes a knowledge base and support for a range of integrations. The software makes it possible for you to quickly create a simple, intuitive portal that allows you to showcase services and enable your customers to access support quickly. Jira Service Desk also allows you to jump into customer satisfaction reports to get a better sense of what your customers need, and a built-in tool helps you gather feedback to continue improving service.
All in all, these capabilities can help your technicians become more efficient and serve customers with ease. The only potential disadvantage of Jira Service Desk is that it isn't designed specifically for MSPs, which means it could be more cost-effective and better suited to the specific needs of IT service providers. To test it out for yourself, you can try Jira Service Desk for free here.
Spiceworks is a help desk system designed to help businesses manage both customer-facing and internal tasks. With a one-time download, Spiceworks is easy to implement and allows users to log in from either their mobile device or desktop. This makes managing incoming tickets and service requests significantly easier, especially during off-hours.
One of Spiceworks' most notable features is its inventory management integration, which helps your team oversee in-progress product orders. This tool also features an IP scanner, which locates orders for you and keeps you notified of progress. It goes without saying that free help desk software can be appealing to companies looking for a way to start serving customers without any upfront costs.
However, it's worth noting that although the free Spiceworks features are enticing, it's often worth it to invest a little in more powerful service desk features. Free options tend to have more limited features than paid alternatives, and they won't have the same support options available to address your needs if you have questions or if things go wrong. In the long run, this may cause you delays in service and decreased customer satisfaction that may cost you more than investing in cost-effective software.
Hesk is another free solution that is lightweight and very well-suited to small customer support teams. This user-friendly and simple tool is a good choice for beginner MSPs, because it has a minimal learning curve. As a cloud-based help desk, HESK is reliable and can be set up in just a few minutes.
This help desk offers a range of useful features, including the ability to create custom fields and modify the display so that it is aligned with your team's workflow. This tool also provides a submission form, allowing customers to open web-based tickets managed within the application.
Much like Spiceworks, it's important to note that HESK is a free tool. Because it does not come with upfront costs, HESK offers limited support and is not especially scalable. While its free capabilities may meet the needs of small companies, it may not be able to accommodate the needs of larger businesses. Even if your enterprise is just getting started out now, it's likely you will outgrow HESK's capabilities as you scale, which will require you to switch tools and onboard your employees and customers at a later date. This may cause you more hassle than it's worth once your team is already familiar with one tool, which is why we suggest starting out with a tool that is equipped to meet your needs as you grow.
Getting Started
Before choosing an IT help desk management tool, we recommend taking the time to consider what you're hoping to gain. No matter what your objectives are, one of the tools featured in this list can help you achieve them.
Learn More About IT Ticketing Software: