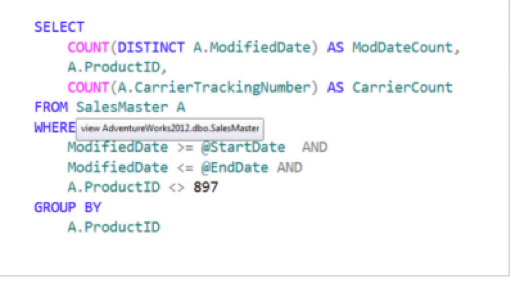 Tip 1: Know your tables and row counts
First, make sure you are actually operating on a table, not view or table-valued function. Table-valued functions have their own performance implications. You can use SSMS to hover over query elements to examine these details. Check the row count by querying the DMVs.
Tip 2: Examine the query filters, WHERE and JOIN clauses and note the filtered row count
If there are no filters, and the majority of table is returned, consider whether all that data is needed. If there are no filters at all, this could be a red flag and warrants further investigation. This can really slow a query down.
Tip 3: Know the selectivity of your tables
Based upon the tables and the filters in the previous two tips , know how many rows you'll be working with, or the size of the actual, logical set. We recommend the use of SQL diagramming as a powerful tool in assessing queries and query selectivity.
Tip 4: Analyze the additional query columns
Examine closely the SELECT * or scalar functions to determine whether extra columns are involved. The more columns you bring back, the less optimal it may become for an execution plan to use certain index operations, and this can, in turn, degrade performance.